High-Functioning Flesh "Culture Cut" Release Party at Echoplex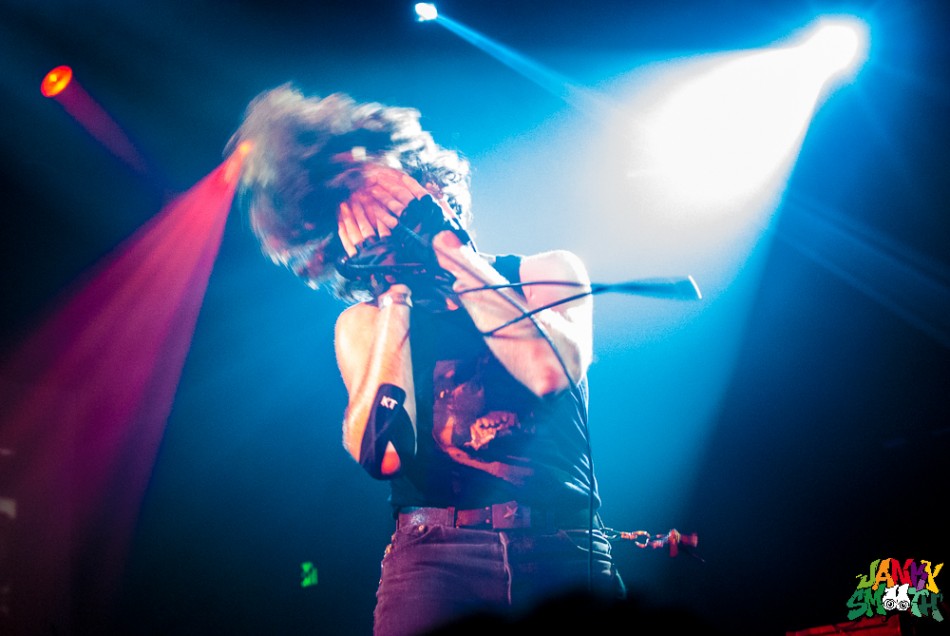 For every genre, there is a right sound. A band's music and vocal style have to marry each other in a familiar, yet original way to occupy the space in the ether that has always been waiting for them. High-Functioning Flesh captures the right industrial sound for 2017. Susan Subtract's coarse vocal tone harkens back greats like Al Jourgensen and Nivek Ohgr, while Greg Vont's music does the same with both singers' respective bands. The difference is, High-Functioning Flesh uses highly danceable rhythms and melodies to make classic industrial sound new and fresh. If you listen to Ministry's Twitch or any Skinny Puppy albums before Last Rights, you'll find plenty of gems but only a few songs that could really hold their own on a mainstream dance floor. Meanwhile, every song on High-Functioning Flesh's third and new album, Culture Cut, can pull any person onto a dance floor.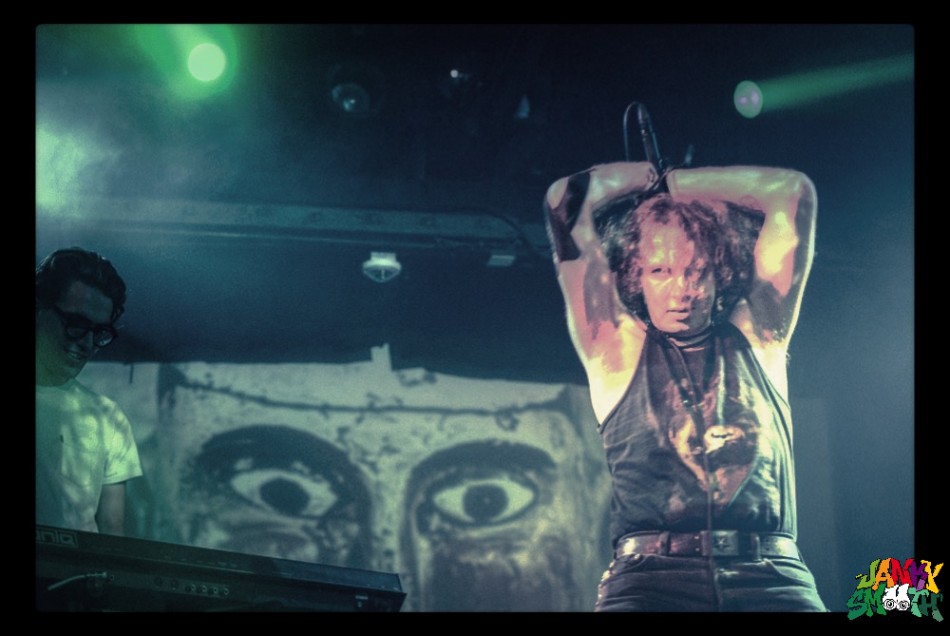 I first discovered High-Functioning Flesh after seeing an Instagram video posted by Blaque Chris featuring the band headlining a Planned Parenthood benefit. The band's compassion towards women and trans rights is just as pronounced as their music. After that, I made sure to check them out at Lethal Amounts' Sado Maso Disco in which the band played at the legendary LA gay leather bar, The Eagle LA. Surrounded by gay porn on every TV in the bar, the band played on a small stage in front of a raucous crowd of dance freaks. There was more energy at this show than their record release party but more on that later.
After seeing them live, I became a big fan almost immediately. I made a playlist of their last two albums A Unity of Miseries, A Misery of Unities (2014) and Definite Structure (2015) which was released by their current label, Dais Records. If Dais Records can keep pushing bands as good as High-Functioning Flesh and Drab Majesty then they will be the 4AD Records of our generation. After familiarizing myself with their previous albums, I understood very clearly that this band would go places and transcend the L.A. underground.
Culture Cut, High-Functioning Flesh's latest album, just came out with "Talk About" as their single. Incorporating the voice as an instrument the band makes incredibly infectious beats on that banger of a song.
Strolling into Part Time Punks for High-Functioning Flesh's record release party, I was disappointed in the turn-out and enthusiasm of the crowd. I was already pumped just by the noisy clamor Michael Stock had been spinning before the bands.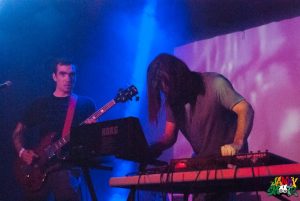 C57BL/6 was first to take the stage. They sound like a post-punk band playing inside a jet turbine, which I mean as a total compliment. With guitars and bass, the band plays a post-punk melody but the electronics create an abrasive and disorienting sheen of noise behind it. They're certainly an interesting art trio to behold.
Collin Gorman Weiland played in direct support of HFF by Susan's personal request. He plays a style of hard-techno that either takes you on a personal trip or completely warps the room into a grimy 90's dance club circa electronica's origin. If you saw video of him playing that cropped out the audience, you'd assume it was impossible not to be dancing. WRONG. In Los Angeles, it's hard for people to just let loose even though somewhere in their minds, they know it'll make them feel amazing to dance. Take that act to Europe, shiiiit… people would be crawling up the walls, going insane.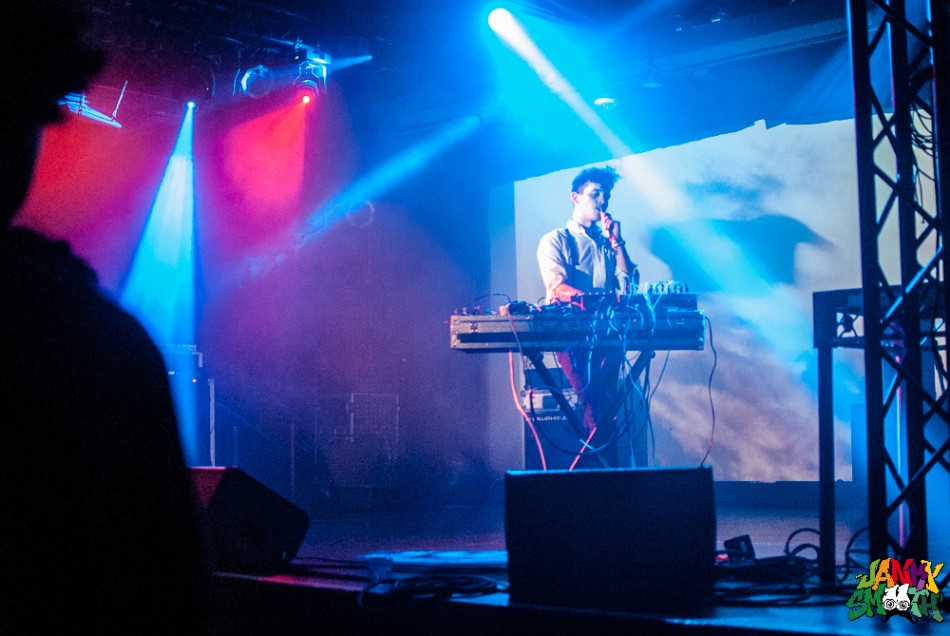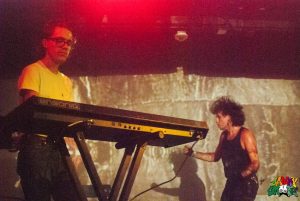 High-Functioning Flesh was up next showing off their new songs and also serenading us with their old hits. "Talk About" is always a pleasure live but through a good sound system it was undeniable, same with "Human Remains" which Susan went on to introduce was about cops. "Cops don't like me, so I don't like them…"
Susan's on stage persona is certainly all his own, wearing leather gloves and a tank-top with an angry Rottweiler on it. He is a hybrid of street toughness and artsy subversion. Speaking to him a bit before the show and hearing his banter on stage, I can tell he has an interesting attitude that I can only describe as a new way of not giving a fuck. The band's music man, Greg Vont stands stoically behind his electronics and keyboard with magic coming out of his fingertips. The guy's a mad-industrial-genius.
Another song off the album that really hit was "Stationed", where Susan gets to sing about false flags. I could tell Danny B's interest peaking with that song.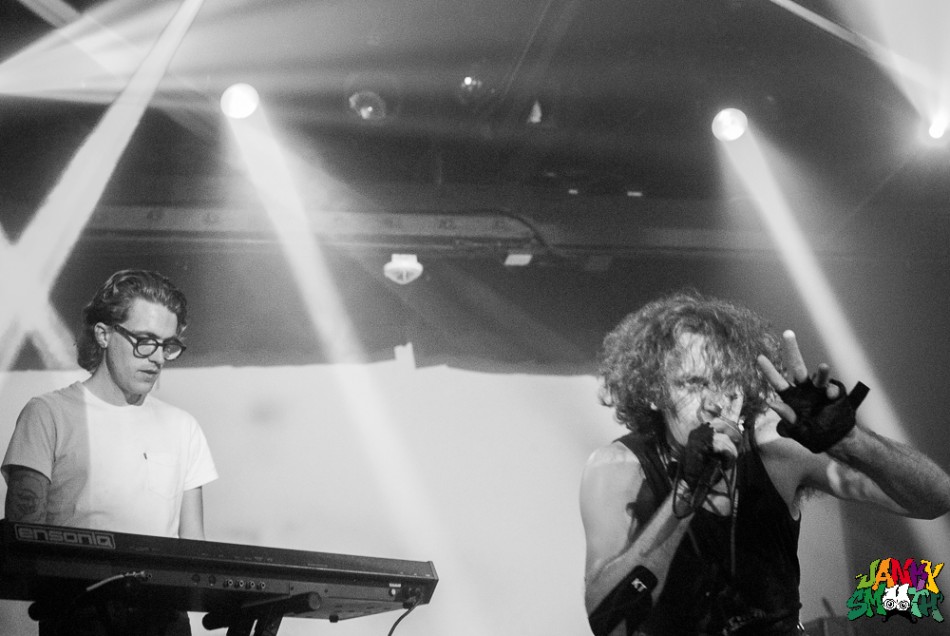 The show was great. High-Functioning Flesh sounded the best that I had ever seen them but the crowd's turnout and lack of dancing put a bit of damper on my night. I doubt High-Functioning Flesh will let it phase them though, they are fighters and they've been through the trenches. I foresee their careers only going uphill from here. They've already announced that they'll be opening for Prayers at Part Time Punks on July 30th.
It always takes people a while to catch on to what's written on the subway walls but they will, High-Functioning Flesh's reign is only beginning.
Words: Rob Shepyer
Photos: Grace Dunn