Beach Goth 4: The Party of The Year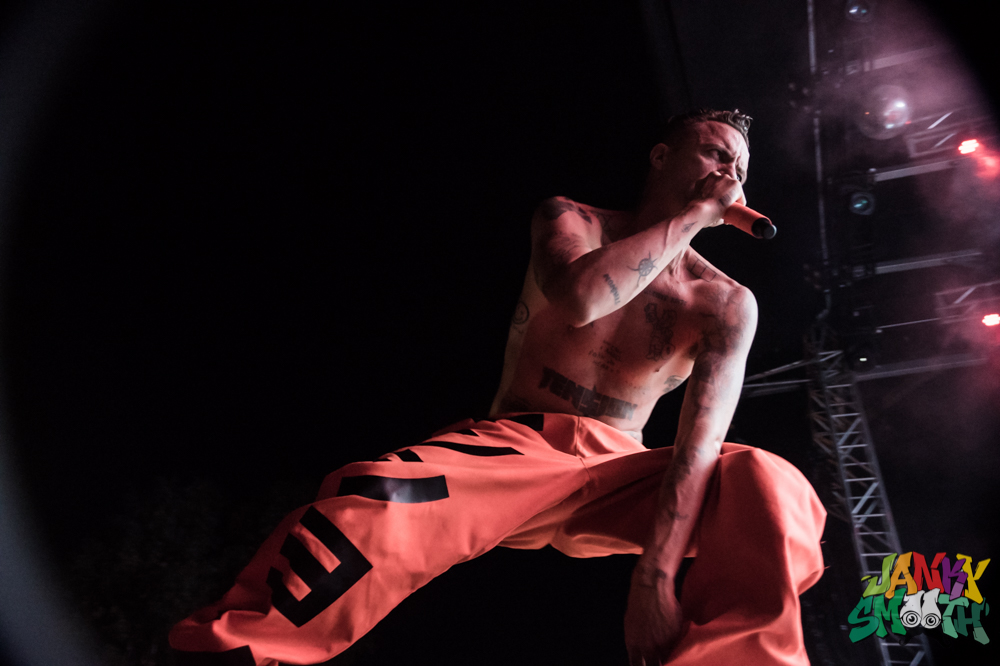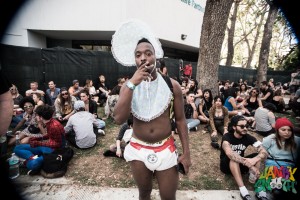 The freaks, stoners, hipsters, bloggers, vegans, photographers, rockers, punkers, pukers, trippers, hippies and seemingly every beautiful woman from Southern California to Vancouver attended The Growlers annual trademark event, Beach Goth 4 this past weekend. They came to celebrate the best thing in their lives- music. I talked to a unicorn from Australia, I smoked a joint with a fairy from Mexico City and got my nipple twisted by a witch from Westminster. It seemed as if all inhibition was lost as everyone's freak flag flew sky high and more spit was swapped than at a mouth swabbing clinic. And there was music. Oh lord was there music. With little touches and surprises like The 5678's serving as the house band on a small stage on day 1, The Selena Impersonators and G-Funk pioneer, Warren G randomly performing a song near the end of Day 2, Beach Goth 4 had one of the most exciting lineups since Woodstock (if you love independent music). The scheduling issues which plagued the festival last year were a distant memory. Then again, after riding the snake all weekend, this past yesterday seems like an eon of a couple lifetimes ago. Sure, the ticket price has gone up as it has in every subsequent year but a large percentage of that goes to an independent band throwing their annual party in the womb that spawned them- Orange County. Not to Live Nation. Not to Goldenvoice. In the back yard of Burger Records, The Observatory, The Growlers threw a festival that felt like a house party and showed everyone that the American Dream is not dead at all. You can still get ahead in this country on a dream. People complaining about disorganization? Do you complain about the lack of gluten free cookies served at your best friends' house party? Did you attend Beach Goth last year? Schedules ran 4 hours late at Beach Goth 3 and this year, The Growlers showed they are getting pretty damn good at this.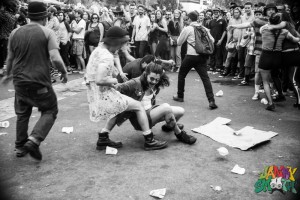 Make no mistake, the music is the most important thing that takes place at a music festival but I've seen the best bands play to the worst audiences and it definitely affects the overall ambiance if attendees aren't engaged and participating- at least in Rock and Roll. Participation was not an issue for attendees of Beach Goth 4. Whether fans were participating in getting dressed up or thrashing around the slam pit, there was no lack of enthusiasm amongst the proletariat. Even the most cynical of hipsters were bouncing up and down when FIDLAR started playing Cocaine. That moment was also the first time I've ever seen a slam pit explode in the middle of a beer garden- a slam pit chock full of aggressive men in drag that would intermittently stop dancing to make out with each other. "My girlfriend hates it when I do this", exclaimed a cross dressed young man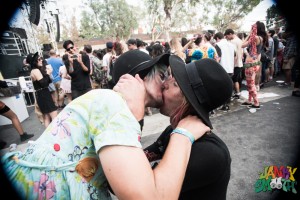 with lipstick smeared all over his face like Diane Ladd in Wild At Heart. Everyone raged so hard that I was surprised that The Observatory was still standing at the end of the weekend. That might sound like hyperbole but seeing Brandon Blaine of Plague Vendor raising the venue's disco ball above his head like Atlas and throwing it into the crowd during their set made me realize that at Beach Goth 4, anything goes. The décor like pill, eyeball and weed leaf piñatas, psychedelic imagery and stumbling attendees relayed an unmistakable message to the world- we came to celebrate. We came to party.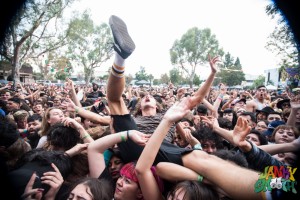 The flow of bands was nearly perfect. The entire lineup presented one big conflict in 100 different pieces but only because there were so many amazing bands. Even with all the overlap, it was still almost possible to catch a piece of almost every single act. I had one big fuck up when I tried to catch the beginning of The Growlers and then make my way over for The Shrine in the Constellation Room. If you really wanted to see a band and have a good view in the smaller, Constellation room, then you would have to show up either before or just as that band was starting. If I knew, I would've just saved The Growlers for their Sunday set and caught one of the hardest shredding young bands in rock music.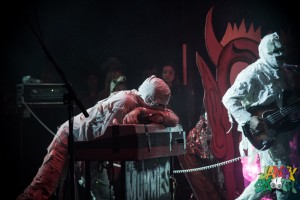 We might've been the only publication covering the event that wasn't drooling all over Mac DeMarco. He's a'ight but I didn't want to miss one minute of The Mummies or Wanda Jackson and after The Mummies, I needed a stiff drink and bladder relief more than I needed Mac DeMarco. I can only assume that our photographer, Taylor Wong felt the same way since there aren't any photos of Mac. Sorry kids, (I hear the clicking sound of being unfollowed by an entire demographic on social media in the distance) you'll have to get your Mac fix elsewhere.
Beach Goth 4: Day 1 highlights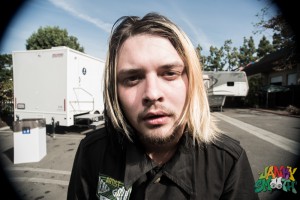 After rushing to pick up our keys to our Air Bnb so as to avoid driving back to L.A. in a blackout, we rushed to make it for No Parents and Them Howling Bones on Day 1. The magic at festivals occurs in the small print and those two bands definitely qualify as magic. We split the difference and gave both bands some equal time, which became a trend until the sun set and led to a delightful dose of culture shock as we got some Riff Raff in our Brain Hotel– that's as wide on the spectrum of dichotomies as Martin Luther King is to Donald Trump. Riff Raff brought the hard trap beats that got the early day crowds bouncing and showed off his swollen, new physique. Dude has GOT to be juicing. He got that Barry Bonds, big head syndrome but it just adds to the odd, Riff Raff phenomenon. I rushed back to the main stage to make sure to get my mandatory piece of Pangea before seeing Kadaver for the first time and hopefully not the last time because they were really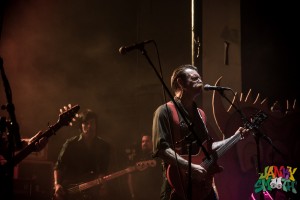 fucking good. Not sure if a choice was given to any of the bands but it seemed like some bands that played the Observatory stage inside the venue could've easily been on the main stage, like Eagles of Death Metal or Wanda Jackson but might've opted for the smaller, overflowing indoor stage and a longer set time. Like The Adicts playing the outside, festival stage with only 30 minutes of time vs. The Subhumans playing inside for 45 minutes. Both have career long catalogs. Both absolutely left the stage smoldering in ashes with a surprisingly well versed, young audience packing in tight to see the only hardcore punk acts on the bill. I split time between Warpaint and Dungen, which would've been unthinkable a couple of year ago but with Warpaint not playing any older songs for about 15 minutes, I decied to check the hype around Dungen and I'm REALLY glad I did. They really are taking psych rock to a complex and unique level with their arrangements.
Deliciously satanic Swedish metal band Ghost and their horror flick imagery and mysterious, anonymous members massacred the main stage and ushered in the darkness of night with horrific splendor and were a delicious piece of bread in the Mac DeMarco sandwhich with Grimes as the other slice of bread that delighted her huge contingent of fans with two new songs. Eagles of Death Metal closed out MY night inside the Observatory stage with Jesse Hughes being devout and religiously rock and roll as Josh Homme answered a question that always remains unanswered until show time- will he show up? The answer was yes and all was right in rock in roll on Day 1 at Beach Goth 4. By the end of the night, I was reduced to a disoriented stumble and didn't have my faculties about me enough to realize I probably should've stumbled over to Sir-Mix-A lot and Toro y Moi inside the venue. Definitely my loss.
Beach Goth 4: Day 2 highlights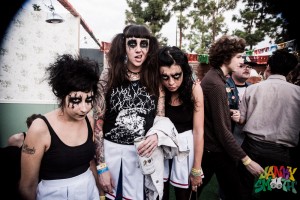 Beach Goth 4, Day 2 started out kind of rocky due to the fact that I actually had to wake up. I had short lived fantasies of not even attending day 2 that were squashed pretty quickly as I sought out and secured a huge cup of coffee around Noon and scanned the Sunday schedule longingly wishing I had enough fortitude to make it in time to see The Frights by 12:30pm or Mystic Braves by 1:15. An after coffee breakfast beer got me going enough to make it inside the venue by 2pm to see some local favorites, Corners do their dark, psychedelic rock thang- to not so gently shake the cobwebs and emotional and physical pain out of my current existence, (alcoholism is not so glamorous the morning after, kids. Just say no to hangovers). While experience and age has taught me not to binge drink (anymore), I consumed just enough alcohol to insure that the day wasn't filled with regret and clock watching but not enough to hamper my late night drive back to L.A. or make me look too unprofessional stumbling around the artist area at The Observatory.It wasn't long before I was right back in the groove because there was a string of bands between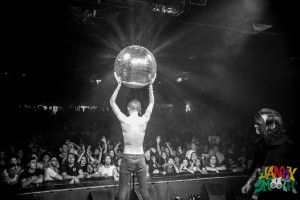 2-4pm inside the Observatory that threatened to usurp the best moments from the Sunday headliners by placing Corners, Plague Vendor and The Coathangers on the same stage, consecutively. Plague Vendor and their significantly harder edged version of this current, psych rock resurgence, threatened to bend the Beach Goth Space/Time Continuum's back into painful positions that no metaphysical spine should endure. Lead Singer, Brandon Blaine and company clearly showed up for sound check because the sound was perfect and you could hear every ridiculous riff and vocal inflection clearly. I caught a blistering Coathangers set for the third time in two months and immediately moved outside to catch the end of beloved member of Three Six Mafia, Juicy J and the little I caught was super hype.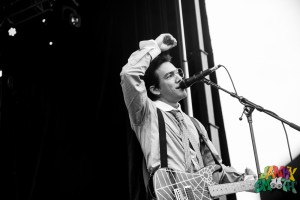 FIDLAR were the belles of the ball of Beach Goth 4, though, as expected. They were all dressed in suit and suspenders (which I was told later was a Bill Lumbergh costume. Genius!) worthy of the title of elder statesmen of the Burger Records scene and possibly giving visual commentary to the success of their recently released, second LP, "Too". Definitely a bit more bubble gum than their self titled, first LP, and I haven't been able to bring myself to listen to it yet but the new songs went over well with an audience that holds them to the highest standards and sounded pretty damn good to me, live. That hit or miss, too fucked up to play vibe that developed for a bit last year is completely gone and they have shredded every venue I've seen them in recently, including Riot Fest Chicago.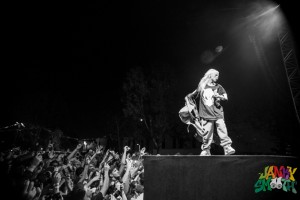 I missed my window to check out early pioneers of the term, "Alternative Music", My Life With Thrill Kill Kult in the Constellation room as the room was too full by the time I got there and headed over to Julian Casablancas in an agitated state because of this. JC + the Voidz were the only band all weekend that didn't have a band conflict with them in Observatory main room for an entire half hour. I checked them out for the entire time preceding No Bunny's Beach Goth 4 set in the Observatory and wondered what it must be like to have strange girls throwing their panties at you. JC + The Voidz were solid but not solid enough to miss No Bunny who bestowed upon us a tight set, of high energy surf punk and shenanigans from the pesky Oryctolagus cuniculus, which was the perfect segway to the set of the night by Die Antwoord. Ninja and Yolandi and DJ Hi Tek got the crowd hyped more than any other act at Beach Goth 4. The techno beats and chanting flows had everyone bouncing including Ninja's daughter named Sixteen who came out and danced with the band and thousands of fans. What a moment. A clear, encouraging and exciting sign of the diversity of today's music fan.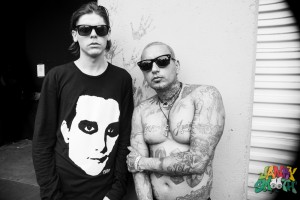 Immediately after Die Antwoord, I rushed inside to catch a newer band I love, Prayers. I was fully transformed into a fan of the Cholo Goth gospel when Janky Smooth attended Riot Fest in Chicago and we had a chance to catch up with Prayers frontman, Leafer Sayer. The sound in their set was bit rough at Beach Goth but they still turned us out and it was a great moment when Brandon Blaine of Plague Vendor joined them on stage for a song.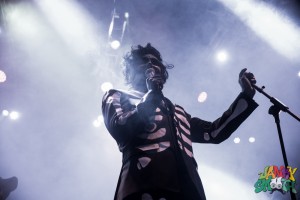 The Growlers and their second consecutive headlining set in as many days fell flat for me. Like night 1, It was filled with a majority of newer songs I don't really like and I much rather would've seen either only one set from the band or two sets, distinguished by chronology of their catalog. If they insist on playing two sets at future Beach Goth events then maybe one day could feature the first three releases and the other, the newer material. Hardcore Growlers fans would fill the floor for both sets and fans like myself could hear only what they want. Not like they're asking for suggestions, nor do they require it because they're doing JUST fine. Just one man's thought. Hard to criticize the Growlers at all through such an ambitious, weekend long enterprise they dubbed Beach Goth 4. They organized and delegated the responsibility of having one of the most exciting festivals of the decade so really, they get a pass from me on almost anything. "As if they need it. Dumb critic."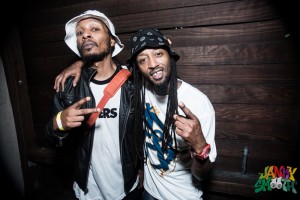 The last night of the festival afforded me the opportunity to see one of my favorite MC's in history. I was turned onto Del a long time ago by the bay area, hip hop collective, Hieroglyphics. I put Hiero up there with Wu-Tang and Freestyle Fellowship on my top 3 list but his solo stuff, whether it's called "… the Funky Homosapien" or "Deltron 3030" is hype as fuck, as well. Back when Hiero was happening, "they" called it conscious hip hop and now I think "they" call this brand of MC's and fans "back pack rappers". Whatever the name, it's distinguished by MC's that value the art form above all else and Del offered songs from all monikers including opening with the song "No Nuts" and getting into the 3030 stuff like Virus and getting into Positive Contact and many more Del classics. Shit was tight and very well received and A-plus from Hiero and Souls of Mischief joined him on stage for hype and sporadic verse duty.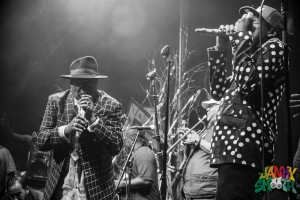 I closed out the weekend with half a set from George Clinton and his current assembly of musicians forming Parliament Funkadelic. Before I retreated bac
k to the city, I was blessed to hear Mothership Konnection (let me ride), One Nation Under a Groove, Up for The Downstroke and Dr. Funkenstein. Iconic songs I've never heard live outside the hundreds of rappers that have sampled beats and pieces from a band that influenced entire generations. Now that I'm rested, I wish I could've heard if a very normal, mild mannered looking legend, George Clinton played Atomic Dog or any other anthems that have passed through the entirety of the American culture but I exited the scene at Beach Goth 4 with most of my dignity, liver and sanity in tact, having one of the most memorable festival experiences in quite some time. See you next year, Beach Goth 5.
Words: Danny Baraz
Photos: Taylor Wong