Juicy J Smokes Out The Fonda With a Little Help From His Friends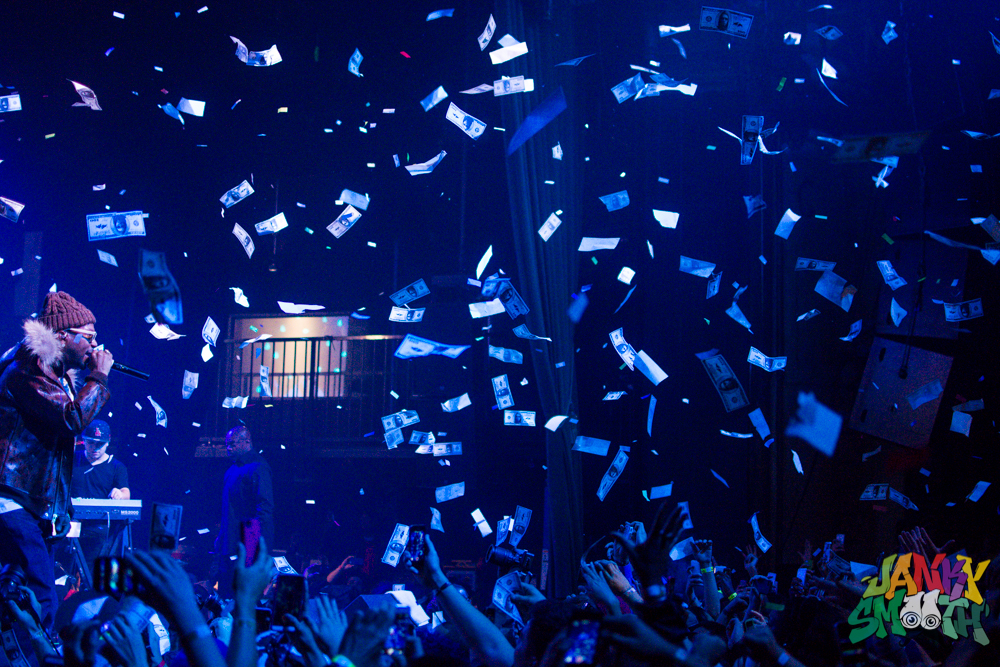 It was the first night after the decision in Ferguson and tensions were high in LA. So what better way to blow off some steam than at a Juicy J show. We are on the final stretch of the Red Bull Sound Select 30 day's in LA with number 25 last night. The event was hosted at The Fonda in Hollywood with openers Tree and Two-Nine. Of course being a rap show in LA, the crowd was made up of mostly 18 year old white kids.
The first Rap group, Tree took the stage with a half full crowd. These guys were fantastic. A bit of a mellow vibe to these dudes.  They kinda had a flow like A$AP Ferg. These guys had a short set which only lasted about 30 minutes which led to a 30 minute intermission. These Red Bull events are starting to feel deja vu like with the people I see in attendance. Last night I ran into Daniel from the LA Riots for about the 5th time this month, during the intermission.
The next group Two-Nine started out with a moment of silence for Michael Brown, the unarmed 18 year old boy that was gunned down by Ferguson police. I'm pleased to say that this moment of silence never escalated to a moment of violence at any point of the show. Two-Nine was by far my favorite performance of the night. These guys had a very intelligent flow to them, this time giving an Underachievers like sound. You definitely got an East Coast vibe off these guys, but I wouldn't have put my finger on Atlanta.  I was guessing Brooklyn.
After another long 30 minute intermission Juicy J came out and the crowd went fucking wild. There were girls dancing every where and the room was filled from wall to wall with weed smoke. I forgot to bring my Californication with me, which was no problem since the air in the room was 90% THC.  Three songs in, Juicy J went into Bandz A Make Her Dance, which is when he brought out Lil Wayne. The room was now filled with smart phones trying to snap a picture of Lil Wayne with Juicy J.  Weezy was fresh to death in a new beanie which still had a tag as well as a fat blunt poking at his chin. Lil Wayne only graced us with two songs but that's all they needed to get all panties soaked. After Weezy took off, Juicy kept hinting at a Three 6 Mafia reunion right then and there. That was all a cock tease he used to play his favorite Three 6 songs.  No one ever came out to join him. He also yanked on my dick a little more with a 2 Chainz tease. Yet again no 2 Chainz. Juicy was toying with my emotions, like Smokey did Big Worm. Even with only one special guest and two cock teases this show was a fucking riot, but in a good way.
Words and Photos: Taylor Wong