Julian Casablancas Secret TIDAL Show at The Dragonfly
Dragonfly hasn't popped up on my personal radar for a few years now. When Janky Smooth received a personal invite from the owner, Anthony Belanger to see JULIAN CASABLANCAS & THE VOIDZ perform on their stage, we did not hesitate whatsoever.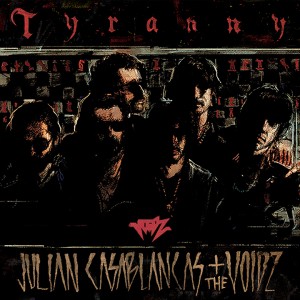 Julian Casablancas, of The Strokes has moved past but not completely parting with his early 2000's alt-rock alma mater. The Voidz were born out of Casablancas breaking a rut in 2013 and they have chugged along together to bass heavy riffs at a steady pace. I had seen them perform at FYF in 2014 and was left totally unimpressed (tons of their early live reviews were negative) – but that particular set was at a festival and festival sets can so easily be ruined by outside factors (production, poor sound, shitty people).  I'm a Strokes fan and was eager to check out the private showcase – I had no issue in giving them another shot. This performance absolutely filled the empty void I'd felt between The Voidz and I.
Before entering the venue, we were forced to turn in our cell phones at the order of staff and signs bearing the TIDAL logo. Yes, that TIDAL. The music illuminati (Jay Z, Arcade Fire, Calvin Harris, Kanye West & more) owned streaming service had a hand in this extremely low key/secretive performance. We couldn't gather exactly what it was all for, but I THINK they are going to start introducing private showcases to subscribers on a lottery based/first come first serve system + live streams for all subscribers.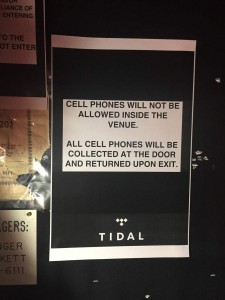 As I settled in with a cocktail napkin and pen (no phones, remember?) I noticed some familiar faces in the crowd – the beard of Rick Rubin, Rostam Batmanglij (Vampire Weekend), Alex Turner (Arctic Monkeys) and a VERY small handful of LA scenesters. This was not your typical list heavy LA 'secret show. We were flattered to be included, to say the least. This was a groomed list, save for the handful of aged 18+ Julian Casablancas fans who were lucky enough to win their way into the taped performance. These were the die-hards; it added a positive element to the entire experience. It seemed there were only 100 or less people in the building, including band/crew but upon further research, there were a total of 210 people in attendance.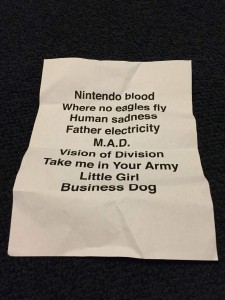 While the performance was centered around the 11 min track "Human Sadness", which has been featured at screenings of the new music video all over the world recently; Julian Casablancas & The Voidz played an array of tracks from their late 2014 (and only) release "Tyranny", a Strokes track (duh) "Vision of Division" and the Casablancas/Danger Mouse rarity "Little Girl". Aside from a killer sound as a whole, the band all shone with outstanding talent – specifically Alex Carapetis (Voidz, NiN, Phoenix) on drums, the highest energy (and arguably most talented) of the performers gets the gold star of the night, which includes the amazing Beardo on guitar.  As for Julian Casablancas- he is obviously aging but who isn't? He has retained the stage presence and swagger that won him hearts in the Stokes heyday and kept the small sea of an audience reeled in. He was more sober than I'd seen him in the past (notably The Strokes Coachella 2011 set), which was good to see as a fan. His signature lo-fi croon hasn't changed a bit and there is nothing wrong with that at all. While his style (ski jacket, baggy jeans) may be questionable, the music was so right.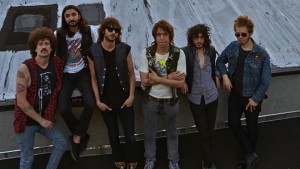 The sound was HEAVY. I loved it. Everyone loved it. It came out of nowhere like a bullet train and we all held on for the ride. Sounds remnant to a lovechild of The Unicorns and Horse The Band (or even Slayer), it was refreshing to experience such raw powerful sound in a world of DJ's, buzz bands and going-through-the-motions reunions/side projects. If it were any less formal of an event, a circle pit would have fit in just fine. On the fence about this album? Give it a listen on your car stereo at full blast and you'll get the similar rush that we experienced. The set was about an hour long but flew by at lightning speed. I think the venue collecting the phones as you entered was a genius idea – aside from making the performance more exclusive by removing any recording; it made the audience connect, without distraction, in a way they probably haven't done in years. I even noticed a fangirl get escorted out for sneaking her phone in! Venue security was on top of it and it helped the experience immensely. After the set, the band stuck around to mingle with fans, outside the side door of the venue – which really struck a chord with me. You don't see that very often anymore with bigger acts. It's great to see bands of this magnitude (90% of their upcoming tour = huge festival sets) giving back to the lifeblood of the live performance – their fans. With a sound system that has received sizable and costly upgrades, tonight I saw The Dragonfly shine brighter than ever and I hope we can return again soon. We also need Julian Casablancas & The Voidz back in LA and on a larger scale ASAP.
Words: Justin Cornwall