Fear and Loathing With King Gizzard and Pond at The Hard Rock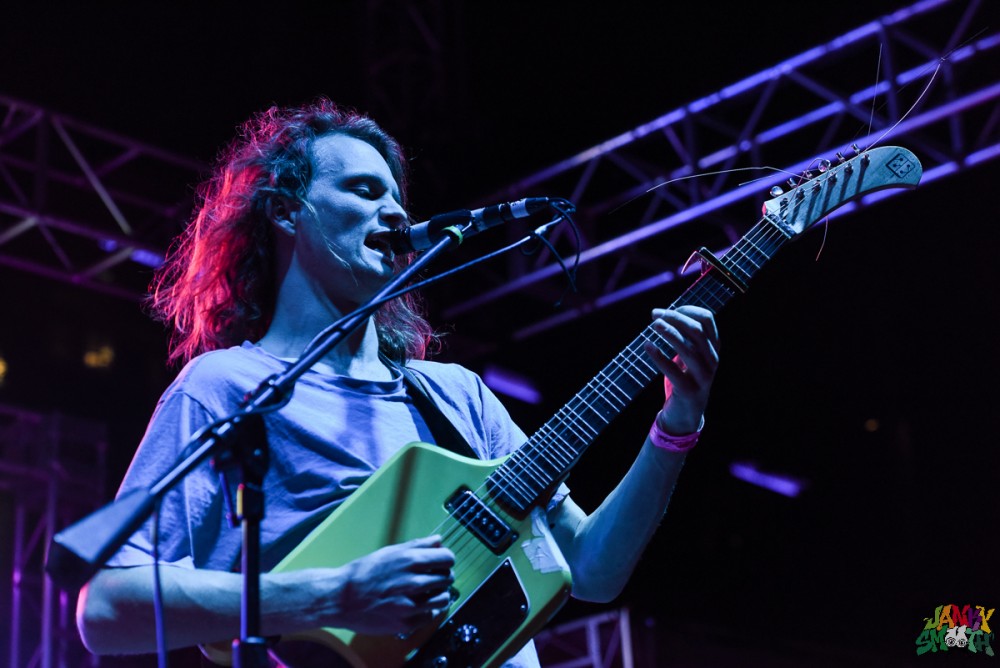 There's not much about Las Vegas that ever really appealed to me. Even one with a deep appreciation for the book/film Fear and Loathing in Las Vegas has to remember that Hunter S. Thompson himself acknowledged the city's role in the abrupt shift during the spread of the 1960's San Franciscan counterculture. In his famous "wave speech", he recalled Sin City as "that place where the wave finally broke and rolled back." However, when the Hard Rock Las Vegas announced an Australian trifecta of King Gizzard and the Lizard Wizard, POND, and ORB at their poolside stage, I determined the possible waves from an epic whirlpool/moshpit/portal would be more than enough to lure me from Austin out to the desert.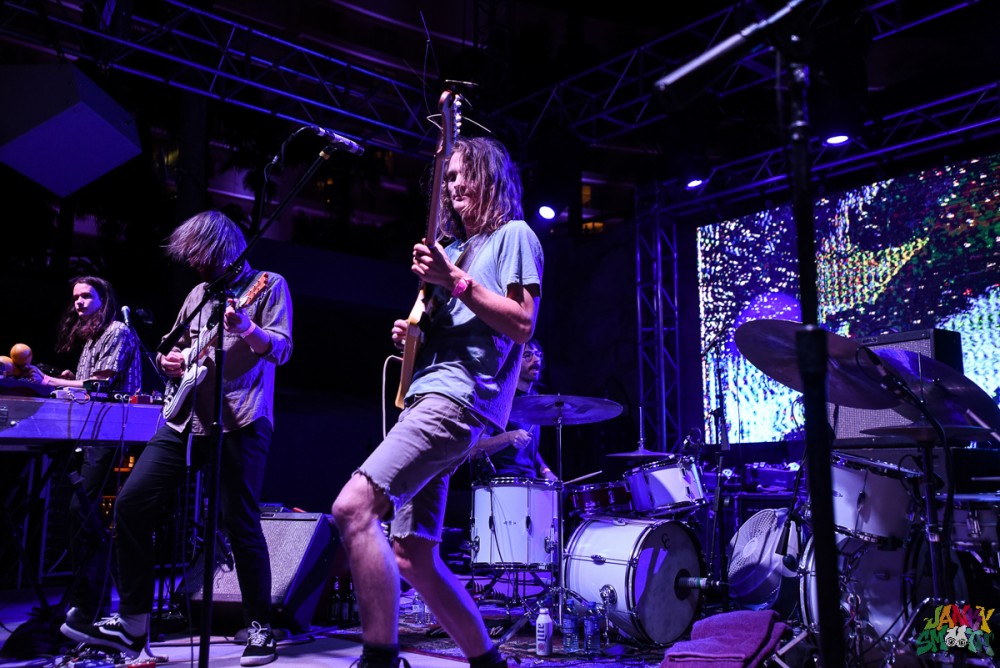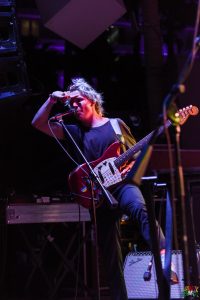 Sandwiched between first time Coachella sets for both King Gizzard and the Lizard Wizard and POND, the Las Vegas double headliner event comes at a time when both acts are beginning to creep onto a wider world stage. Formed in 2010, King Gizzard and the Lizard Wizard reportedly chose their name "as a joke", however, the work ethic of the 7-piece is anything but that. Since their inception, the Melbourne natives have released 9 full lengths, with reported intentions on releasing 4 more this year. The group often draws comparisons to L.A. nutso hybrid garage kings Thee Oh Sees, likely due to their shared psychotic rock and roll foundation, prolific LP releases, and Stu Mackenzie's replicate John Dwyer stage antics: eyes rolled back, upside down and tongue waving in the wind. However, moving beyond their respected influence, King Gizzard and the Lizard Wizard have evolved to delve into sonic territory that not many rock and roll bands have the gutso to approach. To name a few: Narrative Cult Spaghetti Western (Eyes Like the Sky, 2013), swaying jazz jams to listen to in rivers (Quarters, 2015), and infinitely looping trippy metal headbangers (Nonagon Infinity, 2016). Drummer, Eric Moore created the band's independent record label, Flightless, in 2012, and it houses their entire catalogue. If you choose to employ the umbrella term "psychedelic" (generally used as a stylistic impression nowadays) to describe King Gizzard's work, it is important to note their role in shaping what the modern use of that term really means. Their craft has the potential to take you on an auditory adventure that delivers you momentarily from reality and creates the space for you to FREAK THE FUCK OUT.
Perhaps that is a factor in why they've created a cultish Deadhead level following among the tastes of those who enjoy festivals such as LEVITATION or Liverpool's International Festival of Psychedelia (the band has even curated their own festival, Gizzfest). On the plane leaving Austin, I encountered a few Gizzheads proudly waving their freak flags in their band tees. At the Hard Rock, I met a lovely couple who flew in just for the show all the way from the band's hometown of Melbourne, as well as fans of POND from various parts of the country.
There is a kinetic energy lingering in the air once I arrived poolside during ORB's set. Eyeing the pool I imagined the water was probably pretty frigid as it was a comfortable spring evening in the desert. The first act hails from the Aussie port city Geelong and are also on Flightless. Their take on the possibilities for three piece doomage lead me to consider, "What would it sound like if Cream had hibernated in a sealed cave with 10 pounds of hash and Geezer Butler and emerged in 2017?" For their first U.S. run supporting their label mates, the group definitely delivered a solid and quaking set.
The placement of the pool a few hundred feet from the stage front was a subconscious threat lurking in many minds that evening as AC/DC's "Thunderstruck" blasted through the speakers. King Gizzard and the Lizard Wizard shows are often notoriously rowdy. My friend received the gift of a blood bath from another human in the pit once. POND's current lineup boasts Nick Allbrook (former Tame Impala and several solo releases) on vocals/guitar, Jay Watson (GUM/Tame Impala) on synth/bass/vox, Jamie Terry on keys/synth, Shiny Joe Ryan (guitar/epic stage hair), and James Ireland (HAMJAM) who joined the group on drums last year. Opening with "30,000 Megatons", coincidently the opening track to their May 4th release The Weather, the pained lyrics of Allbrook are matched in intensity by building slabs of layered synth which crack like a MOOG thundercloud at the chorus.
Nick calls out to the man on the moon, begging him to deploy his arsenal (of what one can only guess) and stop humanity before we destroy ourselves, each other and our planet:
"Out on the street it's only vitamins and hate. We'll soon be out of Xanax and then it'll be too late. We need 30,000 megatons, why wait?? Push the button now…."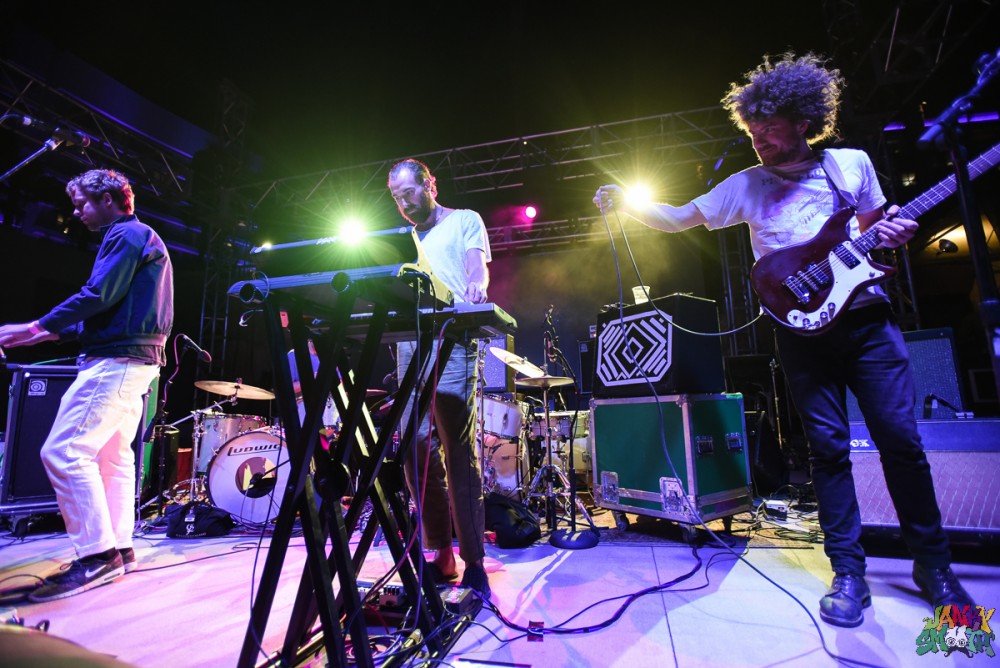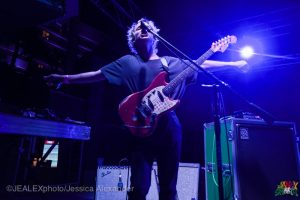 POND, whose name is inspired by the poetics of people as tiny water universes, are now anticipating their seventh studio release. They've had a penchant conjuring longform space-inspired New York Hustle dance inducers on their most recent releases, and seem to have matured and experimented endearingly in that realm. To deliver some heavy lyrical truth bombs and provide the fuel to still somehow shimmy your way on, and wind some shredding riffs in-between requires balance. The set built on some of their more groove-based tracks ("Waiting Around For Grace", the newer cut "Sweep Me Off My Feet") to reach the title track from The Weather. This feels like one of their gentler modes, a grounding. The duel vocal takes, with Watson's digitally haunting tale of champagne on the floor and "you shoulda seen those cops baptize" float comfortably amongst edge-of-the-world Rundgren string licks. Somehow the song even nods to chugging hip-hops beats through it's entirety.
Between sets, stagehands delivered a few stacks of large beach towels beside a few pieces of Lizard Wizard equipment. It appeared that we might have some takers on some pool action, which was virtually empty at this point. The band started off the late night set with the kraut-y pirate shanty "Open Water", coaxing the crowd as guitarist/singer Stu Mackenzie bellowed,
"And bells are ringing in my head. I think I'm done – I think I'm dead. As something pulls my paddling leg under".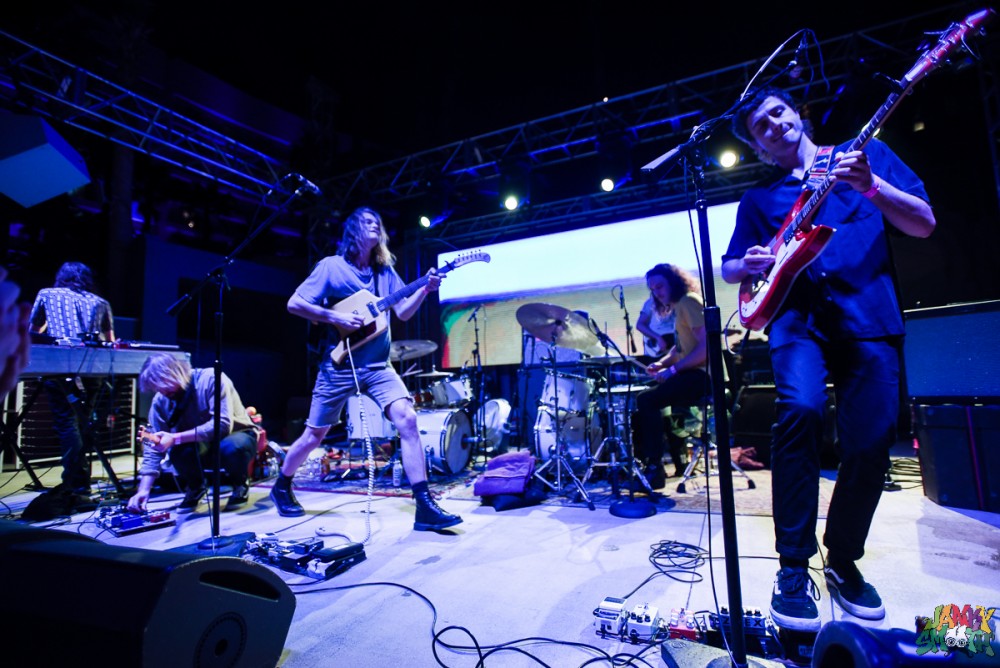 The foreboding opener comes from KGATLW's most recent album drop, Flying Microtonal Banana.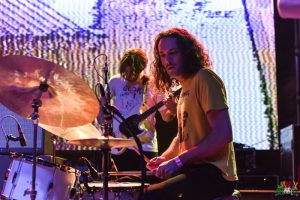 Some of the more accessible modern usage of this ancient interval system can be found on the strings during Radiohead's "How to Disappear Completely", and some of Johnny Greenwood's orchestral work. The Gizzard collective explored this approach through a more raw, accelerated stream, with a pastel yellow custom ZB Flying Banana as the visual representative of this million tone play land. The Banana is passed to vocalist/harmonica/keys player Ambrose on "Billabong Valley", another ruffian hymn that rolls in with a bustling and crashing double drum section. Stu was quick to call out security on several occasions as the enthusiasm built.
Later on in the set, material from the upcoming nihilistic cyborg sludge drama Murder of the Universe surfaced. These fresh tracks harken to the band's spastic shrilling guitar driven roots and influences, yet the lens of alternate reality-dystopia is a nuanced addition to their chameleon-like nature. I honestly don't remember too much after "Altered Beast", entering hypnosis territory. There are layers of subtleties interwoven throughout much of their material, which almost seem to be progressing in occurrence: riffs, callbacks, lyrical content, teensy gems available to those with open ears. By the end of the set, Stu requested for a lift to the Hard Rock pool (and to be delivered "gently"), which the crowd was more than happy to oblige. This also happened to be the first time for many encountering the band's visual artist, Jason Galea, projecting stage art for the band. He utilized animation, music video footage along with appeared to be live production and this added a fitting complementary optic element to the show.
My sources in the pool tell me that most did not venture beyond the concrete pavilion in front of the stage, but there were a few adventurers toward the end of the final set that took a gander in the water. Both POND and King Gizzard will be returning to the desert for their second Coachella round this weekend.
When you consider the wave of momentum for a band like King Gizzard and the Lizard Wizard, it makes one curious as to how the rest of the year will play out. Besides their 4 additional planned releases for the year, there are a handful of other Flightless projects which band members have a hand in (Pipe-eye, The Murlocs). Will the tides of constant touring/releases sweep up more potential fans and see the band creep into the stranger sect of the mainstream? Regardless, so long as they continue to follow their flights of fancy, it appears that their fanbase will be sticking around to see how far the Melbourne sound will travel.
Flying Microtonal Banana and Murder of the Universe are available internationally through ATO Records, Heavenly Recordings and Flightless.
Words: Lindsay Krause
Photos: Jessica Alexander