Faith No More Wind Up The Wiltern on Opening Night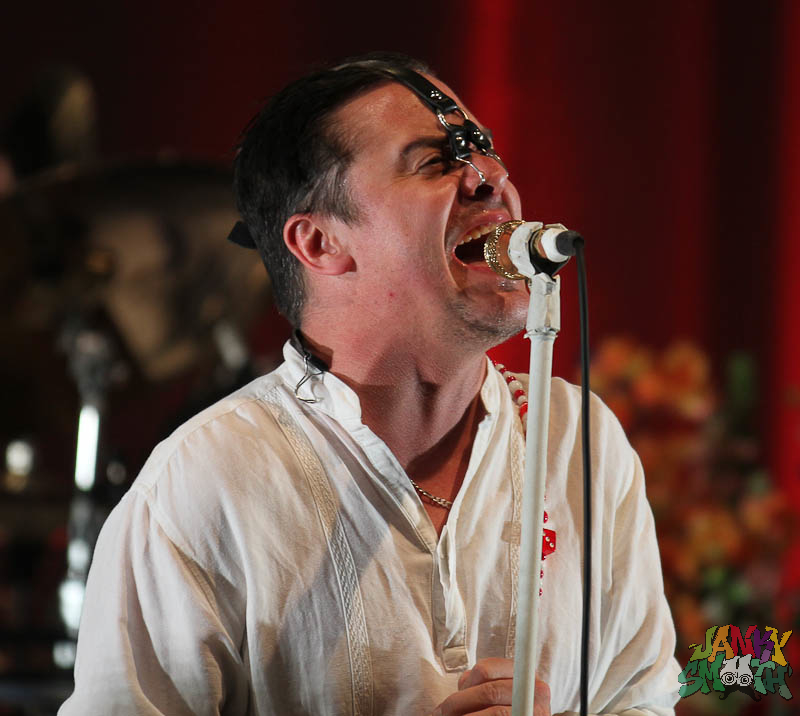 Words: Danny Baraz
Photos: Dirt Junior
If I HAD to list one musical influence that could encapsulate my love of listening to, creating, performing, critiquing and obsessing on music, without hesitation or pause, I would tell you Mike Patton.  Faith No More, Mr. Bungle, Fantomas, Tomahawk, and Lovage. His dynamic vocals, the musicians he plays with, the uniqueness of his sound, his twisted lyrics and commentary and the prolific nature of his creative output are everything I aspire to as an artist and the measuring stick to which I compare all others. To say I am a bit biased on this subject would be an understatement. Faith No More were a part of a musical awakening for me and were also the gateway to discovering my favorite Mike Patton fronted band, Mr. Bungle. I was 14 years old when Faith No More's, The Real Thing was released. I had never yet and still to this day, heard anything like it. You can imagine the excitement and trepidation I experienced when a new Faith No More tour and album were announced last year.
Last night, Faith No More played the first of 3 sold out shows at The Wiltern. I was exhausted and it was the type of night where I could've easily made the decision to stay home if any other band were playing. The last time I saw Faith No More in concert was November 30th, 2010 at The Palladium. Since then it's been a series of rumors, denials and finally, the confirmation of new material and tour.
One of my favorite new bands was hand picked by Mike Patton to open their first night in L.A. When ho99o9 were announced as the opening band, I couldn't help but chuckle a little at how predictable my taste is towards the unpredictable and also, a feeling of pride that Patton hears what I hear when we listen to Ho99o9. This was my 4th time seeing Ho99o9 live and they fell a bit short of what I've come to expect from them. It was a totally different atmosphere than any I've ever seen them play in. Typically, there are kids enveloping them as they dive from the stage and Eaddy does his thing in the middle of the pit. Last night at the Wiltern, Ho99o9 were not able to physically touch the audience of mostly 40 something's who seemed very confused about what they were seeing. Ho99o9's mix of hip hop and punk music did not translate well and the fact that the set was very choppy and sloppy did not get a good response from an audience who probably doesn't get out much lately. When Mike Patton asked what everyone thought about Ho99o9, he seemed surprised at the smattering of boo's that hit him from the audience. His response was "Really? They make me horny".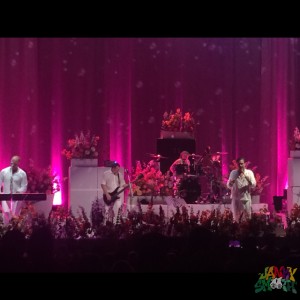 The curtain at The Wiltern opened to reveal Marshall stacks cloaked in what appeared to be a soft, white satin mesh. The entire stage was surrounded by soft, pastel, pink and white curtains. There was a forest of tall, expansive and expensive flower arrangements which covered the entire front of the stage and were mounted on every amplifier and platform that could fit these huge vases filled with tropical floral arrangements. I'm not quite sure how but even with all the pink and colorful flowers adorning the stage, the production still felt very metal. It was like attending a funeral and a wedding in the same day. The audience lost their minds immediately. An audience that comes from a time in which it was still acceptable to wear the t shirt of the band who you were about to see live. The band opened with the song "Motherfucker" which is a song off their still unreleased album, Sol Invictus. A bold move, to be sure. Instantly, there was hair flying everywhere. FNM went directly into "From Out of Nowhere", which allowed me to lose my shit without any further delay. I can't lie. I felt a bit overwhelmed at this moment. I thought to myself, "This might become one of the best shows I've ever seen". The next series of songs was Caffeine, Evidence and Epic. The band didn't seem to miss a note or a beat all night. To state that the band is tight and well rehearsed would be a humongous understatement.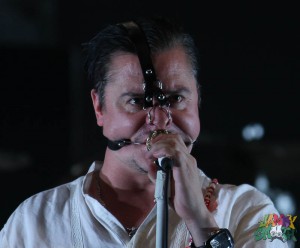 Original members, Roddy Bottum and Billy Gould talked about how the band originated in San Francisco but how Bottum and Gould were born and raised in L.A. Gould reminisced that before The Wiltern became the prominent music venue that it is today, that he had seen Bruce Lee's Enter the Dragon there as a lad. Mike Patton unleashed a series of verbal towel snaps against that statement, Los Angeles and Gould himself before breaking into "Midlife Crisis". Halfway through Midlife, the music cutout and Patton seemed to test the audience who stepped up impressively to loudly serenade Patton and company with the lyrics and melodies that they had written over 20 years ago. Patton looked at us, mushed his face and waved his hand in a "so/so" motion. Cunt.
One of the highlights of the evening was "The Gentle Art of Making Enemies". That song really displayed that Patton hasn't lost an octave or a step and every cadence, growl, croon and wise crack were perfectly executed. Everyone in the band is pretty gray including Mike Bordin's dreads, which have transformed into a long, white bouquet of serpentine hair emanating from his follicles- everyone but Patton, of course. As raw and real as Patton and his music are, I don't put it past his vanity to throw in some hair dye, here and there. One thing is for sure- I'd fuck him.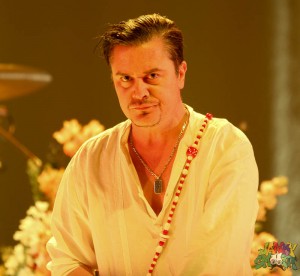 Faith no More are one of those bands that might make one question the quality of music that is being put out today. Don't get me wrong, I love the raw, garage, punk, DIY vibes that dominate the sound that is coming from this generation. I've always loved that. But sometimes I need something a bit more complex, with different layers and there isn't much new out there that fits that mold or anything that can compare to Faith No More; love them or hate them.
All in all, I was a bit disappointed in the selection of songs for the setlist. Epic was the last song off The Real Thing album played by the band that evening. Also, the band never played "We Care A Lot". As air tight as the band was, the lack of selection of songs from The Real Thing left me wanting. I'm sure the band will be playing with the setlist on their tour which extends through mid August and even though Faith No More missed the chance to make me cry like a baby, it was one of the best shows I've been to in awhile.
Motherfucker
From Out Of Nowhere
Caffeine
Evidence
Epic
Sunny Side Up
Get Out
Midlife Crisis
Everything's Ruined
The Gentle Art of Making Enemies
Easy
Spirit
King for a Day
Ashes to Ashes
Superhero
Encore
Sol Invictus
Separation Anxiety
This Guy's In Love With You (Burt Bacharach Cover)
Encore 2
Black Friday