Hell or High Roller: Psycho Las Vegas 2021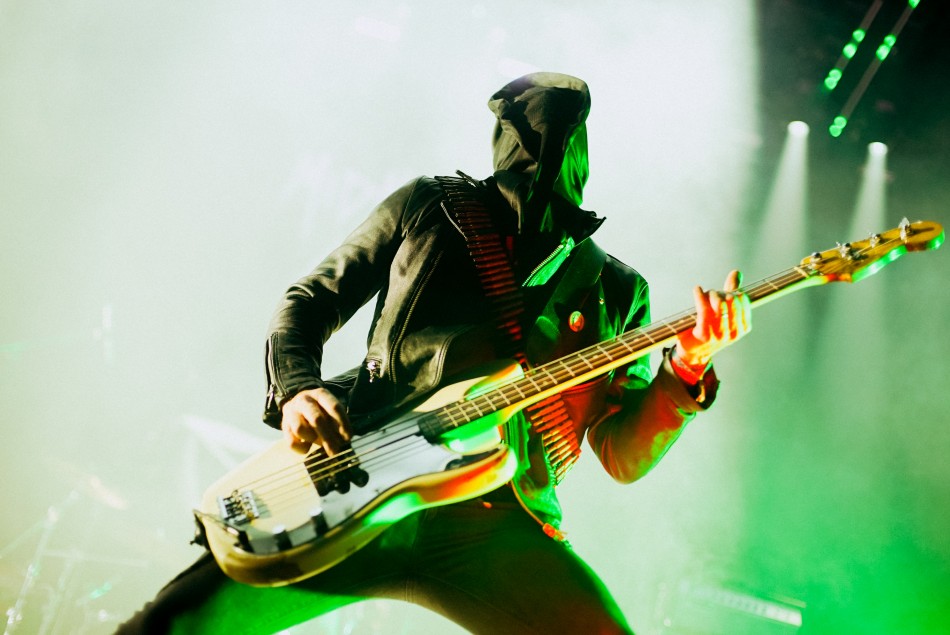 There was a time when for me, going to Psycho Las Vegas meant budgeting only enough money to eat McDonalds for three days while I slept on a friend's couch in some lawless Vegas neighborhood so far off the strip, Ubers wouldn't dare travel to such unsavory corners. Now, in the post-pandemic world, I report on Psycho with new purpose. This year, I was staying in a Delano scenic suite high above the city and budgeted enough money to properly chase the American dream.
Raoul Duke's American dream in Hunter Thompson's Fear and Loathing in Las Vegas was a metaphor for the limits of human consciousness. With freedom as the central American covenant, what greater expression of patriotism is there than breaking free of reality's chains by dosing yourself past every threshold? Now though, as I take that same trip as Duke in 2021, my search for the American Dream is a futile attempt to connect with a time long gone. You might assume I mean the world before the pandemic but I also mean that beautiful era in music history where rock and metal bands could draw crowds as far as the eye can see. How do we recover these glory days? Going to Psycho Las Vegas is a good start, I might've been wearing a mask but for this time I was lodging in style. In some strange ways, my life actually got better after 'the reset'.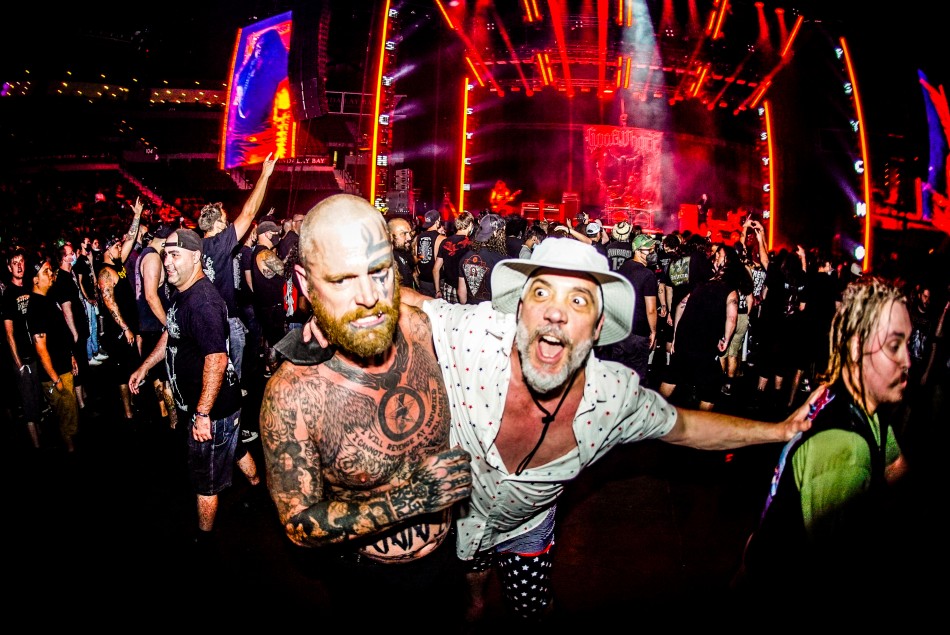 I wasn't alone in my search for the American dream. There were others swimming against the current too, fighting to keep their dreams intact. Some of those people were the organizers of Psycho Las Vegas, who had their own dream. Lets call it the "The Dream of Psycho Las Vegas". With the best metal festival lineup ever featuring Mercyful Fate and Emperor falling apart in 2020, they dreamed of putting on 2021's festival against all odds.
It was during Obituary's set that I tapped into The Dream of Psycho Las Vegas. It bit me like a virus, and for a moment I saw through the eyes of the festival itself. I saw a hidden world of possibility for metal and underground music. In this dream, bands like Midnight, High on Fire or Down played arena stages instead of clubs, as if giant venues weren't just a for mainstream acts anymore. The Dream of Psycho Las Vegas is to raise the ceiling for all forms of underground music. I opened my eyes and realized I was watching Obituary in such an arena with a giant mass of screaming fans behind me and it was all thanks to Psycho Las Vegas.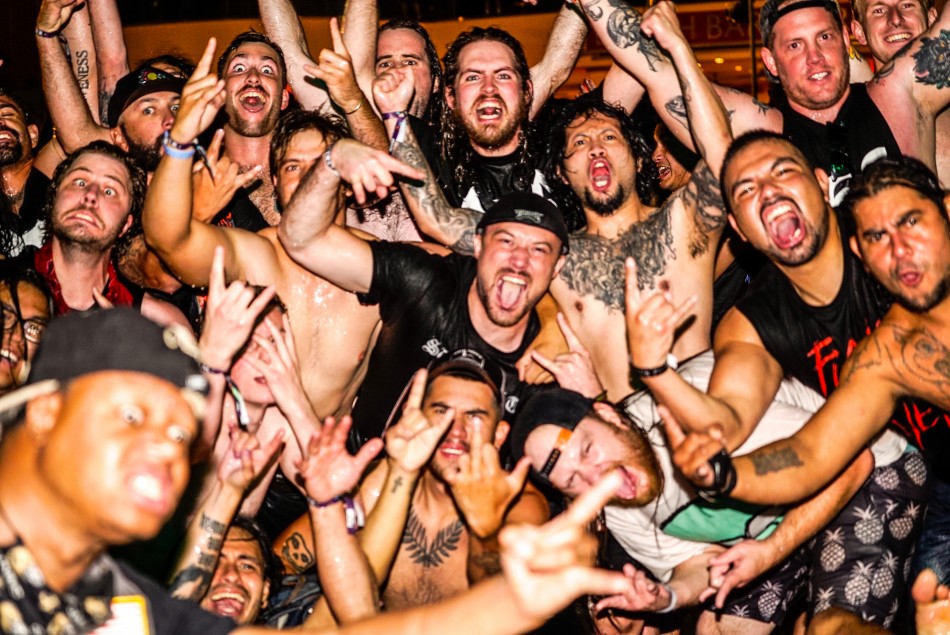 There were doubters every step of the way, but there was no way Psycho Las Vegas 2021 was going to be postponed, called-off, or cancelled. Having dodged so many bullets and kept the ship above water no matter what turbulence came their way, it almost became a matter of principle, realizing this dream. It's a tale of courage and a triumph of the human imagination, that against all odds, the center held and we packed Mandalay Bay with every sort of rocker. Together, with every attendee having each others' backs, we were going to fight for our right to party.
The original Psycho Las Vegas 2020 and 2021 lineups were filled with numerous international acts from all over the world. As the majority of these bands became victims of Covid immigration restrictions, changes kept harping on this vigilant little metal fest. Then a few domestic bands began dropping out, catching covid, or trying to avoid this new delta variant pandemic–others refused to perform while any mandates were enforced. "They're dropping like flies" fans remarked on message boards, while praying for the festival's success. Despite all this, there was never any sign Psycho Unlimited was going to back down.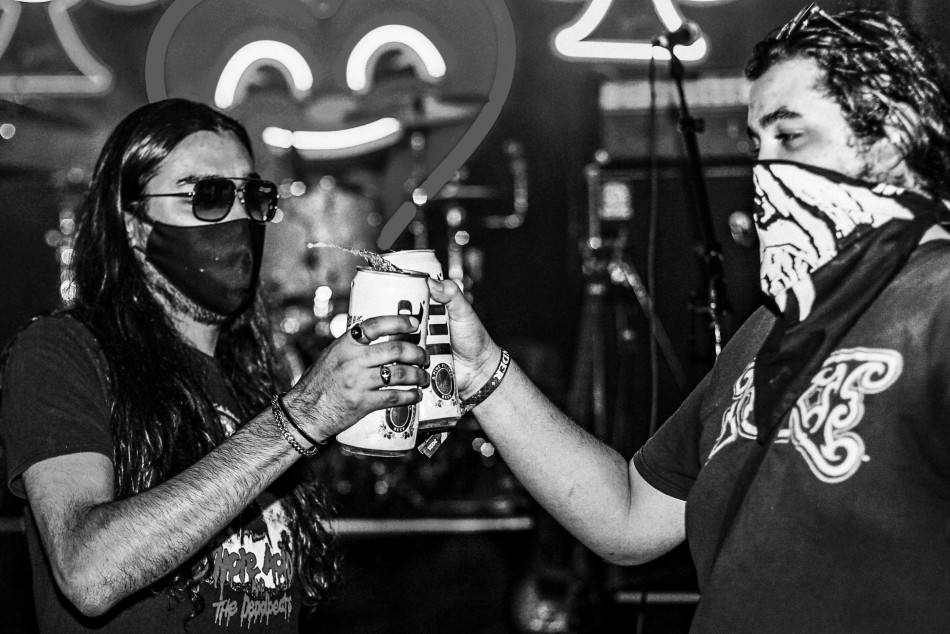 Finally, when I arrived at Mandalay Bay on Thursday for Psycho Swim, I realized there was no stopping this runaway train. Hell or high-water, this was happening. We were going to pack the arena and House of Blues to the brim. We were going to swim together and mosh in the pool together. Let the chips fall where they may. Those that caught sick afterward, swear they would do it all over again.
Psycho Swim
Before heshers, punks, and desert rockers began pumping in and out Mandalay Bay to clot at its four stages, the Daylight Beach club was open for the festival's pre-show, Psycho Swim. Tattooed naked flesh bathing under a hot Vegas sun as stoner, garage, psych and metal bands played for us in a photograph of vintage Vegas come to life. Such moments of pure luxury and TLC for rockers are so rare, they might only be possible at Psycho.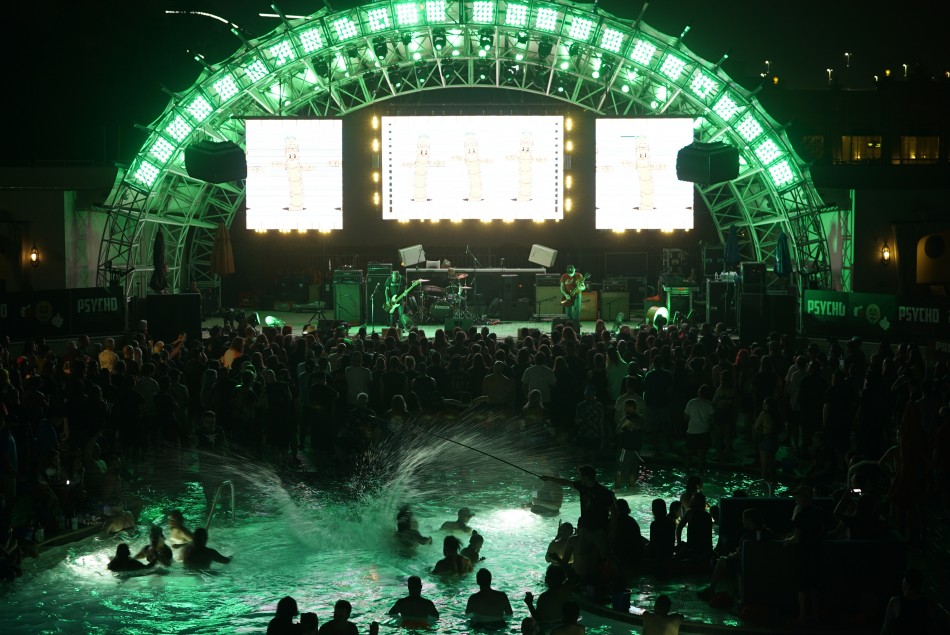 I had been meaning to catch these Psycho certified psych rockers for a long while, considering they've successfully married psych rock and afro-beat and I am a life long lover of Kuti family music. Fela's influence was evident in the music's jamming organ flourishes and upbeat rhythms, I found my feet shuffling in a psych rock flurry. My spirits were lifted by this music that seemed so connected to the Earth.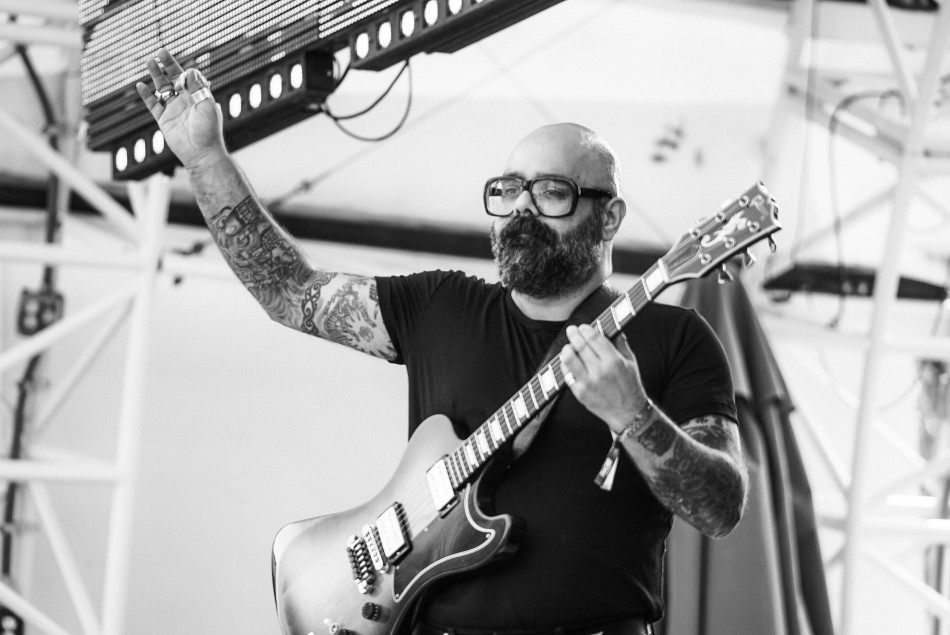 These Portland doom rockers have more witch drip than a coven of cauldron stirring ladies. Finally bringing some much needed female energy into the doom game, the world of underground music could some day be this band's oyster. With so many women thriving in punk, it's good to see such representation in metal too. They ripped Psycho Swim up, weaving slow, churning doom spells to entrap us. Blackwater Holylight is the perfect band to introduce doom to the psych rock, Desert Daze crowd.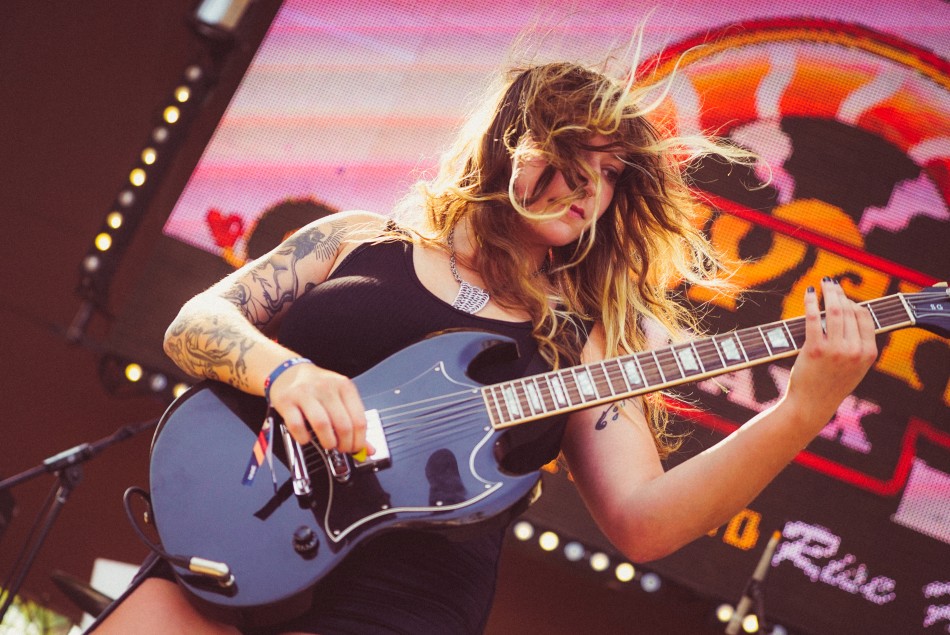 What would Psycho be without some kind of lounge element? Even though they're from Seattle, Polyrhythmics put the Las Vegas in Psycho Las Vegas with light, satirical, instrumental kickback music that acts as social lubricant for us Psychos to mingle. Incorporating wind and brass instruments for a big band feel, their covers tickle a very curious nerve that sends a soft rush of serotonin through every part of your brain.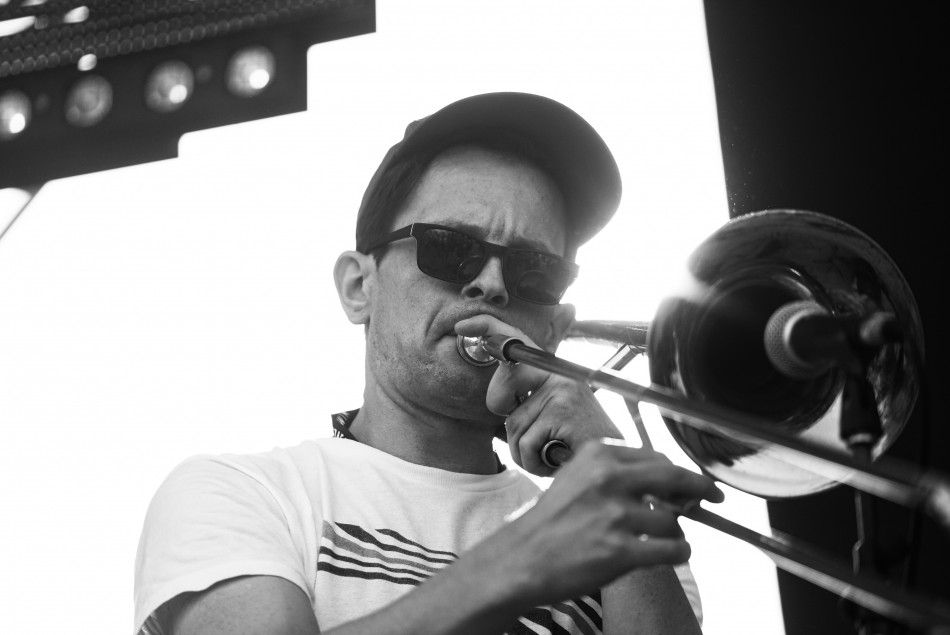 Janky Smooth have been big supporters of DVG since the beginning. Seeing them at Psycho Las Vegas elevated both the band and festival in our eyes. The band joined the Psycho family and gained a new audience inclined to more extreme sorts of music. By having Death Valley Girls play, Psycho Las Vegas became certified insiders to the LA underground music scene. As for their performance, this was the best set I've seen Death Valley Girls play. They were ferocious, making this summer outdoor setting felt like a garage. Time and place meant nothing, DVG hadn't played a show for over a year so they let completely loose and impressed the hell out of everyone.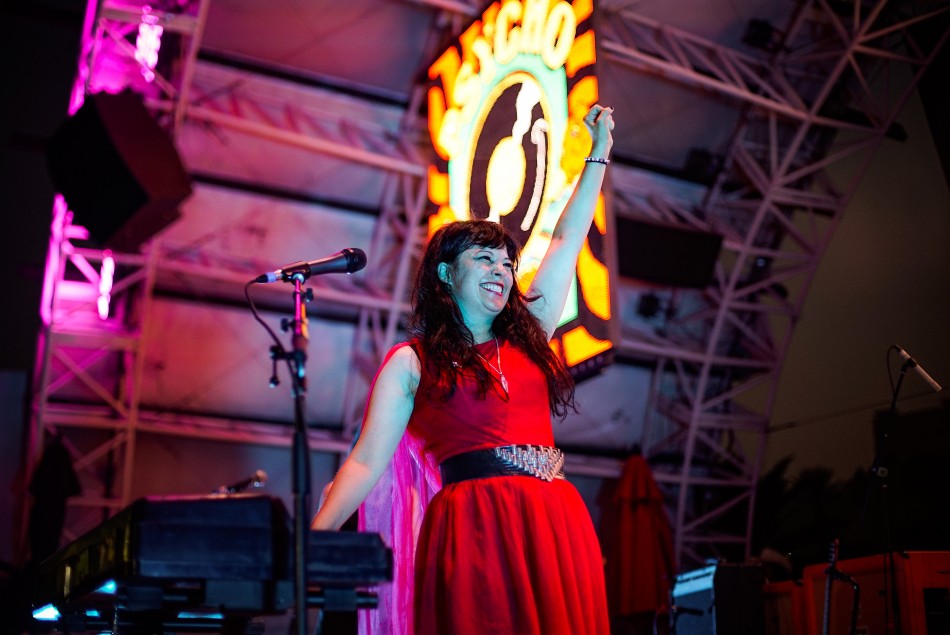 A stoner metal band so in tune with their fans, they dropped Weedeater references because we were all so high, we could've mistaken one band for the other. That's not true, there's a certain metal edge to Bongzilla's riffs that cut through the haze like no other stoner metal bands do. Mike "Muleboy" Makela's demonically screeching vocals sound like they require at least three blunts straight to the dome. The riffs were so heavy and intense, the pool water shivered. Bongzilla perfectly ushered in the night at Daylight Beach Club and as the sun set over Las Vegas, Psycho Swim turned a darker direction.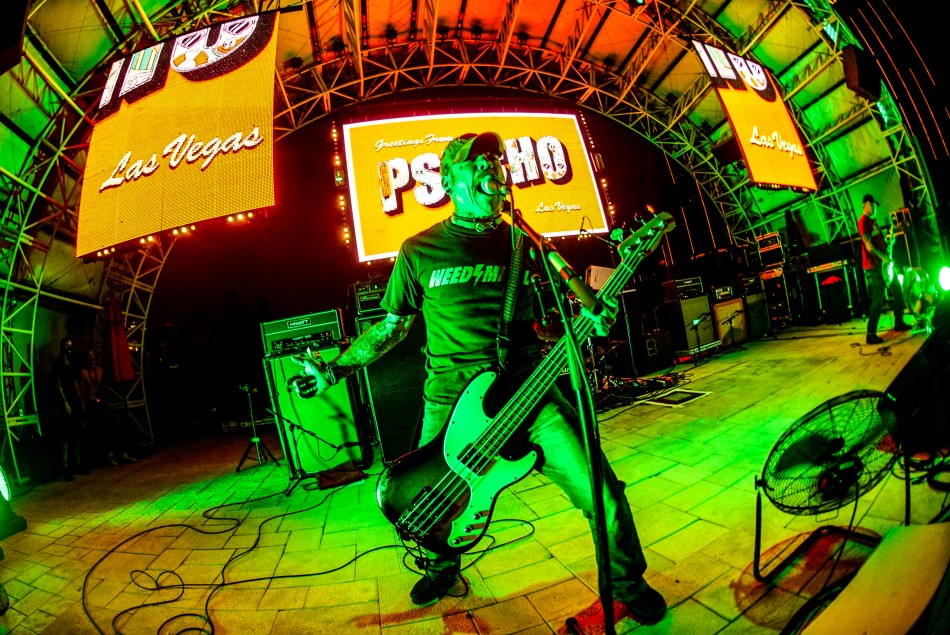 Old Man Gloom were so shockingly heavy and brutal they inspired very vicious lines of thinking in all those who paid witness. Lots of demons were exorcized with this intense set to end the evening. Everyone was on their feet and out the pool, moshing and headbanging like crazy. The band was insanely tight, everyone playing off each other, as if they were trying to impress each other by upping the ante heavier and heavier. Serrated riffs and gnashing vocals cut each audience member into imperfect halves.
We all felt more bestial after Old Man Gloom, hungry for more metal after having been given such a small taste after a diet of psych all day. We had to take our frustrations out on the night, numbing our minds, dulling our senses, and perverting reality with whatever plants or substances were available. We slept little but dreamed entire Psycho sagas, the fever was only beginning. We were getting high off each other, not sick off each other.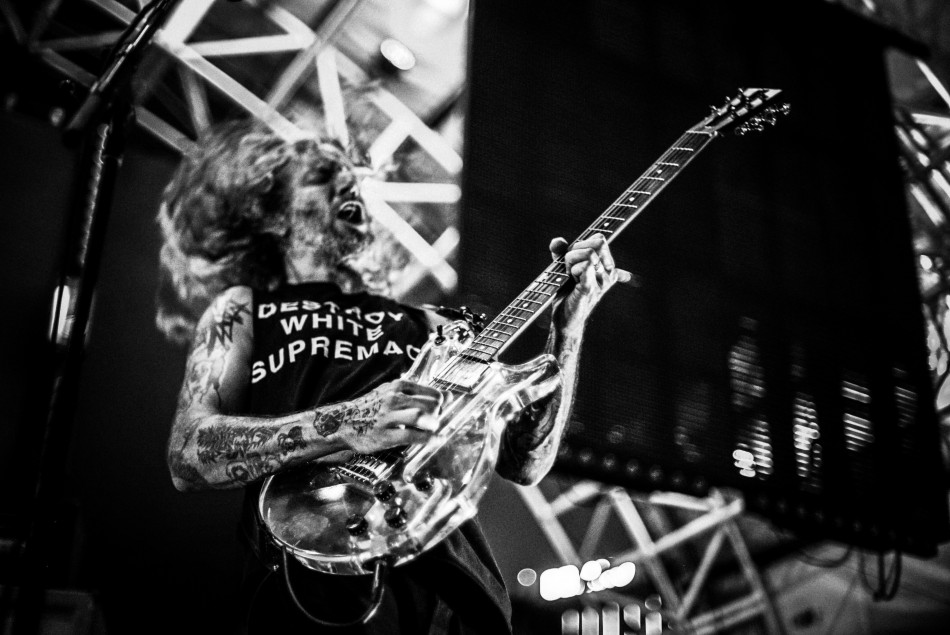 Friday
Staying in a Delano scenic suite, all that stood before me and the hot Las Vegas wind was a thick pane of glass and two thin cloth curtains. Outside, Luxor's ebony pyramid obelisk sent a beacon of light straight up into the heavens to summon aliens down to party. I could stay up all night, long passed the music, just staring out into that vast circuit board of neon demons, lost souls, dope fiends, pimps, tricks, succubi, wrestlers and rockers. When that giant night light finally went out and the sun rose to blister the building's golden side, I knew it was time for a long shower and quick cigarette.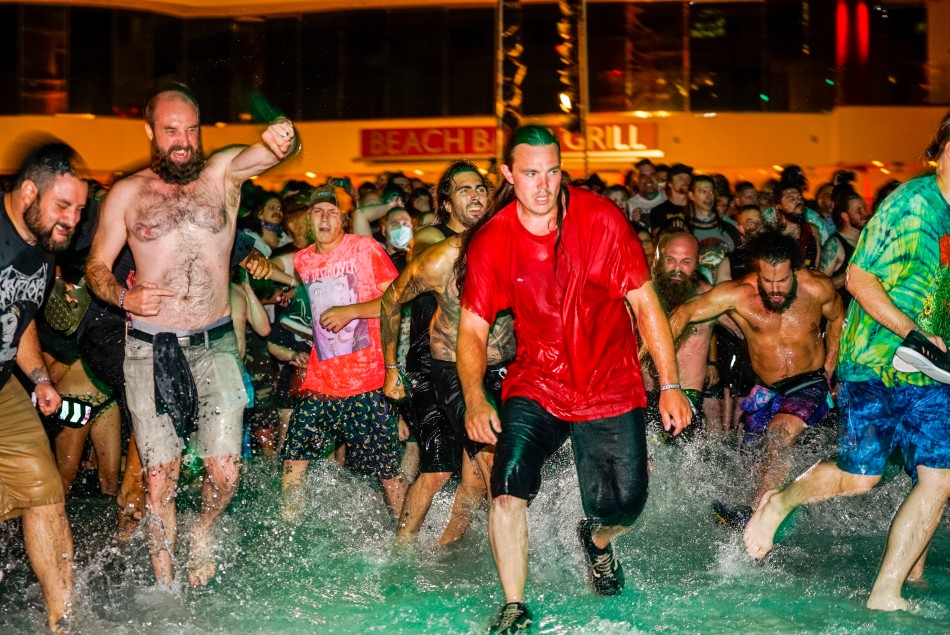 Staying at the Delano offers exposure to all sorts of celebrity variants, especially on a busy weekend like this. Rock stars, wrestlers, boxers, tourists and Michael Jackson acolytes mingled among the Mandalay masses. On my way to take a quick smoke in the Delano's secluded smoking area, I reached into my pocket and realized I was without fire. I made my way to the Eyecandy lounge hoping to find a lighter, only to find a light in the form of a man. This man, who has played music with such bands as Kyuss, Blast!, The Dwarves and now Stöner, was Nick Oliveri. Nick was gracious enough to have a cigarette with me outside where none other than Phil Anselmo was hanging out. I was real with Nick but couldn't help but stoop to pure starstruck, idiotic fandom around Phil. After getting a selfie with both legends, I made my way to the festival with whatever music celebrity shine those men had rubbed off on me. The Psycho hour arrived.
There is actually hope for rock and roll. Of all the young, fresh blood I encountered on this trip, I saw the most potential out of DEATHCHANT. They had the tattoos, the hair, the fashion and the girls of a band everyone can identify as cool. Desert rockers with a love of metal and punk that could've rode their hogs through the casino floor, ripping up the carpeting, to arrive at the Rhythm and Riffs lounge and demolish that too. With guitars that blast and peak with Schenker style proficiency but with a dark and bluesy edge, it's a classic sound that's been dirtied up and served raw for a more barbaric and drunken crowd. Lemmy would be proud. Iommi would be proud. DEATHCHANT could very well bring back the rock and roll attitude that makes people aspire to be lawless. Los Angeles is sorely in need of this band. There's other cats out there trying to do the same thing, but I don't believe a single one of them but DEATHCHANT. I want to see DEATHCHANT play more LA shows ASAP because once they do, they will change the scene.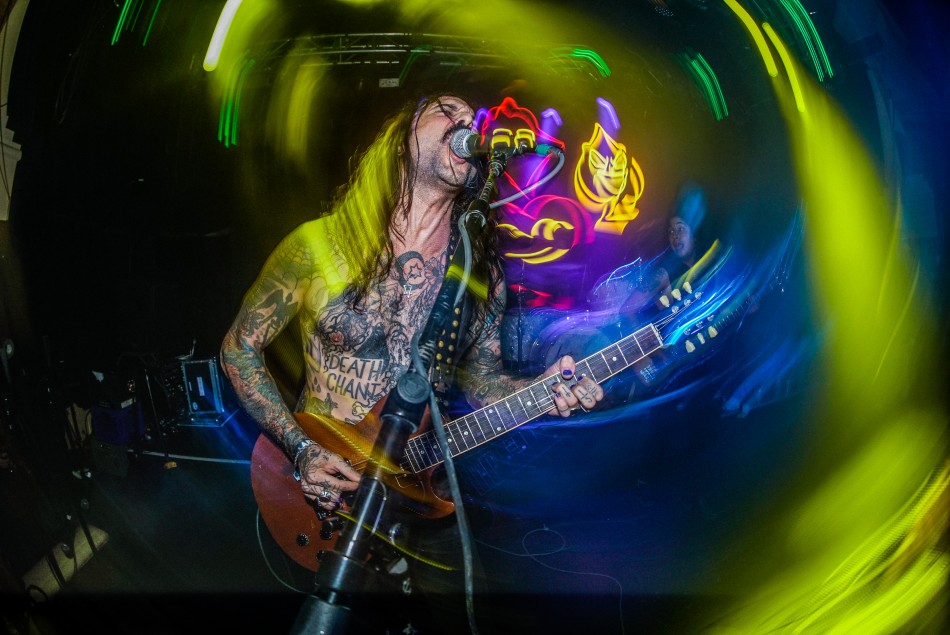 These riffs were so thick you could almost see them form a haze that hotboxed the House of Blues. If you saw this band after a fresh few hits of a hash-laden joint, you'd know they create the perfect sound to ride any high into oblivion. You could leave your entire body and demolecularize into a bunch of smoke spirals dancing with every riff. There was so much groove, so much vibration buzzing out the amps, so much thunder crashing out the drums, it was an experience that lit up every nerve-ending in your body. Do an experiment, blast Toke on repeat and see a layer of shatter wax form and solidify over every object and wall in the room.
On the road to Psycho, milling through a playlist of artists at the festival, my first reaction to Khemmis was disinterest. This was my kind of doom metal. The vocals were too clean, the riffs too beautiful. Usually, I want a sonic funeral out of a doom band. That was not Khemmis because more than any band I saw on Friday, Khemmis' guitars brought me back to life. They can be slow and brooding, but the climbing, ascending nature of their sound coupled with their harrowing vocals, told an epic story that listeners could feel clear as day. This set didn't just inspire praise, it inspired pure awe.
The first time I saw King Dude, he was a picture of perfect cool, a Luciferian James Dean. This time, it seemed like he borrowed a page from Death in June because this was like watching a ritual from some desert tribe on a black sand planet with a burning black sun–like an evil Mdou Moctar. Dressed in black robes and shawls that covered every inch of body, King Dude strummed out maladies for this dead new age we've entered as his percussionist provided the war drumming. A large white cross was projected behind them with a fire burning down everything we once knew about the world. This was high art. This was a statement. This was the philosophy of Frederich Nietzsche turned music. King Dude sang us stories of pain and sorrow but the totality of the experience, the clothes, songs, and visuals told the story of a sad future that was as certain as the grave.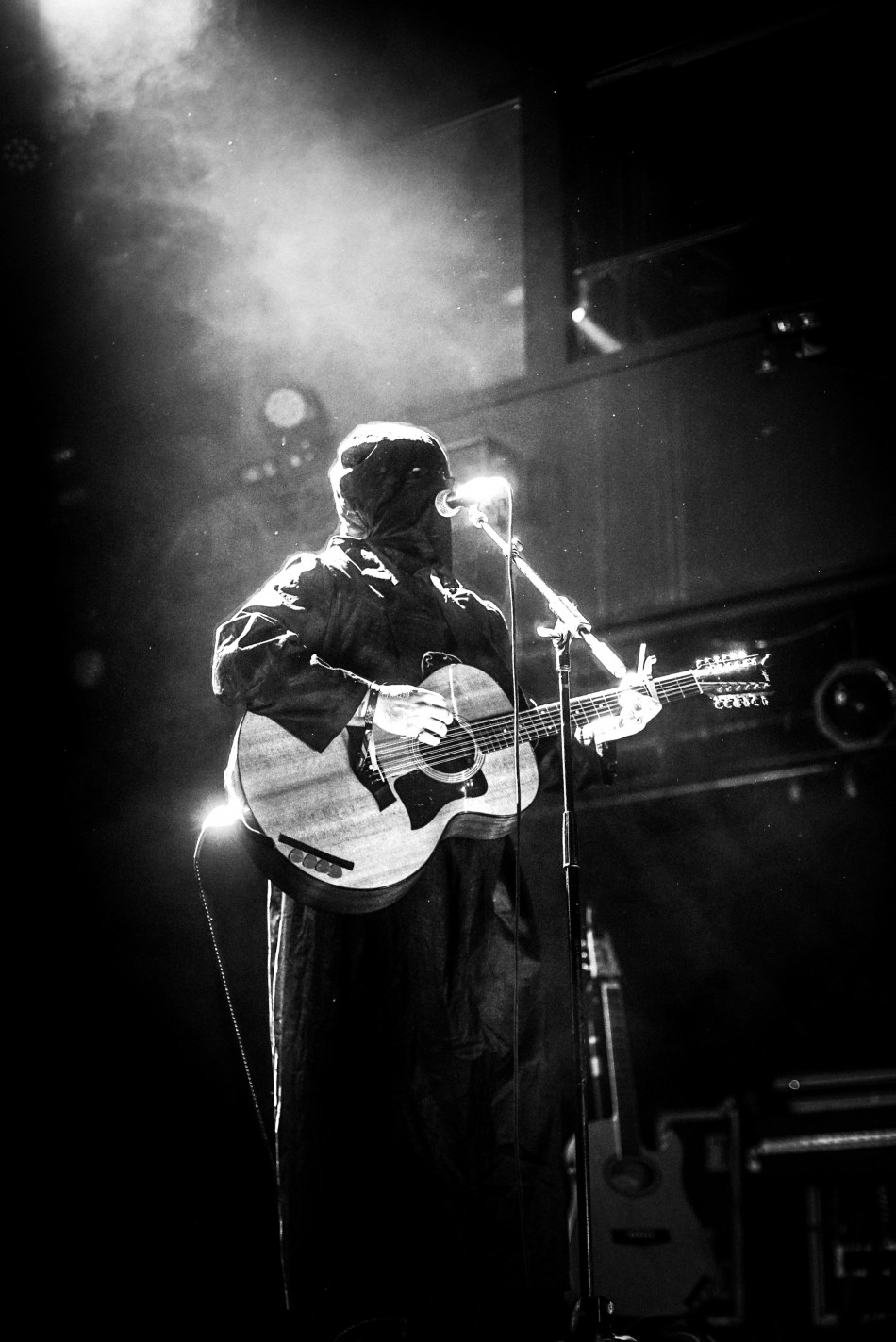 This performance perfectly encapsulated the future of metal. To begin with, Obituary is to me, the greatest death metal band alive. There are other bands with more iconic albums and histories but as far as active, touring bands go, no group does it better. Where some death metal bands opt for pure brutality, Obituary chooses grooves that somehow tap directly into every hesher's central headbanging vein. The idea of having Obituary play an arena, immediately makes the gears in ones head spin, imagining what sorts of chaos can transpire. Whereas audiences were hesitant to mosh and crowd surf for other bands, they threw all risk out the window to party as hard as possible for Obituary. Remember the Dream of Psycho Las Vegas, the thought you can only be crazy to have, that underground music may someday be as popular as pop. Psycho Las Vegas is a necessary step in the evolution of extreme bands like Obituary, to some day compete with the likes of Metallica or Green Day for space on such big stages. If you can visualize this dream then it can become reality, just give it time and more Psycho Las Vegas festivals.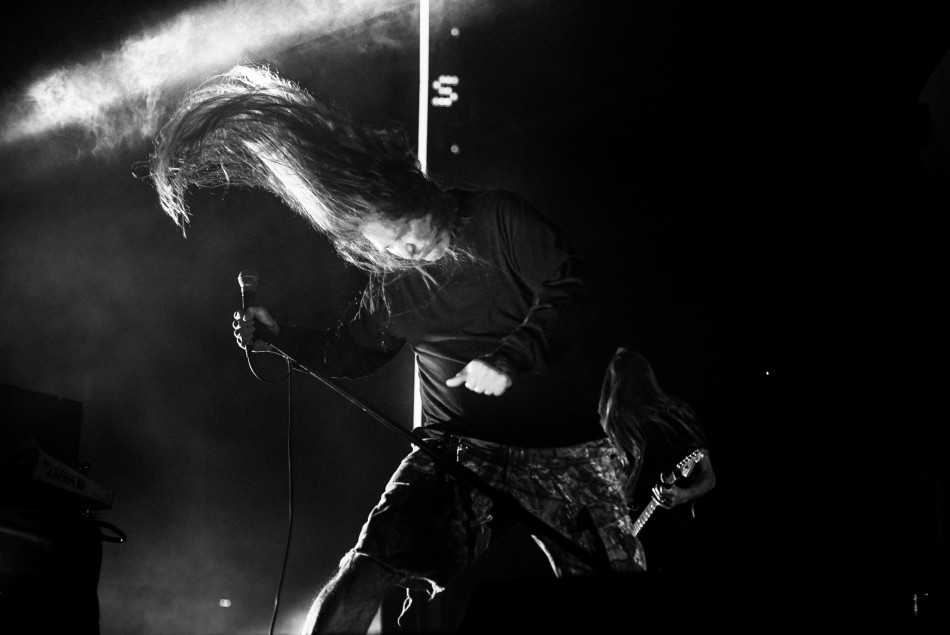 The Sword are the one metal band every strictly psych rock kid should like. With epic tales as the subject of songs with heavy, bombastic, fuzzy riffs, Mandalay Beach banged as waves and bodies came crashing into each other. This was the final set of my Friday at Psycho, The Sword had sliced across the Vegas night with a sound so sharp and heavy it cut from coast to coast.
Saturday
Friday evening I returned to my room to find a goodie bag waiting on my desk. Left there by some thief in the night, I sifted through all the gifts left by Psycho Claus and found cups, coasters, cards, and more. The bag had a Psycho Waxx decal because this was the first year of Psycho Unlimited's in-house record imprint. Specifically curated for Psychos by Psychos, the label intends to press live recordings and special releases like Love me Forever: A Tribute to Motörhead, onto vinyl. All festival long, Psycho Waxx's Instagram would post the slew of artists that went into the studio to record Motörhead covers. These artists included Mothership, Matt Pike, Lord Buffalo, Blackwater Holylight and many more.
I went to sleep dreaming of what sorts of other merchandise I could snag. I wanted shirts, pants, tatts, wax, 777 pins and Danzig posters that glow in the dark. So, the first place I went was the Psycho Showroom. As it so happens, heaven has a huge selection of band shirts, some from bands that weren't even playing the festival. I wanted one thing in particular, a Down shirt. Thirty dollars poorer, I rode my shopper's high to the first band of my day, Unto Others.
Classic speed metal from Portland, Unto Others taps into the elements that made metal such an important genre from its very beginning. Their intentions and passion are unmistakable because they lay it all out there.
House of Blues was the destination to be for this early afternoon set which marked my first hardcore set of the weekend. Eighteen Visions might just be the best metalcore band of their era, I certainly give them credit even though I'm much less accepting of other bands in the genre. Eighteen Visions can't be denied, they show nothing short of stage mastery during a performance and kick out the jams to make Psycho mosh pits turn into Psycho slam dance sessions.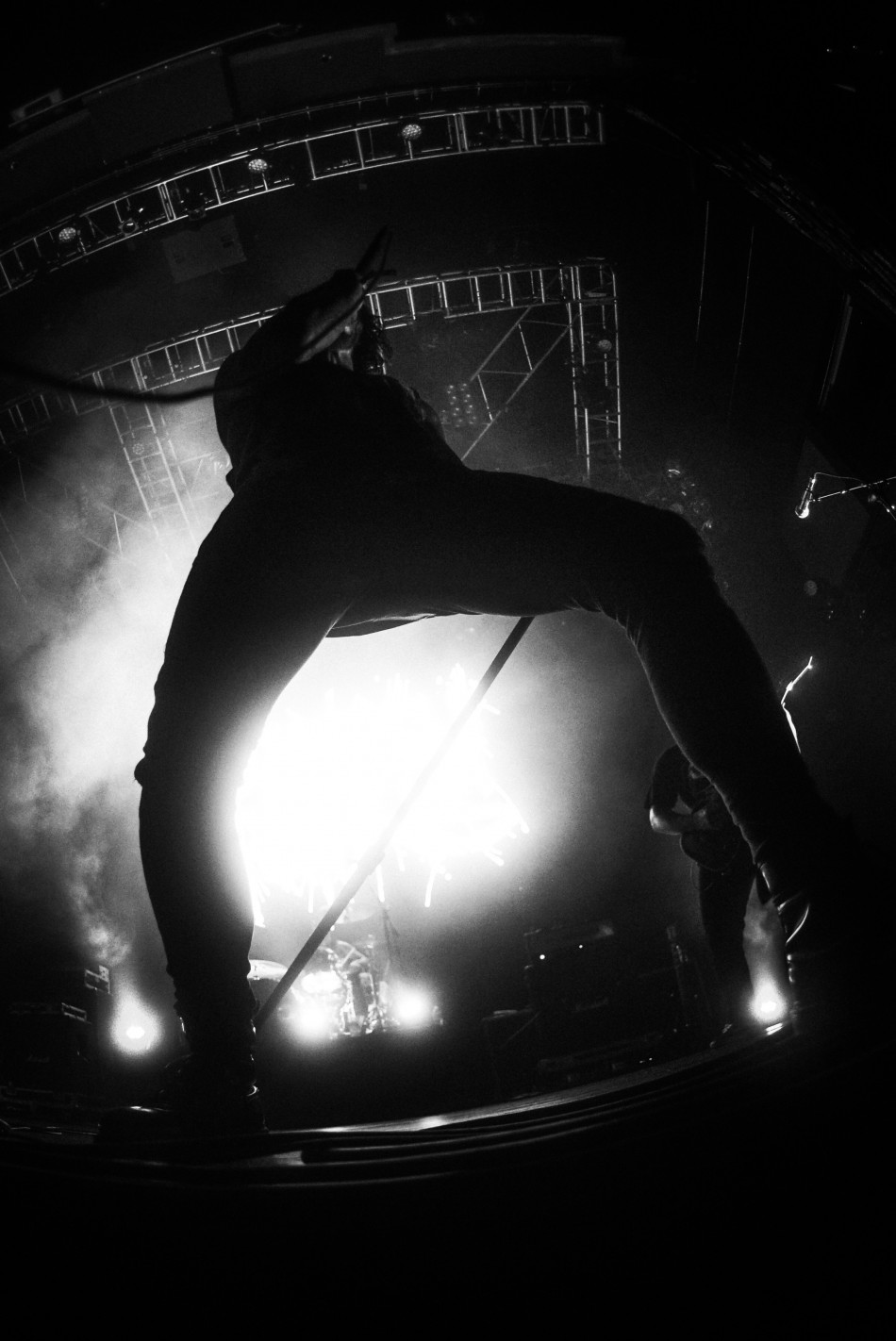 Infinite Granite was released the day before this performance so part of me was hoping I'd get to George Clarke singing clean vocals. Even though my hopes were dashed by a mostly black metal set, with favorites off New Bermuda, I could understand why the band held off from performing the new stuff. They simply need more time to perfect it because Deafheaven performances aim for perfection. There's no such thing but the band comes close to achieving it, with guitar work that always hits the right mark and choreography by Clarke that turns the performance into a ballet, making some songs more emotional and other songs colder and more distanced. Regardless, I fall more in love with Deafheaven every time I see them because their music requires each player to dig so deep, that the audience descends into their musical quicksand with them.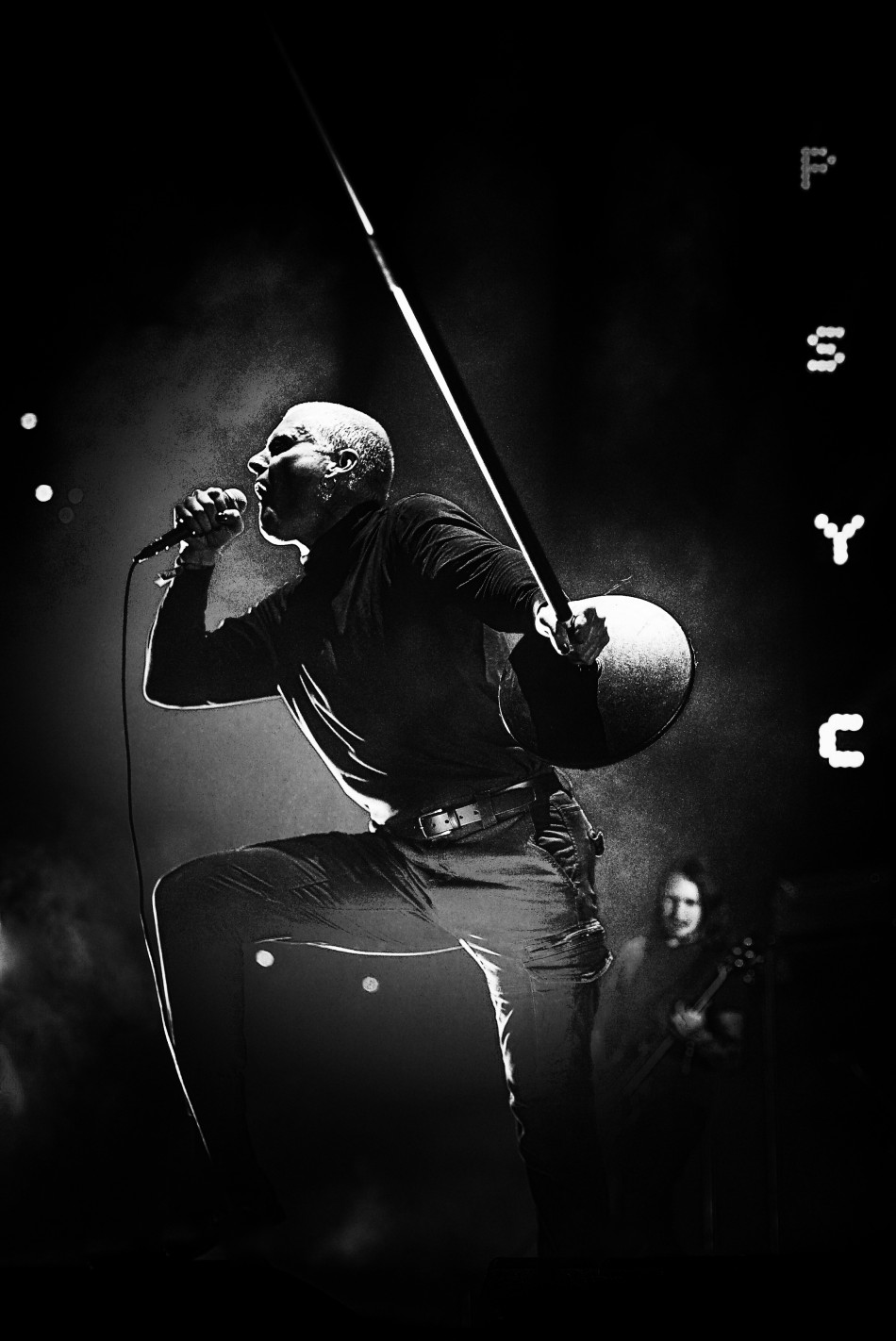 Perhaps Thievery Corporation were the one group most out of left field on the Psycho Las Vegas 2021 lineup but when I saw Rob Garza on a sitar, I immediately saw the inherent "Psycho" in the band. Thievery Corporation is such a familiar name for mainstream festivals like Coachella that they've turned making audiences feel together as one into some kind of science. The band plays a hodgepodge of music from different genres and cultures to achieve this phenomenon–everything from reggae, Indian music, middle-eastern music, hip hop, and more, all exploding out the minds of a band who at their core were an electronic duo form DC with big trip hop dreams.
Type O Negative has been one of my favorite bands ever since I was first introduced to extreme metal. Silvertomb, featuring Johnny Kelly and Kenny Hickey, went on to play a mix of doom and desert rock that brought a large crowd out to the Rhythm and Riffs lounge. Just hearing those chilling Type O synth flourishes made the hair on everyone's necks stand up. Though the music is completely different than Type O, I love the direction they've gone. There's a certain coolness and classic sensibility to their dark sci-fi, desert tunes.
Able to make any music festival more dream-like and fantastical, where the Flaming Lips go, euphoria and smiles from ear to ear follow. Their set began with "Race for the Prize", a song that has never been more relevant as science races for a Covid cure in real time. Wayne Coyne in all his humility dawned a mask onstage while he sang, more so to lead by example and show that he was no more invulnerable to Covid or above the Las Vegas indoor mask mandate than anyone else in the arena. As soon as their signature pink giant robot inflated and they went into "Yoshimi Battles the Pink Robots", the entire audience cheered with a barrage of karate chops. The hits came rolling in until closing their set with "Do You Realize?", when every metalhead had a tear in their eye or their arm around their loved one or their phone recording to show the moment to a friend they love. We left the arena with an aura of psychedelic color around us that acted like a shield from any dark vibrations, unless of course we let them in…which we did time and time again, first with Danzig, then Cannibal Corpse, and finally with Cult of Fire. By the end of my night, that aura was completely blackened.
I think I've seen Danzig perform more times than any other artist. In that two decades of concert-going and Danzig worship, there were plenty of songs I wished were mainstays in his sets but I never had the privilege of hearing. It was only at Psycho Las Vegas 2021 that I ever heard a few of my favorite Danzig songs performed live, mostly because these songs were on Danzig II: Lucifuge. Songs like "Killer Wolf", "Devil's Plaything", "I'm the One", and more, are songs that Danzig acolytes regularly blast in the car but rarely see live. Prior to the show, everyone was wondering if Glenn could pull off the singing, seeing as Lucifuge is a very vocally demanding album and his voice has suffered with age. For this headlining set though, his vocals were pristine. Quite frankly, he killed it and so did Tommy Viktor on guitar. This had to be one of the highlights of my entire festival.
Cannibal Corpse was one of the few death metal legends I had never seen until this year's Psycho and boy howdy, did they leave a mark. Power Trip's Mandalay Beach set in 2019 set the bar for how a pool mosh pit ought to erupt but Cannibal Corpse raised that bar as water was spraying in every direction coming from the ring of fire circle pit that blazed without a moment's restraint. With Corspegrinder tearing through his vocal chords and that hellish Florida death metal groove bringing everyone to the edge of insanity, there was no comparable level of aggression anywhere during the festival.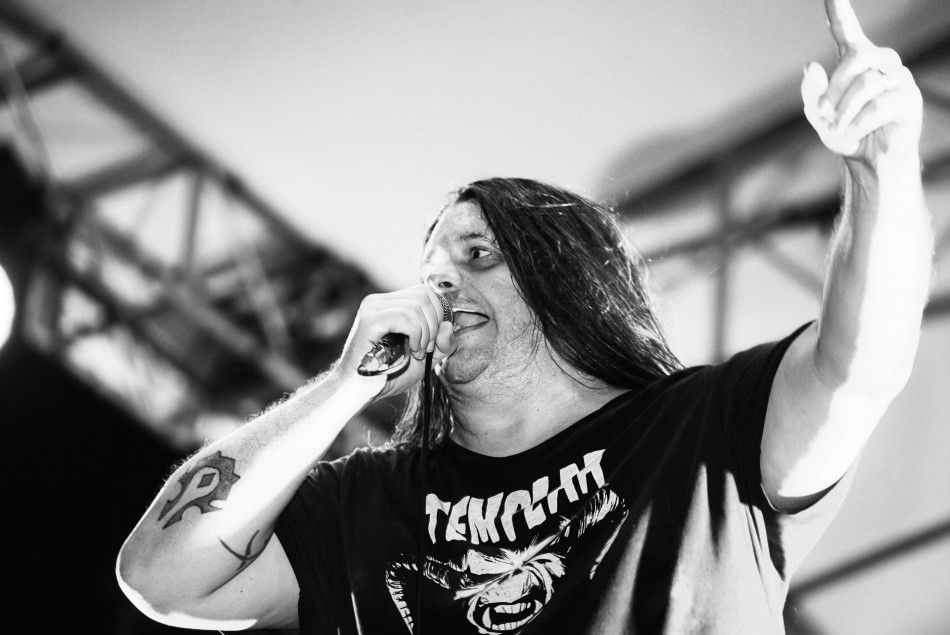 Ritualized fire burned a trail across the Atlantic as a masked black metal band from Prague named Cult of Fire brought their Vedic death cult inspired antics to the House of Blues for the burning out of Saturday's flame. Where a band like Batushka is inspired by Byzantine imagery with gold trims, oval shaped skulls and elongated Christs; Cult of Fire, on the other hand, takes their inspiration from Vedic lore, as the Goddess Kali with her necklace of skulls and evil sharp-tongued smile adorned their visuals. If the Temple of Doom had a band, Cult of Fire would eat their still-beating hearts out their chests. As their bassist and guitarist sat atop serpentine thrones, their singer belted out a chant of minimalist, black metal vocals. Even though there was a subtle satire to their show, when it was all over, we felt like we were part of a ritual, baptism by sonic fire that burned to the bone and sucked out the marrow.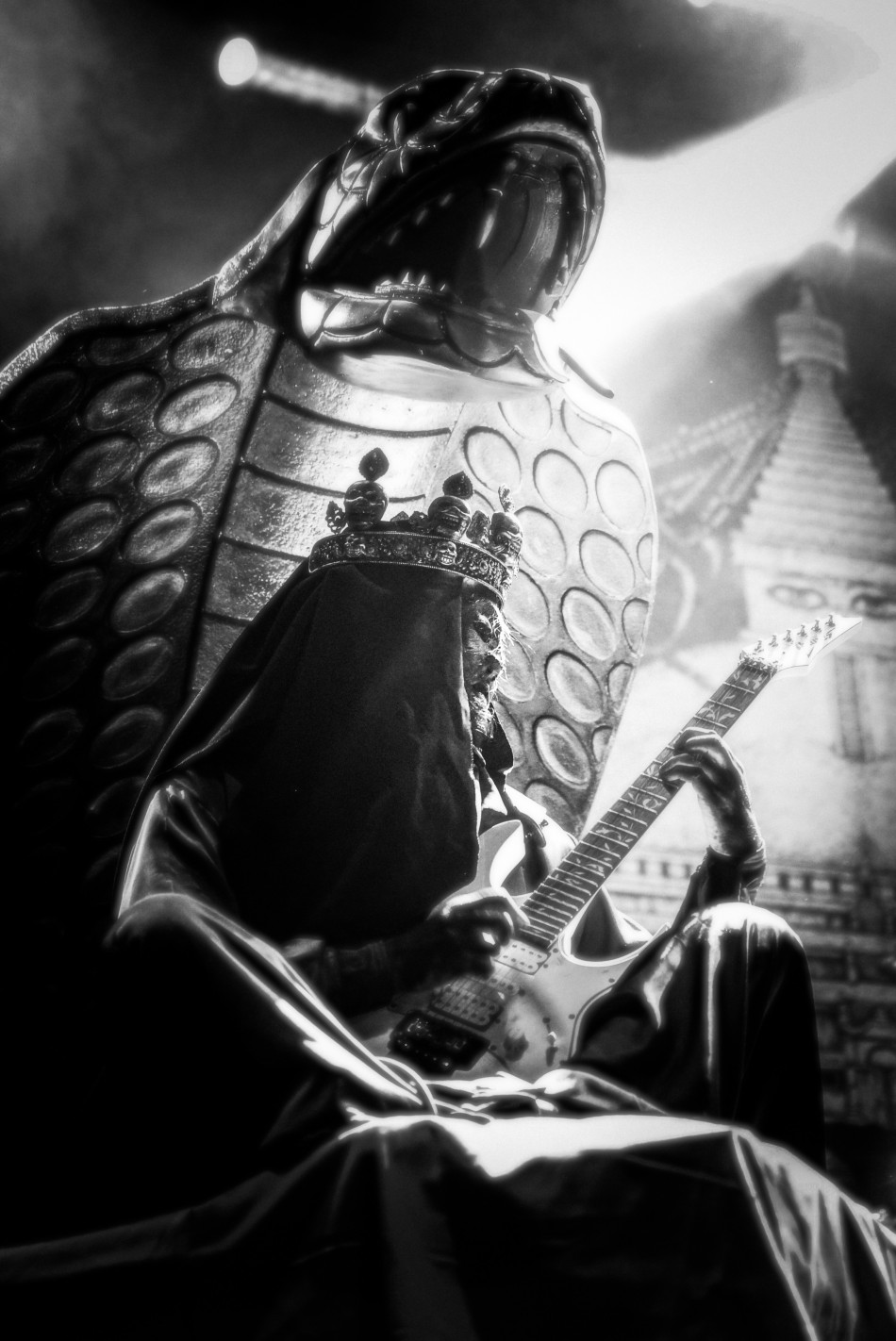 Sunday
Four days might be too long for a Vegas vacation. The mind starts to warp after three. By Sunday, we realized there was no way of getting off the ride this far after buying the ticket. All the damage had been done, we made it this far and survived but we were driven a bit mad, all of us in some kind of collective fever dream, a Lord of the Flies for Las Vegas. You start to see all the festival's catchphrases serve a purpose, they don't call it America's Rock and Roll Bacchanal to be cute. At one point at Mandalay Beach, fans began worshipping dildos in Dionysian madness. We were not in our minds, you see. That's the only way you can make sense of us and everything we did these four days. Tourists started eyeballing us more strangely, we were sick but they caught the fear. They were afraid of us, not that we'd snap at them but that with so many of us all in one place, their rules wouldn't stood a chance against us.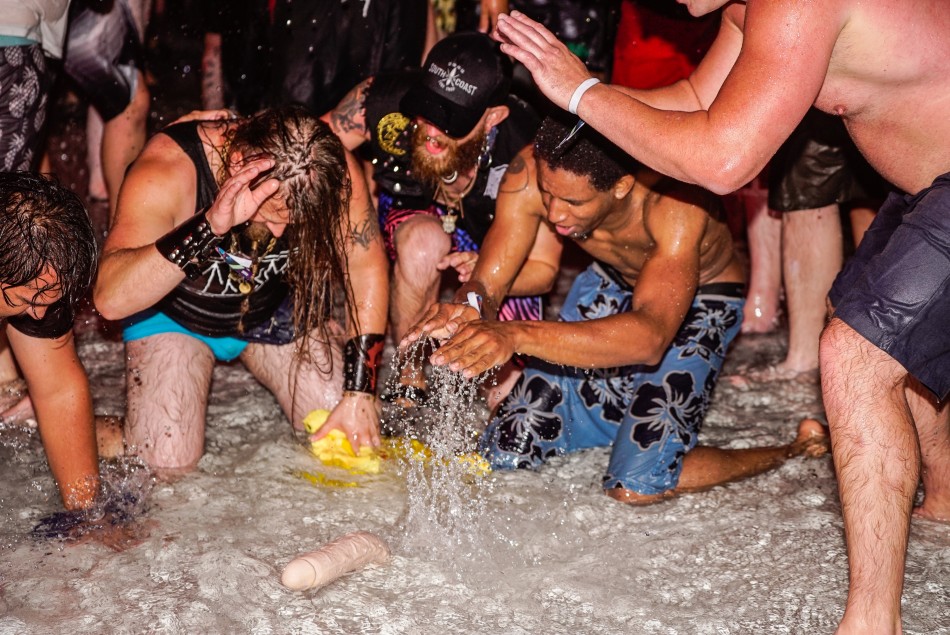 Morning at the McDonald's across the street from Mandalay Bay began to play out like sick jokes. Before leaving my hotel room, I had to choose between an Integrity shirt and a Midnight shirt and went with Midnight since it was more colorful. It must've been a stroke of intuition because when I arrived at McDonalds, I came across a chaotic scene and twist of fate. The lobby was closed to the public and only taking orders via app, damning all the homeless and phoneless to go hungry. Shooting the shit with a few festival goers, they started busting my balls about my shirt only to reveal I was talking to none other than Jamie Walters, singer of Midnight, who's flip phone couldn't order him the simple coffee he wanted. We talked about a slew of things, from how Anti-Seen should play Psycho 2022 to how this particular McDonalds was a constant shit show. Returning to Mandalay Bay, coffee in hand, I couldn't wait to see Jamie again onstage.
I've always been a big fan of Dwid Hellion's demonic genius. Even though he's built like a tank, sometimes people get the idea he's a big softie, something that might cross your mind if you heard him DJ. However, when you look into the apocalyptic hardcore metal landscapes he imagines, you come to know this man's dreams are deeply connected with darkness. Dwid's signature growls and screams coupled with Integrity's metallic guitar riffs have made them transcend the hardcore roots from which the band came. Sets that grab you with such striking intensity as Integrity on the main stage, make you reconsider everything you once thought was extreme music.
Midnight have grabbed the torch that was lit by bands like Motörhead and Venom and taken that dirty rock and roll sound deeper underground than anybody. This raw, rabid hybrid of metal and punk can feel downright satanic as Jamie sings with his gnarled, gnashing vocal. Proudly hailing from virus-infested Cleveland (in Jaime's own words), the band turned this set into one giant rager for the deranged lowlives in all of us. The band gave a member of the audience a bottle of Jack Daniels to swig and pass around and by the time the set was over not a single inhibition was left in the room.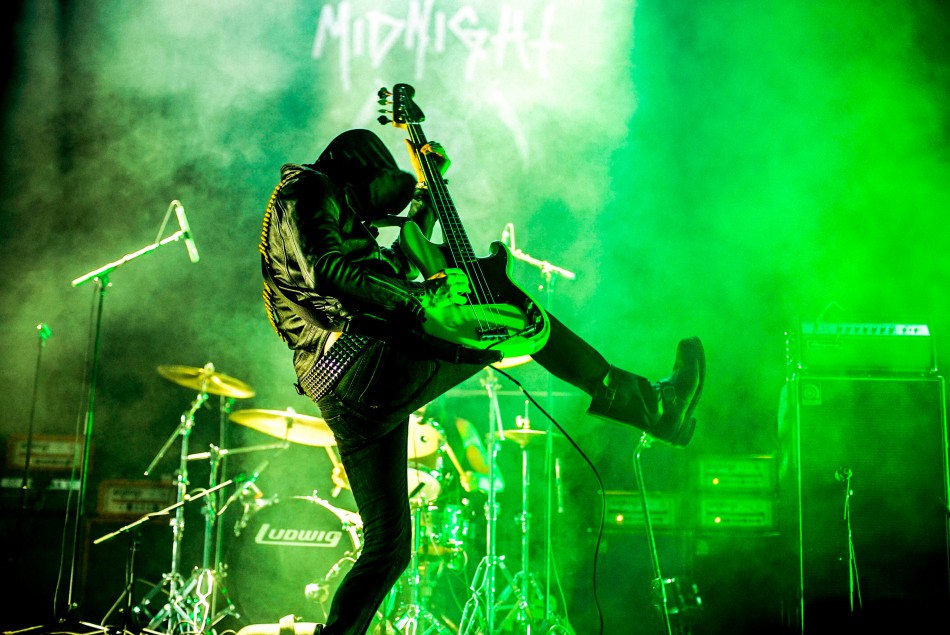 Amigo's acoustic music is as metal as folk gets with satire-rich lyrics that make you think, feel, laugh, and sometimes cry. Amigo's humor is only surpassed by his passion and his passion is only surpassed by the size of his heart. You can feel it in his songs, not only that he's a ball to be around but that he's probably a great friend because his songs speak to everyone with an air of familiarity. Funny and sometimes morbid, there's something extremely human about every song he shared with the Rhythm and Riffs lounge.
There's no matching the bands that make up the New Orleans supergroup known as Down. Be it Pantera, COC, Goatwhore or Crowbar, the combined essences of these groups came together to honor the city they were from and with the NOLA album, they gave everyone a raw, sludgy, dark, and often times too-real-for-poetry taste of the South. This was one of the sets I was most excited about, seeing as Pantera was my favorite band growing up. As soon as Pepper Keenan and Kirk Windstein started jamming, the arena shrunk into a very murky, smoke-filled New Orleans dive. This was pure rock and roll, down to the bone. When Phil arrived to be greeted by the smell of pot in the air, the set was kicked off with "Pray for the Locust". Within a few songs, I realized I knew every lyric that was coming our way and began singing, grooving, and smoking with everyone. Finishing the first part of their set with their biggest song, "Stone the Crow", the band returned for an encore that featured "The Seed" and one of the heaviest stoner reveries of all time, "Bury Me In Smoke".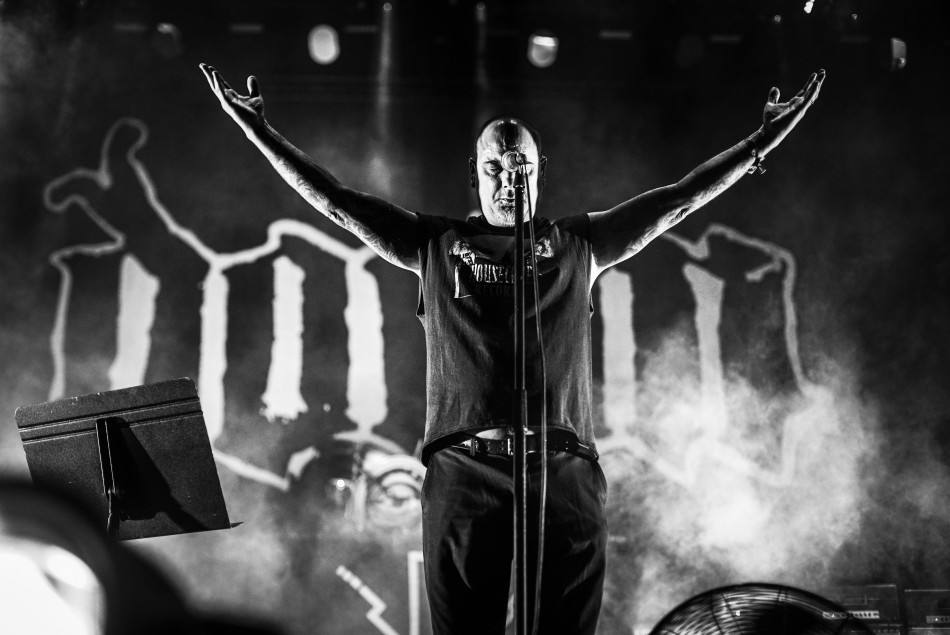 A good friend of mine has a tattoo of Broken Hope. Asking him about the tattoo led me to the music and after admiring all Broken Hope's evil, gory imagery, I knew I had to see this band live. To me, they are the best of the gore death metal bands, surpassing icons like Cannibal Corpse. Their music is much more unapologetic, guttural and violent. A Broken Hope show leaves any venue a bloody mess, so after Down was finished and we were all nicely stoned, I needed to be snapped back awake with a sound that could very well get me killed if I took a wrong step in the pit. Each player knew how to put on a show with their instrument while the singer, Damian Leski is a completely power house, the perfect sort of monster to front a death metal band. The entire set I was headbanging and grooving, my body so happy to be under such an evil spell. With blood and guts raining down upon us with every growling lyric, I truly felt shook up after this set.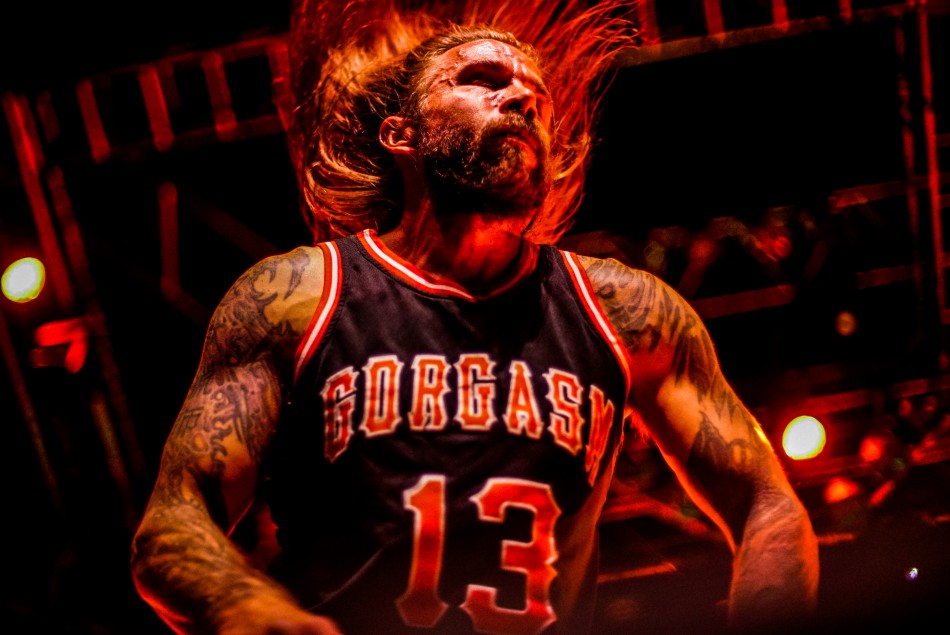 One of the most anticipated sets of the festival had to be Stöner, seeing as it was a reunion of former Kyuss members Brant Bjork and Nick Oliveri. Because Nick was my spirit guide for this festival, I felt obligated to witness him and it turned out to be one of my favorite sets of the whole festival. I never knew I liked stoner rock as much as I liked this. Part of the reason for that is because I feel most stoner bands have a sound that isn't essentially stoner. Stöner though, was the textbook definition of good stoner and desert rock. Unlike metal, the feeling of lawlessness imbued to a listener of Stöner's music has nothing to do with darkness or violence. It doesn't even have much to do with sex. It's totally about freedom and living by your own rules. This music accepts that the system we're in sucks but instead making a big fuss about it, the truly free find ways to make the most of a raw deal. Brant Bjork's guitar sounded brilliantly dusty and thick. Nick's bass grooved and puffed along like a motorcycle's marijuana infused-exhaust. Then Ryan Güt's drumming topped it off with the sonic message that in this life you gotta dance to the beat of your own drum if you ever want to survive without going sane like the rest of these robots. Stöner was the perfect band for the few humans left among us.
I decided to finish my Psycho Las Vegas by seeing grindcore legends Repulsion. After experiencing such a wide range of emotions during this festival, from joy to love to pain to loss, I knew disgust was the only thing missing from making this journey complete. Repulsion were fucking amazing, with drumming so wild and schizophrenic and singing so brutal and extreme, it almost felt like grindcore had overpowered every genre represented previously in the weekend.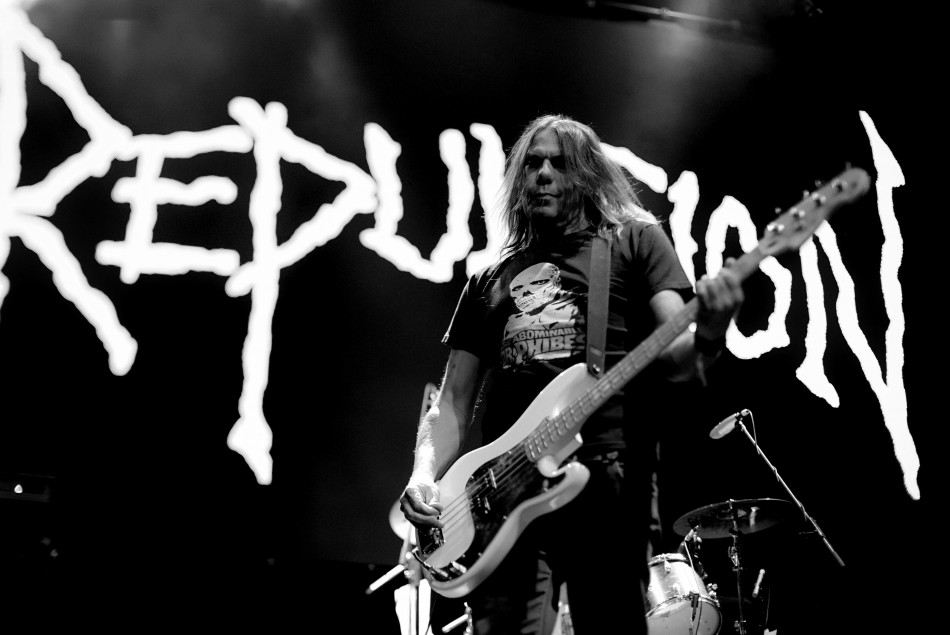 Epilogue
Monday morning I woke up to the news Eric Wagner, legendary singer of Trouble and the Skull had died of coronavirus. This was only a few days after he was set to play Psycho Swim. Seeing as The Skull was the band I was hoping to see most on Thursday before they had to be switched out, hearing the news made my heart sink into my chest. I felt enough genuine sadness to almost reconsider all my positions about trying to live the life you deserve in the midst of this crisis. Over the many forums revolving around Psycho Las Vegas, news broke of a few positive Covid tests after attending the festival. I suppose only time will tell if this gamble paid off but my hunch is it most certainly will. Life had to be lived, it couldn't stop for anyone. The best we can all do is take the necessary measures to protect ourselves and the people around us.
I left Psycho with two lessons stuck in my mind, both I arrived at purely experiencing live music. They didn't need to be overt or explicit with any message, I could feel what these sets meant in my guts. Obituary on the main stage represented the future of underground music. With festivals like Psycho, extreme and underground bands that have worked their asses off their entire careers might get the chance to play the same venues as pop icons. This isn't about artists becoming so popular that their music gets watered down–this is about artists getting every bit of credit they deserve. Stöner's set taught me that the only way to not to let this life run you down is to live by your own rules. In a sense, Psycho is the place where people crazy enough to be free can congregate and teach others how to do the same. So long as you don't want to be sane, Psycho will always be a home for you.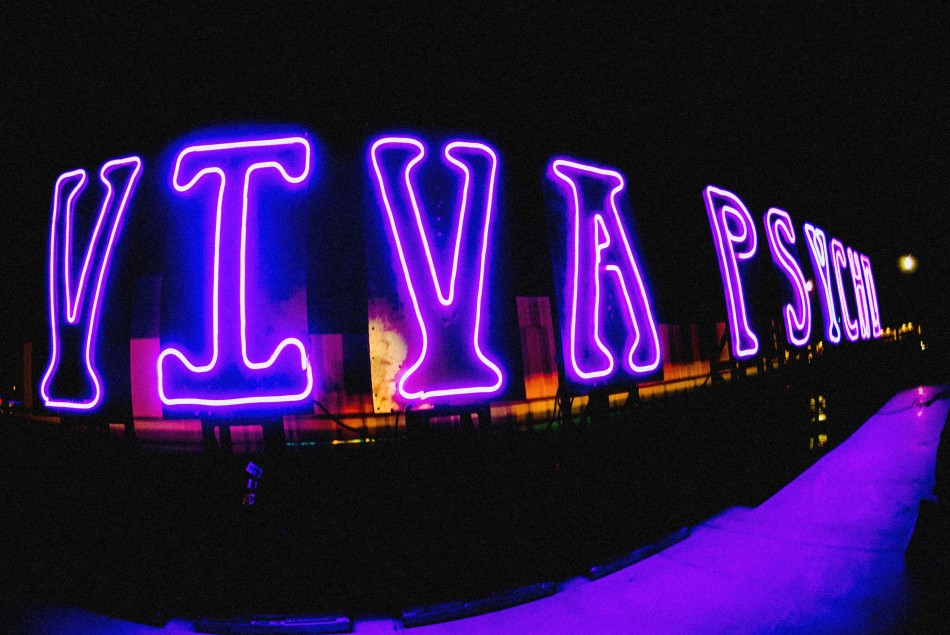 Lastly, I'll finish this review with a few lists.
Bands I wish I saw:
Pig Destroyer
Poison the Well
Adamantium
Cephalic Carnage
OSEES
Drab Majesty
Dying Fetus
Eyehategod
Full of Hell
Dengue Fever
Top ten favorite sets of Psycho Las Vegas 2021:
Down
Danzig
Obituary
Stöner
Flaming Lips
Broken Hope
Midnight
Deafheaven
Cannibal Corpse
Khemmis
Bands I want to see play at Psycho Las Vegas 2022 (because fantasy booking is what music nerds do):
Wormrot
Anti-Seen
Taake
Bloodhound Gang/Jimmy Pop
Crypt Sermon
Current 93
Skepticism
Merzbow
Sturgill Simpson
Emma Ruth Rundle and Thou
Words by: Robert Shepyer
Photos by: Anthony Mehlhaff