Speedy Speedy Speed Metal: Midnight At Union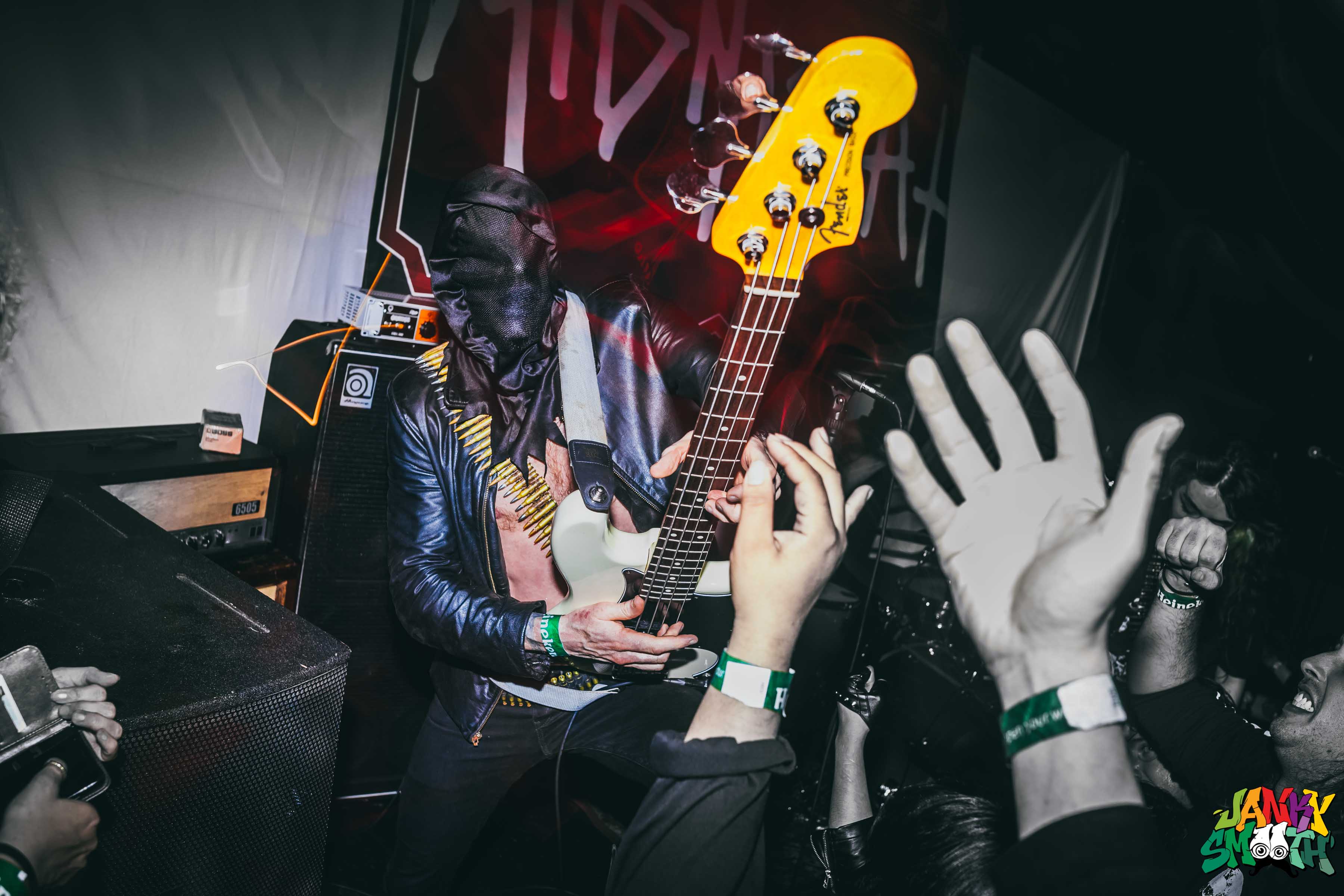 Before Thrash cemented the marriage of punk and metal, speed metal was what metal heads called metal that inspired a frantic pace and pure ferocity simply through applying quickness to licks. Before doctors ever prescribed kids Ritalin, there was speed metal, fixing the attention spans of the damaged. Sometimes it's hard to distinguish between thrash and speed metal but certainly bands like Motorhead, Venom, and the first two Iron Maiden albums, could fall under the category.
And in the tradition of those heavyweights, Midnight and Bat went on tour together, eviscerating every city they played in and believe me, Los Angeles wasn't able to fend off the assault. By the end of the night, the audience that packed into Union's Jewels' room was shred to tatters.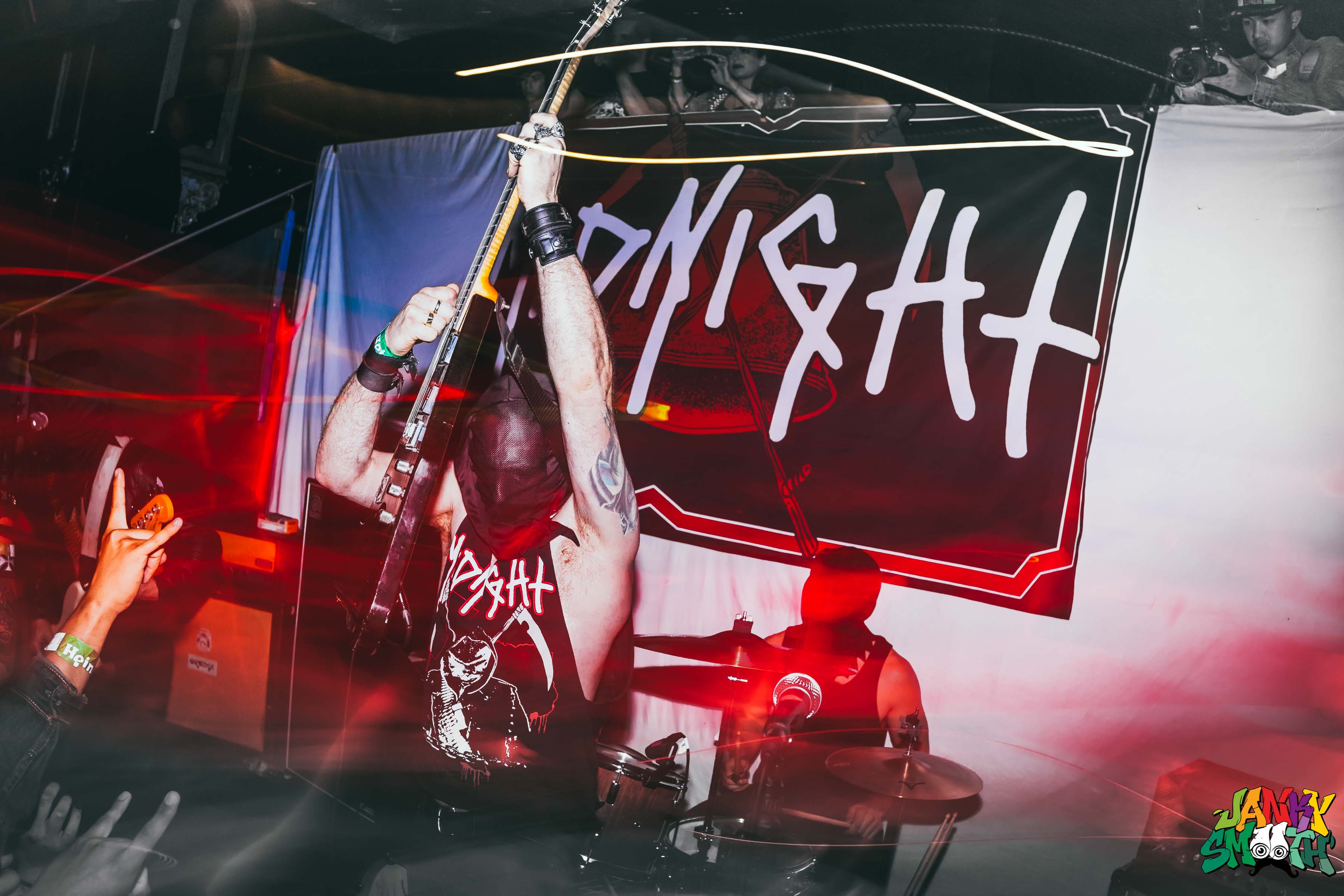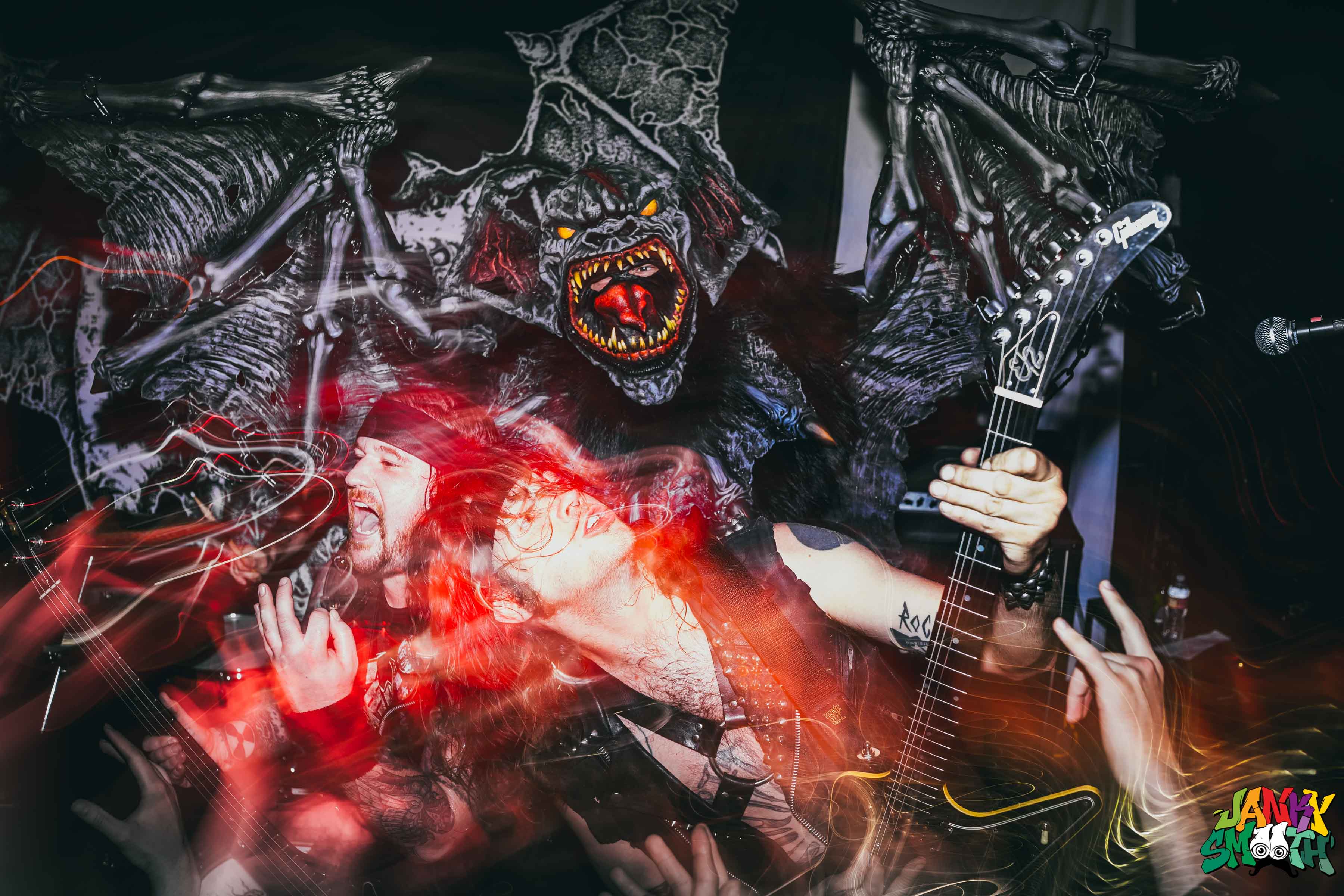 This was undoubtably the best metal show I had seen all May, that means it beat out Slayer, Soulfly, Morbid Angel, The Obsessed, and Satyricon. All those legends couldn't touch the intensity and ruthlessness that Midnight plays with.
The first band to play was Wormwitch, a band that describes themselves as crust meets black metal, funny that when I heard them I thought they sounded like melodic death metal, only realize that theres been so much crossover in extreme metal that the genres are melding into one general thing. Anyway, these guys absolutely slayed with ravaging growls, riffs you could snap your neck to, and bombastic drumming. Hailing from Vancouver, British Colombia, Wormwitch is another of the many Canadian extreme metal acts proving that they ain't all that "nice" up there.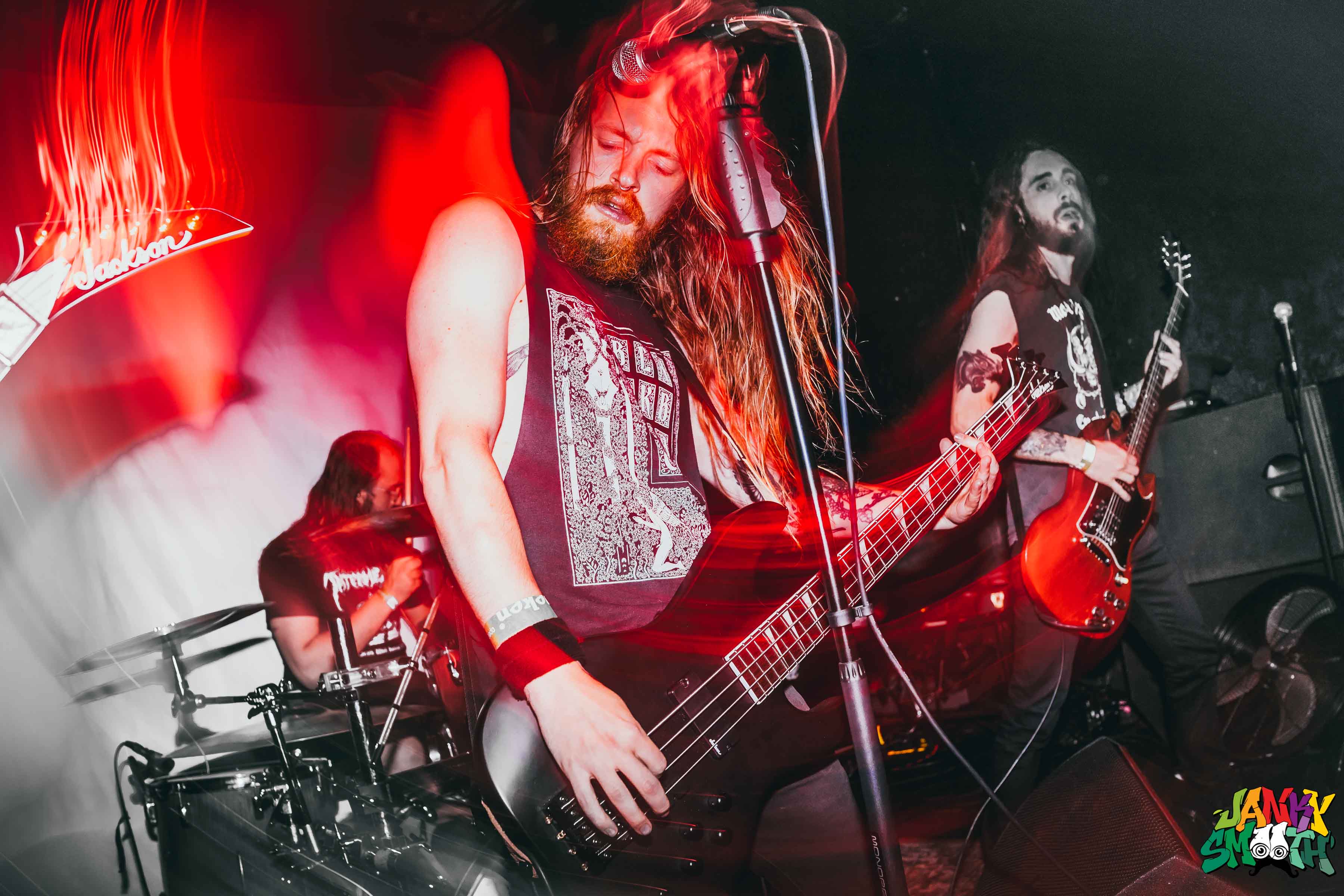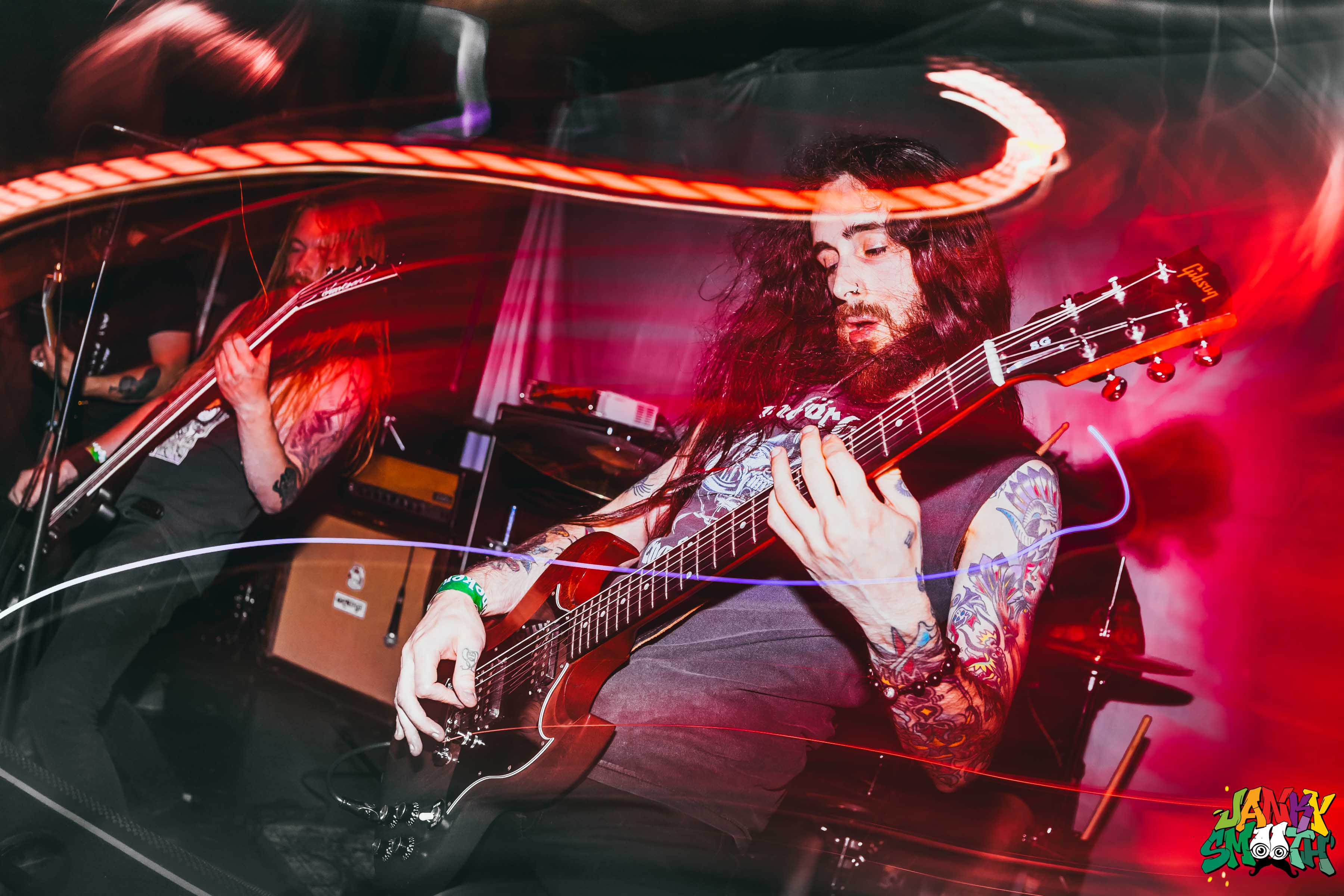 Bat was next, delivering a much more old school, speed metal assault. It was a set that would've made Lemmy proud. A great band to throw back a few fifths of booze to, Bat's denim and leather clad music bit the crowd into a rabid frenzy. A band that knows how to have fun and not take themselves too seriously, they played songs like "Chains of Discipline" about BDSM freaks then at the end of the set, came swooping down their mascot, a bat spreading the plague with every flap of its wings. Metal like this is best described as raw. It's speed metal but really, I would call it "street metal", the kind of music that goes well with a night of dominating the streets with your fucked-up friends in some filthy urban setting where drinking and pissing in alleys needs a soundtrack.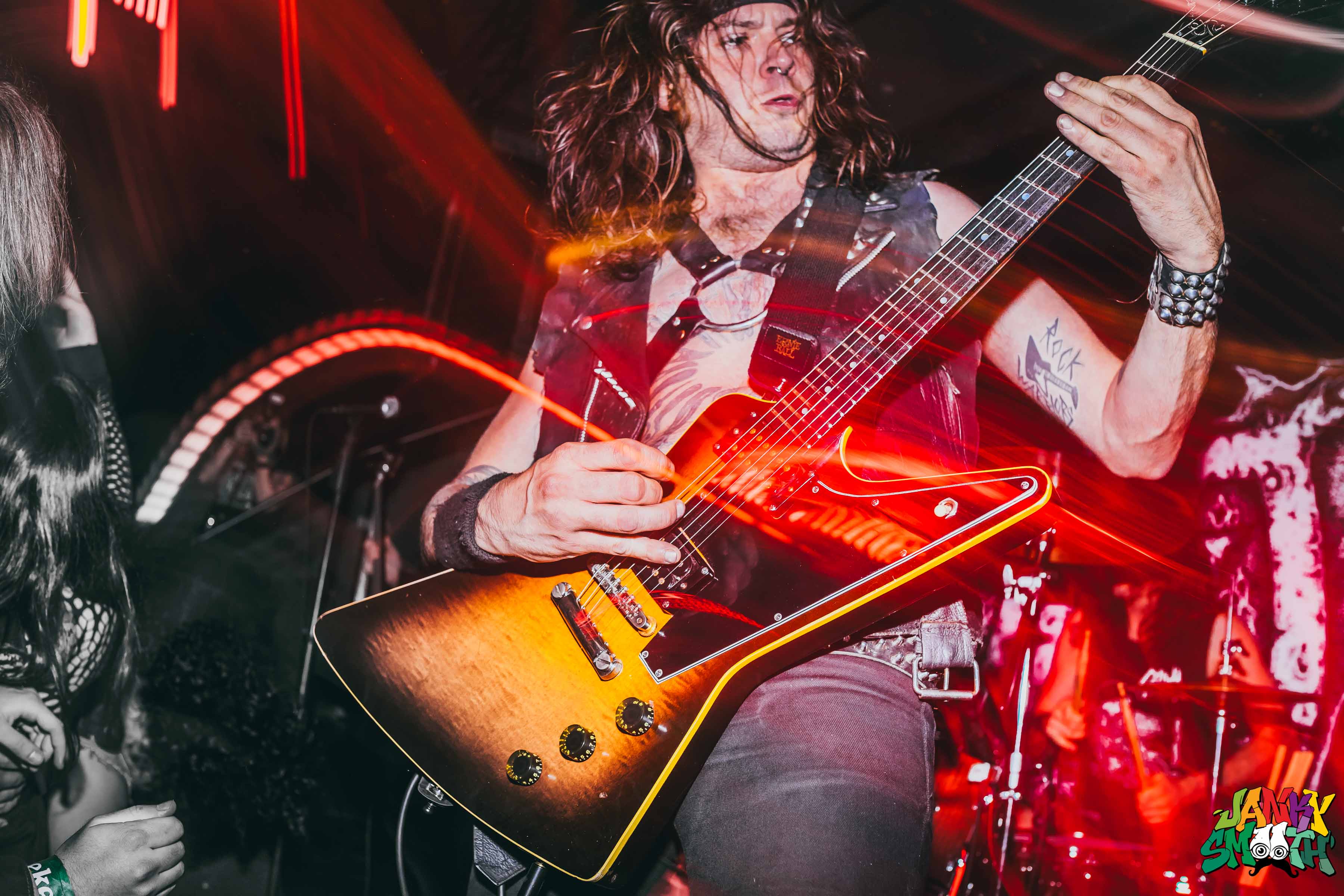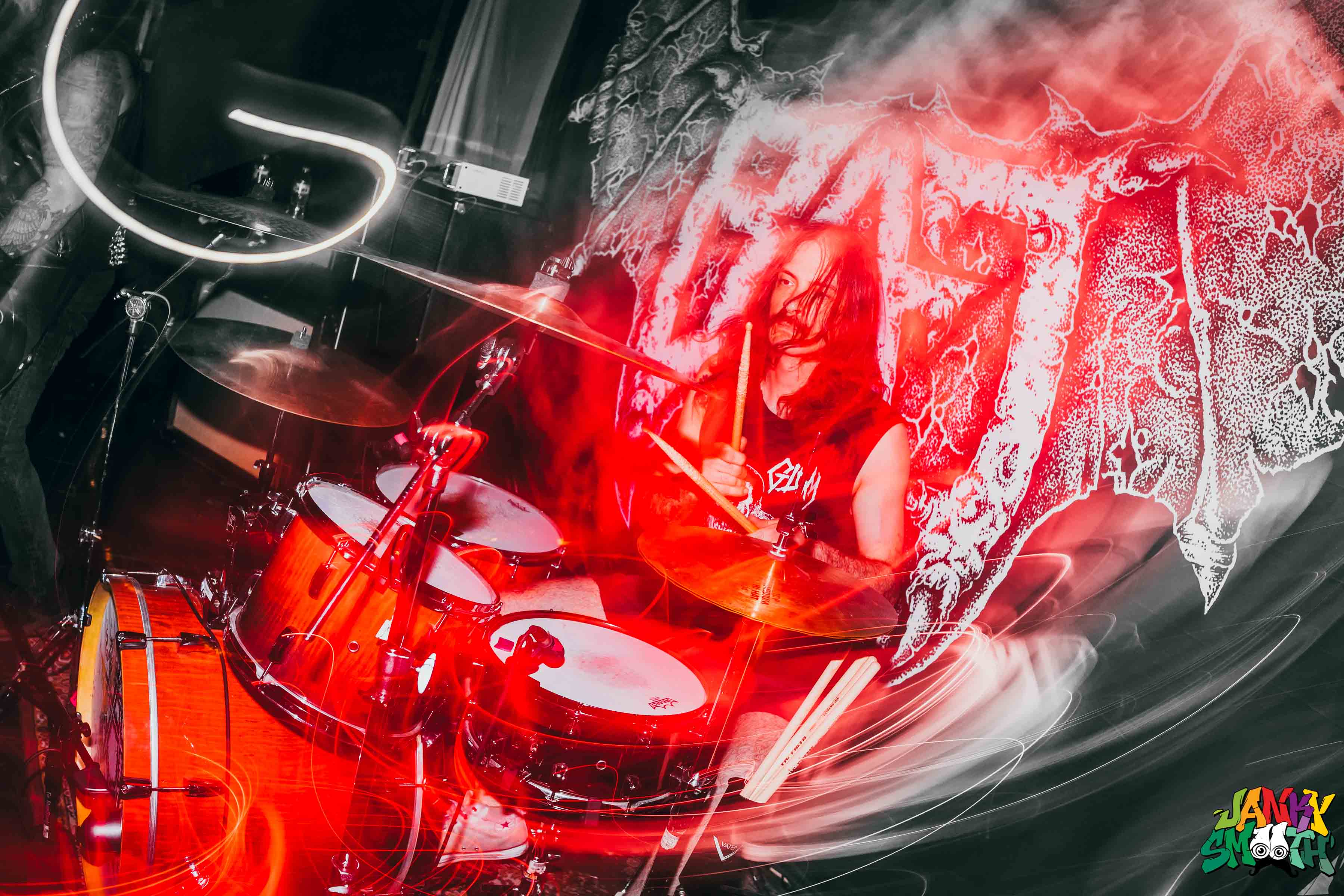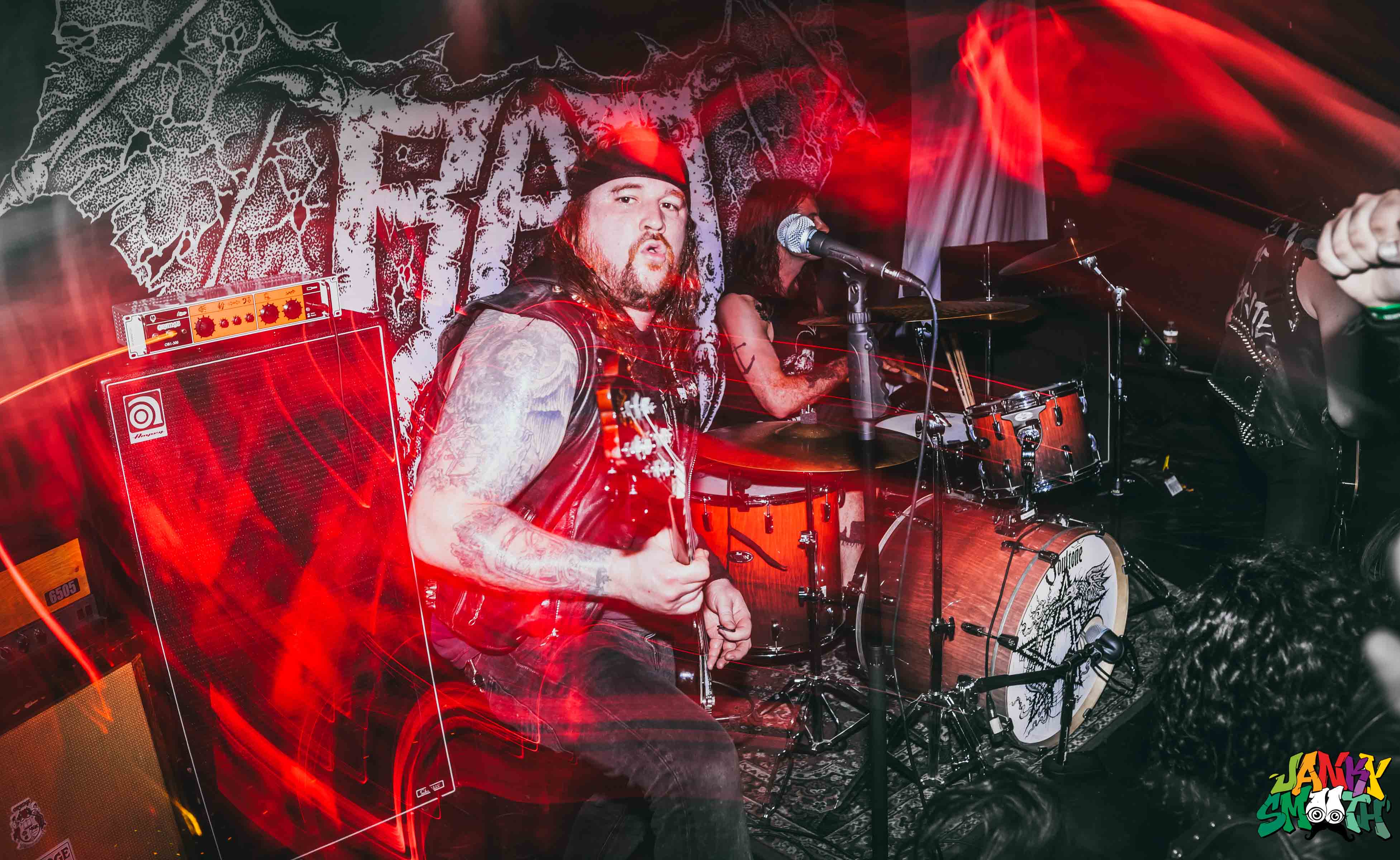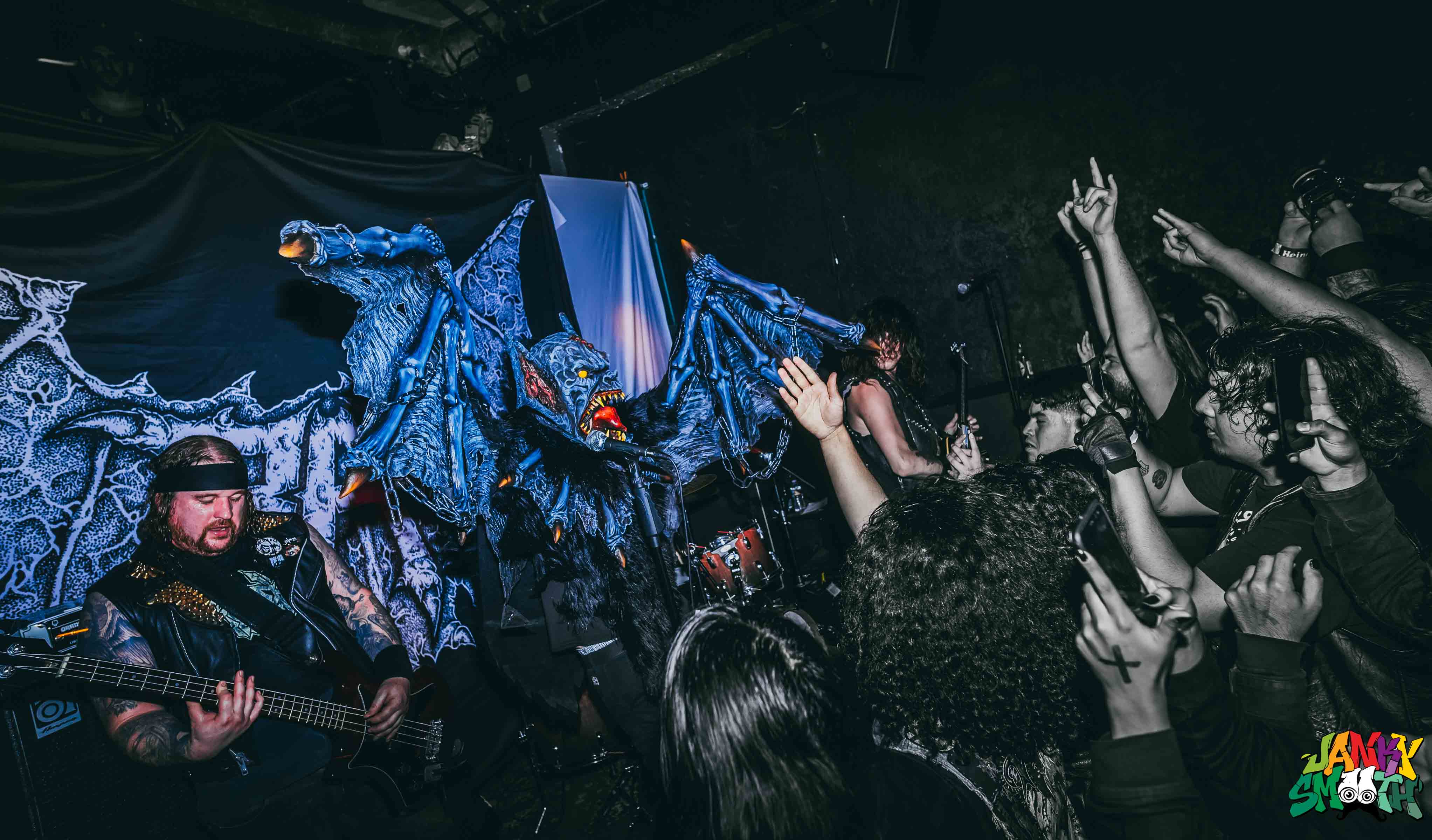 Finally, it was 12:00AM somewhere when Midnight descended down the stairs to take the stage in their black executioner's hoods. The first thing I noticed was the singer and bassist, Athenar, pretending to fall down the stairs just to fuck with us. They showed incredible awareness with those hoods on, getting on top of speakers or whatever other platform they could climb. The music was incomparable, it was pure satanic energy, that's the only way I can explain it. No other band can harness that same raw feel as these guys do, so what other explanation is there than Satan?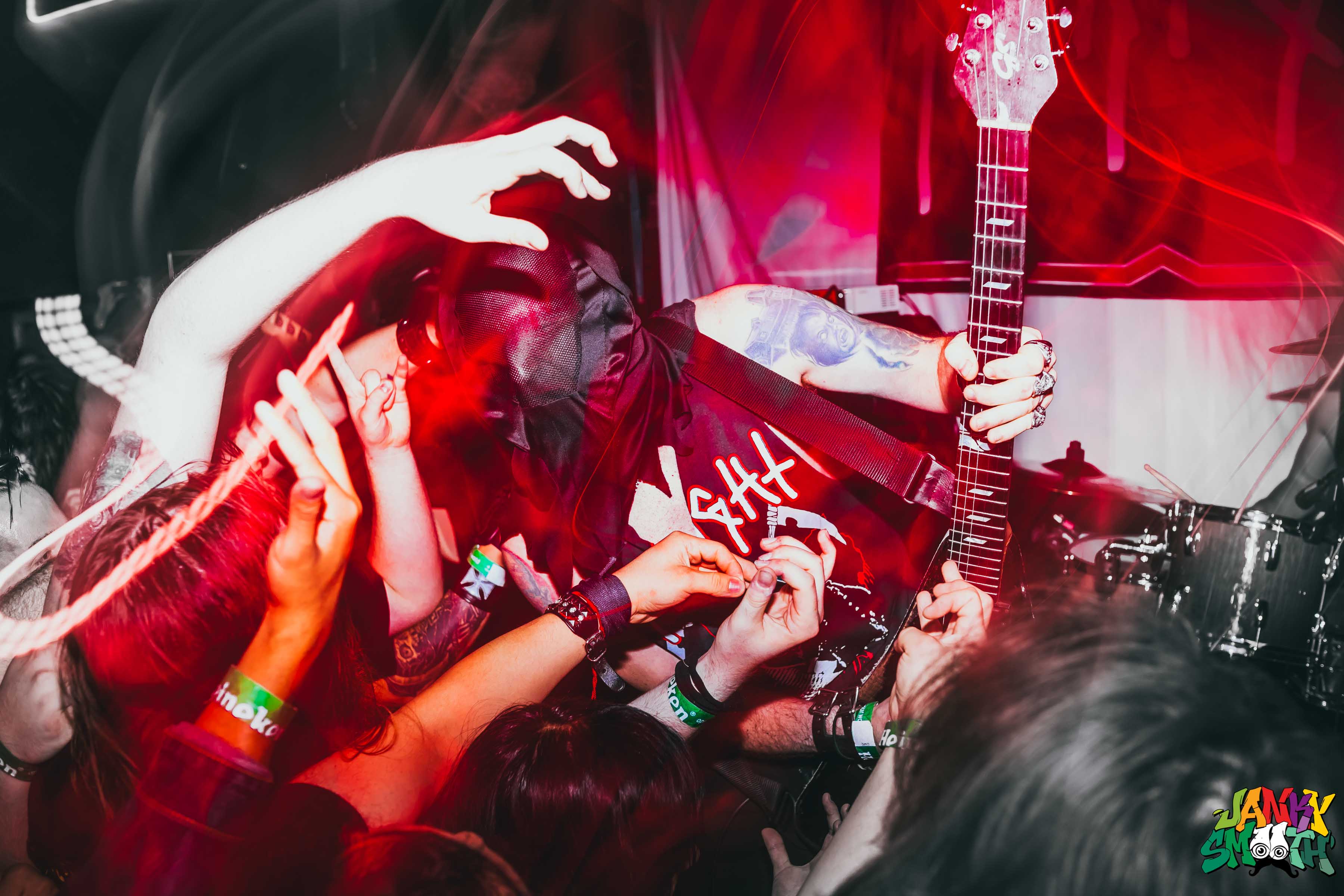 Re-listening to their 2011 album, Satanic Royalty, my assumptions are only confirmed. And holy hell, does that album have some incredible songs on it, made only more insane when performed live. Songs like "Violence on Violence" or "Rip This Hell" or "You Can't Stop Steal" turned the crowd into a tornado of angry mother-fuckery, who'd all be thrown into prison if this behavior ever saw the light of day. Songs like "Who Gives A Fuck" sent chills up my spine just feeling the audacity and style in the band's apathy. They even played a Hellhammer cover with "Death Fiend". It was a set worthy of my sweat, pain and blood and Midnight is band worthy of worship. With as many concerts as I go to, it's getting harder for music to truly move me but this band, reminded me what pure attitude really looks like.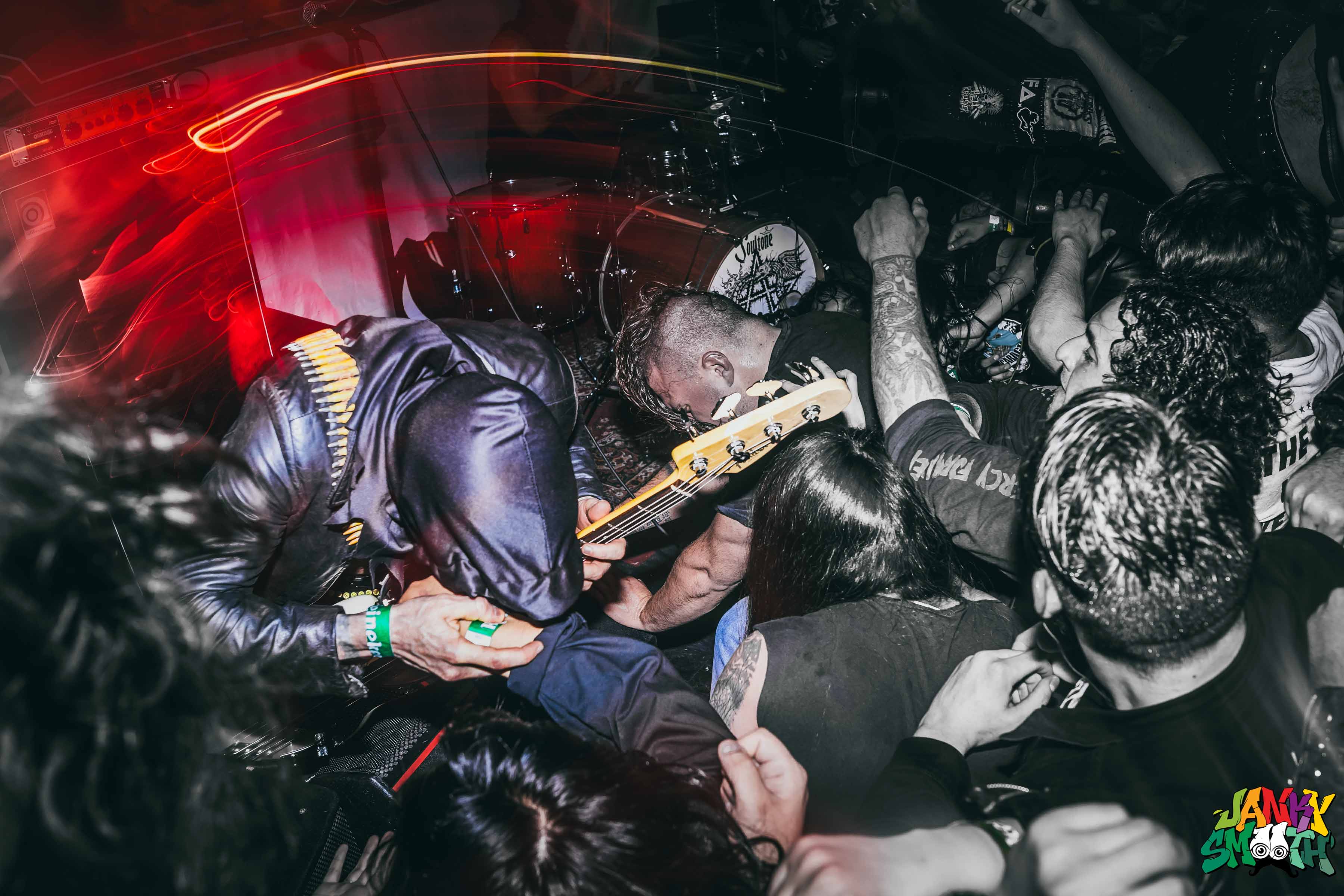 Words by: Rob Shepyer
Photos by: Dillon Vaughn