The Outsider Scoop: Outside Lands 2022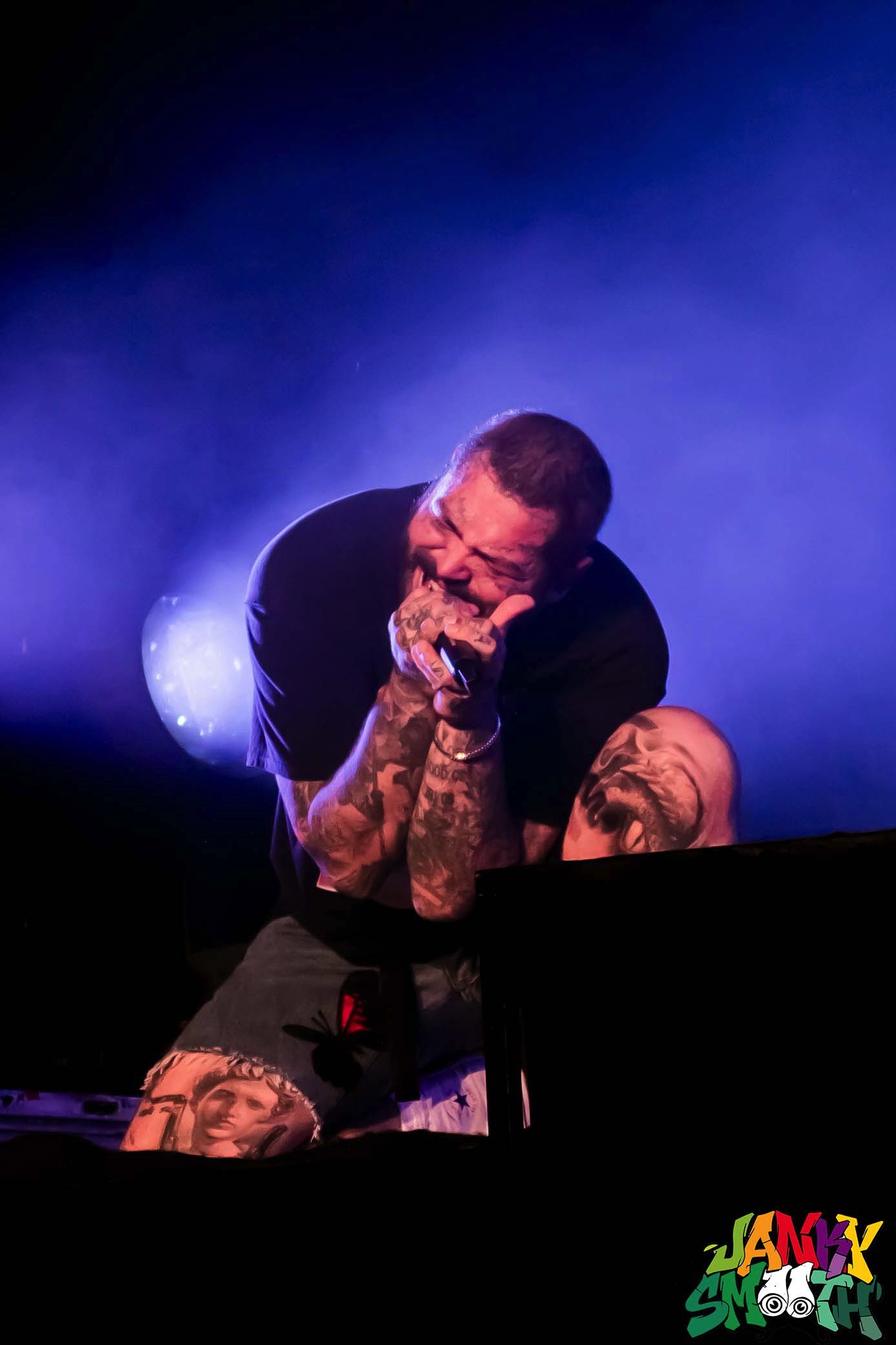 Words by: Isabella Harding
Photos by: Sophie Weil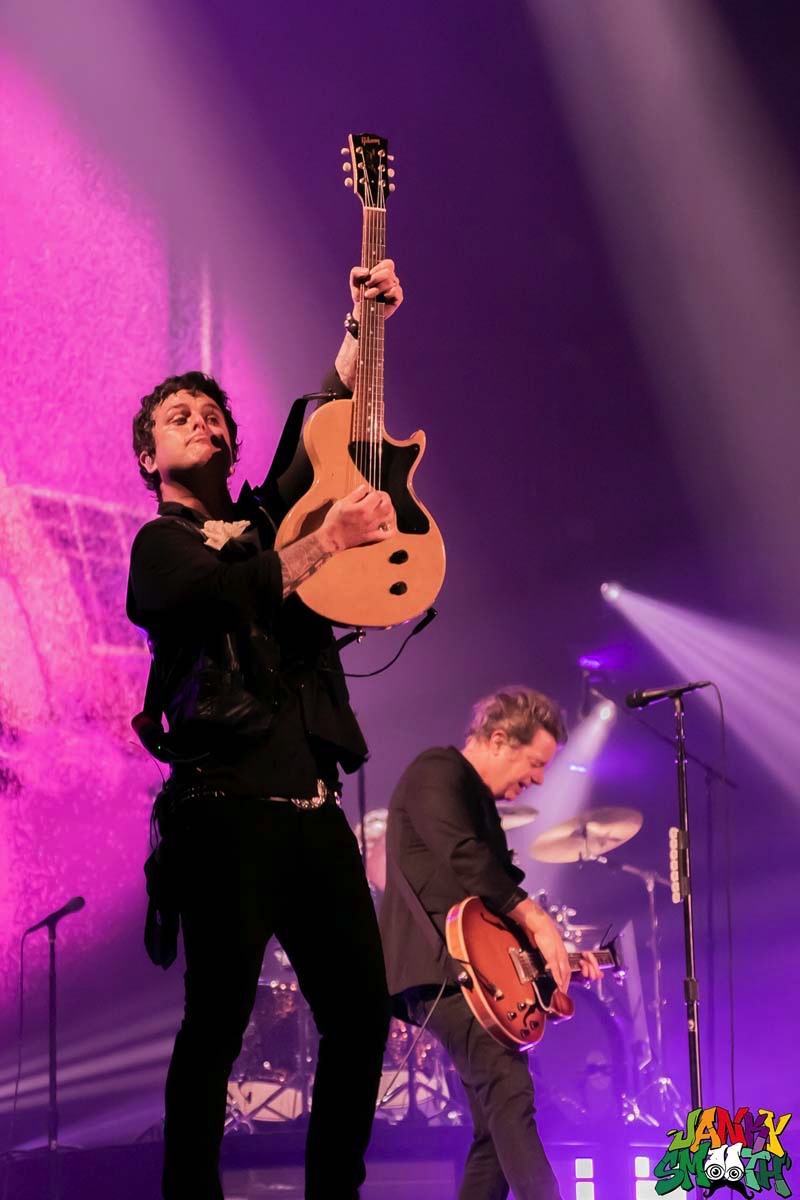 Every year, San Francisco's Golden Gate Park is turned into the Outside Lands Music and Art Festival, a monumental event that is celebrated by the Northern California community. As you walk into the park, you are immediately transported to another world. From live music, to incredible food trucks, brand tents, and picnic tables, Outside Lands is a full 3-day experience that leaves a lasting impression.
The festival consists of 110 artists, 9 stages, and over 200,000 fans, accompanied with locally catered food from restaurants and food trucks found throughout the Bay Area. To add onto the wide variety of food, the festival also includes Wine Lands, Beer Lands, Cocktail Magic (which were full of unique beverages brought by only Northern California vendors) and Grass Lands, a 21+ setup for all things cannabis.
Outside Lands is a music festival that thoroughly honors the Bay Area and its community. This is not only seen by the fans who continue to show up year after year, but by all the artists who voiced their personal love for San Francisco and the iconic festival in their performances.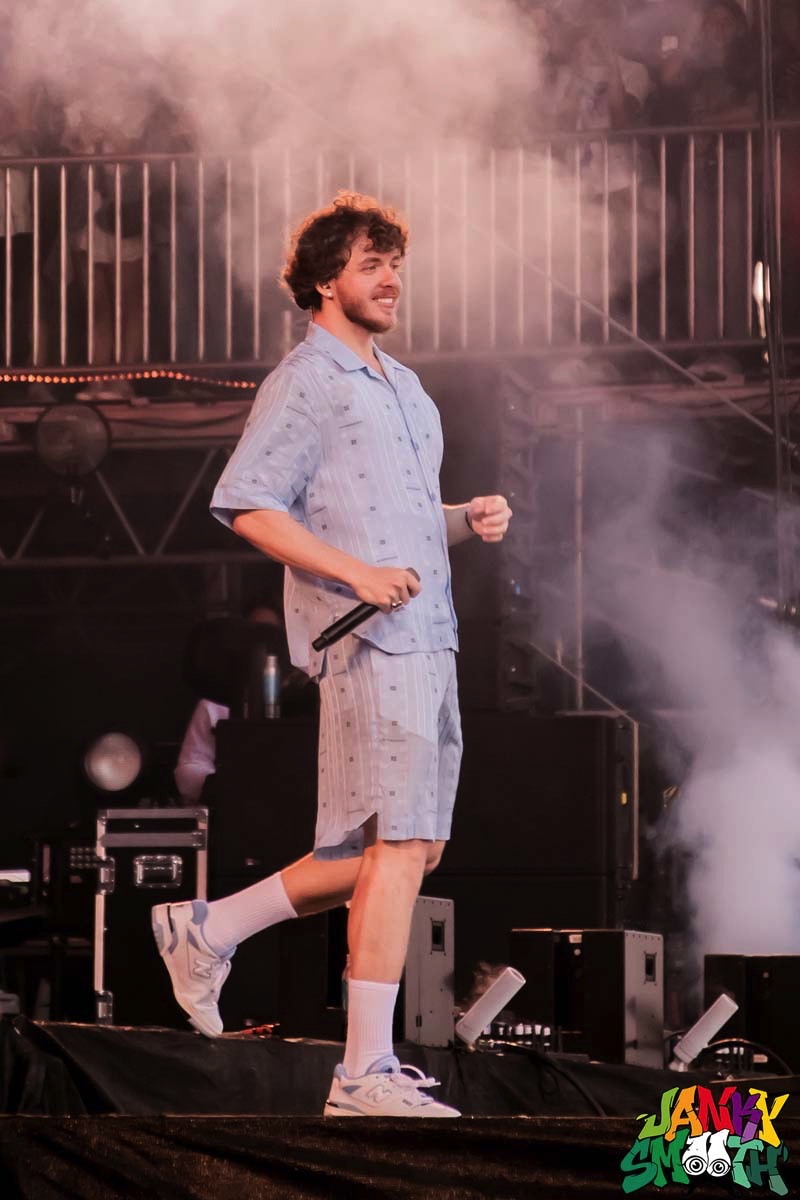 On the first day of Outside Lands, indie artist Del Water Gap started the weekend day off strong at noon with an incredible show at the Twin Peaks stage. He brought an enthusiastic presence which was reciprocated by the crowd with passionate cheering and dancing. He played various fun and upbeat songs the audience adored, but was also able to slow it down when necessary, which was shown when he played "High Tops".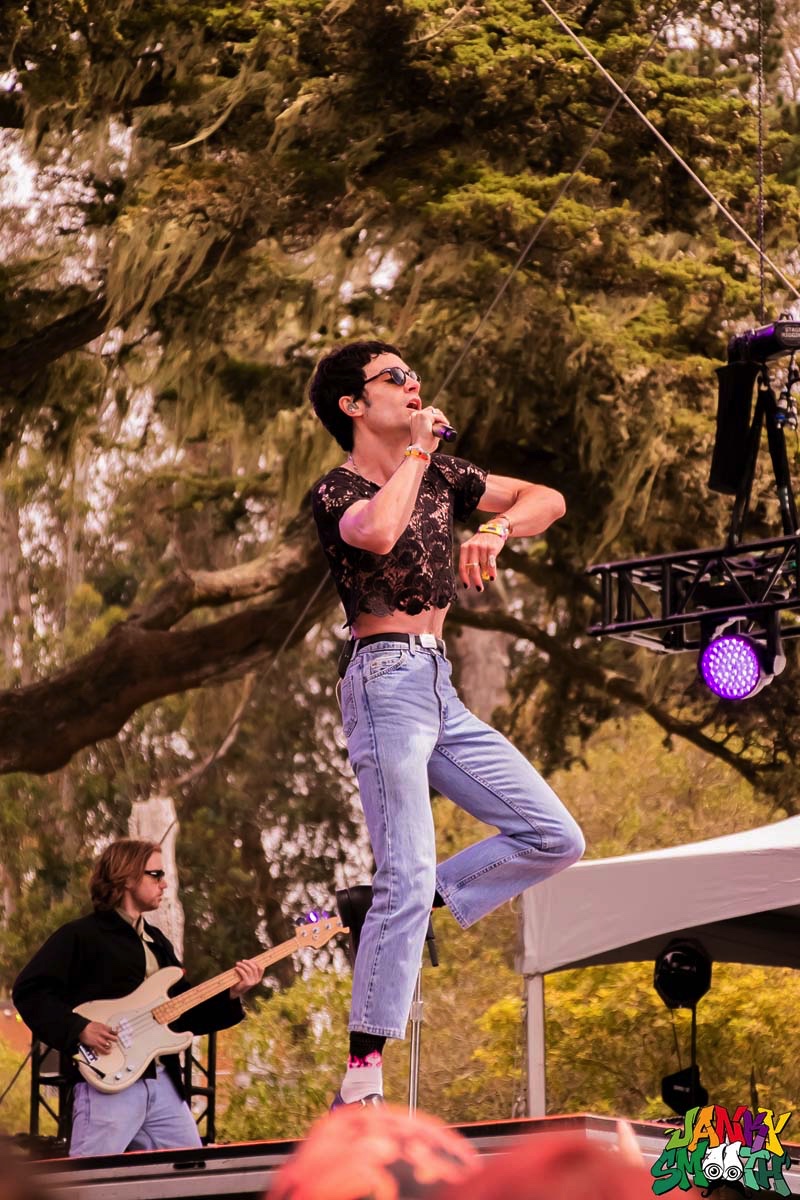 At 2:40, singer-songwriter Faye Webster played a dreamy, soothing, and fun set at the Sutro stage. Webster had incredibly soft vocals, which she paired with beautiful lyrics and melody. She played all of her hit songs and had the whole audience singing during her performance of her popular song "Kingston". Towards the end of the set, she played a cover of the Pokemon theme song, which was very different from her typical sound, but still entertaining nonetheless. Faye was incredibly sweet and even paused the performance during one of her songs to make sure a fan was okay.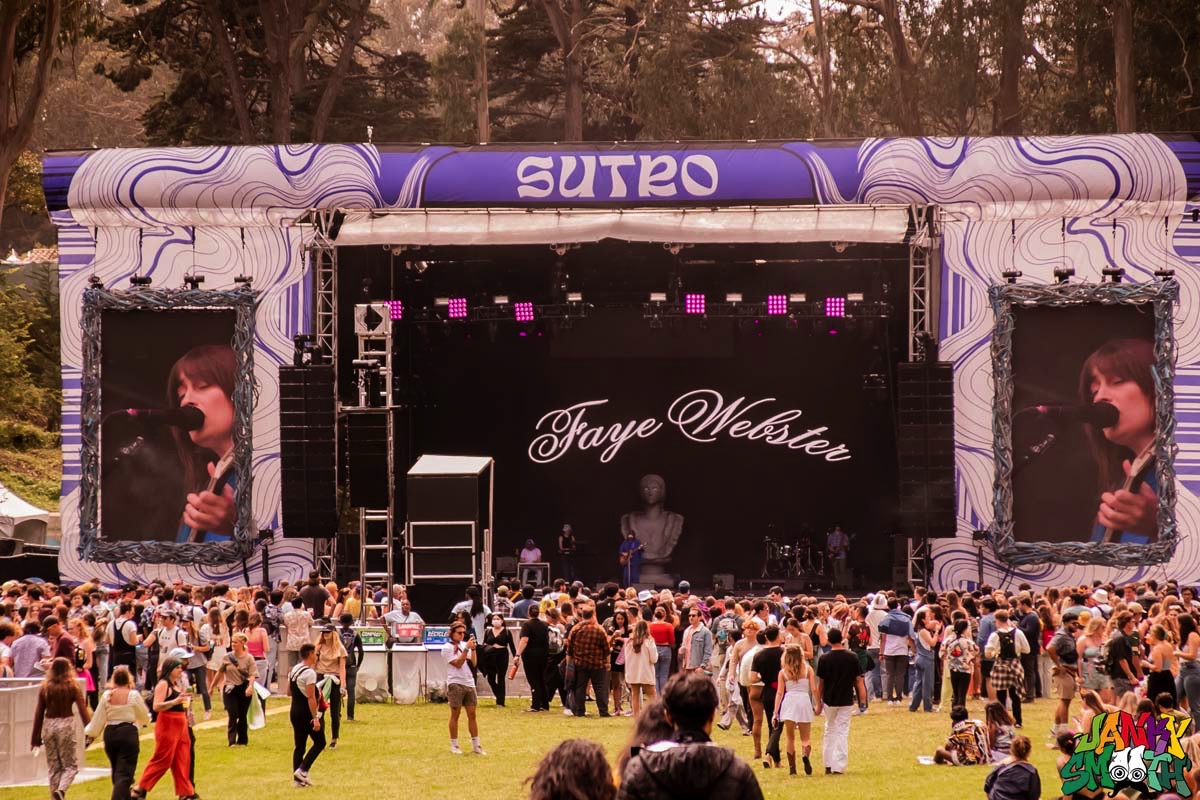 Later in the day, singer-songwriter Role Model, also known as Tucker Pillsbury, entered the stage for an excited crowd of younger teenage fans. Tucker had an amazing stage presence and an unmatchable youthful energy while performing as he danced and jumped around the stage. He played all of his beloved songs including "blind" and "forever&more" but also graced the crowd with the unreleased song "summertime in soho." Tucker's performance was truly incredible and the audience went absolutely wild for him and his music.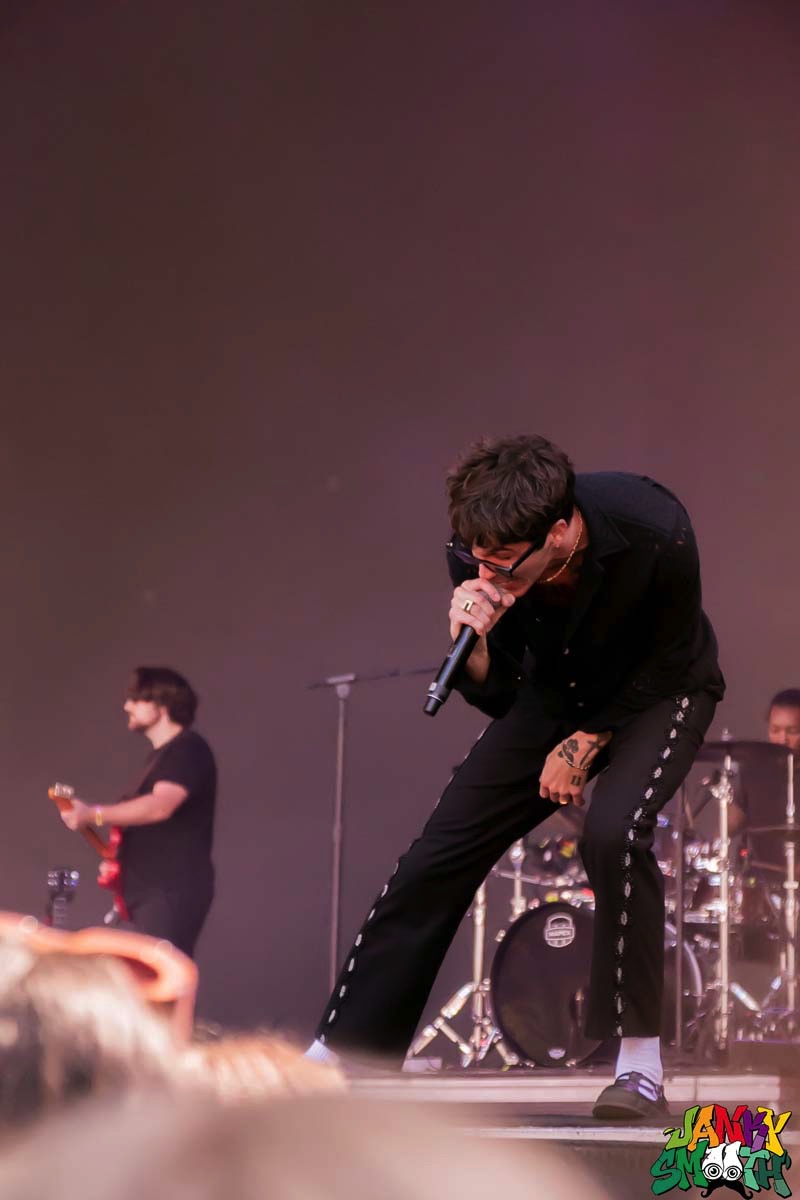 Hiatus Kaiyote is an energetic neo soul group that has hints of funk and jazz incorporated in their sound. They played an afternoon 4:10 set on the Lands End stage and accumulated a massive crowd for their show. They had such an engaging performance which was due to their distinctive songs and melodies. This was also shown during a cool cover of David Bowie's "Within You," which suited their sound extremely well. The band's lead singer Nai Palm has incredibly unique vocals that fit really well with the band's exceptional playing, which overall created a fun and exciting show.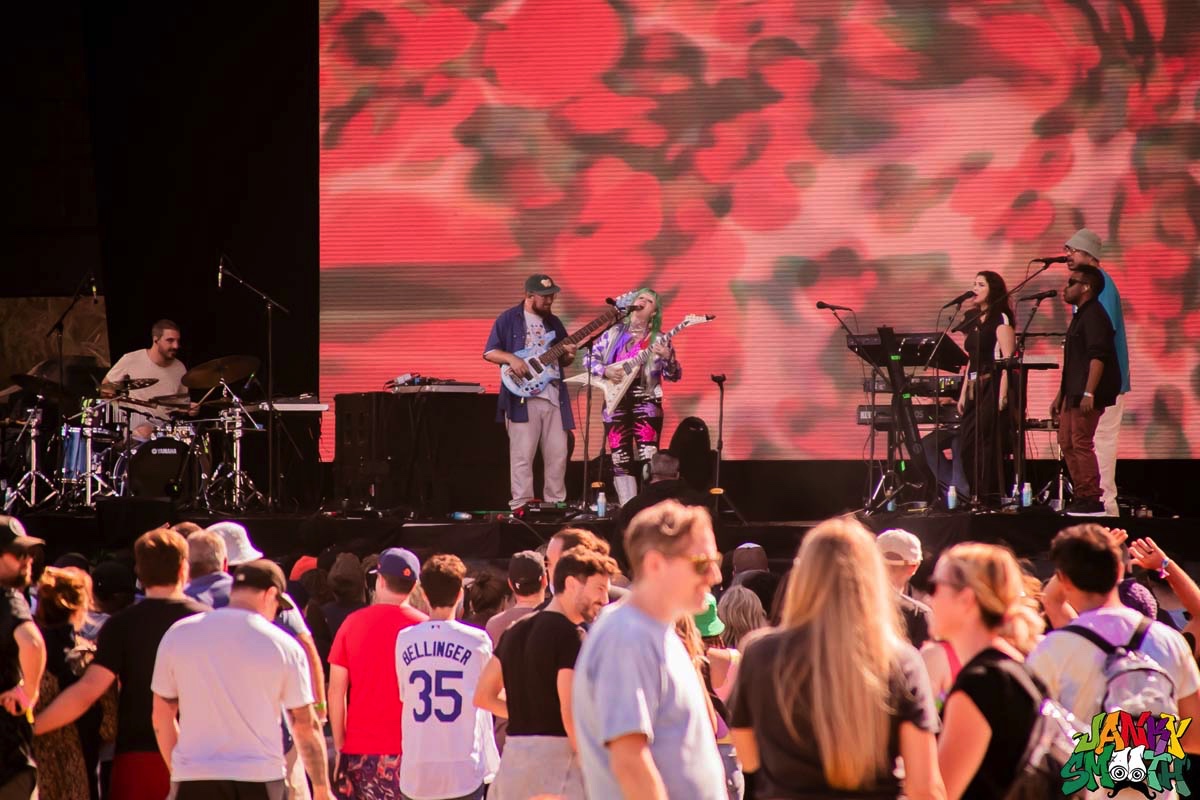 Dayglow, the indie pop artist also known as Sloan Struble, played an anticipated 5:20 set at the Twin Peaks stage. Struble explained to his fans of all ages that he had never performed in front of such an enormous crowd before and that he was ecstatic to be doing so. He played the crowd's favorite songs such as "Can I Call You Tonight?" and "Then It All Goes Away," accompanied with amusing covers of Lips Inc.'s "Funkytown" and "Everybody Wants To Rule The World" by Tears for Fears. His upbeat energy was clearly reciprocated throughout the crowd as everyone had their hands and drinks in the air the whole time. Dayglow played a very bright and playful set. His engaging sound and setlist had his thousands of attendees ready for the headliners later that night.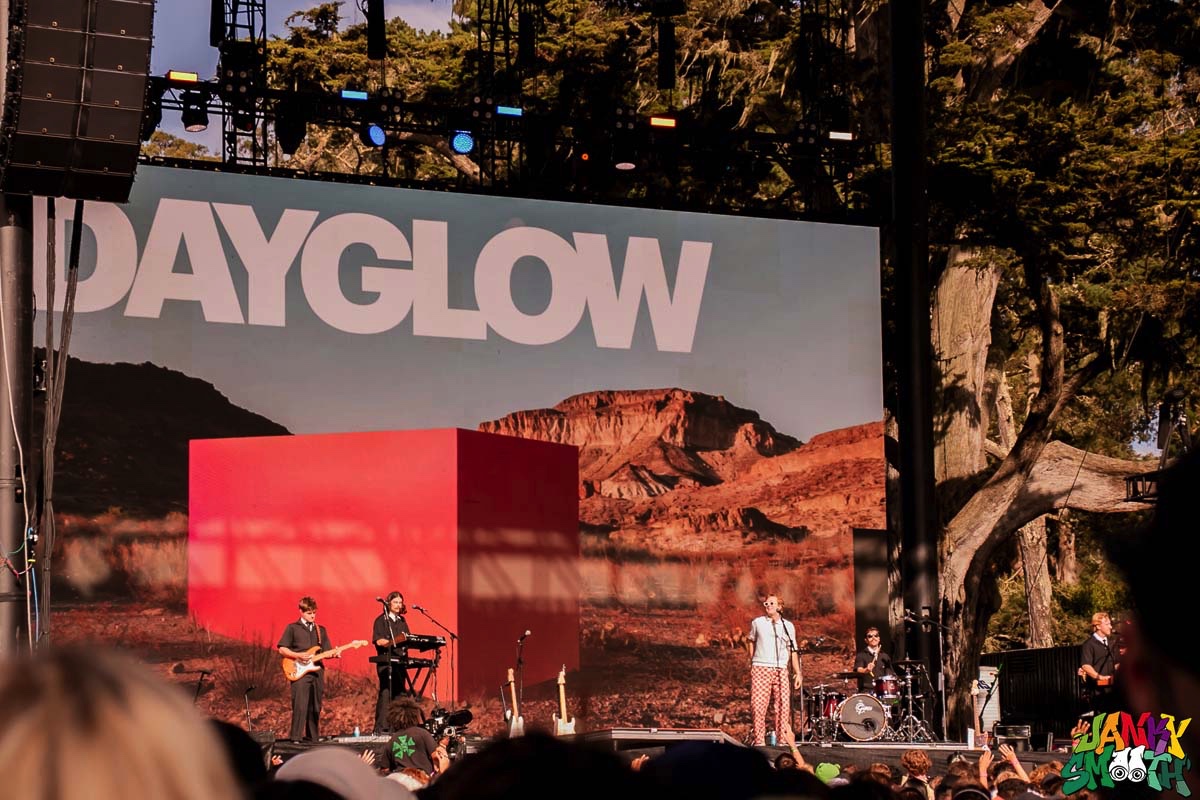 Right after Dayglow's performance, The Marías came out to perform their 6:55 set at the Twin Peaks stage. The Marías' had incredibly enticing songs, paired with an extremely engaged crowd which led to a great show. Lead singer María Zardoya is the definition of alluring and graceful, and her soft vocals were beautiful and well accompanied with the rest of the male band. Their constant switch from English to Spanish was a crowd pleaser and made the songs even more enjoyable and enticing. Along with a great sound, the Marías were also a very visually aesthetic band. María shined in a shimmery white dress while the rest of the band wore black, which contrasted with the predominantly red visuals that were played on the large screen behind the band. She made a sweet point to wave to many fans in the audience, elegantly cross the lengths of the wide main stage, and even stepped down the stage's stairs to hold hands with fans at a few stops along the barricade. The Marías ended their set with their hit song, Cariño, and left with a deafening amount of applause from the audience.
As the sun finally set on Golden Gate Park, indie rock artist Phoebe Bridgers emerged on stage as one of the headliners for an anticipating crowd of thousands of fans. Bridger's set was truly magical, as she played many songs from her latest album Punisher and her debut album Stranger in the Alps. Along with her child-like storybook visuals displayed on the large screen that transitioned through each song, the aura of blue and red lights matched the real-time night sky and created the perfect atmosphere for her set of slow, whimsical, and heartbreaking songs. As if her set wasn't emotional enough, Bridgers was very vocal with the crowd as she recalled how sentimental playing this specific festival was for her. She often spent time as a kid in Golden Gate Park and was a regular attendee of the Hardly Strictly Bluegrass Music Festival, which is held in the same park, since her grandparents are Northern California residents. She was especially excited to be playing for the first time at Outside Lands as an artist, let alone headliner. She also discussed contemporary issues between songs, including the overturning of Roe v. Wade and abortion funds to donate to. At one point, she asked the audience what song they wanted her to play next, and after many deafening shouts in reply, she settled on an acoustic version of "Georgia", which is a rare treat nowadays for devoted fans. Bridgers concluded her set with "I Know the End". During the final song's triumphant ending, she jumped over the barricade to do some crowd surfing. Phoebe Bridgers was a perfect addition to the Outside Lands lineup due to her personal connection with the festival and the grounds, and everyone in her endless crowd was truly feeling the impact of the festival and pride of the San Francisco Bay Area community. She even blessed the small Wine Country town of Healdsburg (two hours north of San Francisco) with a top-secret free acoustic show at a local restaurant the night before! It makes you wonder if any regular attendees in the crowd that night would be headlining the festival next!
The younger New York based alternative R&B band MICHELLE started the second day of Outside Lands off with a super fun and energetic performance at the Twin Peaks stage. The band is predominantly a BIPOC and queer group that consists of four female singers: Sofia D'Angelo, Emma Lee, Layla Ku, and Jamee Lockard, along with the two band members Julian Kaufman and Charile Kilgore. Their performance was engrossing as the female singers had choreographed dance routines and a vibrant colorful aesthetic that all perfectly matched their upbeat songs. The early crowd was kept fully engaged throughout the set and had a great time constantly dancing and cheering for the band's kickoff of their second United States tour!
Around 3:40, the Los Angeles indie rock band Local Natives came out for their set on the Lands End stage to continue their exciting COVID comeback to live performances as a band. Their energy was more laid back, but it was still an engaging performance. The core four of the band shared the responsibilities of both singing and playing guitar, which exerted beautiful vocal harmonies from them all. Lead singer Taylor Rice also dedicated the last song of their set "When Am I Gonna Lose You" to his young son who was put up on the big screen, watching at the side stage with headphones. The crowd adored this and the sentimental song was a perfect way to end the show.
Indie rock artist Mac DeMarco took the stage at 5:10 with eager fans ready for his performance. He created a chill and casual atmosphere amongst the crowd with his groovy presence and continued to make them laugh and cheer in between each song. DeMarco had incredible vocals and a great setlist that everyone knew all the words too. He also made his own fun during his time on stage, tossing the microphone between each hand and, at one point, abruptly putting his microphone in each of his band member's faces to make them "freestyle" for the festival-goers. What really stood out with his performance was his stage presence and the way you could tell how much he truly cared about his music.
After recently gaining traction in the music industry, rapper Jack Harlow played at Outside Lands for his second time. Harlow prides himself on being a very driven and motivated artist, so he was extremely excited to be playing again at the festival as one of the headliners and told the audience that San Francisco is one of his favorite cities in the world. He also shared his personal relation to the festival and the city as he explained how he had played at Outside Lands back in 2018 with his name in small print near the bottom of the flyer, so it was amazing for him to see how much he has achieved over the years in relation to this festival. Harlow played all of his hit songs from over the years, including "What's Poppin," "Industry Baby," and "First Class," but also played some of his older songs that the energetic crowd went wild for. It also happened to be his first time playing with a live band and he was thrilled to have the opportunity to do so. He teased fans throughout the set that he would walk down the stairs at the high stage and finally walked along the barricade to give the crowd high-fives, saying "I love you" over and over. Everyone in the crowd loved Harlow's set and was hyped up for the whole show.
Many festival attendees throughout the day were spotted wearing merch for one specific, highly-anticipated performance. As the second night of Outside Lands began, Queen's infamous "Bohemian Rhapsody" began playing to an overflowing crowd of fans in anticipation to see the festival's main headliner, Green Day. It seemed as if everyone, young and old, who hit the grounds that day (maybe everyone on Earth!) had gathered at Lands End stage that night, and everyone sang all the words to this iconic band's iconic walk-up song. Green Day entered the main stage at 8:25 and did not leave until 9:55 after playing over 20 songs. They started their performance off strong with defining rock songs like "American Idiot" and "Holiday," and kept up the insane energy throughout the night. Lead Singer Billie Joe Armstrong was extremely interactive with the crowd, and even pulled up two fans from the audience to play on stage with him. During a cover of "Knowledge" by OPERATION IVY, Armstrong brought up a 10-year-old boy named Montgomery from the crowd to play guitar and let him keep it after having his rockstar moment; the crowd went absolutely wild for him. It was definitely a weekend highlight. Green Day being from the Bay Area made their set extra special and this was reciprocated by the band through Armstrong's acoustic performance of "Lights" by Journey. As he sang "when the lights go down in the city, and the sun shines on the bay, do I wanna be there in my city", a song that is routinely played between inning at San Francisco Giants baseball games, you could feel the emotional connection that was held between the band and the audience that shared a hometown and unconditional love for the city. Green Day bade goodbye to their crowd with their classic and emotional song "Good Riddance (Time of Your Life)," which left everyone amazed, content after such an iconic performance, and feeling every lyric after truly having the time of their lives.
Dominic Fike was one of the final sets of the weekend but that did not stop him from gathering a massive crowd of enthusiastic fans in the later afternoon at the Lands End stage. His catchy alternative/indie music recently grew in popularity among teenagers after starring in the most recent season of the popular HBO show Euphoria. Fike's quirky personality shined when he chose to start his set off with an energetic cover of Joan Jett's & The Blackhearts' "Bad Reputation," which amped up the audience and got everyone ready for his set. His music was supported by fellow artist Blu deTiger, who rocked through his set on a bright blue bass guitar. He played all of his fan's favorite songs including "Babydoll", "Double Negative (Skeleton Milkshake", and "Vampire". He also played another enthusiastic cover of the Neon Trees' "Everybody Talks," which everyone in the crowd knew and loved. Dominic played an extremely engaging show that showcased his talents both vocally, on the guitar, and constantly flipping his microphone between his fingers. He ended his show with his most popular song, "3 Nights," leaving the audience very pleased and ready for the weekend's final headliners.
After Dominic Fike's remarkable set that attracted a youthful crowd, the Los Angeles based rock band Weezer entered the Lands End stage at 6:25 to excite a crowd across all ages. Although they gained their popularity in the 90's, Weezer has continued to make music and stay relevant even now, making fans excited to see them live. The chill band equipped with their guitars and sunglasses opened their show with "Hash Pipe" and "Beverly Hills". As the night continued, they played more hits of theirs, including "Island in the Sun", "Say it Ain't So," but also did an impeccable cover of Metallica's "Enter Sandman." Weezer really put on an amazing show and a high energy set, which was proved by the tens of thousands of fans cheering for them.
"My name is Austin Richard Post and I've come to play shitty music and get fucked up while we do it." Post Malone truly left an impression as he ended the entire festival weekend with immeasurable amounts of energy, his popular set of hip/hop rap favorites, many spilt red solo cups, and vocal message of gratitude and love for everyone in attendance. His 18-song setlist could hardly contain so many popular songs but was impressively well divided across his four albums. He, along with many artists throughout the weekend, was clearly soaking up the experience of being able to perform for such a large crowd post-social distancing. Post kept his loyal fans hyped up and screaming at the top of their lungs all night long to his entrance song "Wow" and finale "Congratulations" but also made sure to let everyone catch their breath as he treated the festival to two seated acoustic performances of "Stay" and "Go Flex". Many people would agree that Post Malone himself is an accurate embodiment of "don't judge a book by its cover"; looking past his intimidating fully tattooed appearance and his powerful stage presence, he humbly bowed after almost every song, repeating "Thank you very fucking much, ladies and gentleman", playfully danced and swung his hips to the pop beats of his music, held hands with devoted fans, and tried to sing while balancing his full red solo cup on his head. He kept his intense show lighthearted with quick jokes between introducing his songs, such as saying "Circles" was a song "[he] wrote about [his] obscene love for triangles" and "Candy Paint" was about "a cool car that he bought a long time ago". Overall, he left it all on the stage, including taking every chance he could to express his gratitude for sharing the night with such a supportive fanbase, dedicating recent releases "I Like You" and "Sunflower" to the audience "because I really do like you" and "because you're my motherfucking sunflowers". Post surely succeeded in spreading his message of love and gratitude through powerful live music. His set concluded our 3-day experience at Outside Lands with a bang and heads above Cloud 9; Outside Lands is back to its normally scheduled annual summer programming and we didn't want it to end!