Burger Boogaloo 2016: Bringing Rare Vinyl Back to Life For 7 Years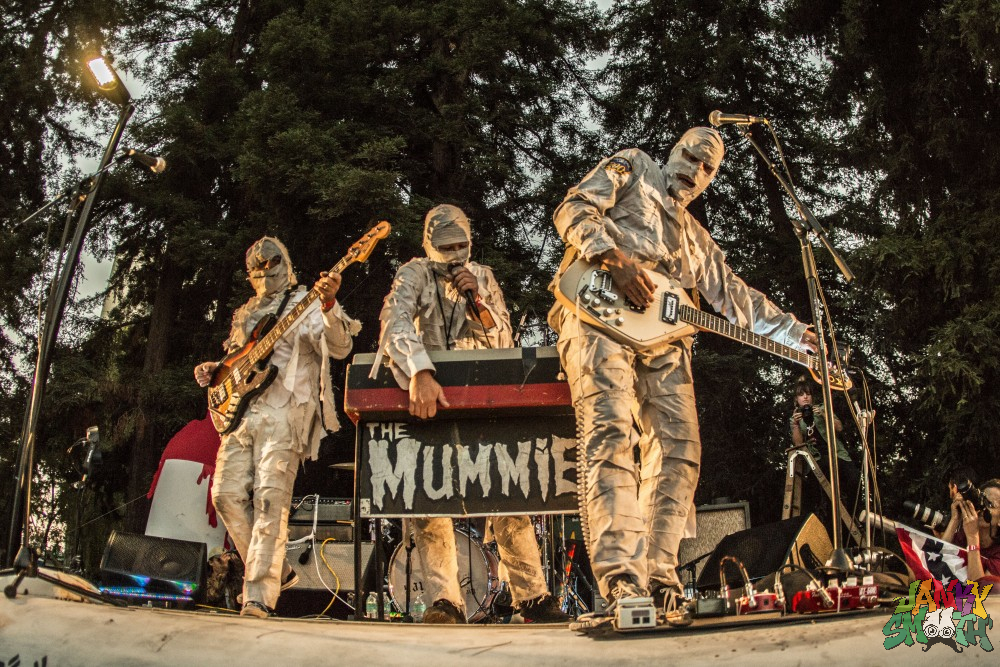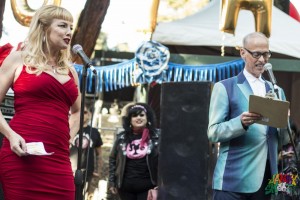 There are many metaphors I could employ to describe what it was like to attend the annual Burger Boogaloo festival in Oakland for my first time, in the year of our Lord, 2016. It's like going through your mom and dad's moth-balled wardrobe from 1968 and realizing that you just hit the mother load of cyclical fashion. It was always there. It was just up to you to open that garage, suspend that disbelief that your parents were actually cool at some point in their lives and try it on to see if it fits. It seems that no matter how far technology advances or what new platforms are developed in Silicon Valley to deliver music and culture to the masses, new generations will always dust off old vinyl and make it new again. To transform themselves into a time that seems simpler than their own and to long for the good old days that they didn't even exist in. Afterall, it is an American teenagers right of passage to be completely disenchanted with the here and now and it is the aging hipsters prerogative to revisit the haunts of their youth. All of these sentiments converge, year after year, at the Burger Boogaloo festival in Oakland California, now in it's 7th year.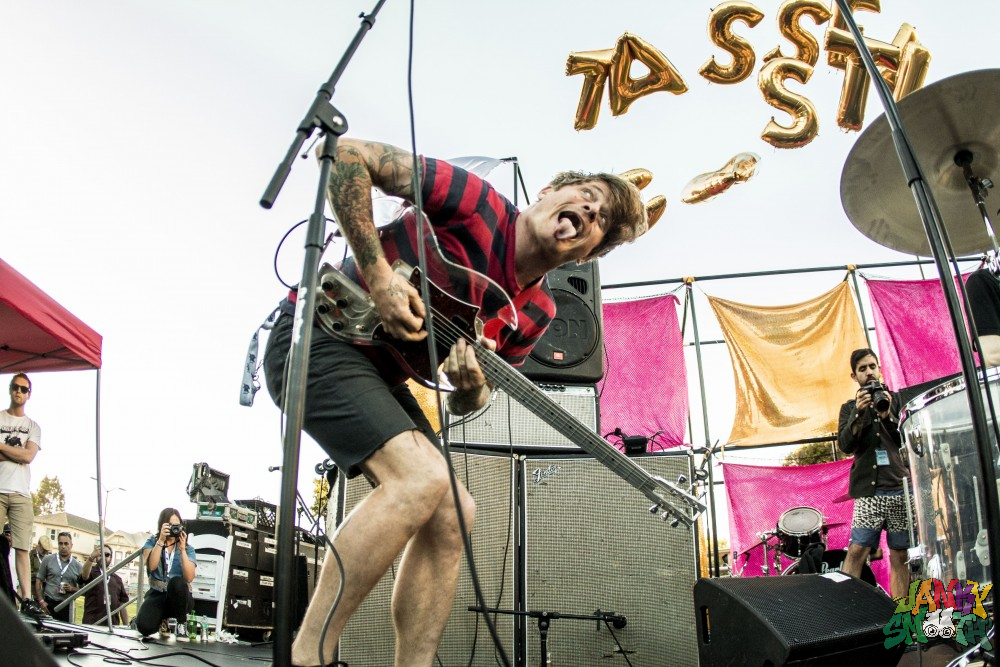 When I discussed this festival with music fans that consider themselves knowledgeable in such matters, they scanned the lineup and were unfamiliar with more than a couple of bands. It's difficult to understand the care, TLC and magnitude of music snobbery that goes into carefully crafting this lineup of garage rockers, proto-punks and newer bands that revere those styles, year after year. Burger Boogaloo is the modern day pinnacle of a genre that will NEVER die; garage rock.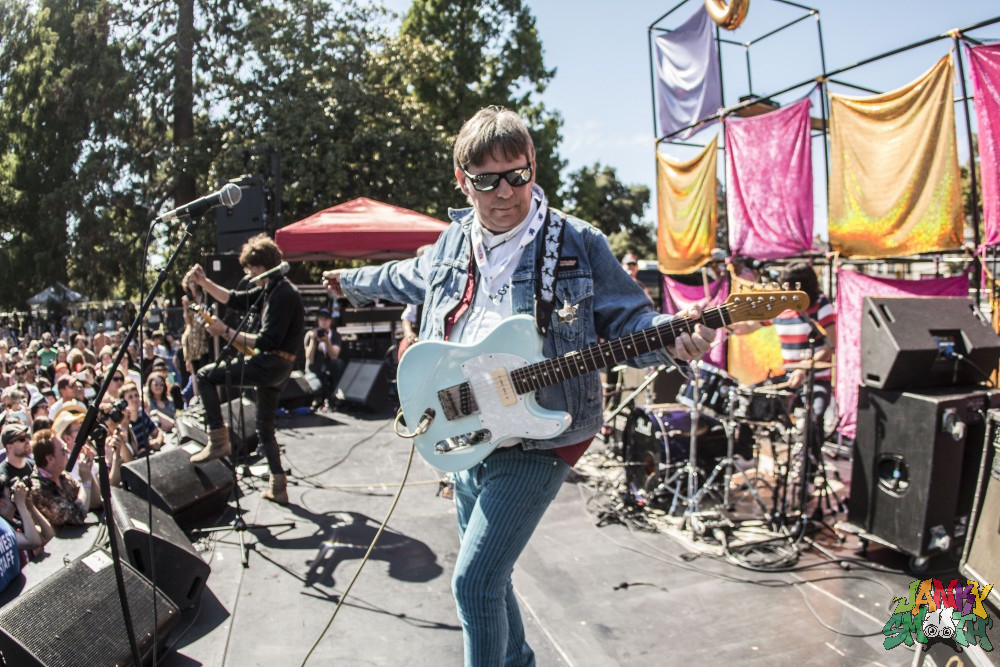 After a 3 day back and forth with myself about whether I was going to finally attend my first Burger Boogaloo or send another contributor down the rare rock rabbit hole, I swooped up the homie Pedro Torres of Los Angeles hard rockabilly outfit, Them Howling Bones and we headed up the 5 freeway to the Bay Area without a place to stay or any kind of plan; just the media pass provided by festival organizer, Marc of Total Trash Productions. Thanks dude!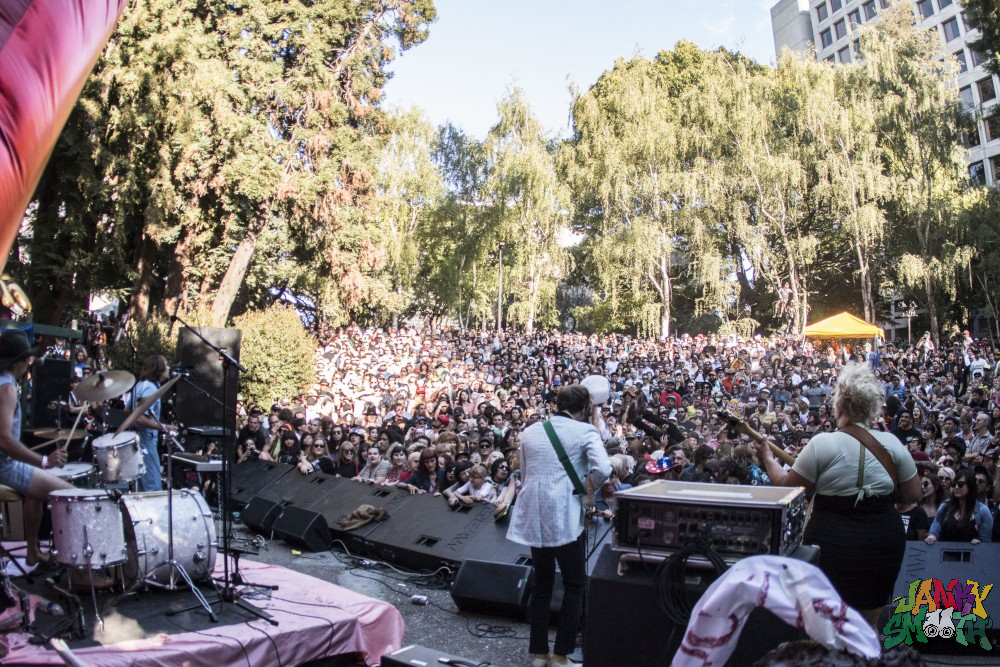 We got to Oakland at around 10pm and hopped out of the car with hardly a stretch and headed right into the Starline Social Club, just in time to catch Guantanamo Baywatch. We missed Fly Traps, Sex Crime and Top Ten but did make it for one of the most prodigious young bands in the burgeoning Burger ecosystem. Top to bottom, Guantanamo Baywatch unleash their highly skilled attack as they summoned Dick Dale and the Ventures with the exuberance of a new generation. I'm a big fan. The Pandoras also played this official Burger Boogaloo pre party. To appreciate the magnitude of that booking you'd have to know the name Paula Pierce, cause of death and which faction of The Pandoras was playing this party; music snob heaven. It also gave me an appreciation for how stoked and surprised some of the bands playing the festival must've been to get the booking inquiry, and realize that most of the members, of not only the Pandoras (minus Kim Shattuck of the Muffs) but half the bands on the Boogaloo lineup had to yank themselves from the normalcy of their everyday, non rocker lives and be pulled back into the rock and roll fray.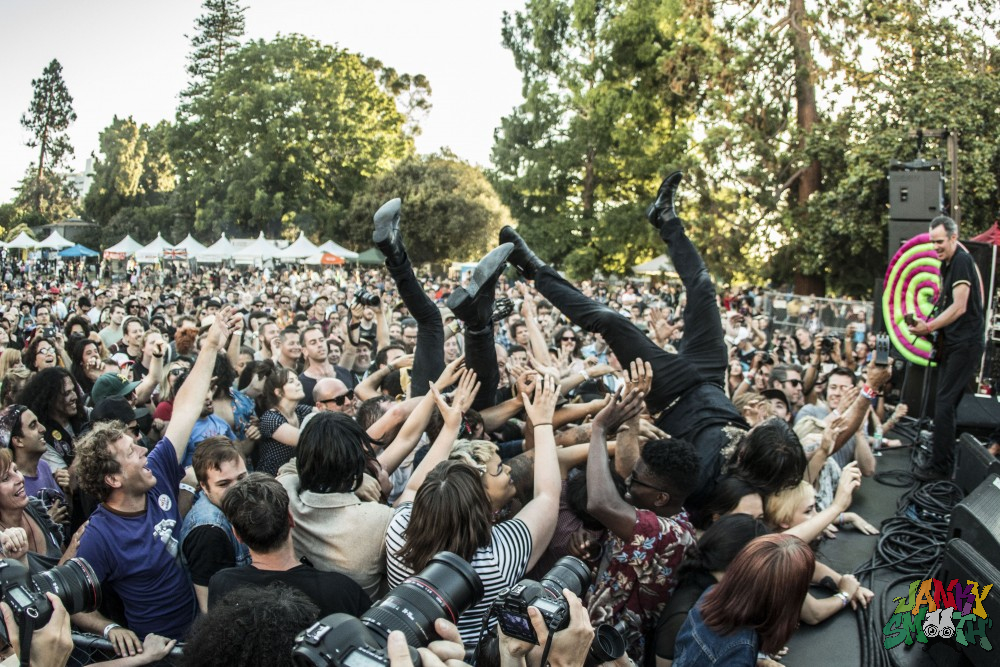 At the end of the club show, Pedro went looking for the after party and I went looking for a Motel or an Airbnb.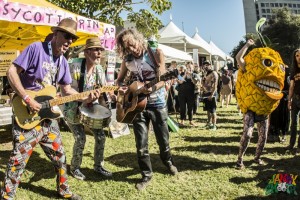 I got to Mosswood Park at 3pm on Saturday afternoon. The general admission entrance had a line of kids that snaked around the block. It looked gnarly. I arrived at the Dirty Mouth Amphitheater just in time to catch Angry Samoans who are the perfect bastards of LA hardcore punk and garage rock. The day was a blur of trashy rock and friendly, like minded people who came to party. Legendary cult movie savant, John Waters was hosting the festival for the second year in a row. He would travel between the stages with his guilty giggle and trusty clip board and introduce the bands by reading from his notes. The special guest for Saturday was legendary (adult) actress and icon of sex as a weapon, Traci Lords. I missed Psycotic Pineapple's set but they played another, mini set with a mini amp and a snare drum, just outside their booth in the vendor area. Legendary east coast proto-punks, The Real Kids gave a vibrant performance. Other standouts from Saturday at Burger Boogaloo were The Trashwomen, who were publicly being worshipped during their set by Jello Biafra as guitarist, Elka Zolot's daughter, Kreayshawn stood in the wings, happy to see her mother receive some publicly lauded artistic fulfillment. I think it's easy to understate Thee Oh Sees as a booking for those of us that see them often but it's impossible to OVERSTATE how completely Dwyer is able captivate and infiltrate the minds of the youth of all ages. They are a band that transcends generational bias. Finally, The Mummies, who more than anyone were raised from the dead at last year's festival and are experiencing a resurgence. The Mummies had to top last year's entrance to their trajectory changing set when they entered on their hogs and choppers. This year, they were lead by a rag time marching band as they stood mounted on a vandalized Hearse that transported them around the perimeter of the tightly packed audience to a special stage in the middle of Mosswood Park that was created just for their performance. The sound was bad but the energy was incredible.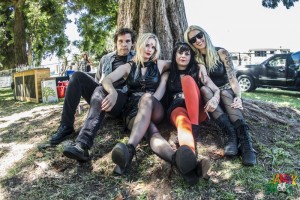 I got to the park early on Sunday to grab some portraits and chat with one of my new favorites, Death Valley Girls before their early set at Burger Boogaloo. We hung back stage, snapped some photos and experienced a great moment when DVG front woman, Bonnie Bloomgarden met Flamin' Groovies founding member, Cyril Jordan and thanked him for blazing trails for everyone at this festival. It set the tone for quite a day of music from the Groovies, freak show Giorgio Murderer, filth punks the Dwarves, Seth Bogart, The Soda Boys and Oakland sweethearts, Shannon and the Clams along with their friends, King Khan and the Shrines. It was great to see King Khan with the Shrines after an inspired run of shows supporting Khan's other project, King Khan and the BBQ show and their year long journey to support their 2015 album, Bad News Boys. Andy Kaufman's alter ego, Tony Clifton replaced Traci Lords as the cult figure of the day and he ran around the park with his cheap suit and self hate as a perfect figure for this festival of oddities and rarities.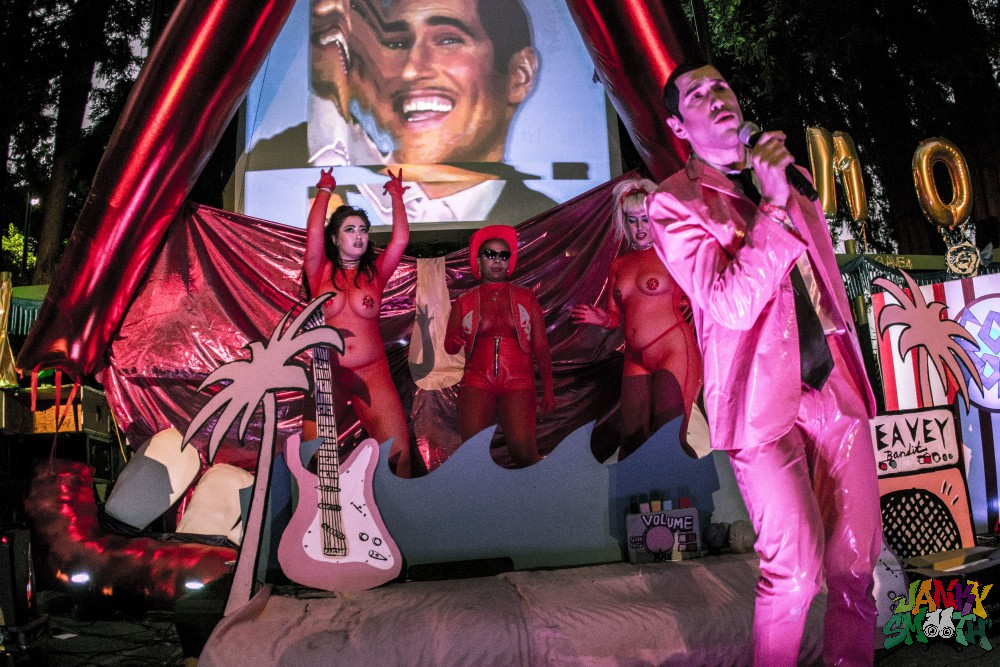 Rarely do I get stumped on music but Burger Boogaloo is one of the rare festivals that provided me with an education as well as a good time. There are many bands I had never heard of prior to this show that helped me connect the dots of the garage rock timeline. Some of these bands that hardly made a blip in music in their prime went on to inspire subsequent generations as rock gods emeritus without even knowing it, much of the time. Burger Boogaloo helps expose much of the widely unknown influences on the history of modern rock with a material, live version of digging through bargain bins at a record store. Forgotten or even, unknown by most of the world, these rarities resemble a tattered record sleeve or an old penny from the turn of the century. Kudos to Burger Records and Total Trash Productions for finding demand for art that was so highly misunderstood and under appreciated during the time that it was happening. Burger Boogaloo is a living, breathing time capsule that exposes the roots of so much of the music that is beloved today by shining a light on it's origins.
Photos: Joanna Bautista
[Not a valid template]