Cold Waves LA: Heaven For Industrial Kids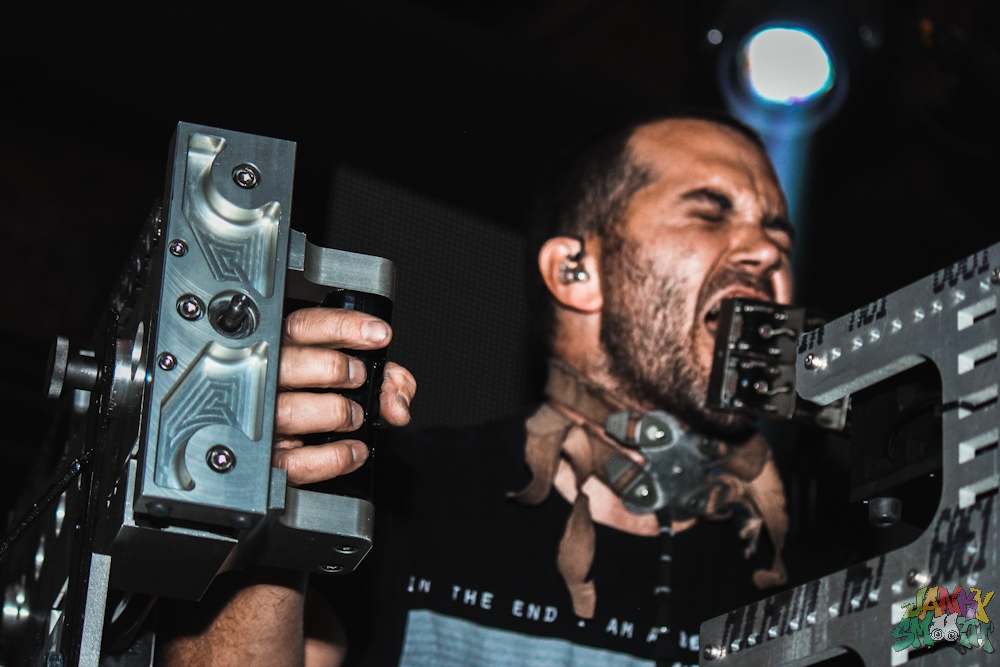 Photos by: Abraham Preciado
In the 1980's, Chicago was the epicenter of North America's Industrial music explosion with Wax Trax records birthing some of the genre's most iconic bands, namely Ministry. Chicago's importance in the history of Industrial music cannot be overstated. That's why when Cold Waves, the country's premiere Industrial festival, announced it was bringing it's cavalcade of musicians to Los Angeles, it was a big deal for the genre and our city. I still regret missing the first Cold Waves LA last year and so, made sure to attend this year's.
1720 might seem like a hidden gem because of the surrounding debris and chaos of the area it resides in but after spending my weekend there, I can say it's one of the better venues in Los Angeles. This is the case for a few reasons, the sound quality and stage being at the top of that list but also its comfortable, well air conditioned atmosphere and it's smoking area, where bands and audience become one.
Day 1
The festival began with a DJ set by legendary artist Rhys Fulber of Front Line Assembly. His set was moody and brooding, the sounds of circuity unnerving due to stress, digital decay. It wasn't the most danceable thing but it sent certain waves, frequencies, and signals to the mind that would give you a delicious off-putting feeling. This is one of the trademarks of Industrial music and its fans, a desire to hear and ability to enjoy grotesque sounds.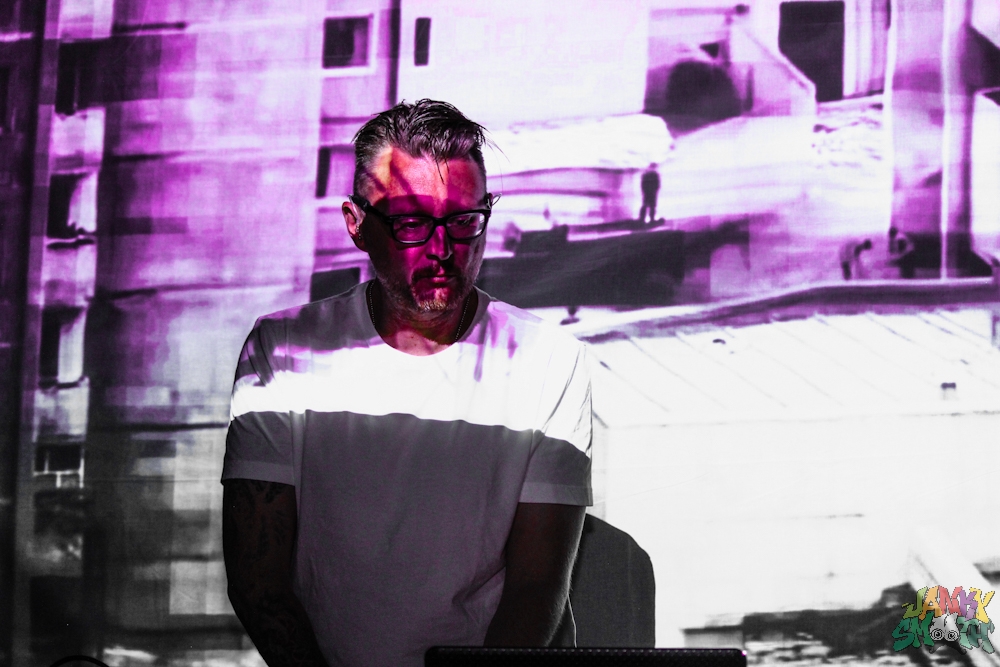 Los Angeles' own, Omniflux was next and this set really flexed the incredible visuals that would pair with each band. Having created her own visuals, Omniflux's trippy EBM was elevated by the sight of art from every era collaged into one beautiful synthesis of everything avant-garde. Whether she was on her synths or guitar, 1720 was gripped by the vibration Omniflux ruminated.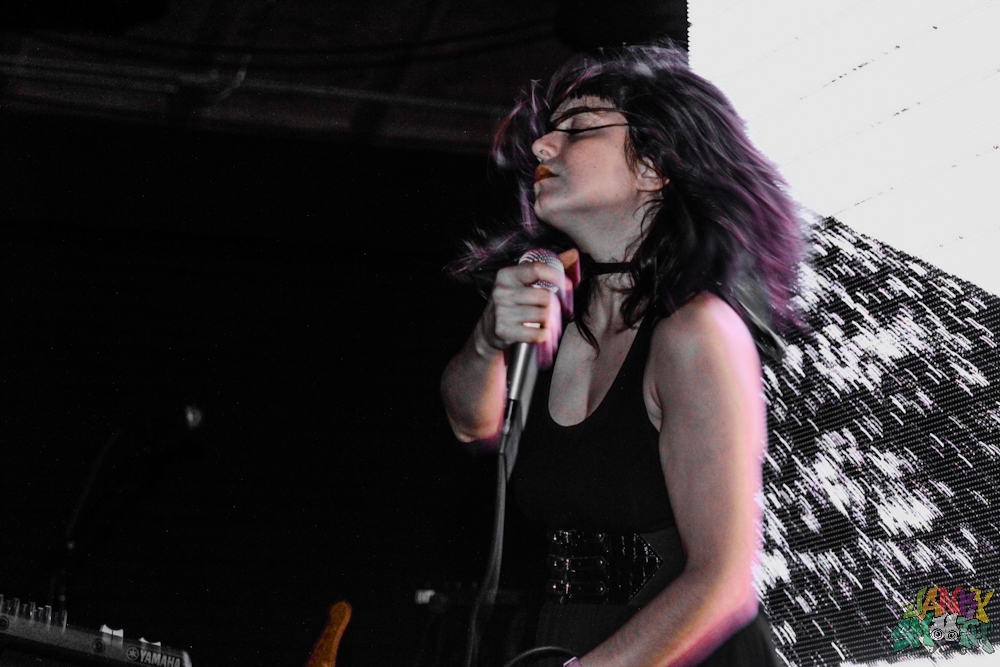 Of all the bands that would perform this weekend, Cocksure was the most unique. With an infectious and odd rhythm to their sound, sort of like a industrial inspired Talking Heads, a lot of people didn't understand Cocksure, making me only appreciate them more. This was the farthest any band would deviate from the central expected electronic industrial music sound of the weekend. It was artsy, macho, strange, and fun all at once. Cocksure consists of industrial icons Chris Connelly and Jason Novak (creator of Cold Waves) who achieve the ends of industrial, commenting on the future and present chaos, by different means, some kind of cock rock.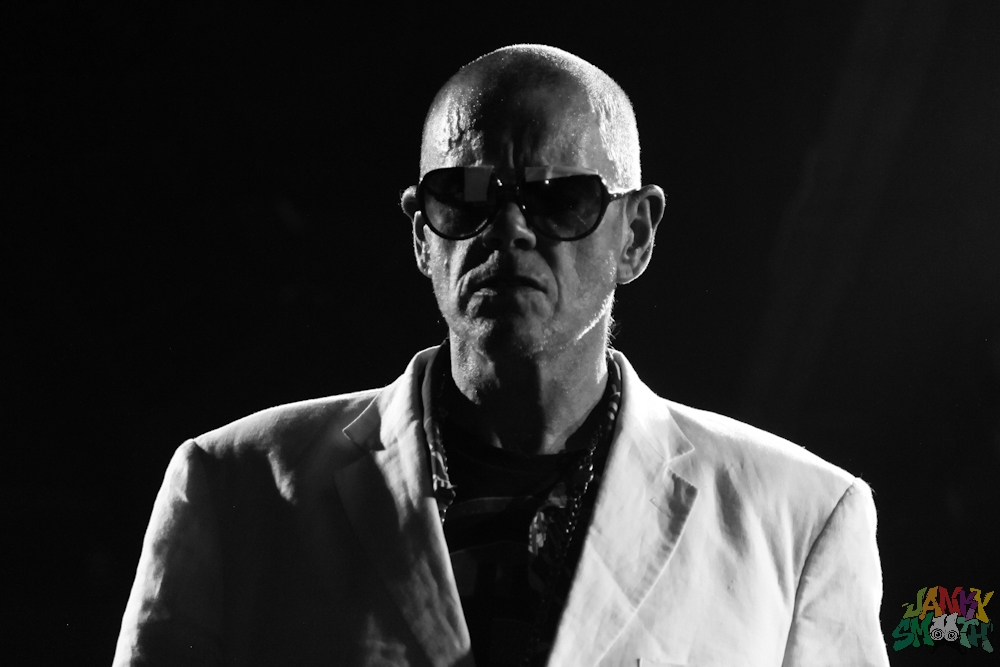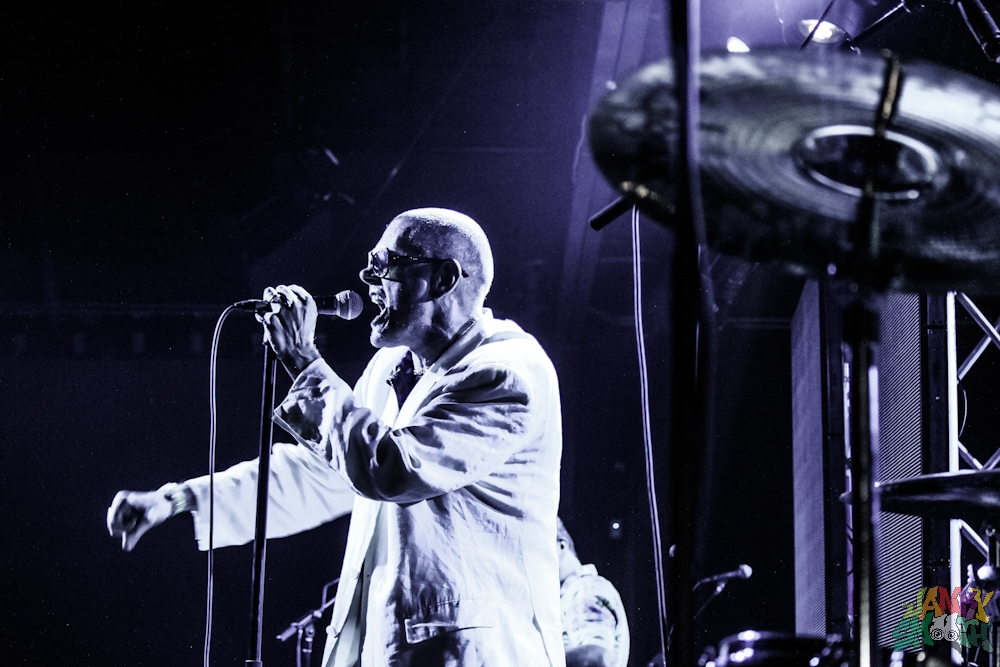 Perhaps the artist I was anticipating most, behind only OhGr, Author and Punisher, is a one man insane asylum creating face melting music from machines Tristan Shone manufactured himself. With punishing sounds that rip your mind into the abstract, anyone that wasn't mentally or psychologically damaged before this show became so. For those who've already had their brains a bit scrambled, this was the most pleasing symphony of monstrous noise. The lights strobed in horrifying rhythm and the sound twisted violently.
I was stoked to see Paul Barker's solo-project Lead Into Gold. For those that don't know, Paul was instrumental in creating Ministry's harsh, early industrial sound on records like the Land of Rape and Honey. As an alumnist of the Revolting Cocks, his brand of industrial makes you dance to this heavy, chaotic, jagged thing. Lead Into Gold's set featured such music but couldn't quite ignite the audience into dancing. Being joined by Omniflux on stage brought another level to the performance but I still felt something was missing in connecting this audience with the music.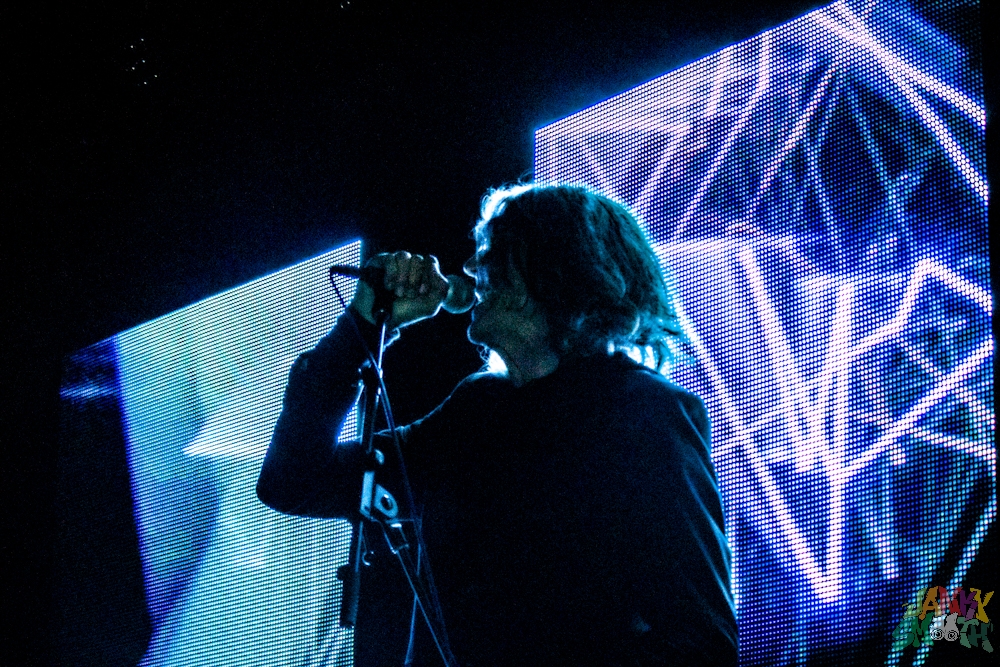 The man I had come to see, Nivek Ogre, frontman of Skinny Puppy, my hero, was headlining day 1 with his band OhGr after having released their latest album Tricks. Donning a deformed rabbit mask as he pranced around on stage wildly, Ogre's mastery of body-theatrics served him well in communicating a message all about how psychological tricks are played in politics to manipulate you. One moment that especially struck me was when Ogre quickly crab-walked from one end of the stage to the other in one speedy almost reptilian movement you couldn't imagine most people ever doing. Ogre has clearly meticulously trained every muscle and unit of his body to perform such artistic moves. He played plenty of songs off the new album and breathed life into them by pulling stuffed rabbits out of hats and playing with a magic wand. At one point he put on a Trump mask and started doing card tricks, really driving home the understanding that these are conmen in office. The sound and synergy of the full band was intense and electrifying, peaking on songs like "Cracker".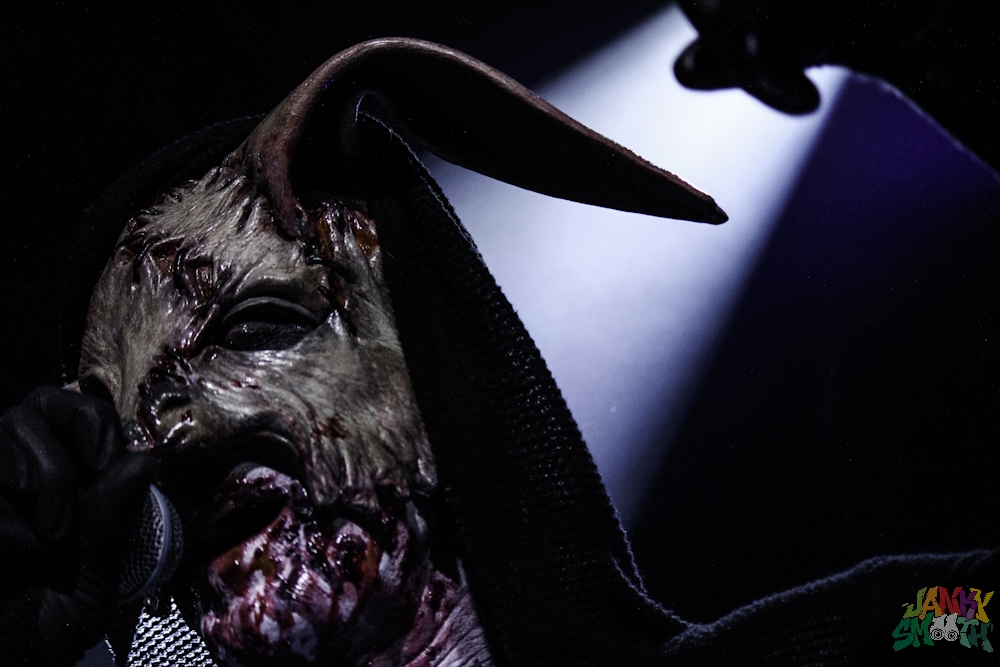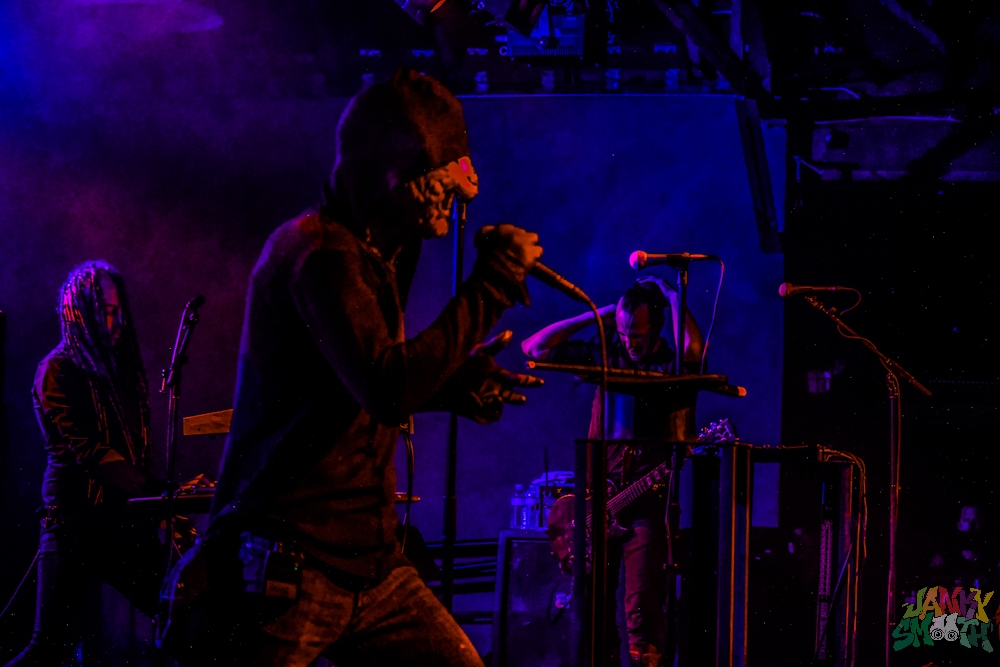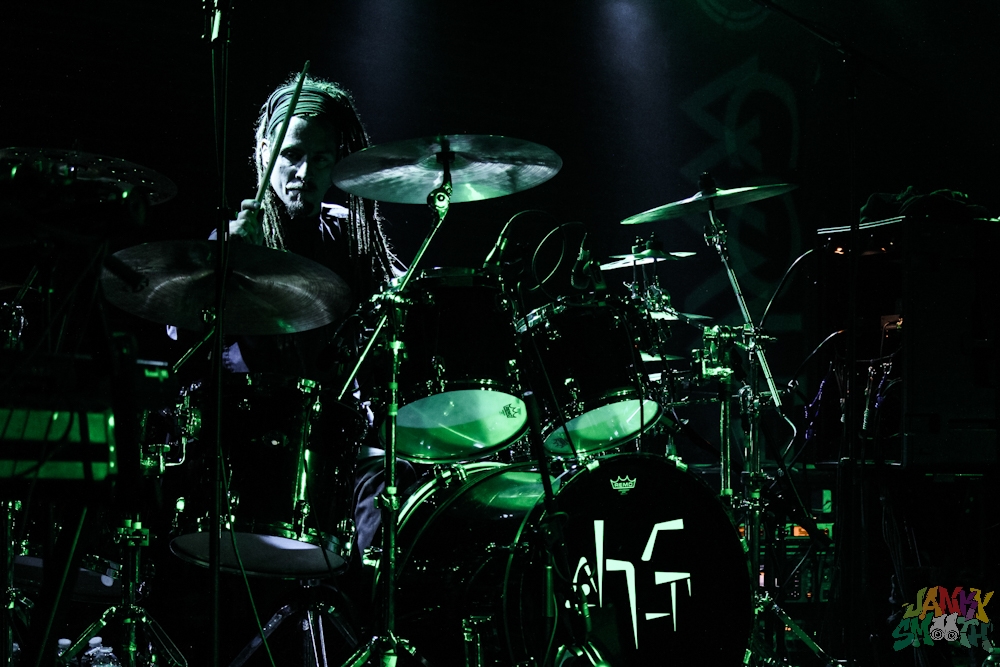 Day 2
Day 2 began with Anatomy flying the flag for women in industrial with a harrowing set of heavy industrial beats with black metal screeching soaring over top. Scaring the audience just as much as thrilling them, Anatomy plays a sort of music that you can tell comes from a deep and troubled place in the void.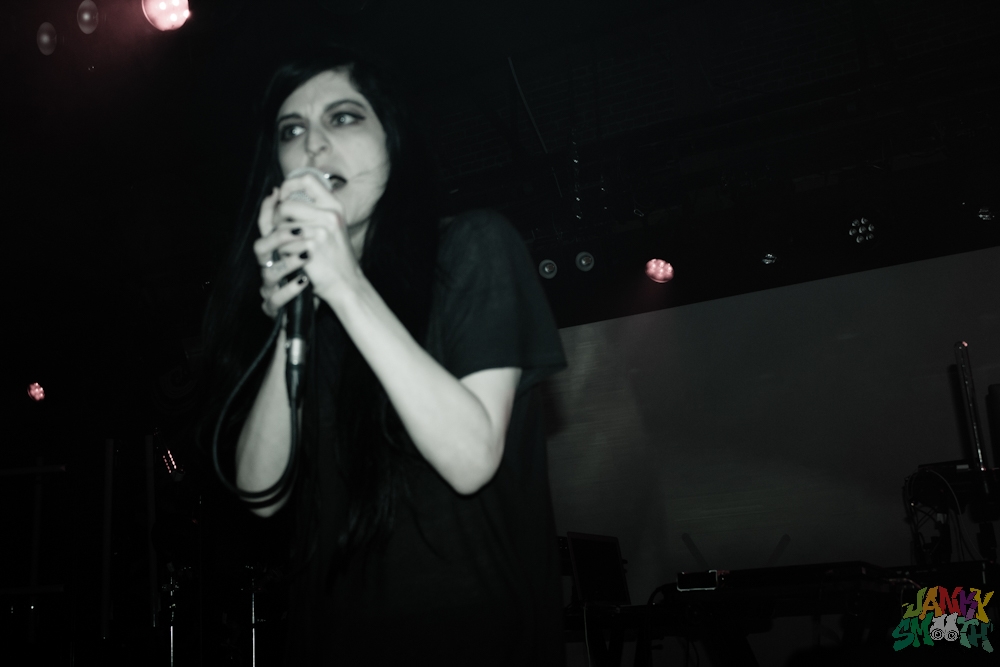 Continues was next, surrounded by lights that animated his performance into a musical adventure of sorts. This solo act from Los Angeles makes music so sonic that it conjures up all the visuals anyone needs to play along with the sound, no screens necessary, it's industrial for the imagination.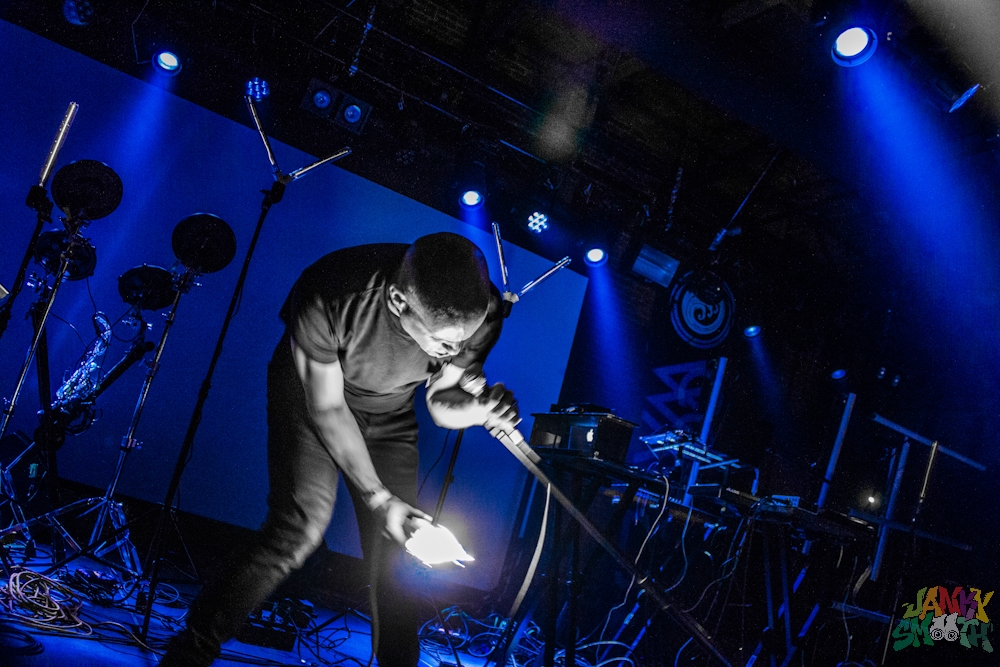 Many of the true industrial heads were overwhelmed with excitement for Seattle's Assemblage 23. The band had an incredibly kinetic feel, veering on drum and bass, to make all the goths dance and surge with industrial ecstasy.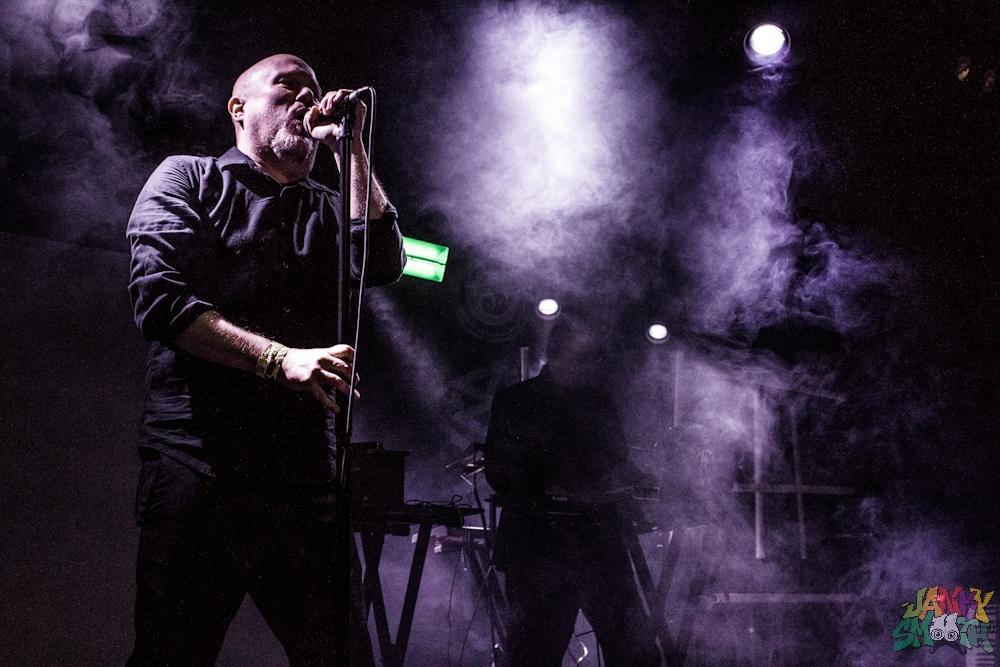 The duo of Heather Gabel and Seth Sher create one of the most harrowing shows you can ever be lucky enough to see. This duo, calling themselves Hide, do just that in the shadows, only illuminated by the strobes that catch half their movements. Seth Sher makes the noise that provides the canvas and Heather Gabel paints with her body and soul to put on a show too raw to critique. It comes from a deep, dark sex-death part of Heather's soul. I'd imagine most people assume art like this has to come from surviving something horrific, like silent screaming finally given a release. In making art like this, it becomes an incredibly moving experience for people in the audience that recognize the screams.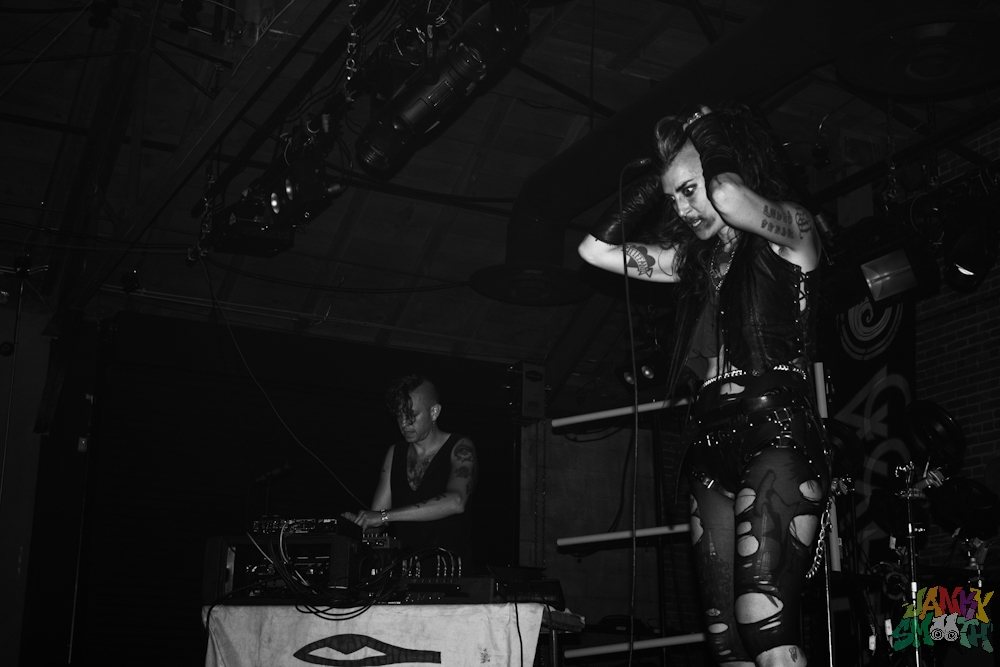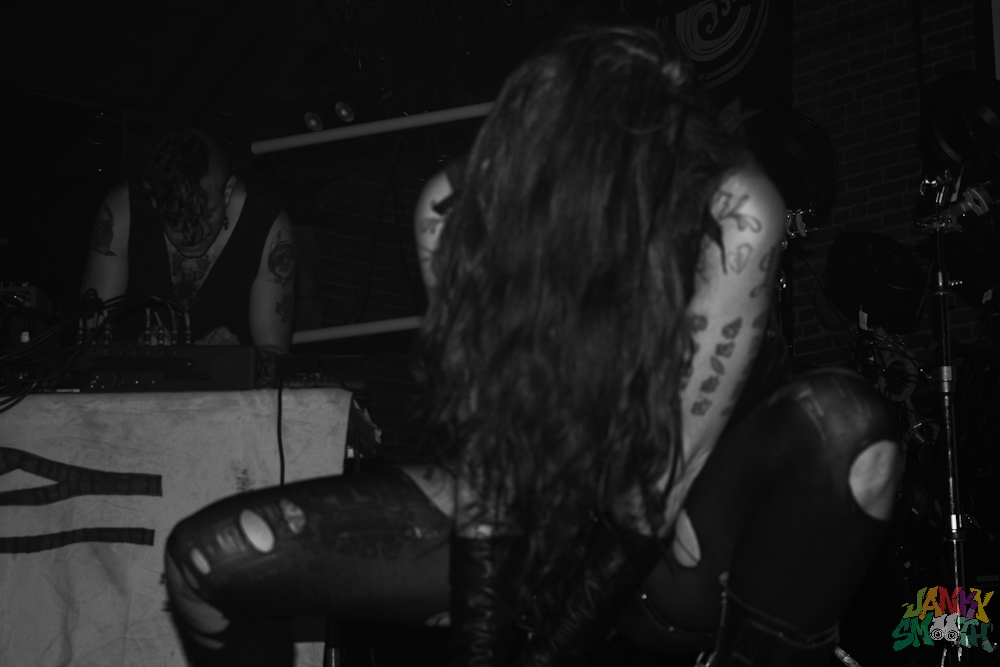 The sleeper hit of the festival for me was C-Tec. This is one of those bands you have to really be into the industrial scene to know, and myself, as just a fan of the icons of the genre, was only being introduced to them now. They were absolutely riveting, the first band of the weekend that really got the audience dancing in some kind of euphoric, mindless state. With members from Front 242 and Cubanate, C-Tec takes EBM to its most thrilling heights.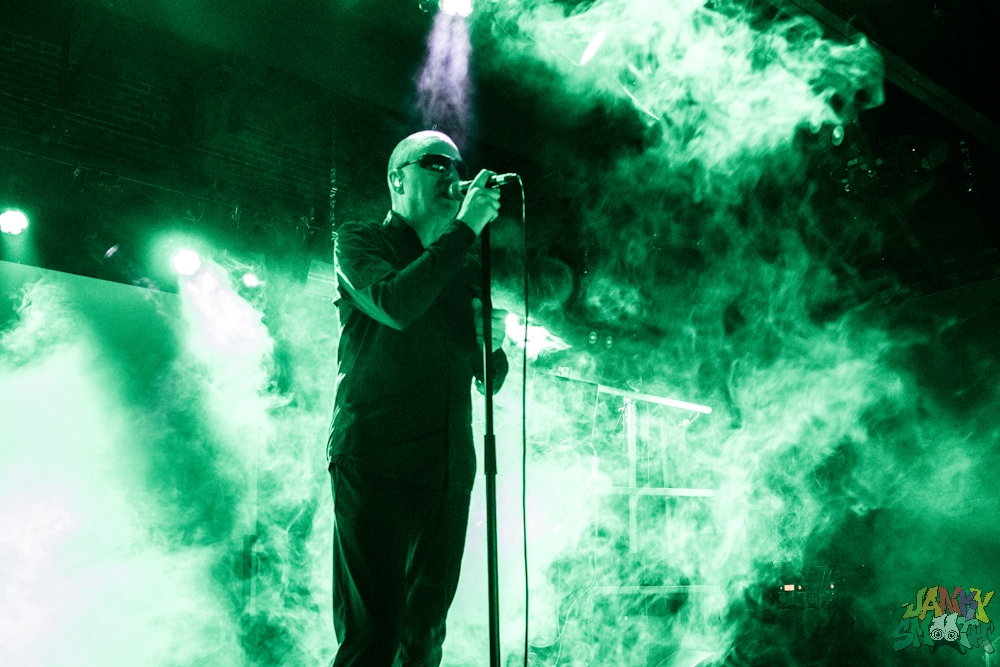 The Black Queen headlining Cold Waves LA, in their hometown, on the same night as their record release for Infinite Games was a landmark performance for singer Greg Puciato. Why? Because this was the moment that the Dillinger Escape Plan chapter of his life as a musician was finally closed. Even though the band had dissolved last year, this performance cemented The Black Queen as his main band and not his "side-project".
Infinite Games is an amazing album with plenty of goth bangers and atmospheric haze to wrap your head around. With light tubes pulsing on stage as all three members of The Black Queen played, the set was an overwhelming experience of sound and vision that we were guided through by the incredibly gripping melody of Greg's voice and the hooks of his lyrics.
Opening with the first single off the new record, "Thrown Into The Dark", the band hit the ground running and the audience exploded with cyberpunk glee. After hitting songs like "Ice To Never", "Secret Scream", and "The End Where We Start", the set ended with "Apocalypse Morning" and just like the smoke and dust rising up from the ground after a bombraid, the set ended in murky electronic noise and haze.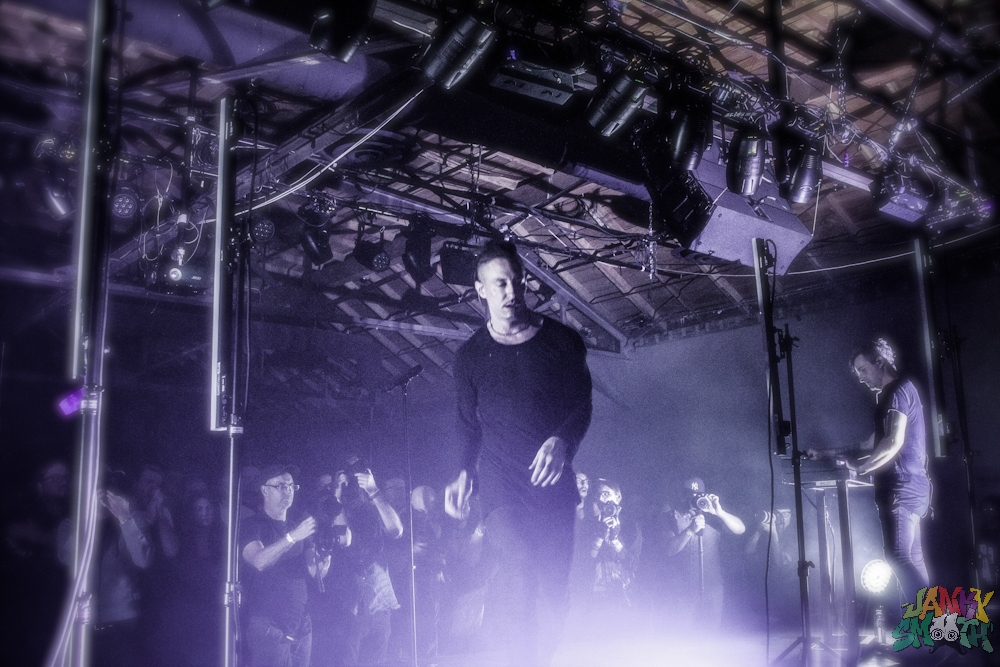 Day 3
Day 3 of Cold Waves LA included sets by HAEX, Actors, H3llb3nt, Chemlab, Night Club, and the legendary Frontline Assembly.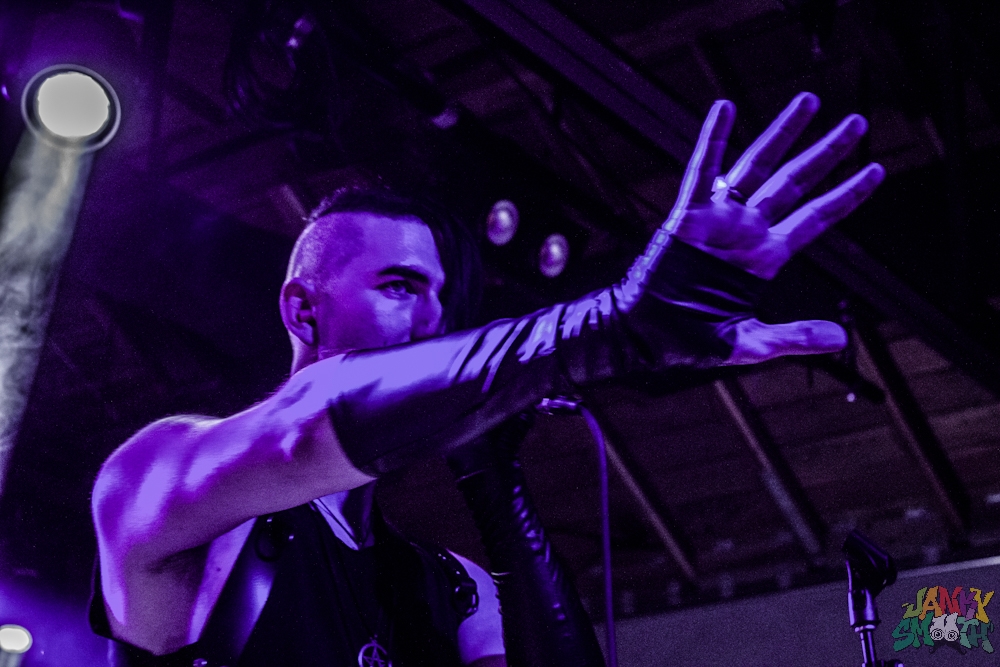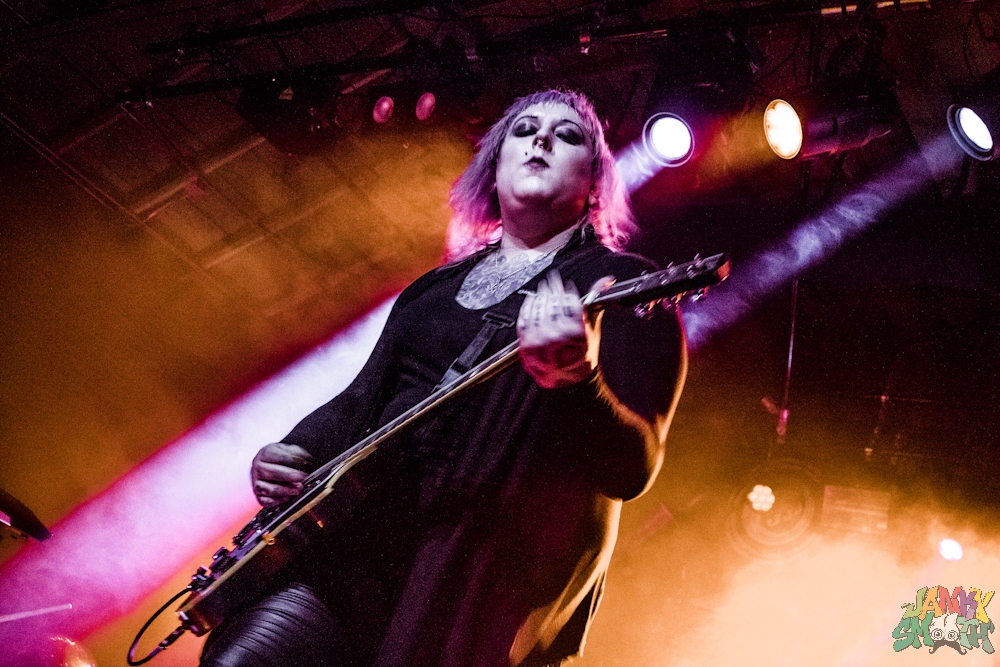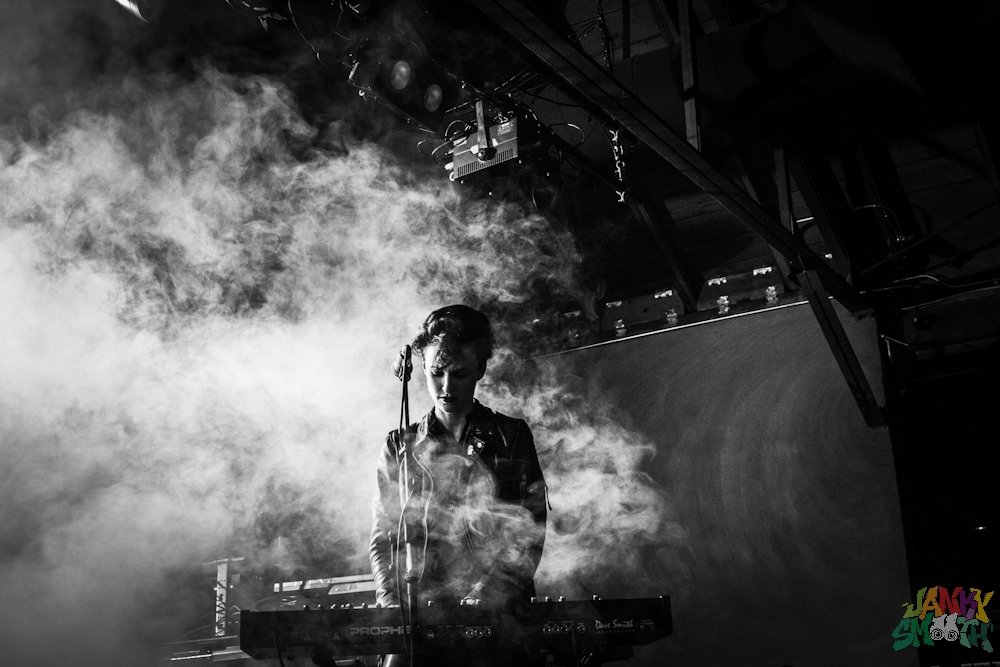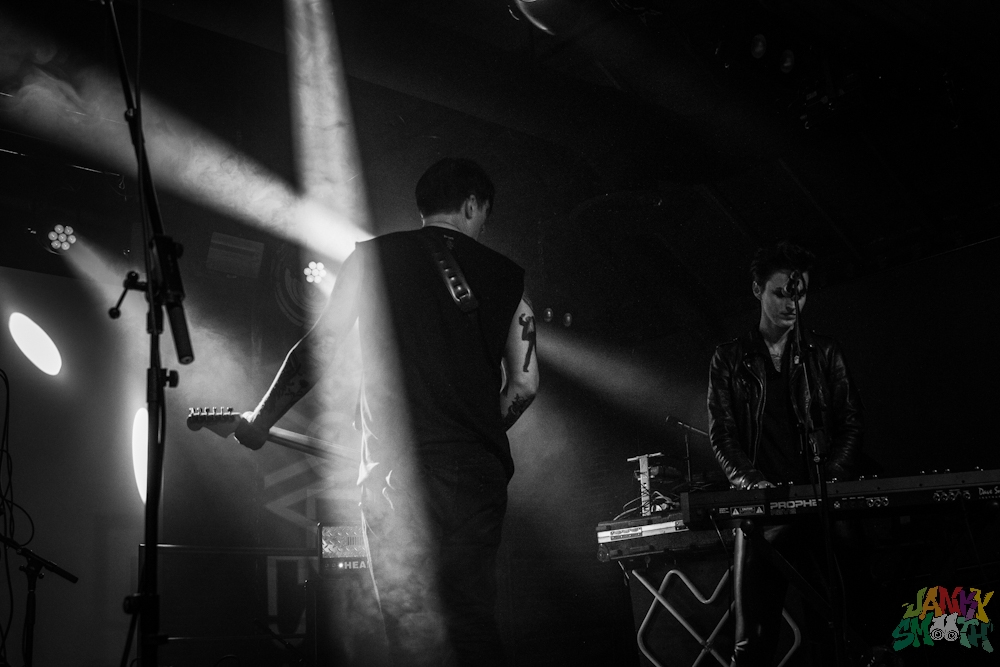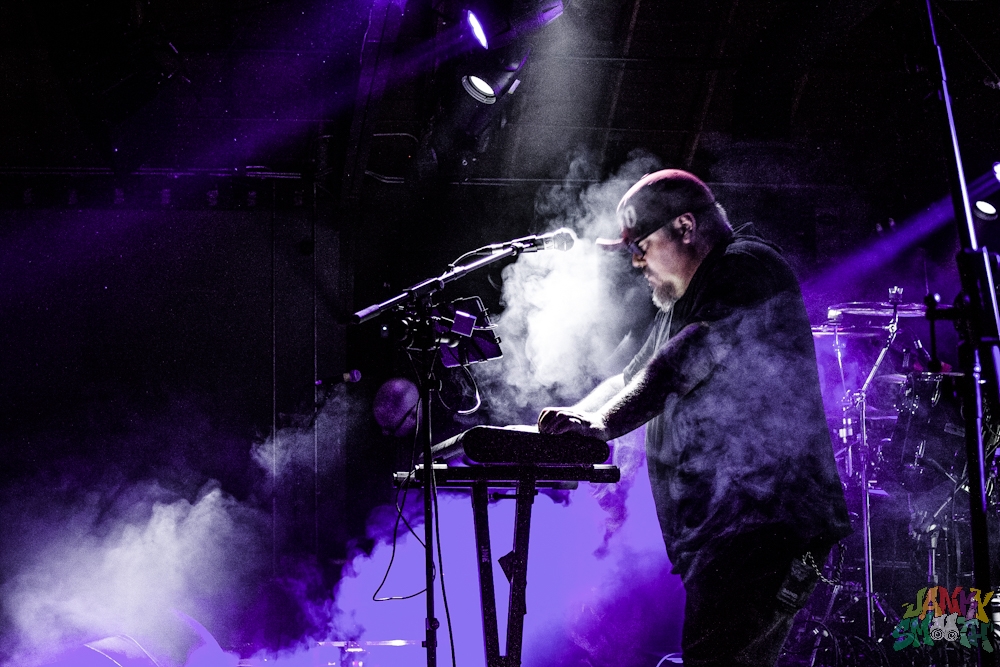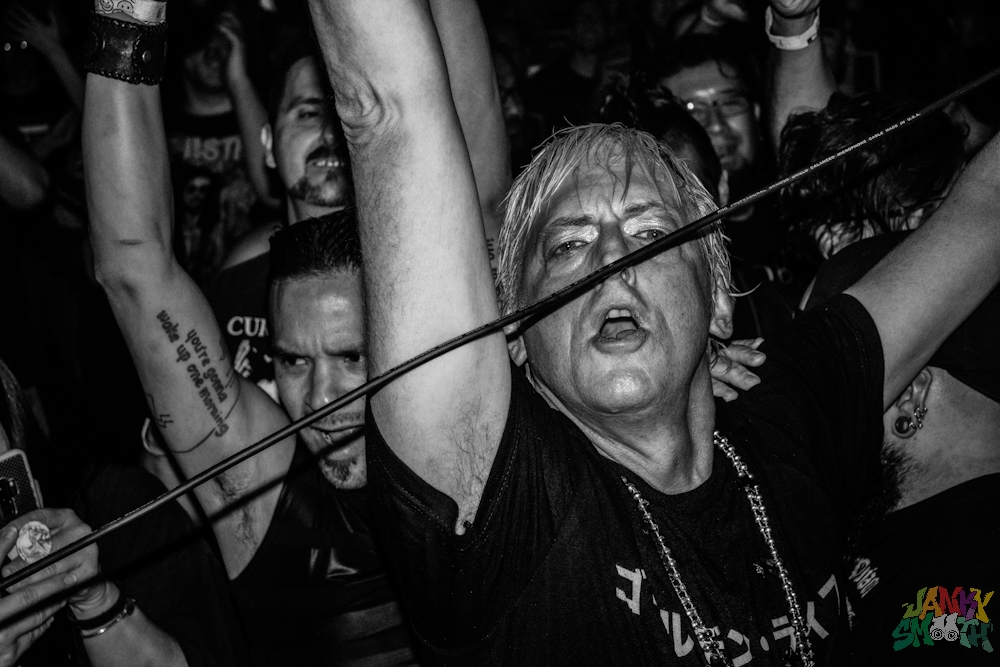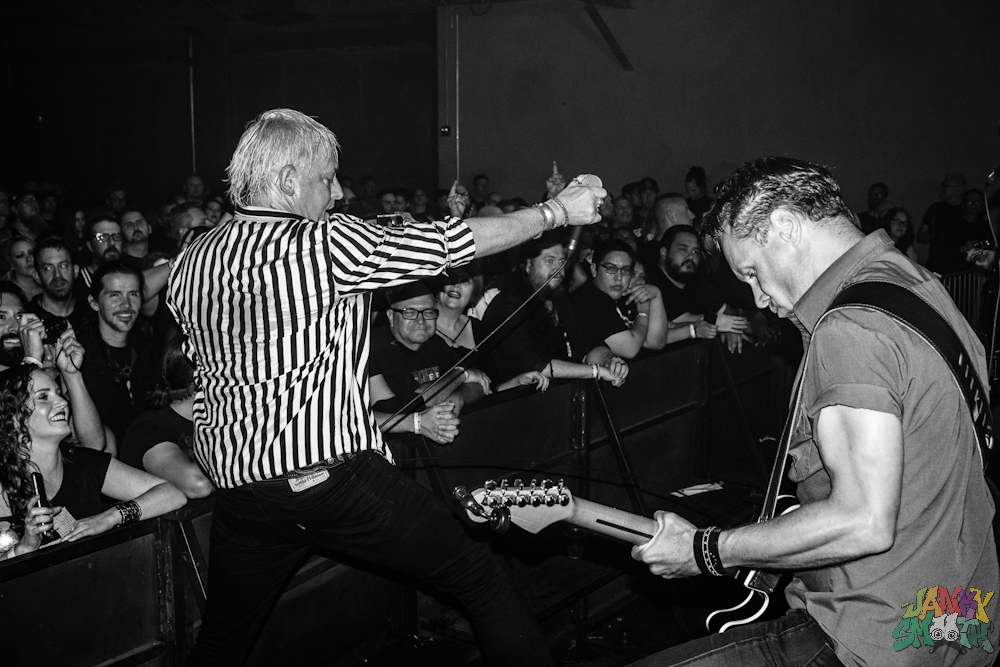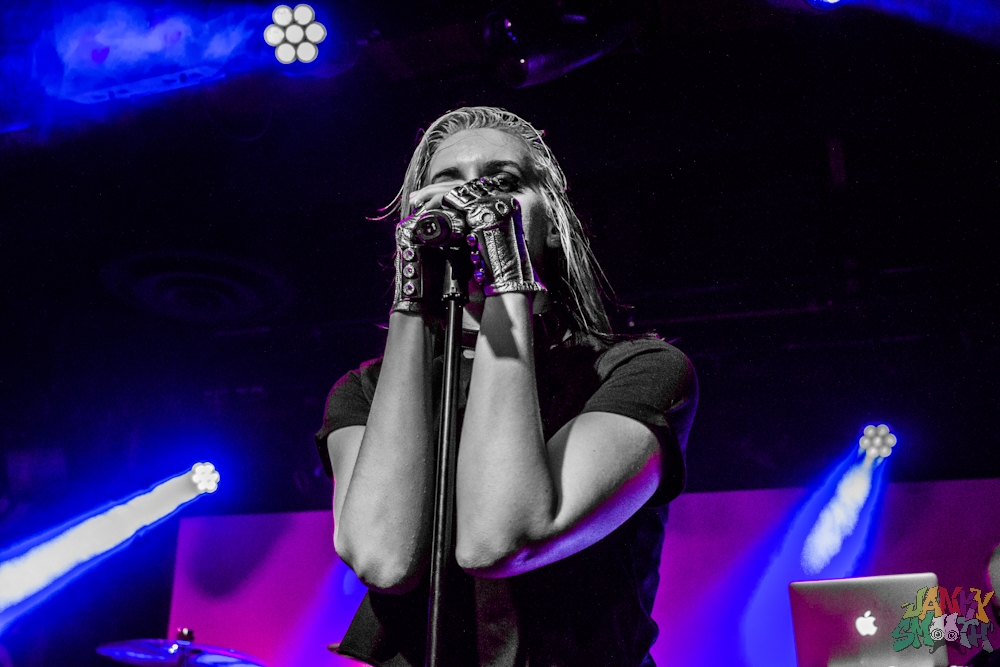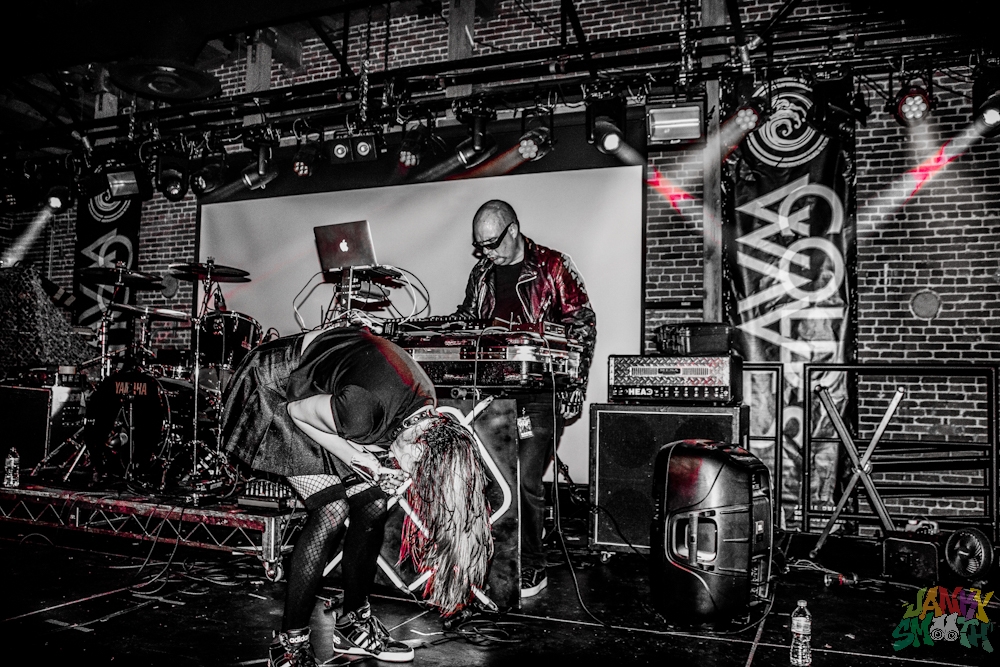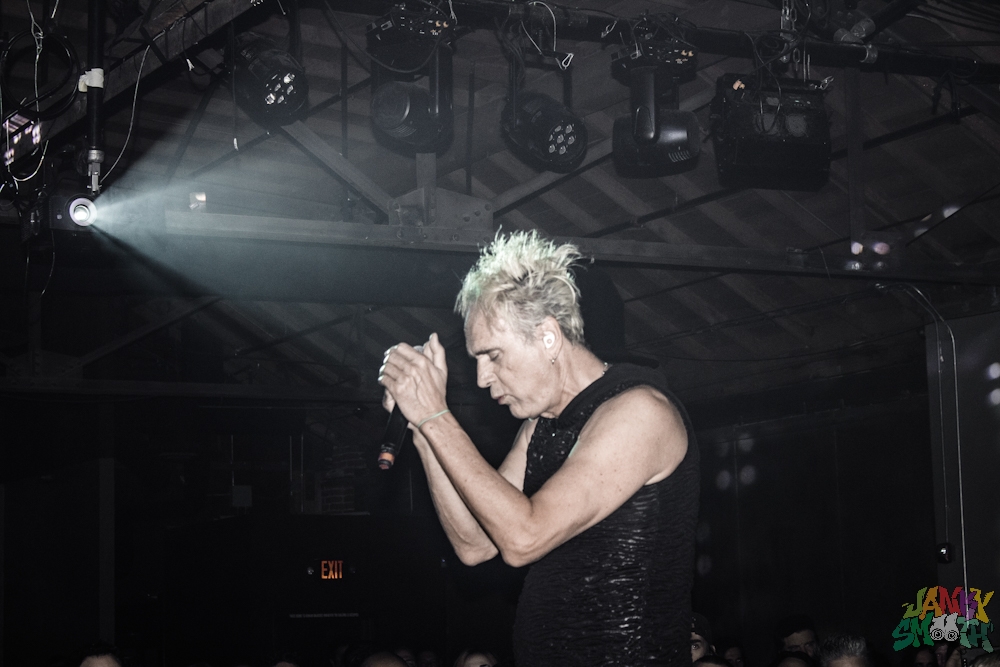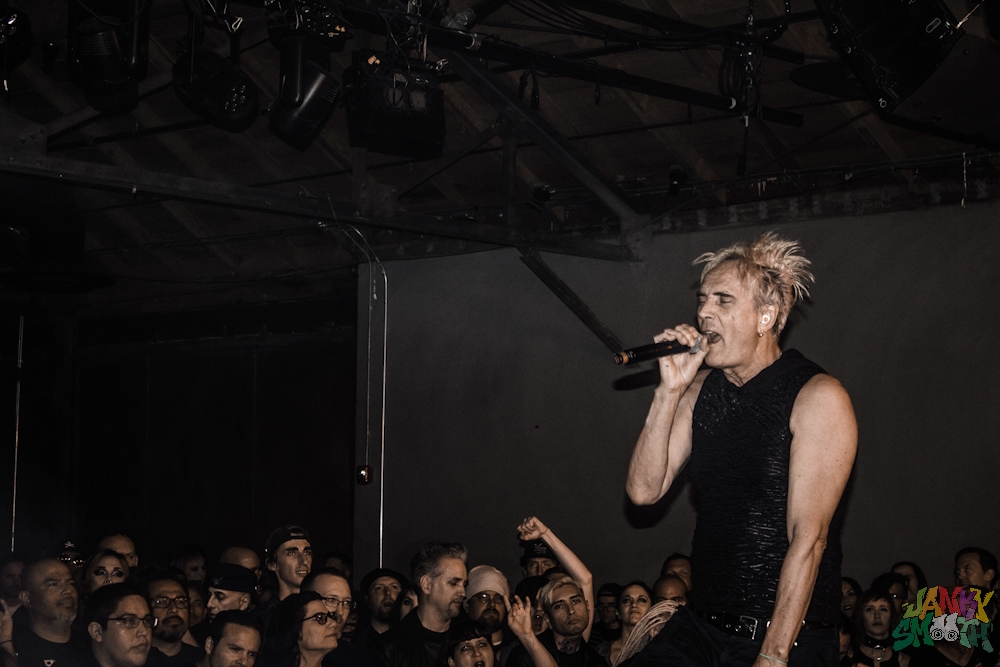 Words by: Rob Shepyer
Photos by: Abraham Preciado