Red Bull Sound Select Announces Lineup for 30 Days in L.A.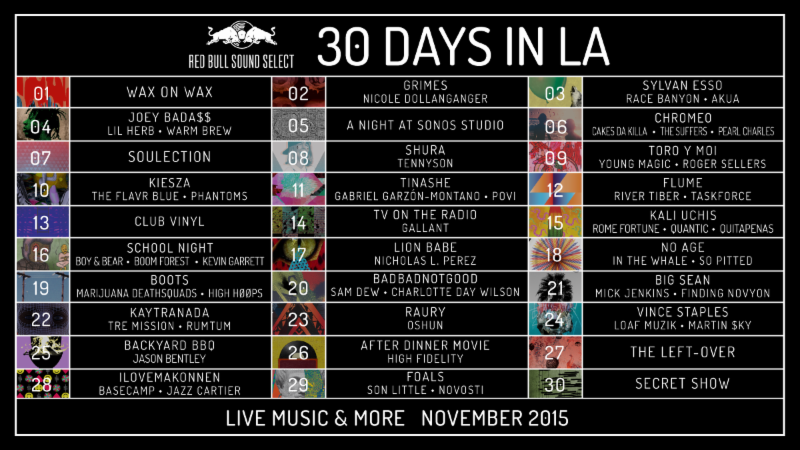 We here at Janky Smooth have a special affection for the folks at Red Bull Sound Select and their annual, month long, nightly takeover of almost every club in Los Angeles called 30 Days in L.A.  After all, Janky Smooth launched on November 1st 2014 and the lovely, tireless music professionals handling the press for 30 Days In L.A. allowed us access to every night of top flight talent when WE didn't even know who the fuck we were.  But before we start getting TOO sentimental- if you want to get into ANY of these, low cost, high value shows, you better start the RSVP process Here
Red Bull Sound Select: Corporate Music With Soul?
So it's with great excitement and zeal that we'd like to help our friends at Red Bull Sound Select spread the word about the talent involved in this years L.A. takeover. Take a look at the what Redbull has booked for every day in November of 2015. Grimes, Joey Bada$$, TV on the Radio, No Age, Flume and Vince Staples are just a few of the bigger names Red Bull Sound Select booked to headline for their up and coming artists that are a part of the Red Bull Sound Select family, and who these shows are REALLY showcasing.
Take A Look At Red Bull Sound Select Artists Here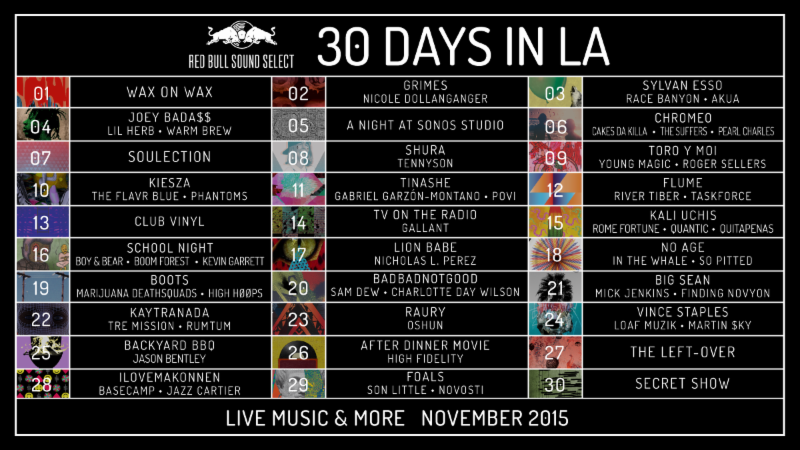 Take a look back at our extensive coverage from 30 Days in L.A. 2014.
Photo Highlights