The Julie Ruin at The Troubadour: Vagina's and Surprises.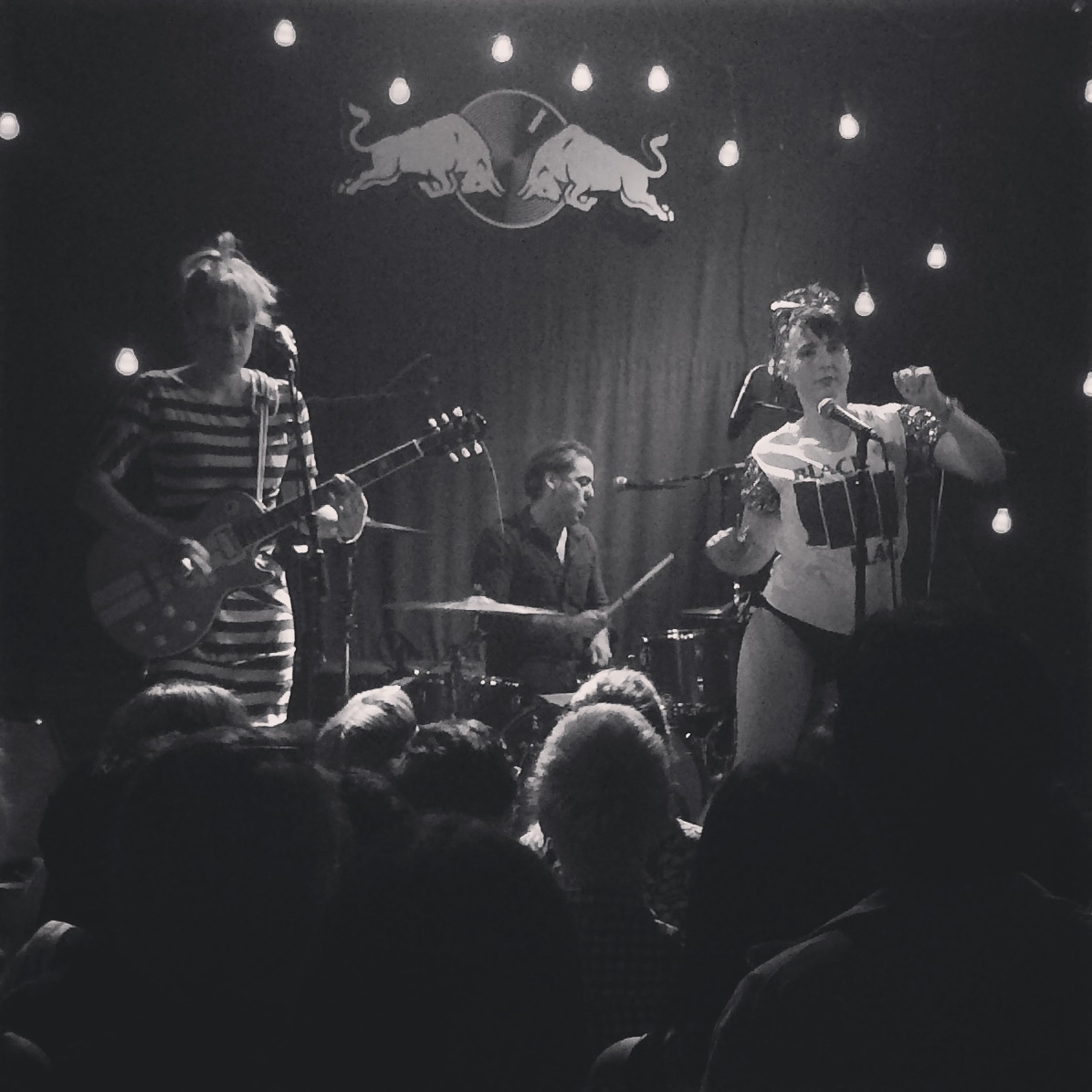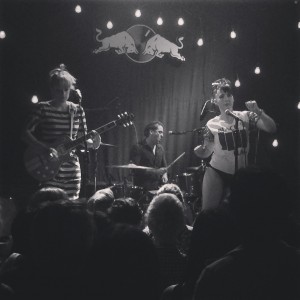 Kathleen Hanna is an icon. She is the nut crushing, vagina wielding, punk singing, ear ringing legend of a once, DIY militant feminism. A militancy that was absolutely necessary in a 90's era of violent, male dominated, testosterone injected dominance of the American punk scene. Her band, Bikini Kill, not only gave girls a voice in that void of misogynistic obliviousness but insisted on "Girls to the Front!".
On Thursday, November 6th, her band The Julie Ruin headlined night 6 of Red Bull's 30 Days in L.A. at the Troubadour. The irony of looking at the big, corporate Red Bull logo behind Hanna all night was not lost on me but if Nirvana could start from the Kill Rockstars record label, to Sub Pop and eventually end up on Geffen, then The Julie Ruin could certainly play a gig with Red Bull Sound Select and retain their integrity. Bookings like this give Red Bull's music division more and more street cred every day.
I arrived at The Troubadour just before Red Bull band Bad Girlfriend took the stage. I was in a foul mood. I was fucking exhausted after covering 5 out of 6 of the 30 Red Bull dates and my current launch of Janky Smooth. Between this and running another business during the day, I had been working 18 hours days. I almost attempted to have another Jankster cover last night but I couldn't, in good conscience miss seeing The Julie Ruin.
The weather was girly with a chance of butch. The crowd was ready to accept and embrace any woman who took the stage that night. I have yet to rip into any opening act in the last 6 days. I hesitate to completely demolish Bad Girlfriend because I like their lo-fi, rock sound and songs. To say they were sloppy and lacking any sort of energy would be an understatement and I'll leave it at that. I don't know if they were nervous but the only member who seemed remotely animated and excited to be there was drummer, Lyla Vander. I will say that they definitely have potential to be a great band if they tighten the screws and learn to engage the crowd a bit.
After Bad Girlfriend came Canadian synth pop outfit, Diana. Diana was a 180 degree turn in energy from Bad Girlfriend. I'm not sure they were necessarily "my thing" but they were a solid, engaging and energetic band that must've had $25k worth of music equipment with them on stage. Lead singer and guitarist, Carmen Elle had a great presence and founders, Joseph Shabason and Kieran Adams know their way around a stage and a song.
Once the opening acts cleared the way, the anticipation in the audience was palpable. They were only moments away from seeing their hero take the stage. As the clock struck 11:20 pm pacific time, Kathleen Hanna walked down the steps from the Troubadour dressing rooms and onto the stage to the elation and unbridled enthusiasm of this sold out audience. She came down alone and addressed the audience for the first time. Hanna has such a natural way of connecting and communicating with her fans. Like having an intimate conversation with a good friend, she promised many surprises throughout the evening, mentioning that she didn't want this to be just like any old show. The first surprise was introducing her friend and comedian, Hari Kondabolu.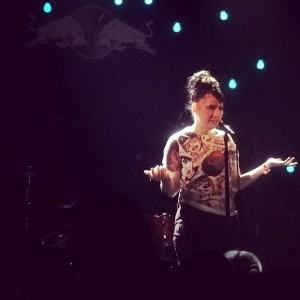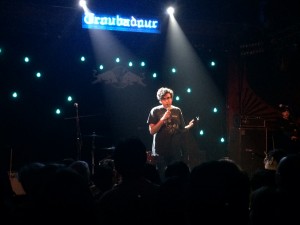 I'm not so sure I can speak for everyone but this initially took a little wind out of my sails as I was completely ready for The Julie Ruin to start playing. This was short lived because Kondabolu delivered an intellectual and hilarious set of stand up comedy which featured what Hari coined as his new niche, "Feminist Dick Jokes". Kondabolu delivered about 10 minutes of socially conscious and topical bits ranging from Gay Marriage, White Jesus and being "Brown in America". His new stand up record, "Waiting for 2042" was just released under the Kill Rockstars label and is a reference to the year 2042 when white people will become the minority in America.
Kondabolu gracefully accepted the approval of the audience and introduced The Julie Ruin and finally, all the members made it to the stage. Hanna had changed into her signature hose and panties and donned a cut up Black Flag tshirt and a clip-on bow into her hair. The band featured former Bikini Kill and current Julie Ruin bass player and long time collaborator, Kathi Wilcox on bass, Sara Landeau on guitar, Carmine Covelli on drums and the always animated, Kenny Mellman on synth keboard and back up vocals.
The Julie Ruin ripped into their set and my fatigue and grumpiness was instantly forgotten. Kathleen Hanna hasn't lost a step. Her stage presence is second to none. Whether she is ripping through a song or bantering to the audience in her ADD stream of consciousness, she is completely captivating. Always self deprecating, she continuously made a point to highlight her imperfections and it just makes you love and adore her more.
The band was tight and as promised, there were more surprises, the biggest of which was the performance of classic Bikini Kill song "This is not a test". You can view our video of that here.
It's rare to meet an artist and musician that who made such an impact on so many and still remains humble throughout the process of life experience and aging. Kathleen Hanna appears to be as genuine and energetic as ever on stage and that is apparent in interactions with the audience. She truly connected with a handful of individuals in the audience in between songs and in turn, she connected with all of us. I'll never forget the impact that seeing and hearing Bikini Kill first had on me but more importantly, I'll never forget the impact it had on my girlfriends and the confidence it gave them to make an impact on this world. She truly is a hero.
The Julie Ruin Set List
VGI
Lookout
Friendship Station
Party City
South coast Plaza
Kids in NY
Brightside
Radical or Pro Parental
Oh Come On
Goodnight Goodbye
Ha Ha Ha
Encore:
This is not a test
Run Fast
Words: Danny Baraz
Photo's: Danny Baraz