Twin Shadow at The Troubadour: New songs and awkward banter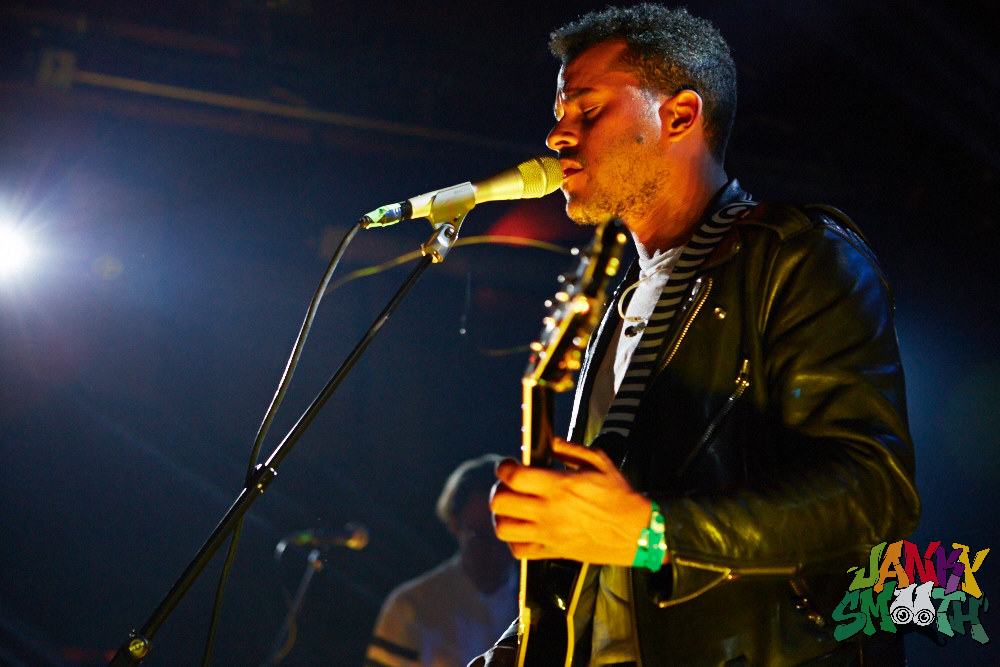 Most people who know me know I have a bit of a soft spot for Twin Shadow, so it was no surprise when I asked Janky Smooth if I could cover their first live LA show this year. For those of you living under a large solid mass formation, Twin Shadow is George Lewis Jr.  Thanks to the internet, I discovered him doing a ridiculous cover of Lou Reeds, "Perfect Day", days after Lou's death. The rest is history.
I walked up to the Troubadour, grabbed my ticket and walked in to catch Zoe Kravitz aka Lolawolf wrapping up a set. Their material is raw and she and her voice are exhaustively attractive. They have a familiar yet experimental vibe to them.  The material is appropriate to groove or isolate to.  The dance vibes are unmistakeable and the production on the beats is impressive.  However, my focus Thursday night was not the beautiful spawn of Lisa Bonet and Lenny Kravitz and her art projects.
The Troubadour is a great venue.  I walked around to find my typical sweet spot and as soon as I land into my nook, George and his band take stage. The crowd was tightly formed and yelling at him from below. George strapped on his ax and asked, "How's everyone doing?" and "Thanks for coming out". He opened with "Five Seconds" from Confess and greased our hearts and ears before serving up new and older material.  He peppered in a nervous comedic bit that stunned many coming from the "cooler than cool guy" who dons leather, rides choppers and is surely used as digital wallpaper by your little niece, aunts and barista. The banter was a bit awkward including an uncomfortable mention of a threesome but as long as George is playing music, there is no awkwardness around that.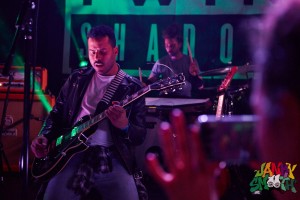 Turn Me Up is their newest track and much like most of Twin Shadow material takes on love, relationships and personal growth. The song is freshly laced with haunting synthesizers, hard-hitting drums and a nimble, effortless guitar solo that simply makes heads sway side to side.  Just as I let the track sink in, George proclaimed that he is not down with smoking and/or vaping. In fact, he went out of his way to call the one guy with a lighter an asshole for not giving up the smoke and don't get him started on the vape crowd. This guy isn't holding back battling emotions, record labels or the tobacco industry.  After some giggles and applause we were introduced to the first single from the upcoming album "To The Top". This track is the sonic equivalent of a double-edged sword.  We are able to be embraced by the melancholy and yet find the "Top" or potential. The next three songs Run My Heart, Castles In The Snow and Old Love/ New Love are not new material but hearing these guys live is a far different experience, to say the least. "Old Love/ New Love" happens to be a track I play regularly in my home and car. This live version has a solid key arrangement and a matching, stringy twang to the guitar. This song is a perfect gumbo.  It's got just about everything in terms of influences; Rock, gospel, electronic and pop.  The jam session is in full swing and this crowd moves like a sixties beach party. Personally, I don't know what I like more: the older material, the new, tighter work or the Sade cover they sprinkled in for pure drama and nostalgia milking.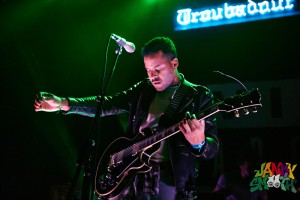 I asked a young girl at the show I saw totally losing her shit what it was about Twin Shadow that makes you move and want to let go the way you did. She said he's like "Therapy for my Alexithymia".
Words: Amir Kashani
Photos: Suzanne Teresa