An insane lineup for another Moon Block event at the Echo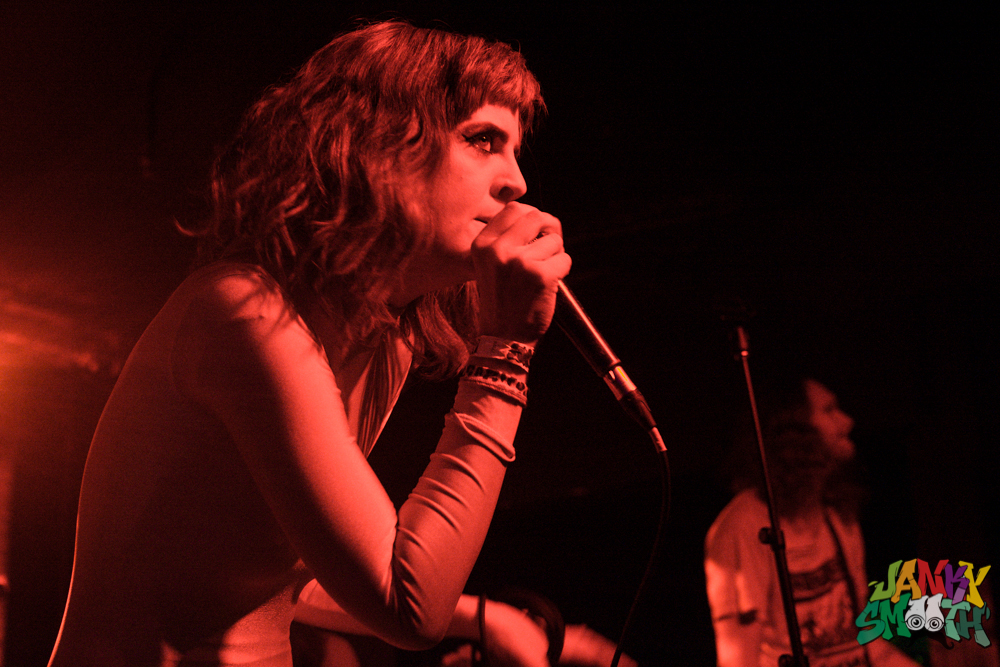 The Echo is on a fuckin roll these days. Friday January 23, Moon Block put on one of the most amazing shows I have seen in a long time. Even though they were competing with the FIDLAR show at the Regent Theater, It seems Mitchell Frank is only competing against himself now because The Echo was a packed house also. The line up was made up of some amazing LA artists. The bill was L.A. Witch, Death Hymn Number 9, Plague Vendor, Kim And The Created, and last minute add on, Sad Girl. With a diverse line up came a diverse crowd, young and old, people of different ethnic origins, and people of different Cliques.  Moon Block knows how to put a show together.
L.A. Witch opened up the show with an already packed house. I had seen these ladies once before a year or two ago and I remember being blown away. This night at The Echo was no different from the last time. In fact they got even better with the new material that they have been coming out with. The band was very quiet between songs, and as much as I love banter, nothing beats a dark ominous woman up on stage that says nothing at all. It adds to the mystery of her beauty. I'm sure you will make fun of me for yet another article about a female band I was swooning over, but fuck it, these girls are fucking hot and extremely talented.
Death Hymn Number 9. Now what can I say about Death Hymn? Oh, just that they are fucking brutally amazing! A 4 piece thrash band took the stage with zombie face paint and ripped up white T-shirts. The guitarist, Troy Bootow, sat in a fold out chair for the set, and I feel like he was moving around more than any standing guitarist I had ever seen. I've never seen some one break such a sweat while sitting down. Vocalist Paul'e'wog took his spot on the floor causing a giant slam pit to occur. I had a few beers and felt it was safe for me to stand in the middle of the pit to take photos of Paul flailing around down there. I soon learned how wrong I was when i took an elbow to the ribs. I have become a new found fan of Death Hymn Number 9 and I am super stoked to see them again next week at Alex's Bar's 15 year anniversary.
Now I have already written about how amazing Plague Vendor is in my last article from their Pomona show. Last night was no different in how amazing their performance was. They did use this show to test out a few new songs that they would be recording in the next couple months for their new album. Brandon Blaine put on another Iggy/Jagger like performance and even pelvic thrusted a couple girls off the stage. Brandon is one of the nicest guys I've had the pleasure of knowing and he proved that by asking the girls if they were ok after. He explained "some times the beast in my pants gets in the way and tries to take over the show." I had soon learned that the diverse crowd was mostly there for Plague Vendor. They had big mexican dudes who did not fit "the part" wearing Plague Vendor shirts, and you know what it showed me? Fuck a stereotype, do what you think is fun and listen to good fucking music. Shit, I don't let my taste in music and ethnic background pick my scene and wardrobe, why should you?
Kim And The Created, holy shit. Blue haired vixen, Kim, took the stage in a full white body suit. Her band was already playing before she took the stage in her contorted motions. Her band, who Kim and the internet refer to as, The Created are made up of some extremely talented musicians. Kim, who was not as dark as L.A. Witch, had a lively presence to her and was constantly moving about the stage. She would interact with the audience and at one point she wrapped the microphone cord around an unsuspecting crowd member and sang to him intimately. The boy had turned red with lust and I had turned red with jealousy. Kim went back to moving about the stage. At one point she had dropped to the ground,  laying down, limbs sprawled out as she continued her performance. At this point you would have thought she was calling it quits but she got right back up and jumped off the stage to start her own little pit. Kim And The Created definitely made a fan out of me last night.  A perfect addition to any Moon Block Party event.
When I arrived at The Echo I had learned that a 5th band had been added to the line up for the night. The band goes by the name Sad Girl which is a fitting name because they reminded me of the movie Cry Baby with Johnny Depp. They had a very surfy Black Lips kind of sound. I was really digging them last night. At this point in the night i was about 8 tall cans in and only really remember being told to move around and punch each other. So that's exactly what I did, joined by Kim from Kim And The Created and Derek Pearlman, also known as Fucktard in the photography world. We fucked shit up for a while and next thing I knew the show was over. Thank you Moon Block Party and The Echo for such a god damn amazing night. If I weren't a dude I could have sworn I was impregnated last night.
Words and Photos: Taylor Wong