2 Nights of The Julie Ruin at The Roxy: All Girls To… The Back Bar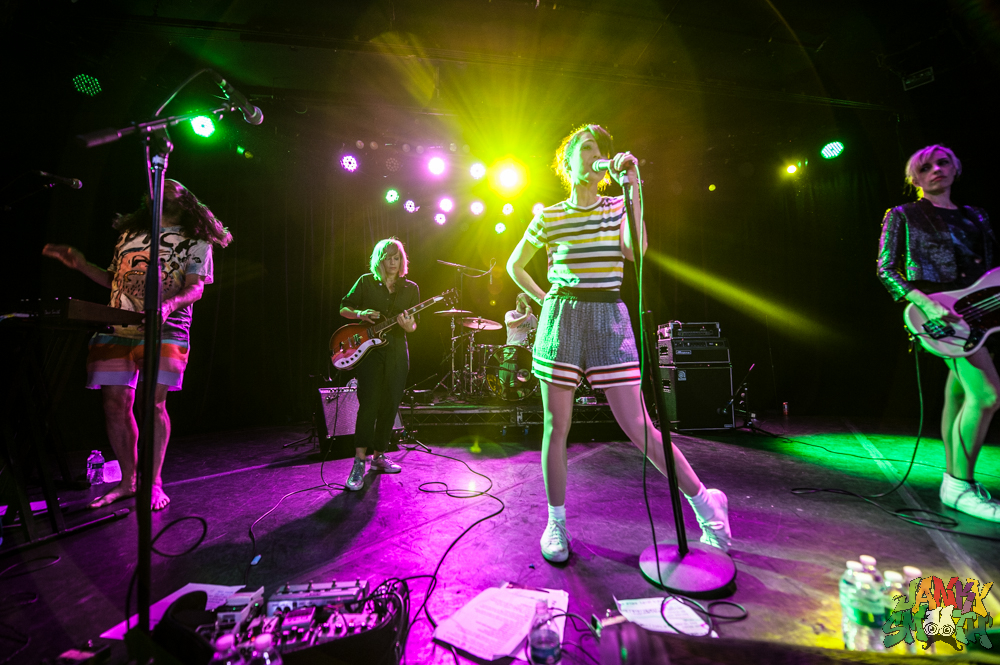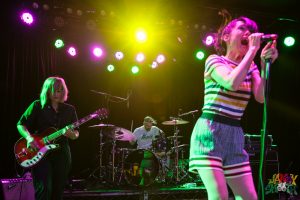 The mood was light and the crowd was heavy on Friday night for the first of the two sold-out the Julie Ruin shows at the Roxy. Gender-bending, NYC comedian Murray Hill intro'd the band with his silly, old-school showbiz banter (as he has for Le Tigre, the Gossip, and the Beastie Boys…) and the band bounced out onto the stage. Kathleen Hanna was a showgrrrl after my own heart, dressed fully in sequins. Another sign that this band is more about fun, as their latest jolting dance-pop release Hit Reset will prove, albeit emotionally heavy.
My 14 year old me can't mask my disappointment about the lack of angst and anger that translates into raw power on stage- that the show was missing on Friday night. During the first song, the band got off on a false start and in between starting again, a man in the back yelled "Take it off!!!". I looked at my girlfriend and we both were wondering where we were for a second. I mean, the Julie Ruin even have a song titled "Mr. So and So" about an asshole dude that loves girl bands. We let it go with an eyeroll as the band took off into their set but it kinda set a strange tone for the night.
Onstage it was a lighthearted sonic disco, sprinkled with Peanuts Gang Dance Moves and the occasional glimpse of the Bikini Kill-era Hanna war cry. Along with video-guru turned drummer Carmine Covelli, surf guitar goddess Sara Landeau, ex-Bikini Kill bandmate on bass, and keyboardist Kenny Mellman, Kathleen put on a sprightly and animated show. I could have done without the continuous talking about, "not talking about CNN" but hey, the 2016 presidential election has everyone pretty fucked up.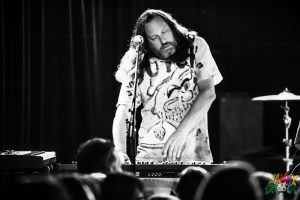 A welcome awakening was from extreme cabaret artist or "punk rock Gallagher" as I dubbed him, Kenny Mellman, when he took over vocals on "Planet You". His reverberating growl had the anger I was looking for. Hanna's songwriting and lyricism are at a high and I couldn't be happier that her devastating battle with Lyme Disease is over but truth be told, I wanna hear her SCREAM.
As they closed with a raucous and resonating rendition of "Rebel Girl", it was obvious…Especially in the wake of this election, of men still yelling "take it off" at a show in 2016…riot grrrls and boys…we need you. So…Bikini Kill reunion at Riot Fest 2017???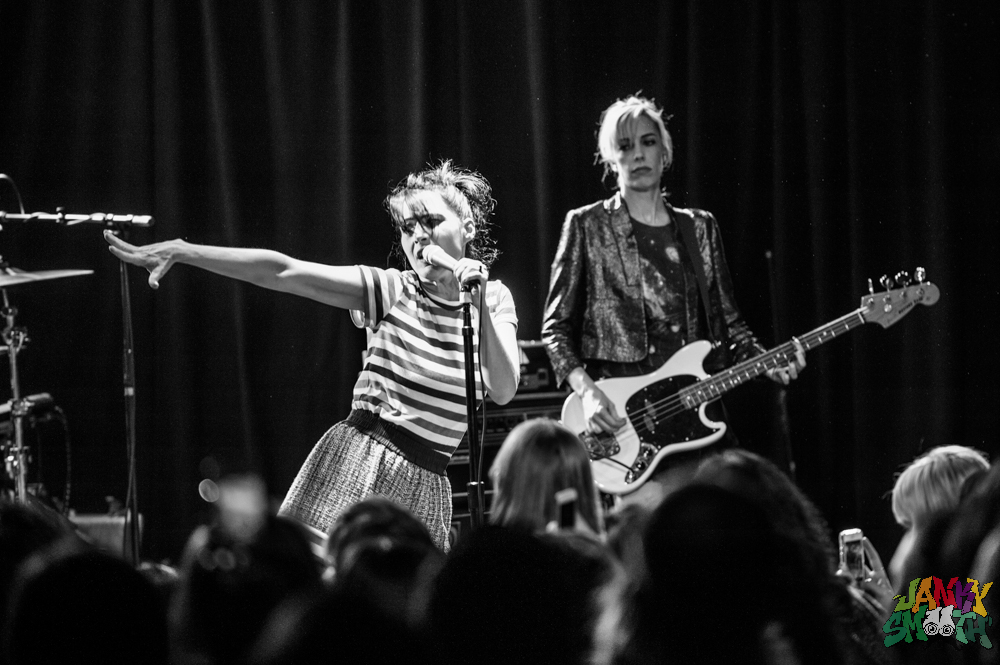 Julie Ruin Night 2 at The Roxy by Photographer, Jessica Moncrief
In youth, people tend to create their identities around their interests, passions and psychological issues.  I'm no shrink but after a youth full of militant fight and flight feminism, Kathleen Hanna seems to have come to grips with who she really is and what she REALLY wants.  These are the thoughts I had while shooting The Julie Ruin at The Roxy on Saturday night.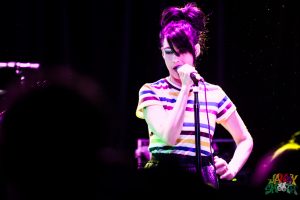 The paying crowd at The Roxy seemed to spend their money to sit back and be entertained, because their energy was really low and honestly, kind of a snooze.  Not sure if the low energy of the audience had anything to do with the vibe of the band throughout the evening but it was a tale of two halves of the same set.    To their credit, when the Julie Ruin began playing, the bouncing and bobbing Hanna delivered a performance with pep in her step and mojo in her moneymaker.  Her bangs fell over one eye with perfection and her high pony tail had the appropriate bounciness.  The early part of the setlist almost threatened to wake the crowd out of their malaise and people even started putting away their camera phones and moving their heads during "I'm Done", if only for a moment.
Seemingly, instead of the high energy of the early moments of The Julie Ruin's performance energizing the audience, the audience's overt apathy seemed to have been channeled by Kathleen Hanna because the vibe went from feeling like physical therapy to psychotherapy.  Hanna seems to be a channel of energy and you all broke her that night.  Fuckers.
Kathleen Hanna often made reference to the victim mentality, her abusive father and paid public homage to her mother who was in attendance on Saturday night.  I have no doubt that what she discussed dug deep into the dungeon of repressed emotions to those in house that could identify with what she was discussing.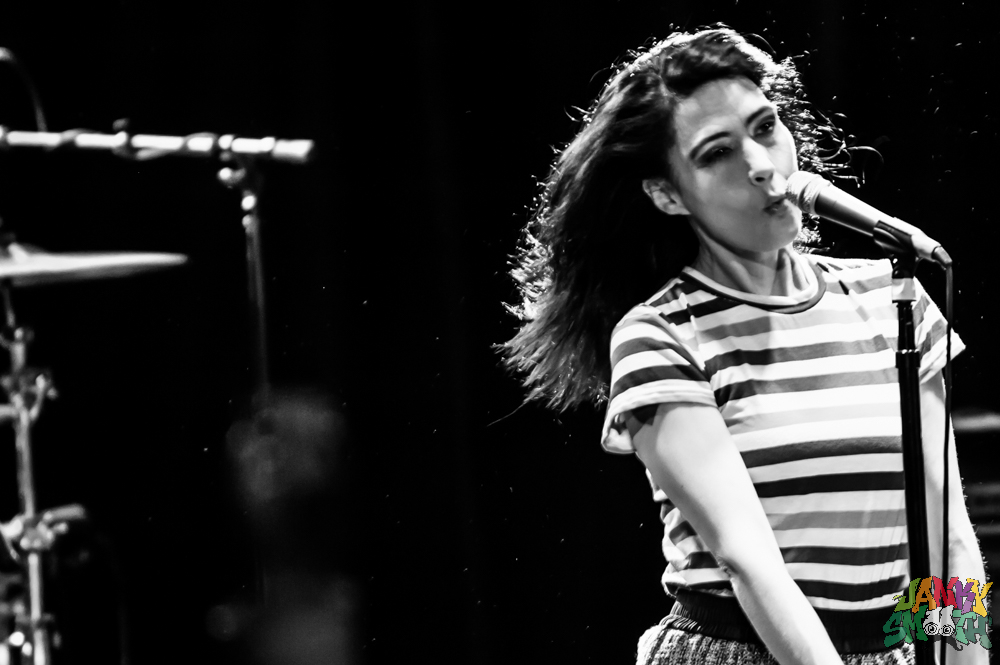 "Fuck my piece of shit Dad."  She went on to give credit to Mom for every success and positive attribute she possessed before playing "Calverton" and allocated all her accumulated shame over the course of her life to her father.  I tend to tune band banter out at shows but what Kathleen Hanna had to say about overcoming a victim mentality really resonated with me enough to make me feel a bit uncomfortable- especially when she talked about the way her daddy crushed her dreams instead of nurturing them.  If I were to have one criticism of The Julie Ruin at The Roxy on Saturday Night, it's that I could've used a more upbeat song than the title track off the new album after she was finished bearing her soul and attempting to lift up those in the crowd that needed to connect with those sentiments.  But hey, it was her therapy session, not mine.  Afterall, the rant was an intro to that song, not the random thoughts of the iconic woman on stage.
As Hanna took endless, playful tongue in cheek jabs at the butch babes in attendance that night, the militant, borderline man hating feminism of the starry-eyed Bikini Kill era Kathleen Hanna has morphed into a seeming self acceptance and complete rejection of the bourgeoisie brand of today's neo-feminism, which isn't feminism at all.  And with the emotional chaos of feelings flying more than elbows on Saturday night, that was the thing I appreciated most.