Two Nights with Mariachi El Bronx: An intimate record release and a sold out show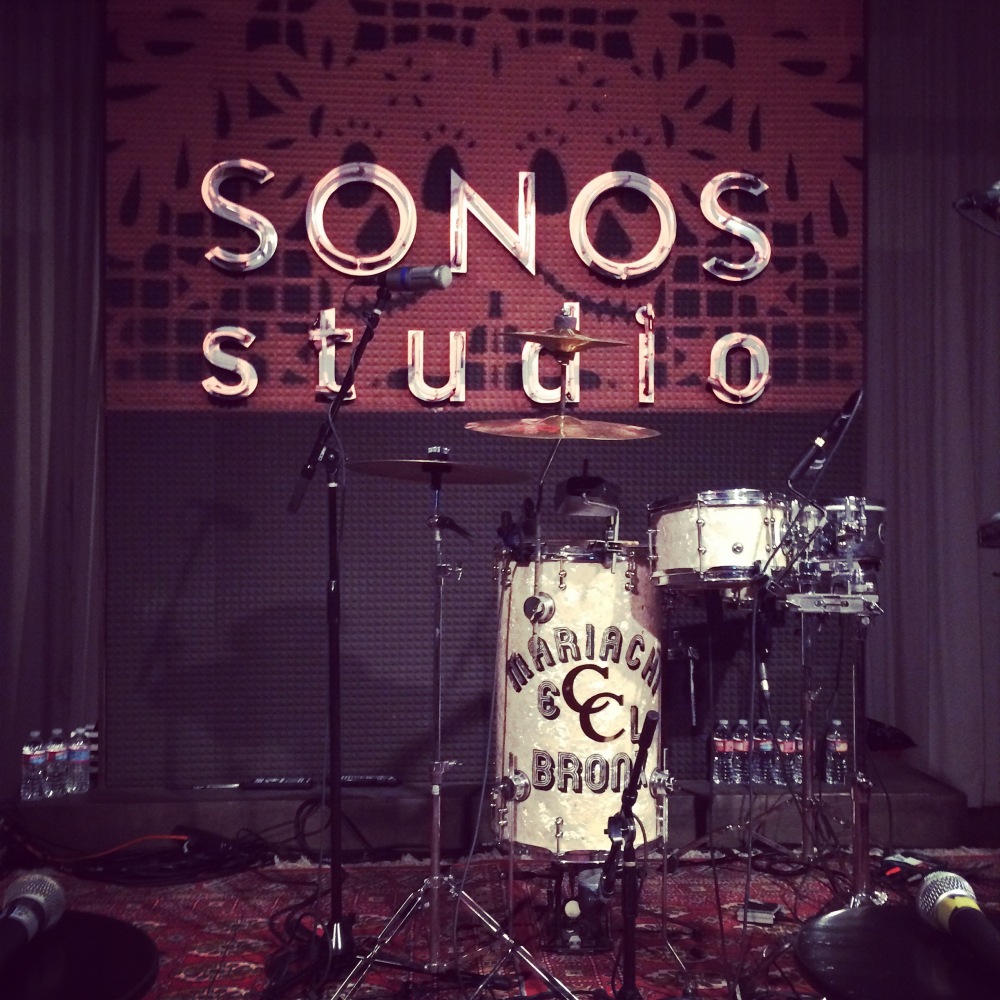 It's a big week for Mariachi El Bronx. They dropped their third album of the beloved, white boy mariachi music that has become a major draw for fans around the world. I was lucky enough to attend both the record release at Sonos Studios on Tuesday and their headlining show at El Rey on Wednesday with Tijuana Panthers as the opening act. There were no paisa's injured, or present, for that matter at either of these locations.
One thing that stood out in their performances at Sonos and the El Rey was the utter joy on the face of Matt Caughthran throughout the entirety of each show. This is a man who seems to be completely satisfied with what he's doing and why shouldn't he be? Since the formation of their punk rock outfit, The Bronx, in 2002, there has been nothing but a positive response from critics and fans alike for anything Caughthran and crew come up with. They have a legion of rabid fans that follow both nylon and steel string versions of The Bronx and Caughthran has the ability to tap into the lover and the fighter within himself without being rebuked by purists- a rare accomplishment for a punk rocker.
The record release at Sonos Studios on Tuesday featured a Q and A with KCRW's, Jason Bentley and an open bar sponsored by Sparkle Donkey Tequila. Oh yeah, Mariachi El Bronx also performed material from their new album for the first time. It was also my first time at Sonos and I was amazed at what a warm, well rounded sound was generated by the only three speakers/monitors that were in sight. Mariachi El Bronx filled up that little stage nicely and the new material is excellent! I always enjoy watching Jorma Vik drive the band with his twist on Mariachi percussion, which is a bit of an oxymoron since most Mariachi outfits don't have a percussionist. This was a very intimate show of invited guests and while I felt privileged to have attended, I was most excited to be amongst the energy of a sold out show at the El Rey.
I got to the El Rey on Wednesday just in time to check out Tijuana Panthers who are a fantastic trio of surf-psych-punkers from Long Beach, California. The guys all take turns singing lead vocals on different songs. I'm always particularly impressed when drummers sing and Phil Shaheen looks like he's having an amazing time while doing his best Ringo Star impression. From the tossing of the hair to the flare in the wrist, he makes it look easy and fun. Chad Wachtel, on guitar and Daniel Michicoff on bass are equally as fun to watch and songs like Torpedo display the amazing chemistry the guys have in their performances. It's easy to see why El Bronx is taking this band on tour with them.
What more is there to say about El Bronx? They took the stage after Tijuana Panthers and they took over. Caughthran was smiling and crooning again and Ford, Magers, Vik, Horne and company were locked in tight to play an amazing set to adoring fans, who, ate up all the new material that was played that night. From new songs like Wildfire to staples like 48 roses, El Bronx are building an arsenal of songs that are destined to be classics.
Words: Danny Baraz
Smartphone photos: Danny Baraz