Warpaint at the Echoplex: Bringing Grown Men to Tears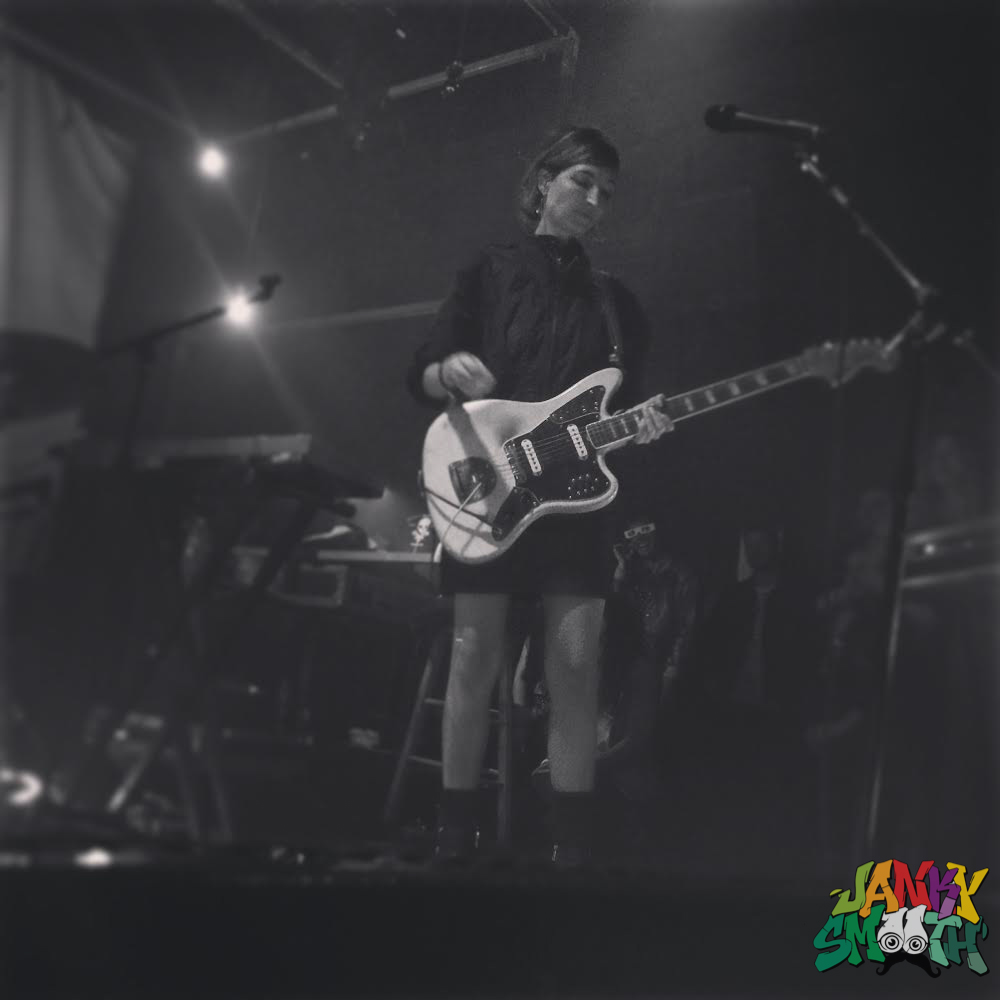 I need to write a review but I want to write a love letter. I can hardly think straight. My head is still spinning from Warpaint's two hour set last night at The Echoplex. I am completely infatuated with the ladies of this band. Not just because they are all beautiful but because nothing is more attractive than women that are in command of their craft. Powerful, mesmerizing and unbearably sexy, Warpaint were coming off an extended tour and were effortlessly locked in with each other and their songs. Bass player, Jenny Lee Lindberg and Drummer, Stella Mozgawa start on the 1 with a just a quick look and one bar into the song, they smile and make eye contact, understandably proud of themselves. I'm not sure I witnessed Stella count in even once throughout the entire set and I never saw the band miss a beat the entire night. This is the best show I've seen the band play and I've seen them play quite a few times.
Warpaint cannot simply be described as chick rockers because that would be minimizing the extent of their greatness. One cannot remove that aspect, though, because for women, they are an inspiration and for men, they are a good example of the type of women that should be worshiped, courted and one day, if earned, devoured in the most passionate and loving ways. The brand of dark, psychedelic, soul-wrenching rock that they play is both romantic and aggressive.
I don't get all "fan boy" very often but if any group could inspire me to start a Tumblr fan blog, it's Warpaint. They are honestly one of very few groups that I still put on a pedestal. Maybe that's why when I went to meet Theresa and Emily on the Echoplex patio after the venue closed for the night, I got all tongue tied and intimidated and couldn't bring myself to push through the crowd of friends and family that celebrated with the band after their Los Angeles homecoming.
The photo pit/barricade that was erected for this show was the most narrow space I've ever seen a venue try to squeeze a photographer into. Most credentialed photographers were on the outside of the barricade and just used that space to store their bag of lenses but I squeezed in there, without shame and without stretching and had the best seat in the house. I got the usual dirty looks that I get when I enter the photo pit without a camera but I didn't give a fuck. Just a few minutes later, Warpaint took the stage and almost instantly, they were playing.
They opened with the first two cuts off their latest release, Intro and Keep it Healthy. Jenny was immediately dancing with her signature step moves and subtle gyrations.  Before the start of the next song, Theresa addressed the crowd in a low voice and nonchalantly mentioned that Warpaint would be taking a little break after this show. A voice from the raucous crowd asked, "Who's pregnant?". This started a series of mild heckling from the audience about what the baby's name would be, was it a boy or a girl and further scrutiny about which member was knocked up. Jenny put an end to it by simply answering, "Aint no one pregnant". I'm not one to gossip but I did sense some tension from the side of the stage that Theresa was on towards the side of the stage Emily was on. They barely made eye contact all night and Theresa left the stage at least a minute before everyone else at the end of the show.  Even if personal harmony within the band is in danger, the vocal harmony between Theresa and Emily is not.  Both women were pitch perfect and Theresa was particularly animated on this evening.
After the crowd was finished with their Q & A, the band started playing again.  The next three song sequence was Feeling Alright, Composure and Undertow. Rather than describe it, you can view the entire video here.
The rest of the main set was an un-interrupted lesson in band chemistry.  It was a long summer tour that stretched into the Fall and whether the friction I felt was imagined, there is no doubt that they know how to play together. They did the encore dance and momentarily vacated the premises.  The stage hands cleared some space, unplugged some cables and set up some chairs which would be occupied by a three piece string ensemble. Their contribution on the song "Bees" was hypnotizing. For the next song, Kurt Vile took the stage and Theresa's guitar and proceeded to contribute some harmonies and lead guitar on "Baby". The level on the guitar was a bit too high but he gave the arrangement a new dimension with his low register and gave the adoring audience a magical moment. At the end of the song, a man behind me internally combusted and broke out into tears. Not stifled, choked back tears but sobs that were audible throughout the entire venue. Amazing how a piece of music can uncover the greatest depths of joy and pain and I just put my hand on his shoulder and told him I understood. What I understood was exactly how a properly performed piece of live music can unlock that pain that seemed long forgotten.
The last song in the set was Elephants. Warpaint left the stage and just like that, it was over. I still feel a bit shell shocked from the show. When artists give so much of their soul on stage, they can take a piece of yours with them on the way out the door if you are properly engaged with the performance.   Good music can be like a drug when you connect and like the way it makes you feel. The last few times I've seen Warpaint were in larger venues like The Shrine, FYF Fest and Coachella. There were many times throughout last night that the members of the band looked me in the eye or hovered over me to connect with the audience. We exchanged little smirks and also dialogues that existed only in my head. It was a very intimate night of connectivity.
This show was a part of Red Bull Sound Selects, 30 Days in LA. I've gone on this trip with them since day 1, with this being the 7th day of consecutive shows. It's been quite a journey already. Two Red Bull bands opened the show. Fellow L.A. bands, Son of Stan and Avid Dancer were a proper fit for a night like this. Son of Stan captain, Jordan Richardson effortlessly connected with an audience that was anxiously waiting for Warpaint. A difficult task. His songs remind me a bit of a heavier version of Elvis Costello. The band Avid Dancer was a bit moodier. Avid Dancer singer/songwriter Jacob Dillan Summers is a smooth operator with a pitch perfect voice and a tight, highly skilled group of musicians behind him whose names I could not find anywhere. Some of the upcoming Red Bull shows that I can't wait to cover are Bad Religion at the Mayan, Run the Jewels at the Echo and Reignwolf at the historic and tiny Mint venue on Pico. Stay tuned for more reviews.
Thank you Red Bull for another night of great music.
Words: Danny Baraz
Pictures: Danny Baraz