Ozzfest Rocks On But Can It Still Rage In 2017?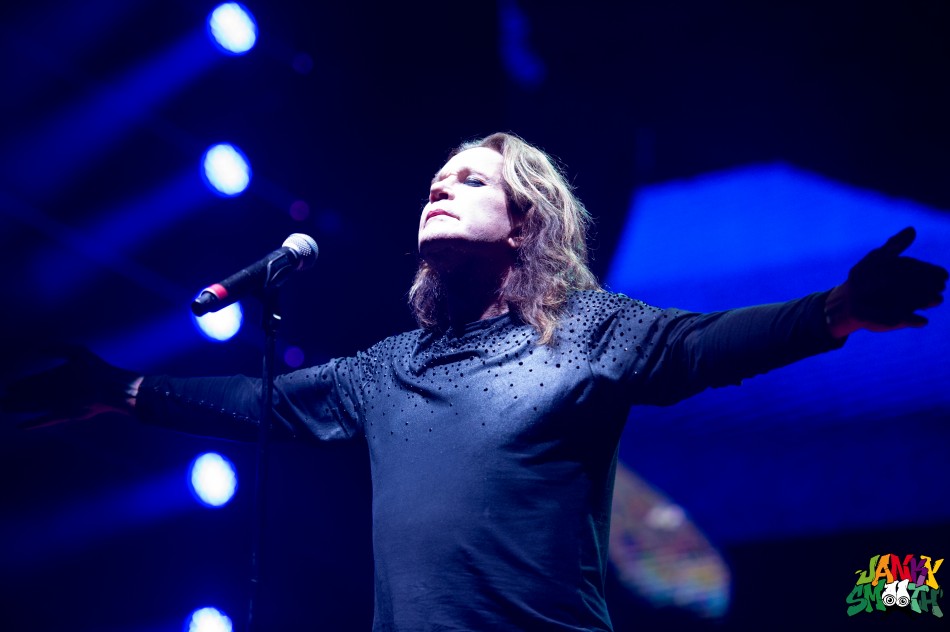 Heshers and head bangers are a loyal bunch, but metal ain't exactly enjoying a mainstream moment in 2017, and it hasn't for quite some time. With a few exceptions of Queens Of The Stone Age, Metallica and of course, the entirety of Europe where Metal still reigns supreme, the genre just isn't recognized right now on U.S. radio or on U.S. charts, and this has made the current musical landscape feel really bland and wimpy and disposable to a lot of people (No, Foo Fighters are NOT metal). Heavy music still exists of course, and a lot of it feels as urgent as ever, but for the most part it's a niche thing right now.
I remember when things were different. When there was such a bounty of bombastic and aggressive bands on the scene, swaying the zeitgeist and stirring shit up, it was hard to keep track of them all. Their videos dominated MTV (before it was the Teen Mom channel), their records went multi-platinum (streaming didn't exist yet) and they even graced the covers of popular music magazines (remember those?). There was so much heavy music around that it started to splinter and mutate into other forms; Nu-metal, screamo, emo, rap metal, etc. all became household words and bands such as System of A Down, Disturbed, Linkin Park, Tool, Staind, Korn and Slipknot, to name a few, became superstars.
I was the "metal and punk gal" who covered all of them for the Los Angeles Times throughout the late 90s and into the early 2000s, which meant that I never missed an Ozzfest or a Warped Tour for a good 10 year period of both fests' heyday. Hard to believe it's been over 20 years since Sharon Osbourne first created the feral festival inspired by her husband (after she couldn't get him booked on Lollapalooza) in '96. For many, Ozzfest went downhill when The Osbournes came on the air in 2002 and showed us what the Prince of Darkness was really like—a mumbling, drugged up jester controlled by his domineering wife and messed up kids. But the pendulum was starting to swing even before the family's pop culture-changing reality TV turn. American Idol happened. Coachella happened. Nuff said.
Ozzfest has chugged on though, as a tour traveling around the world, and more recently joining forces with Warped and last year, Knotfest in San Bernadino, where it all began. The menacing marriage of metal and its clamorous dark offshoots is split into two distinct experiences these days. The Knotfest portion of the fest – which featured Rob Zombie, Stone Sour, and Marilyn Manson– on Sunday probably garnered more buzz thanks to MM's appearance (it was his first since his stage accident a couple months ago), and according to media accounts, he did not disappoint, his incendiary antics this time including a wheelchair and a rifle as a mic stand that he appeared to point into the crowd. It's pretty much the only press the two-day fest got this year, mostly because of the Texas church shooting which happened the same day. I've written about Manson countless times at this point and I don't have much to say about his latest stunt. I've seen him do "shocking" things on stage before, but I've only been offended when he was too intoxicated or didn't care enough to give his all. When he does put the effort in, he can pretty much get away with anything.
This weekend, I was more excited to flashback to my old Ozzfest days on Saturday and catch headliners The Deftones, the super group Prophets of Rage and Ozzy himself, who has been more virile the past decade then he ever was when I used to cover the event.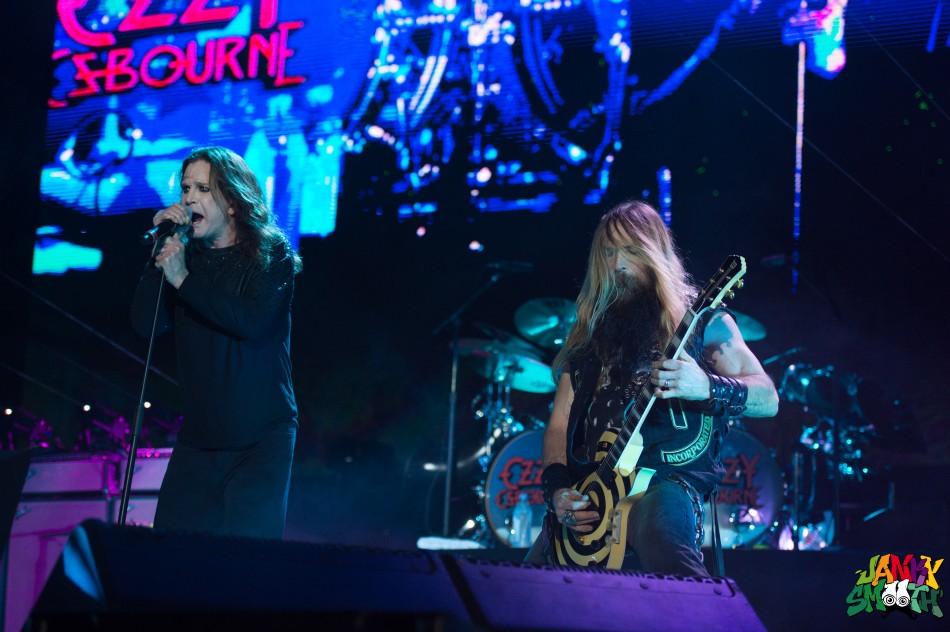 The Deftones have been around as long as the festival has, and their music has arguably aged better than the more provocative looking peers they've played it with in the past. In spite of past drug problems and a couple directionless releases that never came close to the brilliance of their biggest release, White Pony, the band have endured and matured in the way most artists might only dream —they've earned credibility without compromising their signature sound, which feels more evocative than ever. With the precarious political climate, gloomy music really hits the spot right now, and few do it better or more brutally yet beautifully than the Deftones. Last year's Gore was a return to form for the band, who proved they remain as complex and sensual as ever. (I met a couple Saturday who credit Chino Moreno and co. with the conception of all their children and I'm guessing they aren't alone). With smoke and lights and shadows complementing each cut, Deftones made a case for their showmanship and longevity, and that they should be playing alongside Nine Inch Nails, Tool and the like, not confined to metal bills. Their choice of cover song was the only mis-step: their take on Sade's "No Ordinary Love" or Duran Duran's "The Chaffeur" would have been magic, even if it would've made the metal crowd scratch their heads, but they did Cypress Hill's "How I Could Kill A Man," a reference to the band following. Prophets of Rage performed it themselves, and we didn't really need to hear it twice.
In any case, Prophets had me torn. Tom Morello, Brad Wilk and Tim Commerford are great musicians. The music they created with RATM was potent and epic, and there's no reason they shouldn't be able to play it live for their fans. They brought in formidable figures to do it in Zach De La Rocha's absence too. I mean Chuck D is a bonafide rap god, and B Real was/is one of the most unique voices in hip-hop. With a visually minded set design— requisite Shepard Fairey backdrop and red and black scheme reflected on stage and even in their clothing— and a repertoire of the most bombastic battle cries ever recorded to choose from, these guys should KILL, I mean really obliterate together, but they just don't, and I'm not quite sure why. Rage's rants, which make up the bulk of the material they play, should resonate more than ever in the Trump era, after all.
De La Rocha's commanding, crackling delivery is missing here, but it's more than that. Rage's pulsating rhythms feel almost sluggish with these guys on the mic even when they appear to really be belting. The milder arrangements and tempos could simply be the natural ripening of Rage itself, but it feels off even when the Prophets are tackling Public Enemy and Cypress Hill, not to mention tracks that aren't even their's such as House of Pain's "Jump Around". The Audioslave moments in the set fared better due to Chris Cornell's passing, but they also served as a reminder of Rage's previous Zack-less output, which let's be honest here, was a bit of a snooze in comparison to what they did previously. Still, at least they were trying to do something different there.
As for Prophets' original material, both their EP and recent full length release have been met with mixed to negative reviews. There's some good stuff on both, but it's just too predictably on the nose, watered down Rage and yet not raging enough. To be fair, De La Rocha's sole recent release, a 2016 track called "Digging For Windows," produced by Run The Jewel's El –P, ain't much more arresting. Prophets allegedly have Zach's blessing and vice versa, but after the show I saw Saturday I think it might be time for us fans to start raging…. against them for a real reunion! Whatever these guys' differences are, they cannot be bigger than the common enemy we have in the White House right now. This is serious! If Chucky wants a break from Flav's foolishness and Real wants to keep it real-er than rapping about bong hits, it's all good, they can stay…. But I'm just gonna say it: if this crew wants to make an impact they need ZACK BACK too!
As a music critic, I've covered my share of band break-ups and make-ups and I'm not naïve about the sacrifices or dynamics at play. Sometimes bands hate each other with a passion but get back together for the paycheck, and sometimes they just do it for the adulation. I'd like to think Rage would do it for more self-less reasons. The recent Black Sabbath reunion and "The End" tour proclaiming they were done playing live for good, was probably about all of the above, and that's OK. They were more than OK when they got out there.
Despite my predisposition to original lineups (which we all kinda have), I'm not such a snob that I can't acknowledge when new members are as good or better than the original players. Sabbath's last tour was wrought with drama between the band and original drummer Bill Ward, but the guy they got to take his place was able to wield his sticks and then some. The final show at Hollywood Bowl (which was followed by their Ozzfest farewell) was as climactic as it needed to be. So was Ozzy's closing set on Saturday. Drummer Tommy Clufetos, bassist Rob "Blasko" Nicholson, keyboardist Adam Wakeman and the return of Zakk Wylde by Ozzy's side, as fret-frenzied and freakout filled as ever, made for a ferocious experience, even with Ozzy's less than perfect vocals on the older stuff.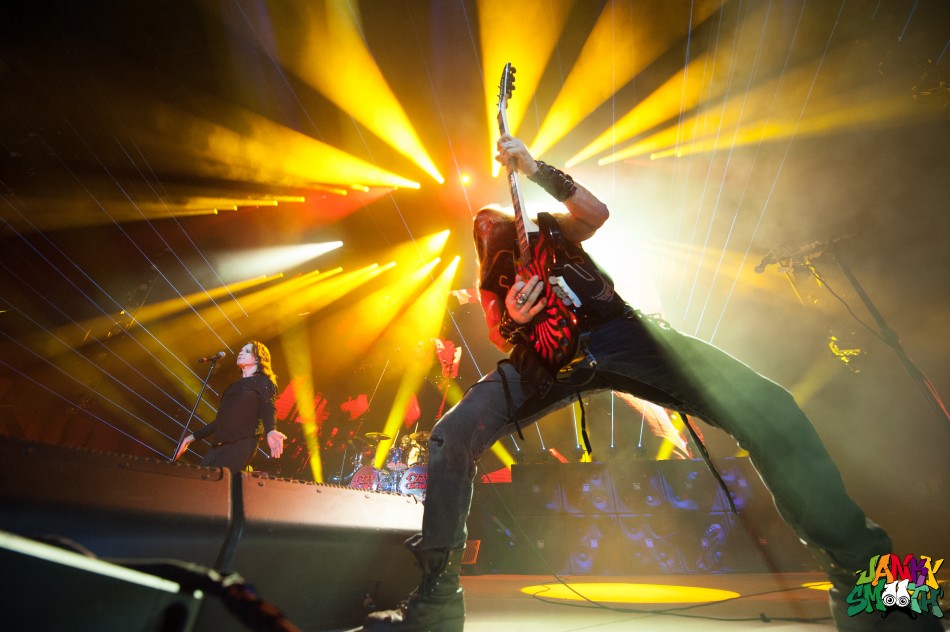 Ozzy is 68 years old. His voice is so iconic, it requires less effort than most and his band takes a lot of the slack on stage, but even with all the lights, fire and fiery fanfare, he seemed tired to me. No big surprise, it was only a couple days after Ozzfest concluded that he announced an upcoming world tour that would be his last before retiring from the concert circuit. The 'catch 'em while you can' tour tactic worked well for Sabbath (and Mötley Crüe for that matter) and it will surely conclude Ozzy's career in grand fashion.
As for Ozzfest, who knows? My guess is it will continue on, providing metal fans with their one big devil horn pumping blowout every year, becoming more about nostalgia than anything "nu" in music. That's a good thing. The trendy metal sub-genres, schlocky garb and overall cartoonish chaos of the festival (and metal in general) will always be a thing, but it will also evolve and grow up a bit. Or not. It doesn't matter either way for the culture at this point. It's kinda like metal dudes themselves; some are hardcore, living the lifestyle and keeping their hair defiantly long, while others realize it looks dated and go for the cut. But both bang their goddamn heads off when they hear their favorite bands' thunderous jams. No matter what metal looks like, it will always feel visceral and ominous, especially live. For this reason, I think Ozzfest will continue to survive for a long time to come.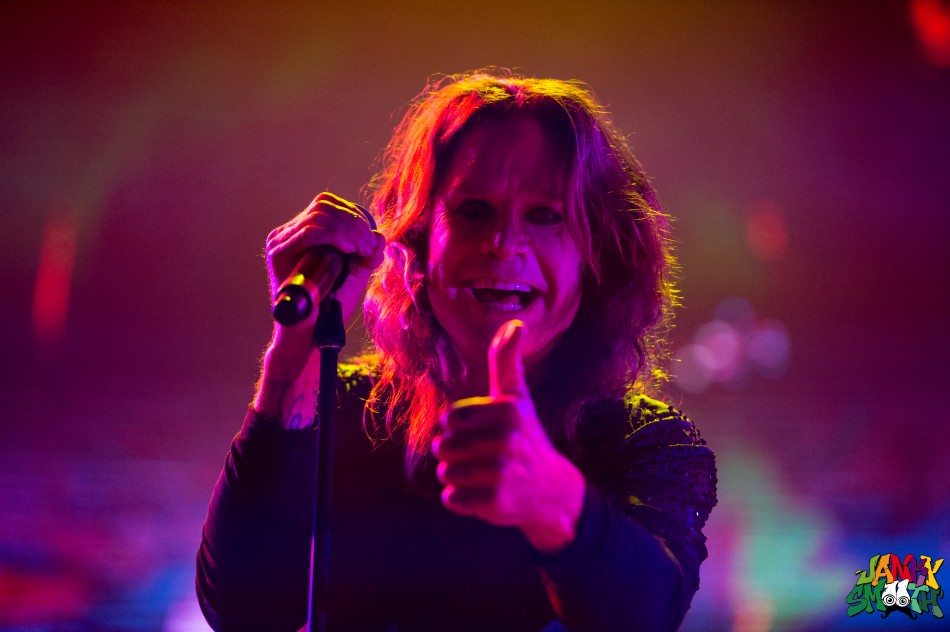 DEFTONES SETLIST
Headup 

My Own Summer (Shove It) 


Swerve City 


Digital Bath 



Rosemary 



Diamond Eyes 


Knife Prty 


Be Quiet and Drive (Far Away) 



Change (In the House of Flies) 



Rocket Skates 


Minerva 


Engine No. 9
PROPHETS OF RAGE SETLIST
Prophets of Rage (Public Enemy)
Testify (Rage)
Take the Power Back (Rage)
Guerrilla Radio (Rage)
Living on the 110
Hail to the Chief
Bullet in the Head (Rage)
Hand on the Pump / Can't Truss It / Insane in the Brain / Bring the Noise / Jump Around (Public Enemy, Cypress Hill, House of Pain hip-hop medley)
Sleep Now in the Fire (Rage) (with Audioslave's "Cochise" outro)
Like a Stone (Audioslave)
Unfuck The World
How I Could Just Kill a Man (Cypress Hill)
Bulls on Parade (Rage)
Killing in the Name (Rage )
OZZY SETLIST
Bark at the Moon 


Mr. Crowley 


I Don't Know
Fairies Wear Boots
Suicide Solution
War Pigs 

Iron Man
Shot in the Dark 


No More Tears 


I Don't Want to Change the World 


Crazy Train 


Encore:
Mama, I'm Coming Home
Paranoid
Words by: Lina Lecaro
Photos by: Jazmin Vargas