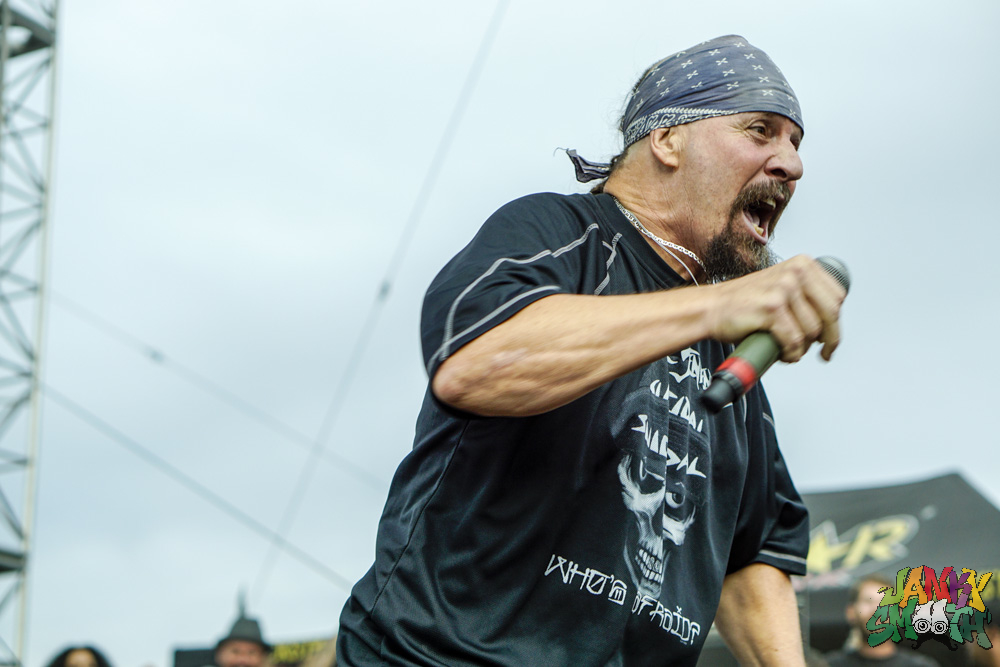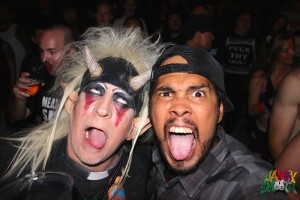 It came, it went, and it fucking rocked socks off of every color.  The festival brought along a roster of respectable new and old school heavy metal, rock, and hardcore bands that entertained the masses from noon into the dark hours of nightfall – and having a couple of highly popular hip hop acts thrown into the mix not only made the entire experience that much better but brought the entire festival in a direction not expected. For an old school metal/hip hop head like myself this was the absolute perfect Pre-Halloween treat!
Day:1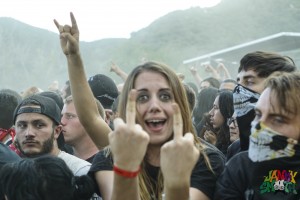 The entrance line like at any other festival of this magnitude was as one would expect – long, dirty, drunk, and a show in it's own right. Luckily for me, I got to stroll in right past the mob of overly excited fans and rolled on in on the Janky Smooth wagon and straight into the VIP/Press check-in area. Quick props to bossman Danny B. for the ultimate hookup. The entry gate was packed with an array of black tees, strange hairdos, and multi-oddball shave jobs. The age range stretched from youngsters and their parents to teens and seasoned heshers. The first day offered up the who's who of guitar slaying acts and vocal crushing rock gods. The daylight started off with cats such as Battlecross, Goatwhore, and Earth Crisis. With the sun falling came bands Born of Osiris, Body Count, and Gwar! All which I'm bummed to have missed because of my late start. It's all to the good though because the evening is where the party really got going not only for me but for the everyone in attendance. My experience began with the ending of Trivium's set which gave me time to set up in a comfortable location for the beginning of Mastodon (a band I have been wanting to catch live for a long fucking time). As I walked around trying to find the perfect throne to sit upon – so I could give my ears the best place to indulge and take in the band's sound, I came across the divided classes of the Knotfest (but more on that later). Mastodon began their set with no bullshit, walking out on stage and quickly pumping out Tread Lightly and the ultra popular song The Motherload. Troy Sanders hit the mark with his lyrical roars and thud busting bass playing with an absolute violent finesse. The guitar tightness of both Brent Hinds and Bill Kelliher was spot the fuck on! One of my favorite drummers in the metal scene today is Brann Dailor, and if you're not knowing it only takes the song Aqua Dementia put you on game. During Aqua Dementia, Mastodon turned the show into a frenzy, mosh stomping fiasco which had the crowd kicking up their heels higher than a barnyard square dance get down. Every time the band screamed "bring it down" it seemed as if the entire crowd was literally trying to bring the fucking place down. The back and forth singing of Hinds and Sanders had me greatly involved in the song. It got so intense at one point that goosebumps arose on my skin and I found myself sighing in relief at the magic that was in the air. Apparently I wasn't the only one feeling the greatness that was happening.  I could see crowds of people grabbing one another by the neck and screaming into each other's faces out of sheer excitement and adrenaline. But of all the songs I wanted to hear this band play live, of all songs I could not wait to hear… were Bladecatcher and Blood and Thunder! They closed with Blood and Thunder and did it with a force so big and energy so damn brutal that it was honestly sad there was no more. I'm always stunned at how heavy groups can sound so tight, so good, and so badass in live settings. Mastodon did this Saturday night without missing a fucking beat, and more impressive was that they left everyone wanting more!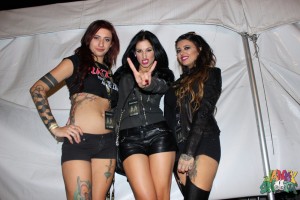 Next in line came Korn, a band I'm not too fond of but respect nonetheless. They do what they do well and for this reason, still own a giant fan base and almost surreal cult following. I walked over to the VIP/Press Area for a much needed break and pounded some water, ate some decent mexican food, and shot the shit with a handful of festival goers. Korn just has never sat well on my taste buds, what can I say? From the VIP area I was able to catch Korn's set with comfort and it gave me the chance to rest my ears for the coming of Judas Priest. From what I did gather though Korn hit their many loyal fans hit after hit and one anthem after the next. I also gotta give it up to their performance Saturday night. It was unlike the last run-in I had with Korn which seemed tired and unrehearsed. At Knotfest they put the heat down like a band reborn. Their set was well thought out and stage presence a proper rock and roll showing. Through the big backstage I could see Jonathan Davies cutting through the crowd with explosive lung charged vocals. The band demanded the attention of the festival and achieved this by playing to the best of their abilities. It really was cool to see just how much the audience loves Korn.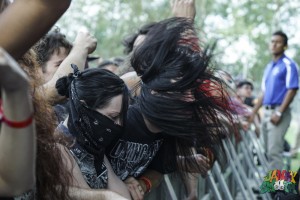 The drunken masters moved about the moshpit violently hunting for rookies and pit virgins. The morbid dance of the inspired and lifted. At it's peak, the Korn pit was definitely not a place for the unseasoned hesher. I spoke with a handful of Korn fans after their set and was able to directly obtain the high they were still charged from. For me there's nothing like that feeling. It's like watching your favorite band perform a collection of songs you've loved so long, and feeling like they're speaking just to you. After the Korn set and once I found myself hydrated, fed, and camera batteries charged – I positioned myself just outside the front of the stage to prep for good ol' Judas fucking Priest. But before we go into my Judas Priest experience, let me now share the two areas of the venue which entertained me almost as much as the concert itself. At the main stage there were basically two locations on which to gather the nights talents. #1. Being the lawn perspective which sat way up on the hill and looking down into the amphitheatre with an almost Braveheart battlefield vibe. #2. Was the pit perspective and the area right above it which was separated into a bunch of different sized box seats and standing areas for those there to chant/sing along and keep themselves from the violence of the mosh pits. Having these two festival locations also drew two very different crowds and two very different experiences. It created a huge class contrast that was impossible not to notice, kind of like the seating on the Titanic. The fellas and dames with the good good cash sat right up next to the horderves, the shiny lights, and the band that played on as it sank – While the rugged and rough cats created their own getdowns, hooping and hollering with an almost pentecostal church possession. Only the pit area served no snacks and the stage did not sink – instead I found bourgeois upper class metalheads and a handful of avid fans who probably saved all year for their up close and personal tickets. Up on the hill the lawn did host the crazed screams of possessed fanatics. This area was flooded with everything from juggalos and drunken crazies to fuckers starting fires and people bashing each other with foam swords and branches ripped off from god knows where. Up on this magnificent hill no one had any problem being knocked and kicked around. In fact, when things got too out of hand for anyone they'd be picked back up and set aside for a quick rest or some serious healing to begin. At one point the fire got so out of control that I had to step away because of the burning plastic and seared flesh. Down below in the pit area, the pits were less violent but much much bigger. Security was definitely not playing any games down there and quickly snatched up any freaks who got too close to the front stage gate. I saw many many stuck up chickies and dudes offended by being pushed or run into. I remember thinking to myself "What the hell are they doing this close if they didn't expect to get themselves smashed in a little?" Things really kicked off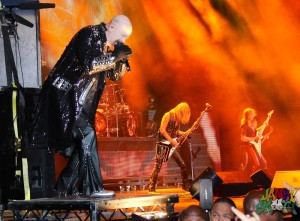 during Judas Priest, but in a more mellow way. the crowd seemed to want to pay more attention to the tunes and do less moshing. Maybe because all the hardcore fans were too damn old and probably suffered from joint pains and bad backs. Who knows, but one thing's for sure, everyone had mad respect for the old timers. Judas Priest has always been special to me, from as early on as my elementary days where I'd watch my older brother comb his hair in front of the mirror while wearing his matching levi jeans and jacket. Judas Priest would be my introduction into the world of heavy metal. So having a chance to catch them again in their later years was an absolute treat to be remembered. It went a little something like this- Judas Priest dished out a fresh, energy driven, and scary insync show. They were like a young band new to the scene, ready to rival every band on the roster. I mean come on, they have been playing together for decades now! Their experience kicked off a solid concert that had every last person at the San Manuel Amphitheatre rocking out with their heads'a'bangin and 666 devil horns flying high. Rob Halford came out in true Judas Priest fashion, his leather jacket shining bright and his stage presence dead on. His ability to communicate with the entire amphitheatre and keep everyone's attention was stunning! A couple songs into the set they played one of my all time favorite tracks – Victim of Change. Glenn Tipton the rock guitar god himself blew the fucking roof off the stage with his classic muted chug along, 80's metal style. It felt like he was riding the entire pit with his signature guitar sound. I looked behind at one point and noticed everyone's heads bouncing and bopping in what seemed like perfect harmony. Even their newer songs like Halls of Valhalla ripped the paint off the walls. Having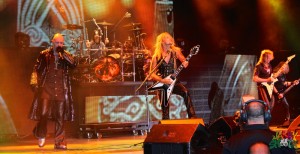 Ritchie Faulkner as a new addition to the band has definitely helped bring a modern twist to the classic Judas Priest sound, while still keeping the classic tracks classic and what's worked for so long working. Rob was able to pull this death metal growl which I have never heard him emit before. At first it was strange, but once he threw it in a couple of times I became adjusted to it. His singing is still so fucking great that it's hard not to enjoy all his antics. One of the highlights of their set was definitely Turbo Lover. This is where all the older and younger metal chicks began dancing those 80's metal music video sexy dance thrusts and poses. Between Tipton and Faulkner they created an insanely wide sounding wall of distortion that covered the horizon from east to west, north to south. After Turbo Lover came the freaking badass Screaming for Vengeance, which really accented all the guitars and created a huge balls to the wall bass sound by the one the only Ian Hill. One of the most memorable moments of the set was Rob riding in on his motorcycle! It had the entire place in an uproar of metal fury. Scott Travis played extremely well on every track and seemed to be having the time of his life – but the one song that stood out for me when it came to him really rocking out was Hell Bent for Leather. During this song an almost violent mosh pit began, which for Judas
Priest was mellow. The kids began running a muck, driving themselves into one another and grabbing their chicks and slinging them up on top of their shoulders. Couldn't swear to it but I'm 99.9% positive the boobs came out right around this time.  Right before the encore they played You've Got Another Thing Comin', which was played much heavier than the record version and just a tad faster. This brought everyone to some serious head banging. I even found myself linked shoulder to shoulder with a complete stranger swaying my head this way and that.  My friend Missy had never seen Judas Priest live, nor has she had much desire to. It was cool to watch someone become a new fan this deep into their career. It's just great fucking metal, the kind that you can't help to move to or want to blast when working out or running. The set was so good that it seemed to go by pretty damn quickly. To finish her off, they played the time-honored Pain Killer! Every band members skills shined through giving every band before them something to study. Their energy was blasting right through the heavens, emitting from hell and ricocheting back down onto everyone's dome pieces. The end of Judas Priest's set ended with a group hug and bow. There wasn't one person standing that wasn't applauding, whistling, or screaming for more. I was really grateful to have had the chance to see them again and would recommend anyone who's into Judas Priest since the beginning or even newer fans to go out and catch a show for themselves. By the end of the night I found myself more than satisfied and ready for rest for the second day that was waiting closely around the corner. Knotfest delivered on more than one avenue. Maneuvering myself in and out of the San Manuel Amphitheatre was a cinch. The security had each section moving steadily which gave no room for cluster fucks or confusion. I slowly walked outside of the venue and back to the car in which I had arrived. The seas of black tees, strange haircuts, and odd couples still stood – only now a bit more beat, a bit more drunk, a lot more satisfied.
Day 2
I return with my batteries recharged, some much needed hydration, and a will like no other. I find myself ready to take on the Knotfest for the second day without fear and with no expectations. The first day was definitely an adventure to be remembered and one that will have an influence on how I perceive music festivals in the future. The dance with the devil was real, and all in all something that contained a dark beauty I thought only attainable by giving into the dark side itself. For now I remain a Jedi, moving on to bring the reader another honest account of my adventures in the muck.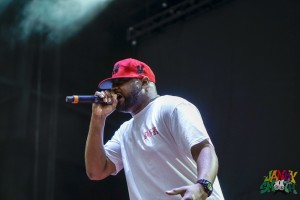 The 25th was to be another spot on day of every type of hard rock under the sun – only on this fine the Knotfest was to offer up two super sick bangin' hip hop acts dear to my heart from my years of graffiti, skateboarding, and hustling – Mobb Deep and Ghostface Killah! Now as excited as I was about this amazing reveal, I did not arrive in time to catch the show. I did do some investigative reports and got some info on the show from show goers and later once home from the web. From speaking to the masses I learned a ton of heavy metal heads dig on both Mobb Deep and Ghostface. There were also some real heads there representing the rap scene, and in large numbers too. From the handful of fans that I spoke to the hip-hop show was really well organized and executed with real authority. This along with the info I snatched up from the many videos I found online were able to paint me a pretty picture of the performance. It began with a RIP to Jam Master Jay, which to my knowledge passed in back in 2002 – but hey, ain't nothing wrong with kicking a shout out to the man and legend. This was followed by an explosive DJ mix of some of the pasts most banging rap tracks. First on the scene was Ghostface Killah, Tony Starks, the motherfucking Iron Man himself! Ghostface sparked the mic off with the track Mighty Healthy from his 2000 release of the album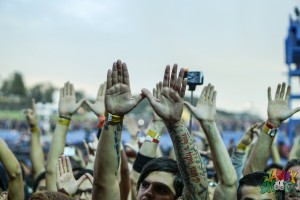 Supreme Clientele. Another standout track that was performed during the Ghostface Killah show was The Offering by Killah Priest, a real banger of a hip-hop track. Having Priest on stage with him for must have not only been killer for the Killah, but for the Wu-Tang fans as well. There was an era there where it seemed like every member of the Wu-Tang Clan could do no wrong, not them nor those surrounding them. The Rza was on complete fire around that time. Along with a kickass collection of super hype tracks Ghost performed some of his more famous hits, such as Ice Cream and Wildflower. For the true Wu-Tang super fans in the crowd this appearance by Ghostface Killah must have been off the wall. The ultra rare and super strange part of this set wasn't a rap song at all though, it was Killah Priest's take on Nirvana's Smells Like Teen Spirit! I guess he was just trying to relate and probably really amped up from all the rockers walking around all day and out in the crowd. Whatever it takes to get the crowd riled up though right? Cause it worked and they ended their set with high energy and respect. Soon after the Ghostface act came the much missed and highly heavy rap duo Mobb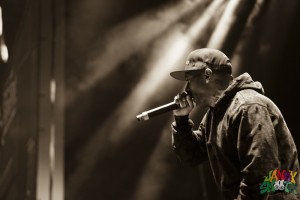 Deep. Being able to hear tracks like Survival of the Fittest, Eye for an Eye, Drop a Gem on 'Em, Still Shining, Right Back at You (which I hope they played considering it features Ghostface Killah). Either way and regardless of what tracks they chose to perform, I'm sure Mobb Deep put it down something nasty! With the changing of the times and hip-hop going in the direction it's gone, it's rare to see groups like Mobb Deep, Ghostface Killah, and Killah Priest playing a show these days. Let alone at a big show like Knotfest, and even rarer to have had them all at the same jump off spot. I know anytime I've ever gotten the chance to see any of the Wu-Tang members live that it's always been something special and something worth remembering. So my hat's off to you hip-hop fans who were there on time live and direct! I can only imagine the sound of the kick drums and snares slicing right through the ears of every hesher in the place. Classic as classic gets.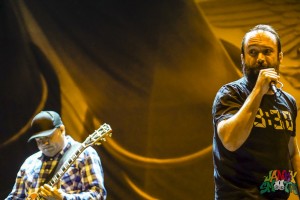 Walking over to the main stage once the sun had fallen I could hear Clutch just doling out their last couple songs. For me Clutch has always been one of those bands that has been hit and miss. There have been times where I've dug them, but for the most part it's just not my cup of tea. Now, you guys wanna know who did catch my fucking ear and did it completely out of left field? Bring Me The Horizon! There's nothing better than hitting a festival and discovering you enjoyed more than the bands you were there to see. To be honest I've had very little run-ins with Bring Me The Horizon. I know them from Oliver Sykes (lead singer) clothing brand Drop Dead, and from my last roommate who was and probably still is a huge BMTH fanatic. Up until the Knotfest I had had no real experience with this band. I found in the end that I enjoyed them more than expected. I'll tell you this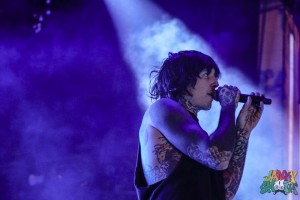 much – you ask any of my friends if they would have guessed I'd dig their set and the answer would be NO every time. But a good show is a good show. For the beginning of their show I situated myself directly in front of the stage right behind all of the moshers in the box seat area of the amphitheatre. This gave me the perfect view for absorbing all of the sound, light, and energy that the band had to give. BMTH started off their set with their extremely popular hit Happy Song. This was a great tune to get the kids' juices flowing. The angry vampiric children of the night sang along spot-on to every lyric – while the band pushed and pulled the crowd in whichever direction the songs wanted to be followed in. It was amazing from the start! Usually I find these types of huge music festivals hard to focus on when it comes to watching a high energy act like Bring Me The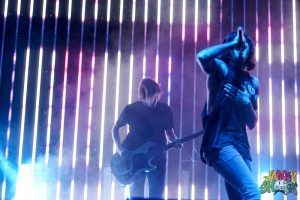 Horizon – but having had my little perch on which to sit by and listen, gave me one hell of a spot to get my attentive gaze on. Three songs in at The House of Wolves, the band was on fire and had the complete attention of every man, woman, cop, drunk, and child in the San Manuel Amphitheatre. What really stood out for me was how heavy and enormous a guitar sound Lee Malia delivered. All without washing out the rest of the band or the singer Oliver Sykes lyrics. Call it a good mix or great venue, but I say it's just well thought out chemistry. Besides the norm of guitars and a very talented bass player (Matt Kean), the band also featured a member who played drum triggers, keys, and backup vocals – his name? Jordan Fish. This dude really added a unique layer to the tunes that you wouldn't think possible with such loud fucking music and powerful vocals. Nonetheless Fish delivered on each song and provided the drummer with great places to break and breathe. On drums Matthew Nicholis worked some real magic. He just appeared to rock the entire show with absolute ease. His drum set was not large at all. With what he had he was able to drive out some major drum fills and heavy deavy beats. One song where Sykes and the rest of these cats dished out the hurt was Shadow Moses. It's the perfect song to listen to if you're new to this band and want to get a complete feel of what they're capable of. The mosh pit was completely out of control and in full fucking chaos by the time this song was played. Looking both forward and behind me it was clear that everyone standing, sitting, falling, singing or dancing – were all die hard fans of Bring Me The Horizon. It's been awhile since I've seen loyalty on that level. People threw their hands up as if to call out to some god that would come down and inject them with adrenaline. Kids bowed their heads feeling every word the singer spoke, and took in every last piece of music the band had to offer. It all came to a perfect peak at the song Throne – which was very smart of the band and played in the best possible place in their setlist. Oliver Sykes belted it out from the heart with his band following tightly behind. The moshpit flew in whirlwind warped faces, bent elbows, and hellish screams. Sykes was great at asking and getting the crowd to participate in simple sing alongs, bouncing, and all out violent thrashing. It felt as if it came natural to this singer, being up on that huge stage and playing out in such a open venue. BMTH finished off their set with the song Drown – a great song to leave everyone satisfied to the max. It was all about fun with this band and I guess this is why I found myself enjoying the show. When I got home after seeing them that night I downloaded and listened to a handful of the songs performed at the show. The experience was different which proves one thing – this is a great live band!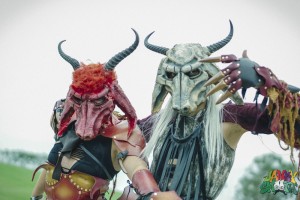 And at the end of the night came good old Slipnot – a band that I've always found tough to enjoy. For everyone at Knotfest they were certainly the heroes, the bringers of the festival itself, and the one band that was extremely impossible ignore. Again, this wasn't and hasn't ever been a band I dug even mildly. Yes I superbly respect the talent of each musician and can even say they own a great knack for the art of writing a heavy song. But as for taste it just doesn't taste so great to this kid. In my opinion there were far better bands earlier in the day that deserved much more attention and respect. Bands like Helmet, Suicidal Tendencies, Cannibal Corpse, etc… But once again I was caught off guard and found myself rocking the fuck out and my head this way and that to most every song they played. With Slipnot you're not only getting a heavy hand of super charged rock songs, you're also getting a three ring circus of a funktified silly show. Up on risers were two of the band's members mimicking the playing of industrial style steel drums. These two members also sang backup vocals and used their presence to amp up the crowd kind of like sick and twisted carny mascots. The band came out to a serving of Van Halen's Runnin' with the Devil which got everyone really jolted. Right out of the gate Slipknot played three heavy insanely wild sings back to back. The masks everyone was wearing added to the fact that we were close to Halloween – in fact there were kids there with their parents in similar masks and outfits completely rocking out to the music and sitting up top of their father's shoulders screaming out to the band like young banshees on the prowl. Hilarious! A good five songs in and the entire set just sounded like a repeat of the song before. I've played in metal bands before and know a good heavy metal guitar player when I hear one – Mick Thomson is definitely a player worthy of recognition. Not only Mick but also Jim Root, who is capable of getting some of the illest distortion tones known to man. During the song Me Inside I found myself baffled at how tight Mick and Jim were able to keep the overall guitar sound. This along with the drumming of Jay Weinberg was stunning! Corey Taylor does what he does well, not the greatest rock singer but definitely one that is big amongst the hard rock scene. His voice has consistently changed throughout the years making it hard to get use to his tone/sound. More than halfway through the show I just found they lost my attention – again being that their songs just all sounded way too similar. The same old guitar tricks recycled on almost every song, and the same screams and double bass drum hits. Personally it was the show itself, the acting of each member on stage that made the night fun. People were beside themselves watching Slipknot's antics. As a whole the Slipknot posse put it down and closed the entire festival with mad respect. It was clear that the fans got what they wanted and were very happy while walking back to their cars. I saw very few people get hurt and lots of people loaded on the event itself. This made for a successful music festival in my eyes. On my way home I felt the energy still flowing through my veins. My friends were all flying sky high from the entire experience, and we all came away glad we took the time to be a part of Knotfest 2015. God Bless rock and roll!!!
Words: Alfonso "Pancho" Contreras
Saturday Photos: Pancho
Sunday Photos: Josh Allen