The Battle of The Bays: Obituary & Exodus Clash At Teragram Ballroom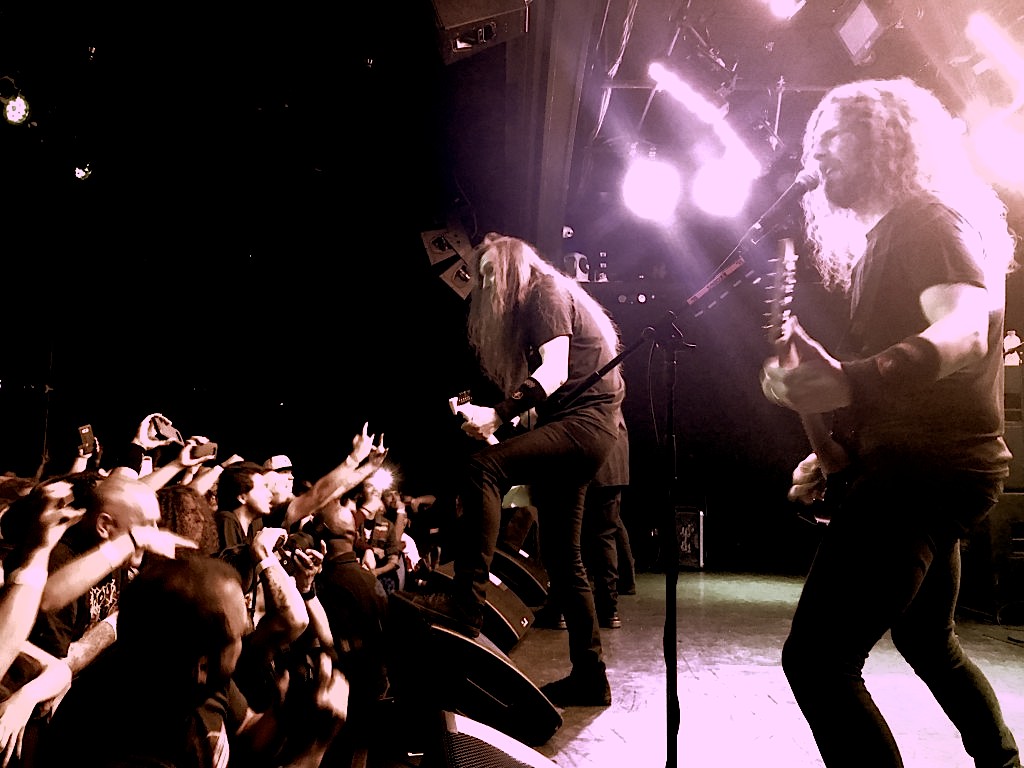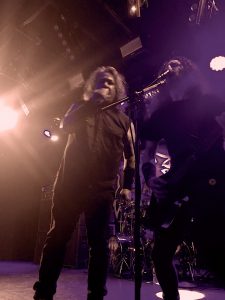 Thrash is the father of every form of extreme metal on the heavy metal family tree. If it wasn't for Slayer there would be no death metal or black metal. There have always been bands that have teetered on the border of death and thrash metal, german thrash bands like Kreator and Sodom brought death metal vocals and heaviness into thrash, while bands like Obituary brought thrash metal accessibility and groove into death metal.
Perhaps that was always the secret to Obituary's longevity, of all the original Florida death metal bands, beginning with Chuck Shuldiner's Death then continued with Morbid Angel and Deicide, Obituary is the only band of the bunch still reigning. What separated Obituary's music from these other bands is that they took a more accessible, groove and rhythm approach to death metal, it wasn't a total noise fest of blast beats and guttural vocals. The band was always more seeped in their southern rock roots than the rest. Almost like how Weedeater is to stoner metal.
The Florida death metal sound was born out of Tampa Bay in the Morrisound Recording studio but then across the country, on California's west coast, another bay area was having it's own extreme metal renaissance. San Francisco's thrash metal scene has always been a thing of legend, the most important band of which was of course Metallica but before Kirk Hammett was shredding in the biggest band in the world, he was playing in Exodus. And he hasn't been the only alumni guitarist of the band to move onto bigger things, Gary Holt first played in Exodus before replacing Hanneman in Slayer. The cross-pollination of Exodus into Big 4 bands, plus the undisputed power of their seminal album Bonded By Blood made Exodus legends of the scene. There's always been this weird trading of influences between the bays though, bands like Possessed and Autopsy were a big part of the first wave of death metal and once bands started integrated those influences with Florida's sound, that's when the aesthetics of this new genre were set in stone.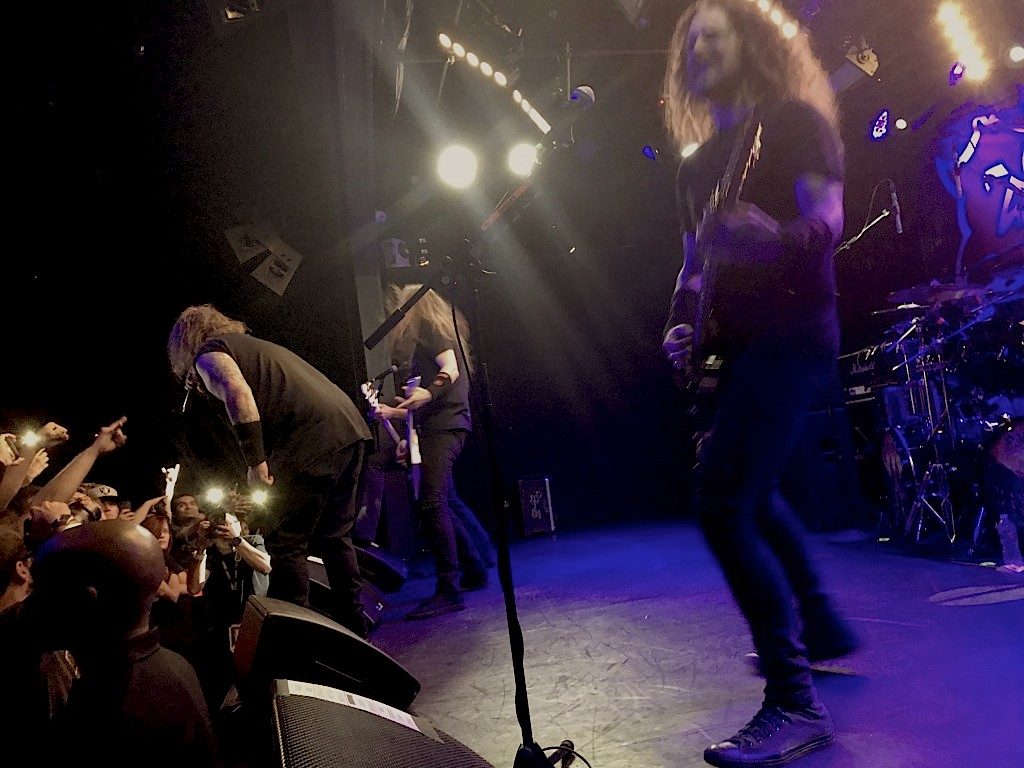 So these were the stakes of war that led up to the battle of the bays. Whichever promoter conceived of this tour deserves a beer from each and everyone of us. Then to draft Power Trip and Germany's Dust Bolt into the mix just sends the bill into another stratosphere. As anyone would expect, the show sold out the Teragram Ballroom and even before any bands had gone on stage, the line was around the block and the parking lots were packed.
The first band was a thorough beating of thrash into our brains, right from the get-go. Dust Bolt is comprised of four young old-school thrashers, all with hair down to their asses. It was like seeing Sepultura during their Bestial Devastation days. Their solos were glorious and their pace was franticly fast. Seeing a young band demolish their set without any kind of millennial compromise, was deeply satisfying and filled me with hope for thrash decades into the future.
Power Trip went on second but felt like a straight up headliner with how many people were packed into the Teragram already and stoked for the band. And they were just as punishing in their short supporting set as they were when they headlined and sold out the Teragram earlier in the year. Songs like "Suffer No Sacrifice", "Nightmare Logic", and of course "Executioner's Tax" completely ripped through the audience as the pit overflowed with escaped mental patient fans. Just hearing the audience singing "Swinging the Axe!" with Riley Cayle brings me back to a place where my head bangs involuntarily.

The first headliner, Exodus, was next and immediately, I could feel the difference in performance and crowd reaction between a great new thrash band and a great veteran thrash band. Exodus had us eating out of the palm of their hands as they played flurries of solos and classic thrash bangers. The first few songs were mostly newer jams but soon, Steve Souza informed us the set would take a classic turn and for the rest of its duration, all the songs came off of Bonded By Blood, Tempo of the Damned, and Fabulous Disaster. The triple guitar attack of the band was truly something awesome to behold, I was paying more attention to the finger-work than the gestalt of the performance. It was a down and dirty, classic thrash show and the people responded as such, healthy amounts of violence and apathy abound. The band closed the set with another anthem "Strike of the Beast". Like the white pieces in a chess game, Exodus had to cast the first stone in this battle of the bays and with thrash as their weapon, dealt sizable damage to their opponents from the south-eastern coast… could Obituary retaliate and close the casket on this dual to the death?
Death metal might be more extreme than thrash but it certainly doesn't have to be as fast. It's not the child of punk rock quite like thrash is, so Obituary, who came on with slower grooves and rhythm than Dust Bolt, Power Trip, and Exodus, had the lofty challenge of slow playing their set into more brutal depths than Exodus and though the pit wasn't moving at quite the insane tempo as Exodus', it is in my humble opinion that after the dust was settled on the battle of the bays, Obituary came out victorious.
They were brutal. Touring their 2017 self-titled album and one of metal's best releases of the year, Obituary played a brooding and menacing set, with every veteran member of the band in total sync, playing off each other perfectly. Opening with their instrumental introduction to the band's hybrid sound, "Redneck Stomp", Donald Tardy's drumming became one of the most impressive showcases of the set. His brother, John Tardy's growling was just as blood curdling as ever, blazing through songs like "Chopped in Half" and "Slowly We Rot". Oh, how death metal song titles make my heart sing with joy.
Together, Obituary and Exodus played one hell of a show but like after any war, there are no winners, we all came out of that concert worse human beings than when we came in. I'm not even being facetious, think about it… our hearing was shattered, our flesh and bones were broken, and our innocence was lost forever. And yet, I don't think there have ever been a group of happier casualties.
I'll finish this article with the words shouted by Steve Souza at the end of Exodus' set:
Heavy Metal Forever!
Words by: Rob Shepyer
Photos by: Danny Baraz