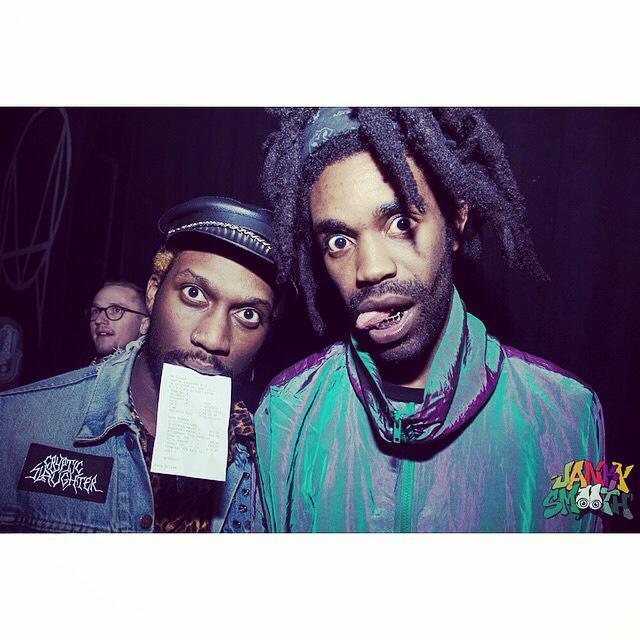 Very few bands encapsulate all the different music we love at Janky Smooth into one band more than the band ho99o9. It's not everything we love but it's most of what we love, all in one band. We've been hyped on them since the first rumblings of their existence.
Ho99o9 dropped a new song/video today and fuuuuuuccccccckkkkk. It's the type of dissonant, distorted, digitized, angry and disturbed type of noise that can make my blood boil and give me goosebumps all at the same time. I hate to jock anyone but I give credit where credit is due. ho99o9 are the shit and we are more excited to see what they do in 2015 than we are about any other band.
Ho99o9 are playing two L.A. shows this weekend and we highly suggest you make it to one, if not both.
[button color="pink" size="normal" alignment="center" rel="follow" openin="newwindow" url="https://www.jankysmooth.com/free-show-lil-b-trash-talk-ho99o9-regent-go-wrong/"]Check out our previous coverage of ho99o9 live with Lil B and Trash Talk[/button]
On Saturday, Ho99o9 are playing a free show at Church of Fun. Just RSVP at [email protected]
On Superbowl Sunday ho99o9 is playing with Thurston Moore, of all people at THE GEFFEN CONTEMPORARY AT MOCA -152 NORTH CENTRAL AVENUE, LOS ANGELES, CA 90012-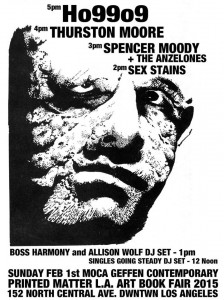 Credits:
The video is directed by Bryan Ray Turcotte (The Art of Punk) and features black-and-white footage shot by Oriol. Ho99o9 plays Printed Matter's LA Art Book Fair at The Geffen Contemporary at MOCA on Sunday, February 1, 2015 with Thurston Moore.
Ho99o9
Casey Jones | Cum Rag
Directed by Bryan Ray Turcotte
Executive Producer Family Artists
Produced by Bo Bushnell for The Western Empire
Shot by Estevan Oriol – Adam Stilwell – Ramez Silyan – Josh Webber
Edited by Ramez Silyan
Re Recording Mix by Andy Brohard
Sound Design by Chris Richardson
Titles by Ric Clayton
Thanks: Emma Reeves – Gauchos – Chain Gang – Eric Espinoza – UNIF
The Art of Punk on MOCAtv: http://bit.ly/MOCAtvArtOfPunk