Band of Horses at The Observatory: This is personal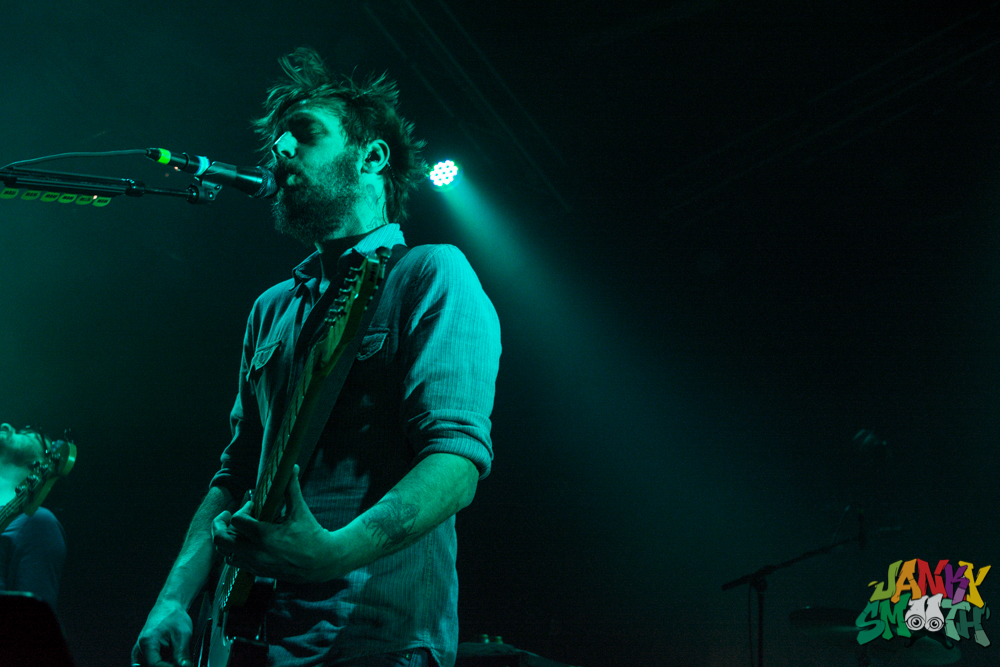 When Band of Horses released "Everything All the Time" in 2006, I was in the midst of a transformation. I was going to use the word "mourning" to describe my state of mind at the time but that might lead to the use of a cheap pun related to a certain single off that album and something like that could minimize the statement I'm trying to make about the impact of that album on my life. I had just had my first child prior to it's release, at a relatively young age by today's standards and before that life changing event, my existence was in a sorry state of drug abuse and an overall aimlessness and lack of purpose. As bad as I make that sound, there was also a certain freedom in being a fuck up that isn't so easy to let go of. That album got me through it and generated enough therapeutic tears to get me through the illogical longing to be back in that nebula.
By the time Cease to Begin came out in 2007, I had my second child and along with Ben Bridwell's lyrics, a complete shift in my outlook on life. All of a sudden I agreed with Bridwell's assessment that, "The world is such a wonderful place". I'll never forget driving the North Shore of Oahu, blasting "Ode to LRC" with my little family in the car and my daughter starting to cry and asking, "The dog is gone? What happened to the dog? Did he die?"   We had the biggest belly laugh you could imagine and at that moment, I felt the most gratitude I've ever felt in my life.
From emerging out of a deep darkness and futility to finding a sea of calm and comfort, I went from always being ready for a Funeral to knowing how lucky we all would be "till it's over". So you can imagine the type of expectations I have when Band of Horses play a show.
I don't begrudge the success Ben Bridwell and the band have had since they released Infinite Arms and Mirage Rock but those works never resonated with me. Songs like Laredo and Dilly elicit no emotion from me whatsoever but I also understand that they led to a Grammy nomination and critical acclaim. In the handful of times I've seen Band of Horses live, the set list was 80% comprised of songs off the first two albums so I never really had to deal with how I would feel about their live show if that ever changed. On Wednesday, Jan 28th I made a pilgrimage to the Observatory in Orange County and was forced to confront my personal snobbishness.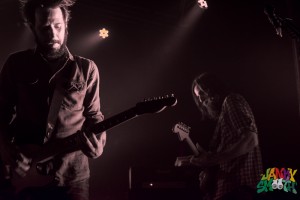 "This is our first electric show in months" was the opening disclaimer by Ben Bridwell. "It's going to be loose". The band has been supporting the release of their 2014, "Acoustic at the Ryman", which is an EXCELLENT live album. The guys opened with a 60 second jam that was a segway into a song I was unfamiliar with but the band was not loose. They were tighter than a split zygote and Bridwell's voice hit every note in the most convincing way. For me, the newer material comes off much better live than it does with the production choices made on the studio versions. Thank god because Band of Horses played a block of songs from those albums until launching into a very "do-woppy" and up tempo version of St. Augustine that was extremely pleasing to the audience and most likely, hugely satisfying to the band who have probably played that song, the same way, for the better part of 10 years. Shortly thereafter, the simple but pleasing riff of The Great Salt Lake started droning over the P.A. and I got the chills and goosebumps running up my arms for the first time that evening. The first half of the set was super heavy with newer songs and that made a majority of the audience happy and allowed me to go smoke cigarettes and hit the bathroom during Laredo and beyond for longer than expected periods of time. I didn't have to rush back once to hear a "can't miss" song. I bobbed my head politely for the more unfamiliar songs I was present for and audaciously called out for "Our Swords" to be played, which was unrealistic since I've never heard the band play that song live at any other previous show.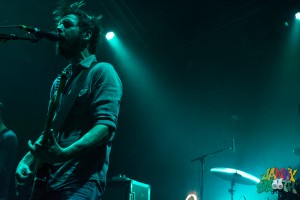 About halfway through the set the band played a string of songs that led to a sustained state of chills and goosebumps that started with Wicked Gil and included Ode to LRC, Islands on the Coast, Is There a Ghost, No One's Gonna Love You and surprisingly, The Funeral, mid set and not in an encore. Bridwell clowned the audience when 40% of the crowd whipped out their phones to video their most classic song and even paused between the 1st and 2nd verse to suggest that everyone should put their phones down and enjoy the song. And they did.
Band of Horses left the stage to prepare for an encore. They took a fairly good amount of time to do so. Fellow Janky Smoother Taylor Wong, my wife and myself started to speculate what they were doing back there. Heroin, whisky and bowel movements were all offered as possible scenarios but we came to the consensus that a piss, a drink of water and a green room filled with whole grain and berry snacks were the most likely scenarios. The incredible band came out for their encore to a screaming and satisfied crowd. The broke out into General Specific: an arrangement of down home, acoustic syncopation. The harmonies of band utility man, Ryan Monroe really had a chance to shine alongside Bridwell during this song. Ultimately, this was the perfect song choice to end the set.  The show was over and I had none of the annoyance I usually have when a band I love doesn't play the set list I expected. This was a powerful show.
I am incapable of connecting to the more powerful and overwhelming personal emotions, directly. The only way I can cry tears of joy or sadness is indirectly, through music and art that is connected directly to a time or a place. I'm not sure if this is where music snobbery comes from but it can certainly explain why people like me take so much music, so seriously and why we dismiss everything else with such vehemence. Band of Horses never played Marry Song, which would've led to instant tears but BOH are the ultimate band to see live no matter what parts of their catalog you identify with and Bridwell won't care anyway as he states in the song General Specific, "What the writers say, means shit to me now".
Words: Danny Baraz
Photos: Taylor Wong