New Album Review: Calabrese – Lust for Sacrilege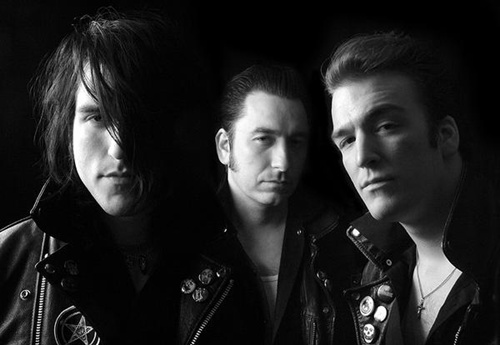 Horror Punk fans are insatiable. Like the unending hunger and thirst for brains and blood, the more the better. After 5 full length albums and an EP, Calabrese has released their 6th LP titled, "Lust for Sacrilege" on January 13 2015.
I am here to report that Calabrese have pretty much stuck to the format that made them huge amongst their enthusiasts. I can say that there is a bit more soulfulness in some of the downtempo tracks like "Serpentflame" but there is nothing to offend any hardcore fans. While some of the arrangements and songs might have a few more "parts" to them and there is a larger element of dynamism contained within each song, crooning and chords are still the most prominent sound on the record.
I doubt there are many out there that think Calabrese should go out on a limb and take some risks outside maybe the record distributors but Spookshow Records have to be thrilled to have artists on their label with such a consistent output of "bread and butter". Tracks like "Gimmie War" are absolute Calabrese perfection while the song "New York Ripper" has some of the more varied dynamics that must make writing and recording this latest effort more fun for the band.
A band like Calabrese is a godsend to horror punk fans. There are few things more disconcerting than watching a band that heavily influenced your taste go on reunion tours and witness money squabbles in the press. With Calabrese, we can have the things we loved about The Damned and The Misfits re-incarnated into a new, bloody output of music from guys who understand the genre and have been producing quality records for 11 years. They are veterans who are not too over the hill to stomp around with a bunch of horror props.
Overall: 7.5 out of 10
Quicklook: A spookshow peepshow
Sounds like: Calabrese, The Damned, The Misfits.
Reviewed by Danny Baraz