Kim and The Created Kick Off October Residency at The Echo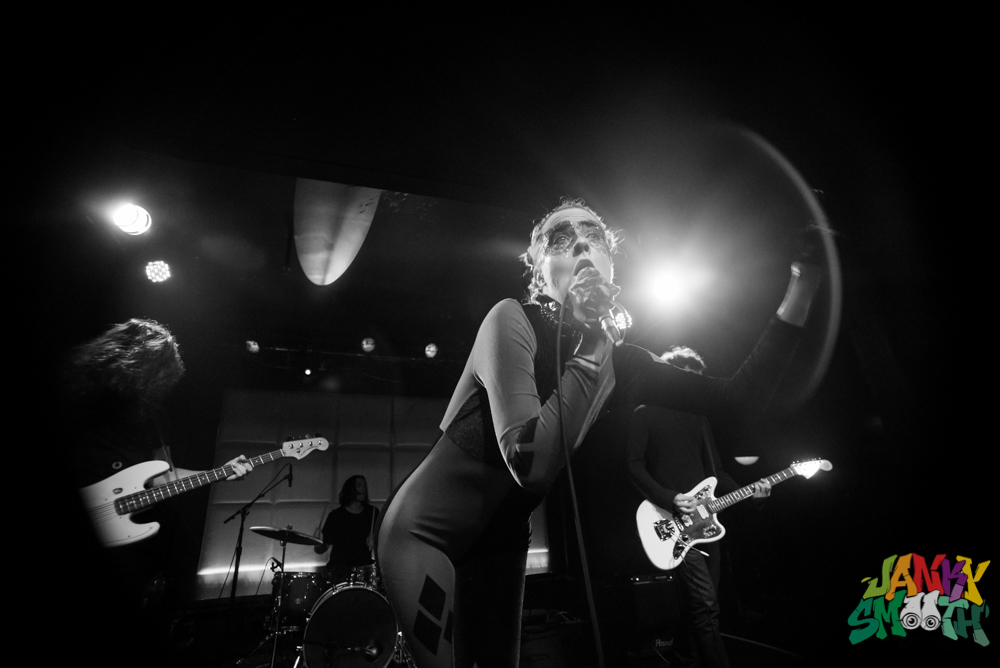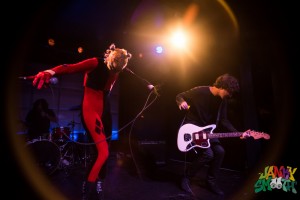 It's October, the harvest blood moon has arrived, and it's time to get weird! The first night of the Kim and The Created residency at the Echo was a vibrant, cosmological event, and things couldn't have gotten weirder for a Monday night. Dancing to the always eclectic Kim House, Deap Vally, Regrettes, and even some midnight thrashing to Melted, there was no better way to usher in the new season.
Everybody was floored by Regrettes—the new poster children for local teen garage rock. Formerly known as Pretty Little Demons, and comprised of Marlhy Murphy (drums/vocals) and Lydia Night (guitar/vocals), the power pop two-piece had such a rounded and self-possessed sound that I didn't even miss the bass. Their clean 3 or 4 chord doo-wop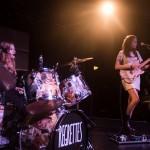 ditties gave a genuine expression of young ennui that you can dance to. They had a magnetism that brought the bar to life. Nobody in that room was expecting anything out of that first act. It was a lethargic Monday, even among artsy burnouts with no 9-to-5 gigs, and on a school night these girls rocked an L.A. staple. Think Ladies and Gentlemen, the Fabulous Stains but not as agro. And to give an idea of just how young, Lydia is celebrating her 15th birthday at The Smell next Saturday, Oct. 17th, along with the release of their new EP recorded with Matt Adams (Blank Tapes), and their upcoming U.K. shows with Jack Off Jill. To boot, they have a new album due out soon, produced by Kate Nash and composer Tom Biller. Big things ahead for Regrettes.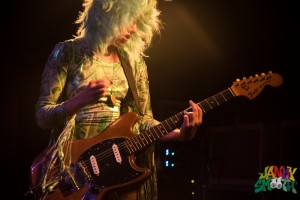 Deap Vally, yet another powerfully-fronted female duo, took the stage dressed in shimmering money onesies with tassels on the sleeves (custom made by Michelle Rose). It was a great first show for me, I was no more than six or seven feet from Lindsey Troy, barefoot in black nylon with one foot resting on her Big Muff pedal, vocals searing, spitting blues ramble and tossing around her blue hair. She's like the progeny of Lydia Lunch and Juliette Lewis, whose guitar wailing rivals the best of anyone in town from Siouxsie Medley to Charles Mootheart. Deap Vally's unique hard rock sound is akin to early White Stripes, or 70s glam rock through the retrograde vision of grunge, which songs like "Grunge Bond" poke with a stick. They played a lot of new material, with only two songs off their debut LP, "6 Feet Under" and "Walk of Shame," while the rest was stellar new material. "LBBQ," "B.I.C.H.," "Gonna Make" and "Smile More" were my favorites. Julie Edwards was a fucking soldier on drums in a set that proved to be a bittersweet landmark in the band's history.
"This beer belly is actually a baby," she announced to the crowd, who cheered and hollered, and then immediately lamented when she then told us it would be her last show for some time. Despite Edwards' hiatus, Deap Vally is revving in high gear and moving with a lot of momentum. The sophomore album couldn't come soon enough.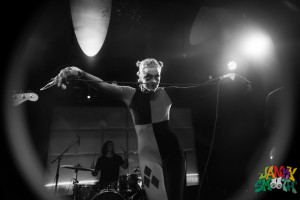 Kim House and her band appeared to us in a black and red jester catsuit, throat locked behind leather chokers, hair up in pigtail buns and eyes painted like a bandit in glitter. In a visage that screamed Harley Quinn, oscillating between psych pop and theatrical punk, she did her thing and occupied the stage, dancing and contorting along the edge, breaking people's cellphone spell, dematerializing into the crowd and then back on stage again. Oh, and hey, whatever happened to those Regrettes? Did they hurry home after their set to finish up their math homework? Fuck no! They did what any sensible teenager would do. They donned skeleton costumes and go-go danced onstage for Kim and The Created during the cover of T-Rex's "20th Century Boy" that finished out the set. It was definitely the most fun Monday anyone's ever had.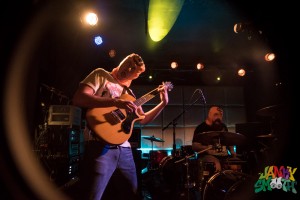 Melted came on just in time for the floor to clear out a bit, making room for midnight mosh pits with those still buzzing from the earlier performances. Melted was in the holiday spirit too, wearing pumpkin bonnets over their heads, and cursing the work week before they broke into a high-tempo punk frenzy that kept the room moving. "It's a great Monday night," the lead singer Justin said. "Fuck the work week!"
It was a great night indeed from your friendly neighborhood indie rock bands, and a righteous celebration for a well-earned residency, the new Get Go EP release, and an upcoming European tour. Look forward to next week when Sex Stains, Mind Meld and Rat Fist drop in.
Words: Brent Smith
Photos: Taylor Wong
[Not a valid template]