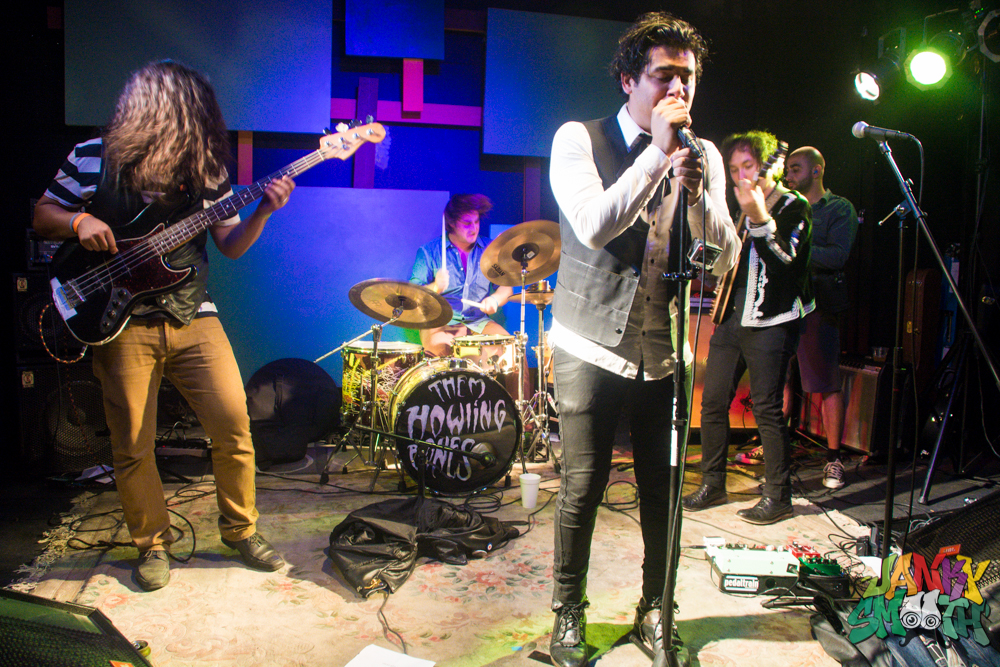 I've been listening to Them Howling Bones recently released EP religiously for the past month without the benefit of the live show litmus test. I always hold off on praising a new band too much until I've heard what they sound like live. I've had my ear ball on them to place them on our list of one of the top bands to look out for in 2015 but without the live show, I would make no such proclamation.
Last night, Them Howling Bones played a free show at Pour Vous with mates, The Bloodhounds.
Them Howling Bones were putting em back at the bar before the show in true rockstar fashion. Something tells me that no excuse is needed for the band to reach total obliteration but it also happened to be Them Howling Bones bass player, Armando's birthday. They did not tuck themselves in a corner when The Bloodhounds played their solid set of the more and more common rockabilly sound that is exploding in this Southern California scene. Even in the upscale setting of Pour Vous and it's Parisian vibe with bartenders that are referred to as Mixologists, Them Howling Bones were able to transform the atmosphere in the venue into the feel of a backyard party- And that's a really good thing.
Them Howling Bones took the stage. Almost instantly, Pedro Torres' feet were shuffling and his vocal chords were vibrating. He is a rare breed in the current pool of un-engaging singers. Most singers can hardly muster a "how you guys doing out there", while he's toasting himself, audibly, in a double fisted glory. That's just his personality. His voice has rich textures, a rare vibrato that is hard to find in any of these young, unpolished garage bands and he moves his feet like James Brown. Lead guitarist, Mitch, channels Jimmy Page and Muddy Waters. He brushes his slide across the fretboard and finds the g spot and makes his instrument wail a shrieking orgasm. 'Mondo and drummer Collin lock in to each other and it becomes apparent very quickly that this band is just very special. If you close your eyes, you can almost find yourself in Memphis, in between the four walls of Sun Records imagining Sam Phillips licking his chops at the prospect of another gold record. You can call it blues, you can call it rockabilly, you can call it rock and roll. They were all in the same classification, at one time. That's why Johnny Cash is in both the rock and roll and country hall of fame and that's the road Them Howling Bones are walking down.  Their peers might compare them to The Growlers off their first couple records but who did those same people compare The Growlers to when they first hit the scene?
Do yourself a favor and check out their EP which was released on November 4th. You can find it here. I think you'll love it as much as we do and get ready for Them Howling Bones to make a big splash in 2015.
[button color="pink" size="normal" alignment="center" rel="follow" openin="newwindow" url="https://www.jankysmooth.com/them-howling-bones-la-fort-record-release/"]Check out coverage by Taylor Wong from their EP release party in November.[/button]
No photographer was available for this last minute show. All photo's shot by Taylor Wong from the EP release party at The L.A. Fort.
Words: Danny Baraz