Fishbone at the Troubadour-The greatest live band of all time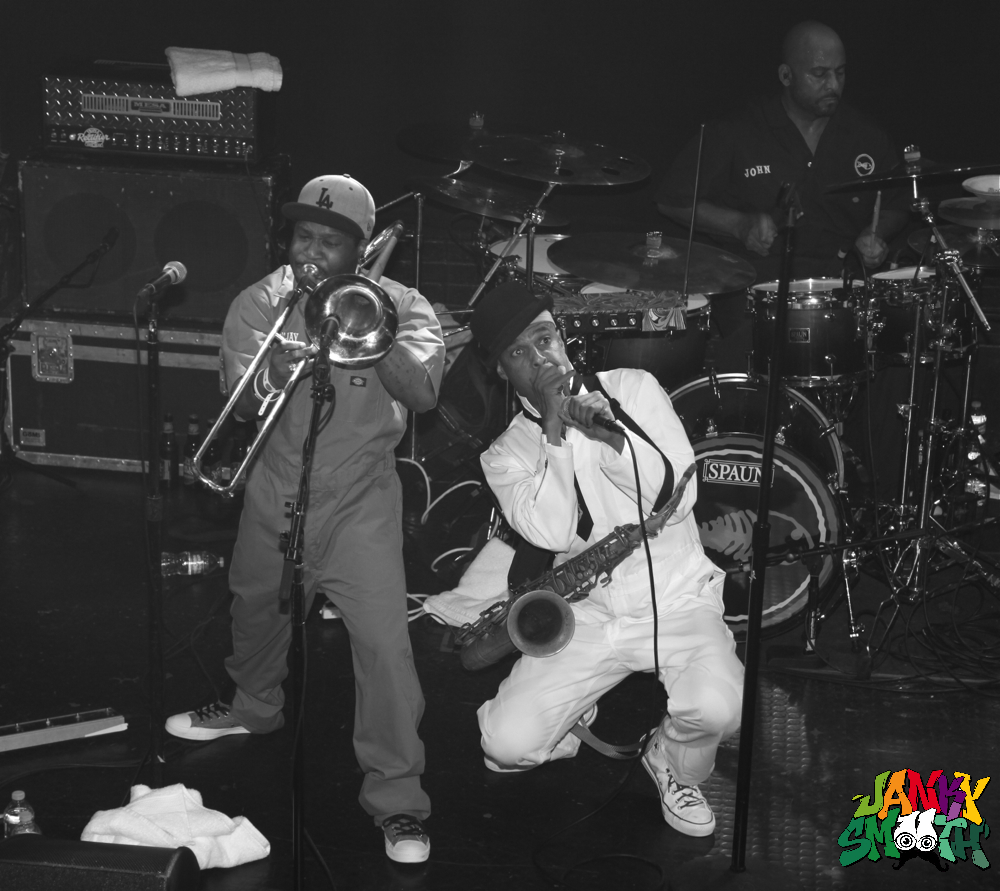 I've been trying to think of the right words to use to describe what I saw last night at The Troubadour. It's not like it was my first time seeing Fishbone. Far from it. I've seen them on every size and kind of stage you can imagine from The Malibu Inn, Coachella, The Hollywood Palladium and dating as far back as Lollapalooza 1993 when they completely stole the show from all the headliners. It was almost humorous to see Dinosaur Jr take the stage after Fishbone finished their set that year. What could J Mascis have possibly done to follow Angelo Moore swimming the length of the festival audience, climbing the highest light tower and diving into that crowd during Subliminal Fascism? To date it is one of my most vivid concert memories.
So how could seeing Fishbone at The Troubadour on a Friday night in 2014 compare to the times I've seen Fishbone co-headline shows with Primus in the 90's or anywhere else along this journey of theirs which started as junior high schoolers in 1979? I can safely say that it was as good as any Fishbone show I've ever seen.
How is that possible? How can 49 year old, Angelo Moore, AKA Dr. Madd Vibe keep up the type of energy that most young people can't even muster? That's a question to be answered for another time but it leads me to a proclamation that I'm going to stand by and commit to: Fishbone is the best live band I've ever seen in my life.
While I would put them somewhere at the back of my favorite 10 bands of all time, it's their live show that sets them apart from everyone else. They've conquered all contenders in ska, punk, funk and metal. Through lineup changes, an ever evolving music industry and most recently, a $1.4 million judgment against the band stemming from a stage diving incident in 2010, Fishbone is STILL Red Hot.
With Fishbone, there remains a few constants- Angelo Moore, Norwood Fisher and Dirty Walt. Norwood is the smoothest motherfucker to play bass on a stage. He lays back in the cut with a quiet but supremely confident and powerful presence while Moore gets in everybody's face with his perfect pitch and his wild facial and bodily gesticulations. The band opened with a little musical ditty while Angelo broke out into his signature spoken word and prose. Immediately after, they exploded into Everyday Sunshine and the crowd went wild. It was bedlam at The Troubadour. All hands were on deck. Founding member, "Dirty Walt" Kibby and newer addition, "Flyin Jay" Armant push the band over the top with their brass blowing and showmanship. Rocky George has a perfect guitar tone and an even more perfect afro that he's maintained ever since he was the lead guitarist for Suicidal Tendencies. The band raged through their catalog. They played ALMOST everything I wanted to hear including Lyin Ass Bitch, Ma and Pa, Subliminal Fascism, Bonin in the Boneyard, Freddies Dead, Let Dem Hoes Fight and Party at Ground Zero. There is one thing that you can always count on at a Fishbone show- They will never mail it in.  There seems to be a drive within them to push every internal limit to deliver to their audience something sacred.
Anaiah Lei, drummer for opening band, The Bots, was easily identifiable surfing and dancing through the ruckus during Fishbones set. While both Bots brothers have hit growth spurts over the last year, all you could see was a huge afro floating through the crowd the entire night. They were the first band I saw play on this evening and this is the first time I've seen them live. I understand the buzz and the hype around the brother Bots. The fact that they have chemistry is not surprising given that they've been playing music together since they first picked up their instruments. What did surprise me was how dynamic their arrangements are, the feel that Anaiah Lei plays with on drums and the remarkable vocal texture that Mikaiah pumps from his vocal chords. The band had technical difficulties in the form of a faulty hi hat clamp early in their set. There was about 5 minutes of uncomfortable dead space that Mikaiah fumbled around with a bit awkwardly as Troubadour stage hands worked out the issue. It did seem to shake big brother a little and definitely revealed the sibling dynamic between the guys but eventually, the hi hat was functional and The Bots played a fun, dynamic and high energy set.
Just before Fishbone took the stage, I got my biggest surprise and most delightful discovery of the year, 354 days into 2014- The Mike Dillon Band. Mike Dillon singlehandedly makes playing the Vibraphone a cool thing. He is an animal on that thing. With four mallets protruding from between the fingers of two hands, he hits the bars with surprising accuracy and panache. The current incarnation of his band consists of Norwood Fisher on bass guitar and Claude Coleman from Ween on drums. Dillon is unmistakably a band-leader and to be able to lead Norwood and a once in a lifetime drummer like Coleman in a band speaks volumes to the level of respect Dillon gets from peers and former contributors such as Les Claypool.  Dillon switches between the vibes and his stand up percussion set up, mid song, without missing a beat. The sounds and grooves that the band creates are electric. They sound like a punk rock, rare groove, funk, jazz trio.
I knew this night would be special before I got there but I didn't know it would be one of the most memorable Fishbone shows I had ever seen.
Words: Danny Baraz
Photos: Elisabeth Fried