Ty Segall And The Secret Show: A New Tradition in Los Angeles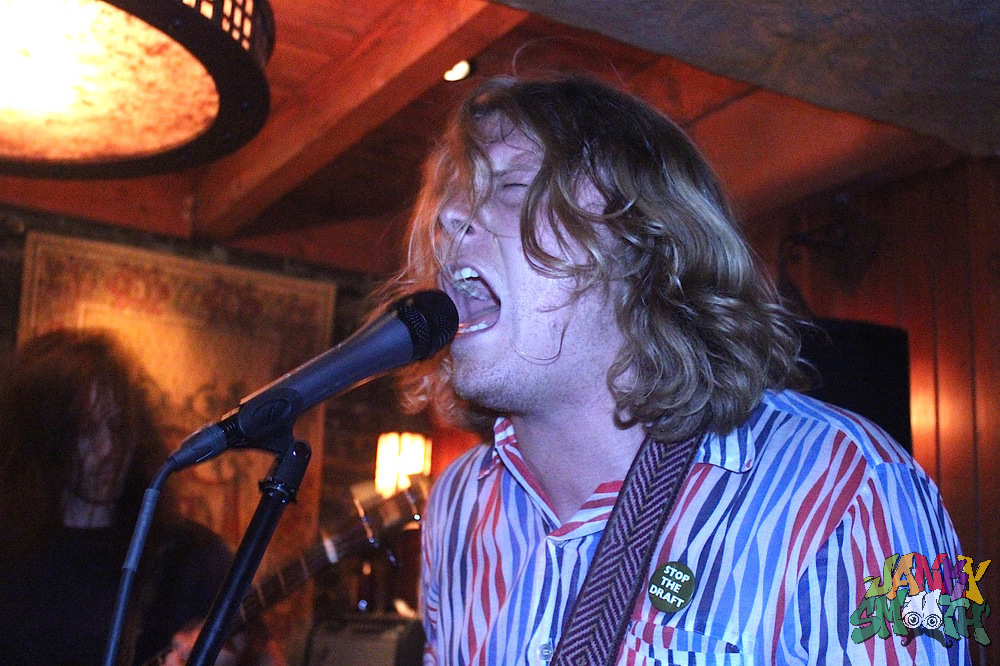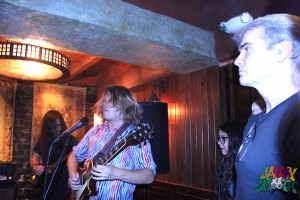 I caught wind of the secret—and free—Ty Segall and the Muggers show at the Griffin from a Mikal Cronin tweet around 10pm. It turned out being a hushed triumph for the community, the local scene—now largely represented in the hip enclave of working class L.A. artists that arches across Los Feliz, Atwater Village, Eagle Rock, Highland Park, and Mt. Washington.
Luckily I don't live too far, otherwise I would've just as easily succumbed to the old Angeleno proverb of "I'm staying in tonight." I'm glad I decided to go, it provided some much needed reenergizing, and highlighted our special moment of L.A. music history.
Even L.A. Weekly (that old, tired whore of a culture rag) was sage enough (however contrived) to dub Segall "L.A.'s most prolific and enigmatic rock star"—which would put him in the running for such a tag worldwide—and he doesn't need ticket sales to prove it.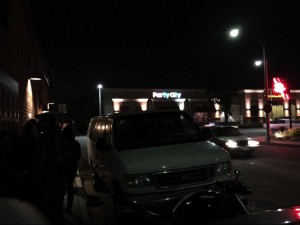 I showed up to the Griffin maybe 5 or 10 minutes late, tops, sauntering to the back of a line that was definitely sizeable for a Wednesday night, and the Muggers were already wellinto their set. This was my view for a good portion of it.
As it turned out, never have I loved a show so much from the sidewalk before. I got a taste of what people outside the Rainbow Room on a typical Wednesday night felt like in 1987. Big shout out to whom I'm assuming was Cronin's thumping bass licks (it could've been the specter of John Entwistle for all we knew), which easily penetrated those brick walls and engulfed us outsiders into its awesome sonic force field. Not even the sight of vulgar, invasive corporate beige across the street killed the vibe (no matter how ironic the rainbow neon PARTY CITY sign); nor did the Griffin's sleepy, boo-zhee neighbors.
A song would end, the vibrations would stop, Ty's muffled, amplified voice would say something probably really cool, and the crowd would cheer. A few posts started showing up online. This dude initially had a way doper view than I did.
Meanwhile, I ran into the Kid (drummer; Death Valley Girls)—still buzzing from their recent cross-country tour—and spotted Jason Finazzo (guitar/singer; The Birth Defects) smoking a cigarette outside the entrance. When I finally breeched the dark medieval space, it was packed wall-to-wall, crawling with more familiar faces, including Shannon Lay (guitar/keyboard; The Feels), Emily Gold, and Ryan Reidy. The Griffin is really just one big, circular room, barely lit with fire pits, with the focus on the five-piece band of silhouettes stuffed against the wall; floor-level, no stage, no elevation; blowing off the roof with weird noise rock.
It's taken me awhile to realize just how weird the Muggers sound is—verse-chorus tight and structured before splitting at the seams via prog'd out instrumentals. Though the weirdness is mostly known to channel through the spastic showmanship of Segall, the Muggers were no frills rocking it that night; no baby-faced theatrics or any monkey business. They were preaching to the choir, an empathetic congregation who play the same festivals and dive from the same dumpsters. Segall's vocals sounded raw, naked, void of technicality (though it's always hard to tell what Evan B. is up to at the MIDI controls), moving easily from falsettos to growls. It was a sincere, heartwarming performance not typically seen by this posse.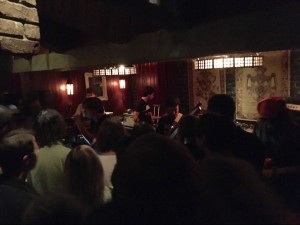 Emmitt K. and Cronin appeared to have switched it up, playing the bass and guitar respectively, speaking to the band's fluid and rotational nature (the only thing that ever seems static is King Tuff's wild, orange-clad visage). It was hard to discern whether they were dropping any new tracks, it all seemed to come out of the Emotional Mugger playbook—notably "Squealer," "Candy Sam," and "The Magazine." They did, though, finish off with an apt cover of "L.A. Woman" by The Doors (easily Morrison's best song, recorded while on a toilet). Segall did justice to the bluesy howl of Mr. Mojo Risin (still haunting these witchy streets)—a gimmick he could definitely play into more.
Segall is no stranger to secret gigs, in what could be construed as some indirect affront to the mechanized show culture in general. This is the same outfit that a few months ago shocked Stephen Colbert's audience while embarking on a national tour. They can sell out practically any venue they want, so what is it that prompts these local, clandestine, come-as-you-are appearances? Hopefully it's telling Ticketfly or Eventbrite or Ticketmaster to go suck on their own convenience fees ("Some of the best music being played on the West Coast is in seedy clubs and galleries – foul places that don't have tickets that are marked up 100% for 'processing fees,'" DJ Keith Morris tells us over the radio simulacra of Channel X. "Holy shit, it's disgusting what the entertainment industry gets away with. And you fucking let them!") Or are these shows more like when Louie CK drops in at the Comedy Store last minute to work out material before taping something big? The next known appearance for the Muggers is at FYF Fest later this summer, but it's hard to imagine they'll keep things on the quiet front 'til then. Maybe a show like this is as simple as a good band doing a good thing for a good bar. "Tip your waitresses," Segall reminded us, humbly thanking us for having them, for coming out, for being present.
Really, who gives a shit why we get to see a Ty Segall spectacle for free, it's something you don't say no to—emotional mugging and all. These things are best left unsaid (said the writer). We're all kicking around in the dust of a collapsed music industry (still in denial of its own irrelevance; still writhing in its self-important death throes), having emerged into the new insta-economy of direct experience, where all that matters are your showing up and taking the ride (no ticket required).