Inter-Review With Charles Moothart on Eve of CFM Release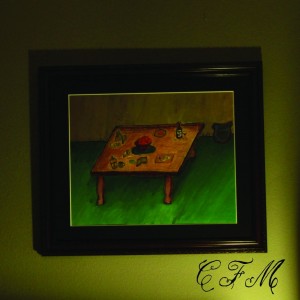 CFM – Still Life of Citrus and Slime: An Interview with Charles Moothart
"He who makes a beast of himself gets rid of the pain of being a man." -Samuel L. Johnson
That famed opening axiom is no less true with CFM's Still Life of Citrus and Slime, in which Charles Moothart goes full wolfman to transmit a bubbly, thick, and no doubt, arresting solo debut.
For Moothart—the proper Lennon to Ty Segall's McCartney—his new LP (In The Red Records) is an analog sigil for some gnarly soul searching. For the rest of us lucky bastards, it's an incendiary trip of sour neon rock 'n' roll that, without it, immediately leaves your record collection wanting.
It was more of a vision quest than an attempt to make a rock album. "There was no timetable to worry about," he told me over the phone. "It was nice to go into a room and shut the door and forget about time and just let it happen as it needed to happen." Moothart took a piecemeal approach, channeling sounds strung together spontaneously as he jumped from one instrument to the next; any scheming be damned.
Though the album was composed as more extemporaneous cut-up rather than master plan, the gravity is not only felt sonically, but lyrically as well. Moothart lets us in on his recent journey into solitude, as we encounter monster and "Lunar Heroine" alike. Pensive vocals muddle nicely with blaring guitar ostinados, distorted strumming, and weaving synth effects. The opener "You Can't Kill Time" sets the tone, spring-launching you into hyperspace like an ancient pinball machine. From the more prog'd-out punk in "Habit Creeps" to the headbanging boogie in "The Wolf Behind My Eyes" to the picturesque and dreamy territory of "Purple Spine".
Paint me a portrait in lies/ Still life of citrus and slime…
If you were like me and found yourself still hungry after two Fuzz albums, Still Life of Citrus and Slime offers a doorway to an alternate dimension comprised of both old tricks and new revelations. Reaching the stars through psychic gutters, the album tramps around in that early 70s weirdness when glam and prog rode the same groove. Even further, it takes on form itself, seemingly busting at the seams while somehow maintaining an equilibrium. It has the nuclear reactive chemistry of a supergiant star, transmuting one element into another until it the whole show culminates into supernova. The roaming title track is last. Purely instrumental, beyond lo-fi, and crawling with effects, it's the apt vehicle to ease you back into the third dimension.
While the album's sound might suggest vibrant, intricate cover art, its visage is hardly that of Fuzz. Instead, its cover depicts a bare painting on a wall, like a stripped down Matisse: lonely wooden table scattered with obscure contraband against a green and yellow background. Whether you get lost in the music or lost in the meaning, the jaunt is the same.
If you're lucky, you'll catch CFM live and the sound in the flesh with band members Michael Anderson (guitar), Tyler Frome (bass), and Thomas Alvarez (drums).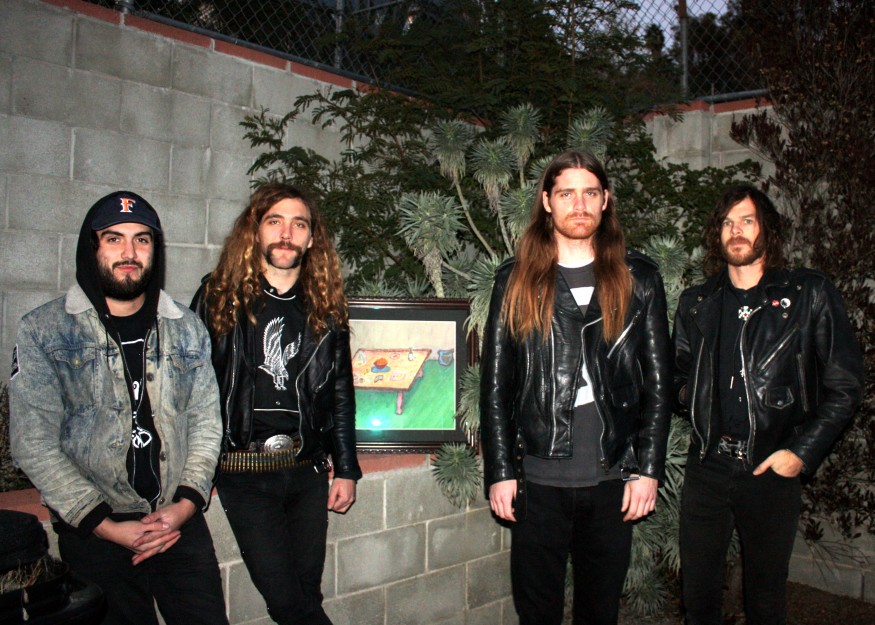 Charles Moothart was kind enough to take the time to call Janky Smooth from Chicago (where he's currently recording new Ty Segall tracks) for a few words on the process of the new album, what he learned, and why we may never get another one quite like it again.
Brent Smith: I've heard a lot about Ty Segall's influences and those he's emulated. What performers or bands have helped shape your musical DNA?
Charles Moothart: I don't know, it's kind of a hard thing to answer. I feel like I'm constantly trying to pick things up here and there—listening to records, watching friends, collaborating with people, writing together, and picking up odds and ends. It's just a constant learning process, y'know, keeping your ears open, and being in that mindset of letting everything come in and out. It's hard to pinpoint exactly where certain things come from. I'm just trying to learn new things, whether it's with recording or playing or songwriting or whatever it is at the moment.
BS: As I understand it, Citrus Slime was written during a period of isolation. How was it different from your collaborative experiences in the past?
CM: It was great. I love collaborating, but when it comes to specific things like writing lyrics, which is a big one for me, I always work better in isolation. I like feeding off of people's energy, but I also like to take a second and gather my thoughts by myself, so it was fun to explore that. To be totally alone and feeling like having all the time in the world. It was fun to see where it went. Mistakes would lead to something else. Just recording and letting things fly, see where they go. In that way, songs would take their own shape. I don't know, it was just an interesting process for me.
BS: Was there an idea as to how the tracks are laid out, or do you care if they get sold as digital singles?
CM: I definitely think it stands as a record, I think there's a good flow, but at the same time it was just song for song at first. I wasn't really anticipating it being released. I didn't know what it was going to be. It was just kind of like, 'oh, there's a song, there's a song.' Once I kind of had a handful of songs, and they all worked together and seemed pretty cool, it was a moment when things started taking shape, and I actually realized that it could be a record. The last couple of things I wrote were written with the idea, 'what would this need if it's going to be a record?' So, in that way, it definitely wasn't written as a concept record or anything, and so if people like certain songs and don't like other songs I'd have no problem with them choosing to listen to only a few. Hopefully they'll just like the record enough to listen to it all the way through, y'know?
BS: Do you feel like you've exorcised some demons?
CM: Definitely. There was a lot going on at that time. Even just lyrically, it helped figure some shit out. It was a huge personal challenge—it still is challenging, even now, even waiting for the record to come out and going on tour. Every moment is a challenge, and it's really fun to see it through. There are moments when it works and moments when it doesn't, but it's all about learning and fighting the urge to stop. Every show is like, 'what's going to happen?'
BS: I caught you at the Teragram with Ty Segall and the Muggers a few months ago, it was a great bill. Have you had a lot of chances to play these songs live?
CM: Yeah, the Teragram shows were the beginning of a west coast tour we with did with Ty, and then we did a U.S. tour, half of which we opened for Ty, and the other half was on our own. I feel like since those shows, especially as a band, we've grown a lot. We're still figuring out the vibes of certain songs, but I think even since those first Teragram shows, we've gotten more confident and have figured out the vibe a little bit more. It's cool we've gotten to play a decent amount of shows being how new [the record] is.
BS: How was the response in different parts of the country?
CM: It was good, man. It was rad to see people be stoked on the songs. It was a very interesting mix of experiences. Every night was different, generally the response was positive. It was pretty interesting opening for Ty and playing this big crazy show where people seemed more ready to be into the music, and then playing our own shows, where we'd only be playing for like ten people, and it was nice to get a reaction on both sides. Especially where you're just playing for ten people and seeing a true, organic reaction, like, 'hey, that was rad' and people weren't, y'know, associating anything with anything. Overall, it was a total success and tons of fun.
BS: What equipment were you using on this album besides the obvious guitar, bass, and drums?
CM: I have a synthesizer, like one of the newer Moog sub phattys, and that's on there a lot. I also used my roommate's Casio, and I recorded it on the Tascan 388 [8-track reel-to-reel tape machine], which has a very specific sound unto itself. It's kind of trippy because in the beginning of recording, again, I wasn't going into it thinking it was going to be a record, so I had everything set up to be as quick as possible, and not necessarily to be the best-sounding [laughs]. It was more meant to be like, okay, I can have my drums, mic, guitar, and the bass ready to go, so I could lay a drum track down, and then very quickly pick up the bass and lay the bass down. It was a way to get ideas out. So, in that way, it's kind of weird because every song came to sound different in a way that I was really into. I don't think I'll be able to do anything like that again because it was just so—not-conscious, y'know?
BS: The songs feel emotionally-driven.

CM: Yeah, definitely. And I really like recording, so it's not like I was cutting corners. I would dive into things, just trying to figure them out. Since it wasn't recorded in a linear way, I was picking up gear here and there as it went along, so some things have better fidelity, different outcomes using different microphones, and that kind of thing.
BS: I really started paying attention to your work in Fuzz, probably my favorite of Ty Segall outfits. How much of Fuzz is Charles Moothart?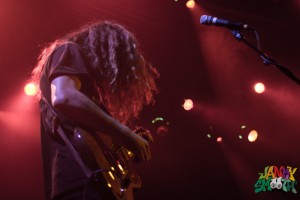 CM: It's kind of a hodgepodge. Song for song, it can be totally different. I write almost all of the riffs. On the second record, Chad has a few riffs that he brought in, and the song-types are pretty much all him. Generally, I would bring a string of riffs to the table and we would either just do them as they were, or change it up, and Ty would come up with a vocal melody and we'd write lyrics together. It's hard for me to put a number on it, but I would definitely consider it my baby. When Ty and I started it, there were a lot of things he brought to the songwriting, and I learned a lot doing that with him, for sure.
BS: What's the deal with the cover art of Fuzz II? Are there riddles or some shit to figure out?
CM: Not really. Tatiana Kartomten [aka Tati Compton] did our artwork for both records. After she saw us for the first time, we gave her the 7" and she just went home, got stoned, listened to it and started drawing. It wasn't even meant to be for the album, but she showed it us and we were like, 'this is so fucking rad, we want to use it.' For the second record it was a similar idea. We told her we really wanted her to do the art, and we weren't going to tell her anything, because she basically fucking rules. We sent her the recordings we had up to that point, and she just started drawing. I want to say it's based on Dante's Inferno and the nine circles of Hell. It was kind of her trip and we just let her do whatever she wanted. There are a few references to things, like there are a lot of 3's because we're a trio, but there's nothing like super deep, it's just an amazing drawing.
BS: As opposed to Zeppelin's IV.
CM: [laughs] Right.
BS: The art definitely speaks to the tone of Fuzz, even lyrically. Were you heavy on those lyrics too?
CM: I think that's what cool about the second album, in particular. Ty and I have very different ways of writing lyrics. When I write, I like to dive in. I really like poetry, I used to write poetry more, so I tend to take lyric writing very seriously. I like to sit down and try to hash some things out. Chad operates in his own way, and Ty operates in his. Ty's better with sounds, and cadence, and the more melodic side of things. So, if I were to write something, he'd say, 'that's rad, but this word is going to be too hard to sing.' Filtering our ideas through each other is how we got the end result.
BS: You're back in L.A. after living in S.F. for a while, what are your thoughts on the local music scene? Anyone you're digging on?
CM: I go out to shows fairly often, but I don't go out as much as I did in San Francisco. I've been enjoying my time at home more, which is a rad element to L.A. I think it's cool you can do whatever you want. It's not like you walk out the door and you're immediately in the grind, or in everyone's business. It's like choose your own adventure. It's weird because I feel like I'm just lucky enough to be surrounded by friends who are really creative, and I enjoy their music, so most of the time I'm going out to friends' shows. I feel a little bit out of touch with the local scene, but at the same time there's so much going on, and you can't catch everything.
BS: It is a small world, and you guys definitely overlap with a lot of what's happening. It seems not like a music industry as much as a community. It's awesome that it's here. L.A. doesn't always have such a cool, tight-knit scene.
CM: Yes, it's awesome. I think what's happening is pretty special. It's part of my idea of how I think things 'should be.' I've always played music with friends and people I know well, and it's all just kind of an extension of that now. I grew up going to The Smell, and it's always been that kind of vibe. I wouldn't be able to operate in any other way.
BS: I'll let you get back, but thanks for talking, and continue doing the Lord's work.
CM: Thank you, I really appreciate it.