Power Trip & Destruction Unit Leave The Teragram in Ash & Rubble
Being a music and live show junky has made me a frequent visitor to the Teragram Ballroom. Quite simply- it's the shit. Big stage. Perfect acoustics. Good booking. Excellent bathroom and bar placement. I've noticed though, they don't have many metal shows. So, it's a shame for the venue that the one time a metal band gets booked, Power Trip rolls into town with Destruction Unit and just completely leveled the venue into rubble.
Power Trip is probably one of the best young bands to carry the thrash torch after the big 4. In fact, along with Iron Reagan, Toxic Holocaust, and Havok, they're part of the new big 4. That said, I came to see Destruction Unit.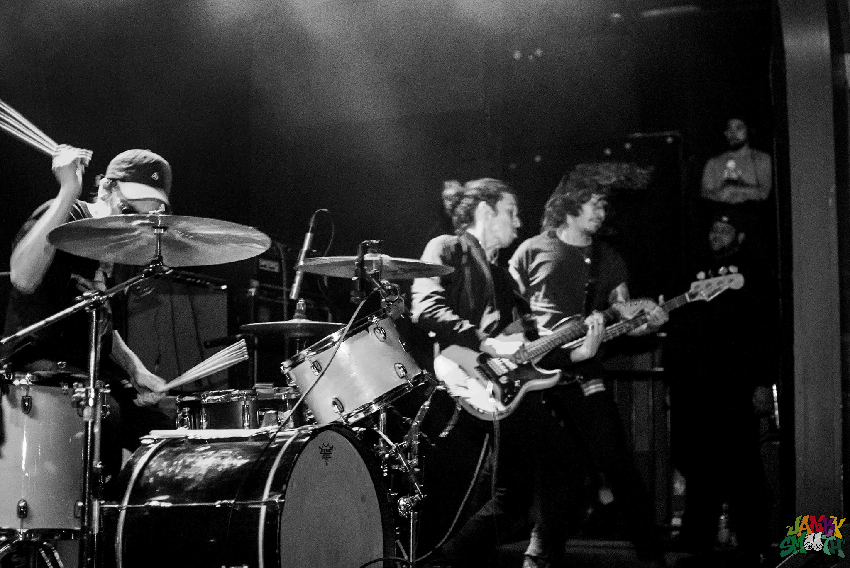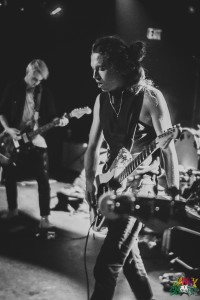 Destruction Unit was close to becoming the Berkserktown house band after tearing down the house at 2 but then being unable to play at Berserktown 3. The void Destruction Unit left for Berserktown 3 gave me that disturbed feeling in my gut, that burning desire that you get only when you miss a band you want to see because of circumstances beyond your control. You wait at the edge of your seat, for years sometimes, waiting for them to announce the next show in your area, then when they do, nothing stops you. I was both delighted and surprised to see Destruction Unit was supporting Power Trip. Metal bands don't often tour with mixed bills, especially when it's an experimental psych-noise-garage-punk band. And much props to Power Trip for doing so because Destruction Unit is a tough act to follow. The stage seems somehow defeated or slain after they play.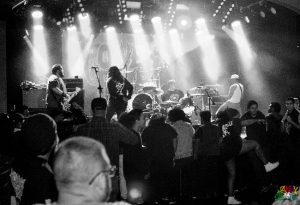 I arrived to see Mizery, a metal/hardcore band out of San Diego. Don't get that confused with metalcore (emo metal), this was hardcore in the vein of Cro-Mags mixed with groove metal like Pantera. They had hyper aggressive grooves and breakdowns then the lead singer would spout out lyrics with the same bombastic quickness as Mike Muir. Mizery opened the show with fire, no moment of music from then on felt dull.
Anticipation and thick globs of pure adrenaline pumped through my veins and pounded into my throbbing skull. Just watching Destruction Unit set up, was like seeing live anarchist cookbook baking for demolition. The first things I noticed about the band was their style and their guitars. Not a trace of corporate bull shit can be found on a Destruction Unit stage. No bands shirts, no polish, and the guitars look wrecked. Nick Nappa's guitar was uglied up with duct tape and JS Aurelius' was covered in some kind of rose print cloth that had no Earthly business on a guitar. These instruments were mutants. Even the band's merch is minimalist, with just the logo and a poorly drawn frog barely covering the shirt. I loved the music enough to buy a shirt but couldn't bring myself to wear such an abomination. This genuine indifference by the band only made them score points in my mind. As soon as they started playing, I realized the band's sound permeates into their look.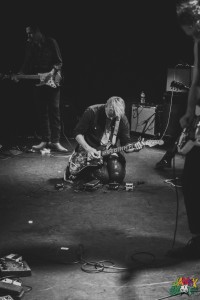 Distortion, fuzz, explosion, decay. All these things go into a Destruction Unit song. The way they feedback their three guitars and construct walls of sound is like no other band that uses that same theory. Their music demolishes walls of sound instead of builds them. It's like an auditory Hunter Thompson hallucination. Drums pounding, cymbals crashing, guitars that chug and wail and sweep you up into a psychedelic torrent where images blend into satanic static. Every song is like the beginning of Slayer's Hell Awaits but with a hint of melody and car crash in every moment. The purist thrash kids at the front of the stage not only enjoyed Destruction Unit but they totally understood it. They banged and moshed with approval because though it wasn't metal it was heavier than most bands of any genre. Metalheads have a keen ear to pick up the musical nuances in any kind of racket. By the end of their set the band was dismembering every last crunch of sound out of their instruments and pulling out vital wires to distort the sound further until dead silence.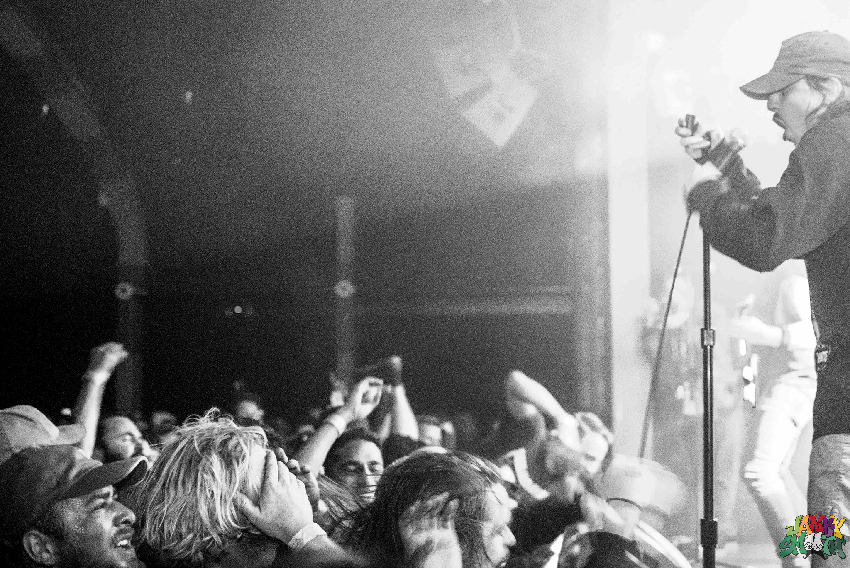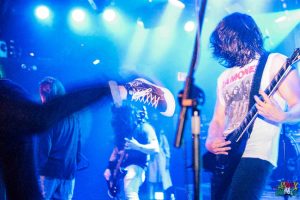 Hard to follow but not impossible, Power Trip raised the stakes and blew the Teragram away. Supporting their new album Nightmare Logic that band belted out new and old tunes to a crowd they held in the palm of their hands. Hailing from Texas, I felt nostalgic for Pantera during the show and you can hear a touch of Dimebag in Blake Ibanez's solos. Riley Gale, the band's singer, has a signature stage and singing style. He's a small package that carries a big wallop with karate kicks and jumps off of platforms to really get the crowd thrashing. The band played classics like "Suffer No Fool" and "Executioner's Tax" then also new songs like the album's title track "Nightmare Logic". One after another, bodies came flying off the stage in every direction. This crowd would've done anything for Power Trip. ANYTHING.
Words: Rob Shepyer
Photos: Grace Suzette Dunn