Courtney Barnett at The Roxy: How to Make a Rockstar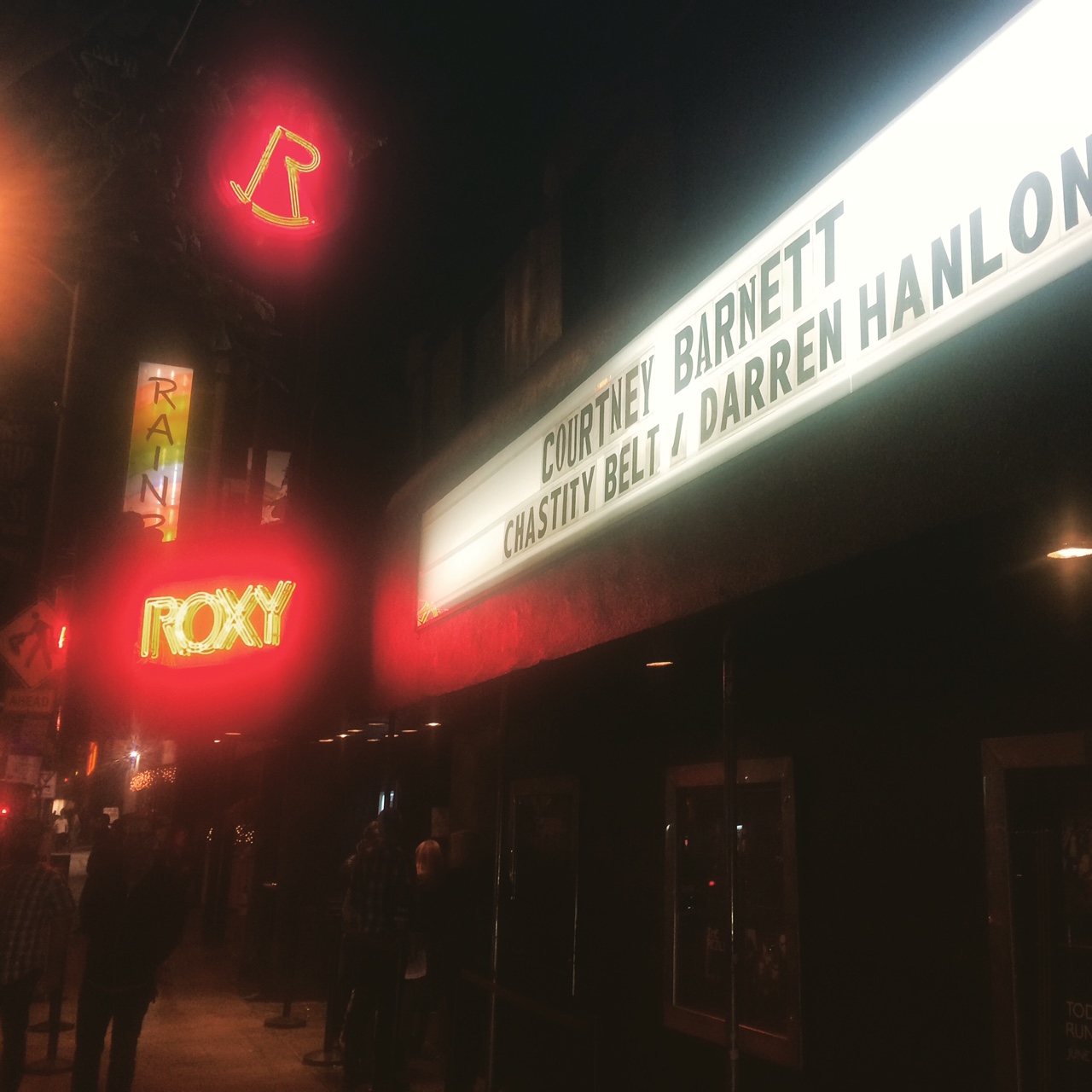 By Danny Baraz
Walking from Doheny on Sunset on my way to The Roxy, it felt like Beverly Hills had finally swallowed West Hollywood whole. The once filthy and foul smelling Sunset Strip now sparkles like a well placed rescue dog. Once the epicenter of club rock in Los Angeles, only the Roxy and The Rainbow remain relevant to Rock and Roll on the Strip. Most independent artists are playing their shows East of La Brea Blvd these days. Thanks to Goldenvoice, The Roxy just nearly escaped the pay to play fate shared by The Whiskey and The Viper Room and on this night, it was hosting the first of two nights with the rocket ship named Courtney Barnett.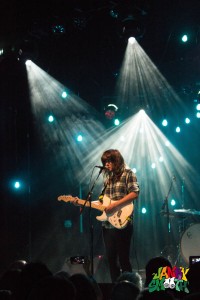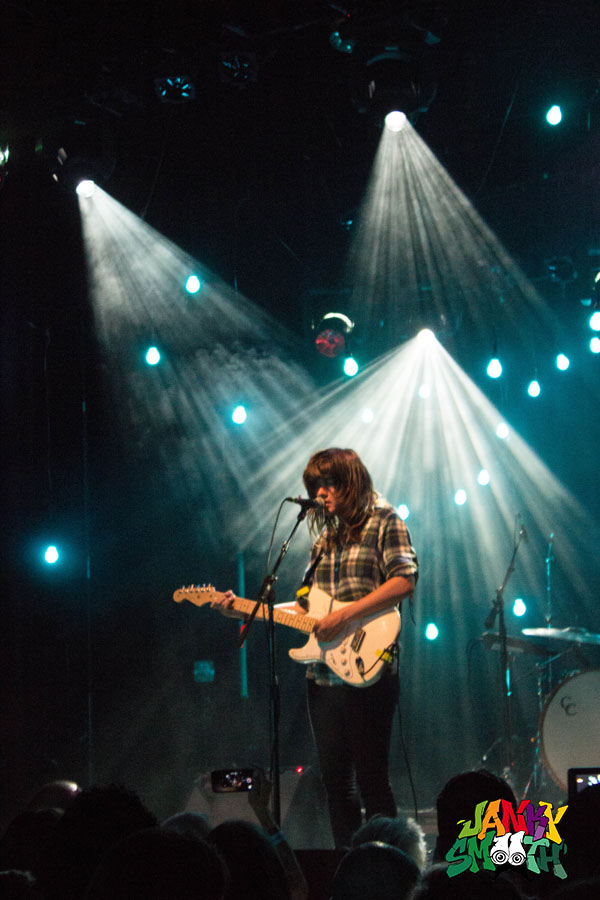 The first time I heard Courtney Barnett's music was covering her gig at El Rey in November as part of Red Bull's, 30 Days in L.A. At another Goldenvoice venue, organized by a corporate lifestyle brand, it was the first of two times I've seen Barnett playing to a 21+ audience. Courtney Barnett's music seems better suited to play venues in the eastern part of Los Angeles to all ages crowds but I have yet to see her in that setting. I'm sure most of that part of her career trajectory was traversed in her homeland of Melbourne Australia but it caught me a bit off guard to see the demographics of the crowd which packed The Roxy this past Saturday night. The venue was filled with 30 something's. It made me a bit confused and curious about the formula that is being used to market Courtney Barnett.
Courtney Barnett is one of those rare musical acts whose live show is even better than her studio work. That's quite a statement given the meteoric rise of her first full length album "Sometimes I Sit and Think and Sometimes I Just Sit" released just this past March on Mom + Pop. Her songs have a much sharper edge to them in concert. The first time I reviewed one her shows last November, I recall thinking people could be confused with my comparison of her to Joan Jett and Kurt Cobain. After that show, I dove into her first two EP's and her studio work is very Dylan-esque but more amplified. The songs just take on new dimensions when played live. In the half a year since I first saw Barnett live, she seems to have gained a huge amount of confidence on stage and why not? She seems to be quickly chipping away at the hugely obstructive barrier between being an indie artist and crossing over into the mainstream.
Her confidence shined in her banter with Saturday night's audience. She seemed as comfortable chatting and tuning her guitar as she did playing her music. The banter was a smooth transition into songs like "Depreston" which gave me my second surprise of the evening- the audience knew and sang almost every lyric to this song back at Courtney Barnett. This was a pretty impressive achievement to me given the fact that this was a room filled with non hipster, 30 something's and the album is less than 3 months old.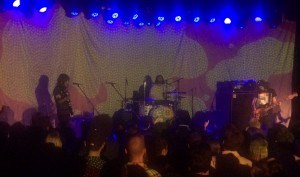 Saturday night's show very much solidified Barnett's status as one of my favorite emerging artists as much as it confused me about how she got to where she is right now. I was very happy to hear the song "Small Poppies" played live. It's my favorite song off the new album and it was pristine. The performance of the song, "Kim's Caravan" highlighted not only the maturation of the melody's she writes but also the subject matter she is writing about. Unlike the almost apathetically playful themes and lyrics from the first two EP's, It was a very heavy moment about the very heavy topic of the footprint we are leaving on this planet.  Or is it about how her fans interpret her lyrics?  Either way it's a sad song and it almost brought me to tears.
That one moment aside, I was smiling the entire night. The performances of "Avant Gardener", "Pickles in a Jar" and "History Eraser" were playful. She also played covers of The Breeders- Cannonball and The Lemonheads song, Being Around. I think the 5 minutes she took between encore and main performance were a bit excessive but not quite nearly as excessive as the fun she had introducing her band for a good 5 minutes when they came back out for their encore. It was a slow build up to saying their names and using a series of vocal effects to shout them in a distorted echo and she filled this mundane act, full of drama. It was actually quite hilarious. At the end of their set, Courtney Barnett dove head first into the drum kit, thus ending the first night of her stint at The Roxy.
It appears to me that Courtney Barnett is floating high above the clouds with her independent sensibilities and catchy lyrics as corporate execs and publicists try to figure out how to build her a rocket ship. Much like the Sunset Strip, the corporate music industry is in the grips of a nebulous renaissance. While the independent music scene is thriving with the advent of torrents and the share button, suits and numbers crunchers have yet to decipher the code on how to transform indie heroes into full fledged rock stars. Ty Segall is a great example of this. Worshipped by teens, internet and college radio, Segall is completely unknown to a majority of Americans. I see a distinct difference in trajectory of Courtney Barnett vs Ty Segall. I have yet to see Segall's name on a marquee west of La Brea and I have yet to see Courtney Barnett play a gig East of it, aside from a more intimate, private gathering at Dilletante for her record release party a couple months ago. Barnett has nowhere near the stardom in the independent scene while Ty Segall is the king of it.  There is most definitely a missing link in the evolution of artists in the new music business but I'm starting to see the dots connecting in the case of Courtney Barnett. Could she be the first new rockstar in over a decade? God knows we need one because I'm sick of hearing people say rock is dead, especially with more kids picking up instruments and starting bands than I can remember in quite some time.
Courtney Barnett at El Rey for 30 Days in L.A.
New Album Review: Courtney Barnett- Sometimes I Sit and Think…
Corners Puts Cosmonauts To The Test