Eagles of Death Metal Resurrect Tower Records for "All Things Must Pass" After Party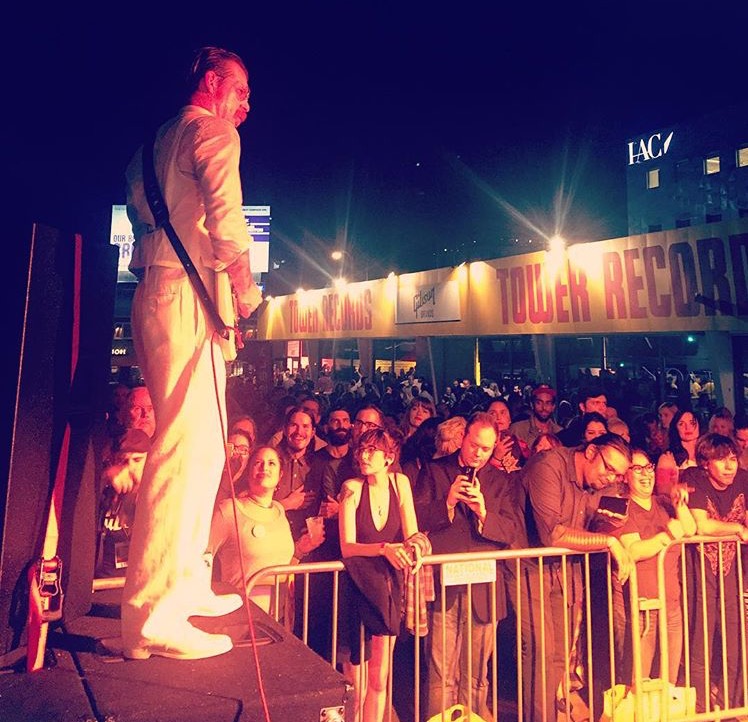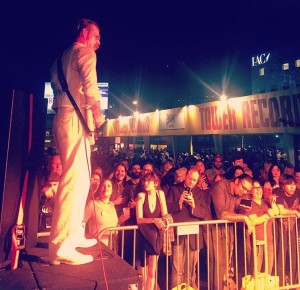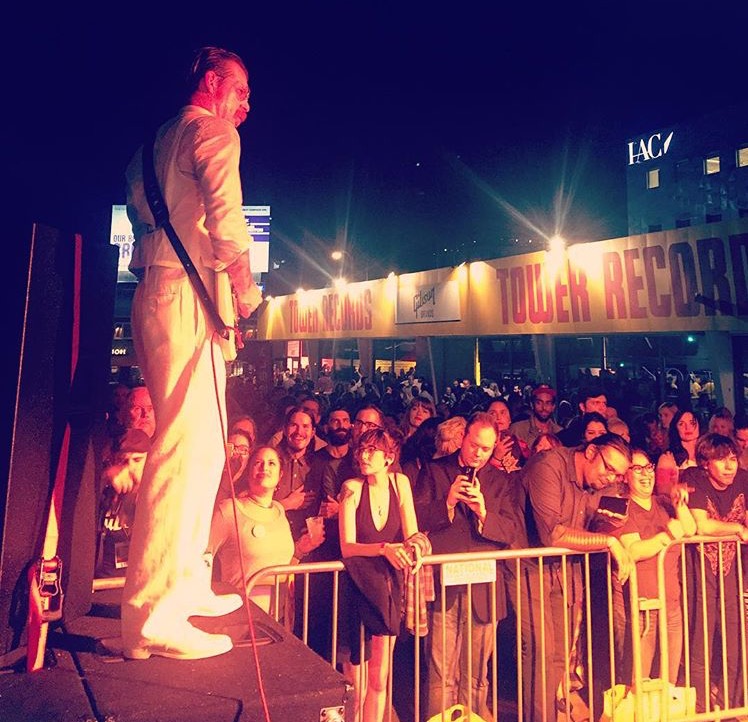 This past Thursday night, there was a screening for All Things Must Pass, a film that documents the rise and fall of the retail music business and the legacy of Tower Records.  It only makes sense that I got into this invite only afterparty, for one of the Sunset Strip's most iconic rock n roll institution's, with the line…"I'm with the band." Not so surprisingly, it worked like a charm and I stepped through the security gates at 8801 W Sunset Blvd, with a privileged rock n roll swagger.
The after party was being held at the former Tower Records location (1972-­‐‑ 2006), with the All Things Must Pass movie screening taking place down the street at Harmony Gold Theater, just prior to the show.  There were sightings of Tower Records founder Russell Solomon, director Colin Hanks, and musician Moby, to name a few but our favorite sighting was, of course, The Mayor of Sunset Strip, Rodney Bingenheimer (20 year old waitress/girlfriend Kansas Bowling in tow). A Rodney sighting will forever legitimize the level of rock n roll street cred at any event. The crowd looked a bit sparse as the stage was being set for guest performers Eagles of Death Metal but we did notice a sizable crowd congregating outside the gates.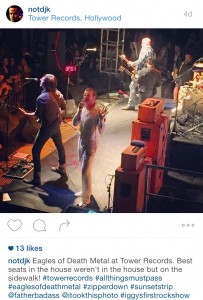 We wandered inside, wondering if they had really set it up like the old Tower Records we had all frequented in our youth. No such luck, however; there was a large open bar, passed hors d'oeuvres, Gibson guitar displays/jamming stations, and a small bin with records available for purchase, including EODM latest rager Zipper Down. I pondered a purchase just to get the OG Tower Records shopping bag but the band was about to go on and it was time to have our bodies blessed by the Reverend of Rock n Roll.
Eagles of Death Metal really were the perfect choice for this Sunset Strip celebration. They don't have any gimmicks or political message, just pure pelvis thrusting, ass shaking, soul saving, rock n roll. Front man, Jesse Hughes, clad in an all white, 3 piece suit, led the crowd through a fine set of his specific brand of boogie woogie baptism. They opened with "Bad Dream Mama" and shake rattle and rolled through favorites such as "I Only Want You", "Just 19", "Cherry Cola" (dedicated to the ladies as usual), and "The Boy's Bad News".
Speaking of bad news, we did notice the absence of scheduled drummer and founding member, Josh Homme (Queens of the Stone Age). Word on the streets was he showed up for sound check but was nowhere to be found at show time. Not to fear, The Whigs drummer, Julian Dorio came to the rescue just 15 minutes before the band took the stage. Also onstage, band sweetheart and guitarist Dave Catching (Tex and the Horseheads, Mondo Generator), newish "facemelting" bass player Matt McJunkins (A Perfect Circle), and a couple cameos from Boots Electric and Sweethead guitarist Eden Galindo.
The crowd was pretty mellow, a mix of execs, friends, and wannabe actors and I have to say, I began to get a little disenchanted with the realization that there was nothing exciting and dangerous about being on the Sunset Strip. Then it happened, a clammy (probably beer soaked) hand came from behind and groped the inside of my upper thigh. I turned around to see a slick haired, vest wearing, muscle bulging, tanning bed victim…fingers on the sides of his mouth, viciously miming a poor job at cunnilingus, all while audibly grunting above the band. Yes, this is, and has been the wave of the future for the Sunset Strip. Saddle Ranch, Pink Taco, and this guy.
As the band came to a raucous, cacophonous close…guitar battle riff off included, I pondered my next move. Do I leave with the sad smell of hair gel in my nose and visions of faded skull tattoos? Not a chance. I gave Rodney a respectful nod of acknowledgment and headed towards the VIP backstage security guard…"I'm with the band."
Go see All Things Must Pass, out in select theaters starting October 16.
Eagles of Death Metal: Set List 10.15.15
Bad Dream Mama
Make a Bang
Complexity
I Only Want You
Just 19
Silverlake
Cherry Cola
Boys Bad News
The Reverend
Speaking in Tongues
Sunset Strip Related Posts
Courtney Barnett at The Roxy: How to Make a Rockstar
Words: Vanessa Burgundy
Featured image: IG @shutyurbut