Corners puts Cosmonauts To Test As Headliner at Part Time Punks at The Echo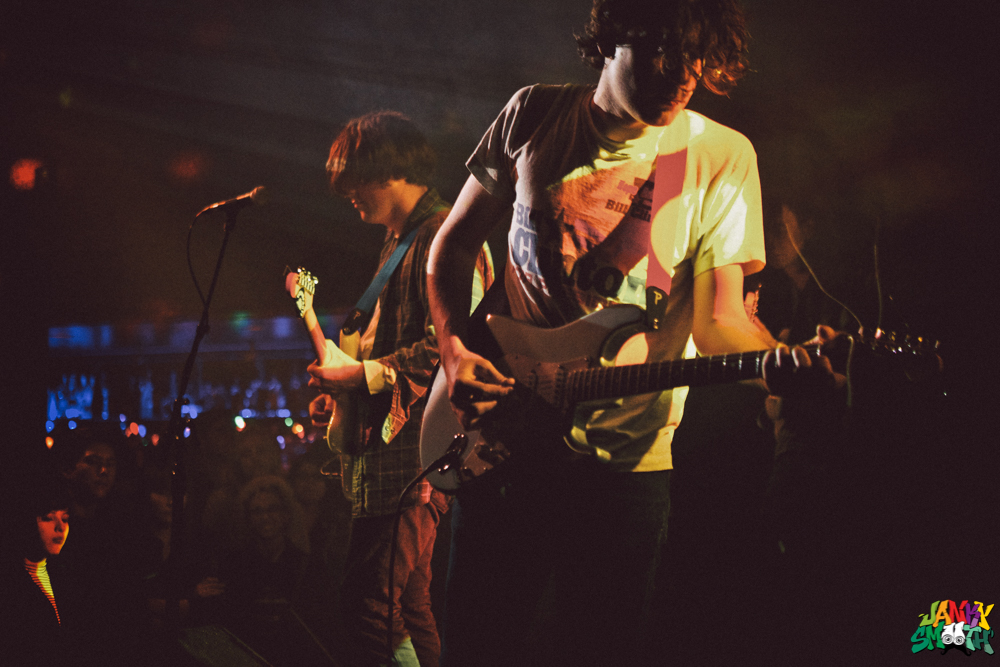 It's amazing how many young people are picking up instruments and starting bands these days. What's more amazing is that the attraction to do so seems to be motivated by the purest of intentions. There is less hope than ever to reach the heights of rock stardom achieved by every American generation since Elvis because of the relatively recent collapse of the music industry- When most young people at the time thought Metallica was out of touch in their fight with Napster, it appears they had a clear vision of what the future held. Bands work harder for less money. Album sales have been replaced by marathon touring schedules. Mega bands are asked to play the Superbowl for free. The tallest heights are measured by landing a single in a national commercial. Music has been devalued by a society that's not quite sure how to make money off it anymore. While the internet is the greatest technology ever created to reach people all across the world, sell your product, book a tour and promote it, there are so many shiny objects distracting us all that the very ADD nature of it seems to have shortened the careers of many young bands who don't have the focus or inspiration to put out 20 releases a year to keep your attention, ala Ty Segall. Even with the sustained output of Ty Segall, I would estimate that 95% of Americans have never heard of him and never will. What starts out as a venture of passion and purity turns into a contest to top yourself and stay in the game. One thing is clear though- If you start a band today, you do it because you love it and for no other reason. Period.
These are the thoughts that were forming in my head last night at the conclusion of another amazing Part Time Punks line up at The Echo in Los Angeles. The lineup featured headliners, Cosmonauts and supported by Corners, Feels and Burnt Ones. What inspired my philosophical deduction of the state of music was the complete domination of the evening by Corners and their fans and the crowd thinning as the amazing headliner took the stage. It was a harsh reality for Cosmonauts who have risen to great prominence by today's indie/DIY standards and were in the same place that Corners are now as recently as 2010 when they exploded onto the scene. There is just so much new music dropping every week that it seems your output has to not only keep up but continuously evolve and Cosmonauts haven't released any major work since August of 2013 until the release of "Oh you Know" on tape early this month. Corners came out with a masterpiece called Maxed Out on Distractions on Lolipop Records just a couple of months ago. Is it because Corners is new and shiny that caused this effect even when so many of the same fans have already fallen in love with Cosmonauts?
Maybe I'm reading too much into this.
The bill was stacked with talent. The first band, Feels is making their own waves at the moment. They release so much energy and aggression on stage that the less evolved among us might be surprised this trio of ladies and one dude have dicks that are bigger than yours. Although my statement in itself might construed as un evolved, suggesting that you have to have a dick to rock hard, I'm simply painting a picture of empowerment in a male dominated art form. If you haven't seen Feels yet then I suggest you change that as soon as possible. They play all the time and are one of the bands Janky Smooth is keeping their eye on in 2015.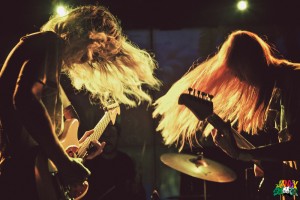 The next band, Burnt Ones really should've played first. Following Feels would be a difficult proposition for anyone but particularly for the type of lack luster performance that Burnt Ones put on. I've been less and less willing to rip bands lately but I will just say that they really need to tighten the screws on their live show. It was ultra loosey goosey and was not reflective of the above average studio material I've heard from the band.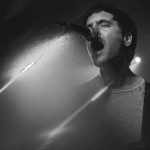 The house was packed for Corners. People are quick to throw them into the psych/surf genre but I hear a very strong Gothic spin to their music. Their musical arrangements remind me a bit of The Cure and Joy Division. Vocally, I hear the strong sounds of Peter Murphy emitting from the vocal chords of front man, Tracy Bryant. No less prominent than Bryant, "Jeffertiti" Ramuno on vocals, keyboards and guitar deserves a bright spotlight of his own. Rick Mabery is an EXCEPTIONAL drummer and Billy Changer effortlessly locks into the pocket. There is a dark, brooding feel that is present in the room when they play but it isn't passive like some sort of depression. It's more quietly homicidal than suicidal. People were moving and unafraid to bounce up against each other. The influence their latest release, Maxed Out on Distractions has had on the audience is clear when the band starts playing the title track and there is an audible excitement emanating from this all ages crowd. For me, the best moment was the closing number, Pressure which is my favorite song by the band and appeared as a split single with the band Dirt Dress.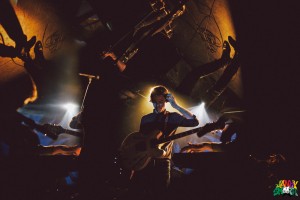 The people who left before Cosmonauts took the stage would be questioning their very existence as self proclaimed audiophiles if they knew what they missed. The sonic landscapes and atmosphere Cosmonauts create is something that any up and coming band who adopts the label of psych rock should aspire to. Or any band that plays anything, for that matter. I would be lying if I didn't admit that even for me, Corners sucked some of the air out of the room but that is the challenge for any headliner who dares to play with an opening band that is as strong as Corners is live. The true test lies in whether that headliner is able to rise to the occasion and Cosmonauts definitely did that. Cosmonauts were also joined on stage by Shannon Lay and Laena Geronimo from Feels for the song Short Wave which brought the evening to a very satisfying full circle.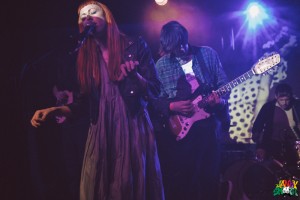 It's tough to keep the attention of today's young music fans. Sometimes, one click and you might be lost from the psyche of musical consumers forever. Thanks god we have a new music industry burgeoning from labels such as Burger and Lolipop. Maybe they'll be the ones that take rock music back into the mainstream and make sure great bands are developed and enjoy long and satisfying careers.
Words: Danny Baraz
Photos: ceethreedom