Cosmic Creek Surf Contest and Music Fest in Dana Point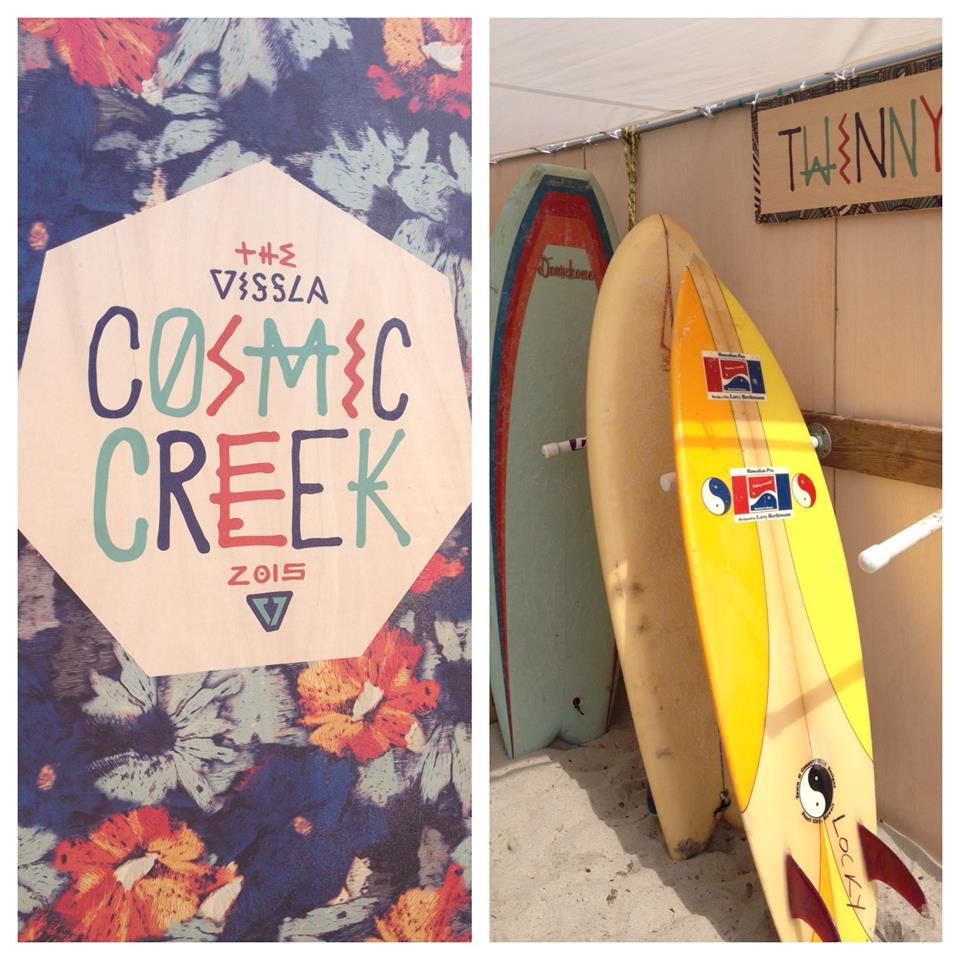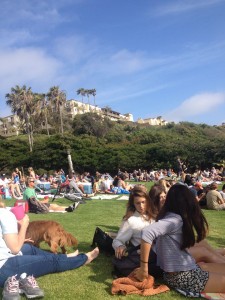 Akaw! What's probably the hippest and most utopic small-town-beach-party in the entire universe was held last weekend at Salt Creek Beach in Dana Point. What's always been known as a feel-good, retro-style surf contest among locals and pros, Cosmic Creek has emerged from a new metamorphosis in its 14th year.
Cosmic Creek seemed to have been a long-time Billabong event, sponsored by Subaru, with all the airs and frenetic energy of an up-and-coming, bona-fide surf tournament, culminating with drum circles on the grass and Donavon Frankenrieter playing live tunes. But this year, the event underwent a radical and aesthetic rebranding, now presented by Vissla, and sponsored by D'Blanc and What Youth.
The new partnerships, though, didn't make way for some more ramped-up spectacle. On the contrary, it seems to have receded back to its grassroots.
Admittedly, I had never heard of Cosmic Creek—that is (thanks to my Instagram feed) until the night before it was about to go off. That day, fortuitously, I had received my DVD copy of North Shore (1987) in the mail. For some reason I had been itching to watch it, and, as it turns out, it's so cool that not even the Internet has it. I hadn't seen it in years, and once it came sooner than expected, I was stoked to dive into Rick Cane's life-changing, hero's journey adventure as a stranger in a strange land (in what, I contend, is still the best Hawaiian film out there). Before I got the chance to hear Turtle tell Rick to stay away from Hui chicks, I caught wind of the Cosmic Creek Surf Fest.
When I heard its whole trip—a retro experience paying homage to an earlier, experimental era when surfboards ruled the shops, shapers were gurus, and surfing had a mystical soul about it—I was in.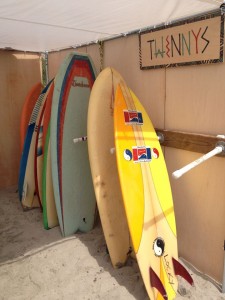 The next morning I decided to get off my ass, shake the dust from my board shorts, make the hour and a half drive from L.A. to Dana Point, and like a stranger in a not-so-strange land, I kicked my summer off properly.
I arrived at Salt Creek Beach and managed to find parking after several loops around the lot. Which got me thinking that Cosmic Creek's expansion may or may not depend largely on its parking situation. (That means don't come here next year you dirty L.A. kooks! You'll swamp the place!!!… Just kidding, this place is so embracing it'll make you puke).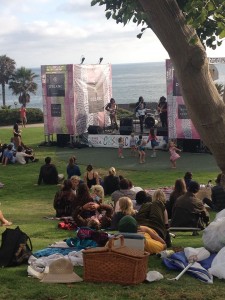 It had been cloudy all morning but started burning off in the afternoon. I walked under the quirky painted bridge and down through the grass of Salt Creek Park that sits on the cliff's edge, overlooking the beach—an intimate and vibrant pocket of California coast still untouched by bogus oil spills or nuclear sludge.
Tunes throughout the day were provided by Reverberation Radio; basically 60's groovy folk jingles on vinyl playing over the P.A.
Heading down to the sand, I passed the picnicking families and the milling teenagers—the local boys had River Phoenix faces and long, bleached surfer hair with dark, buzzed roots underneath—and the girls looked like Fresh Prince extras, black high tops with no socks, short shorts, occasional leggings, big wild hair, and purple-black-gold color schemes.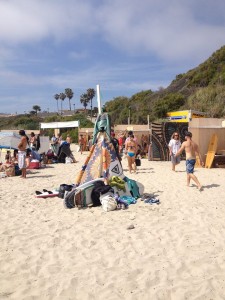 The beach was crawling with locals on the north side, and Vissla territory was on the south side—you could tell by the big festival signs and teepees bearing the insignia. I passed the Cosmic Creek threshold a bit apprehensive, since I hadn't spent a dime up to this point. Being your average festival-goer, I was expecting at any moment for some official to come around hounding me about whether I had purchased a ticket or not. But then I relaxed, realizing there were no tickets to sell, and that nobody was spending a dime here, nor was anybody making one. It was definitely an atmosphere that I'm dangerously unaccustomed to. If I was any kind of shyster, I would immediately become suspicious, start sniffing around for ulterior motives or insidious schemes, but there were none to find. Instead, I was met with warm smiles and nods from people as if I knew them, as if we'd been doing this every weekend for the last thousand years.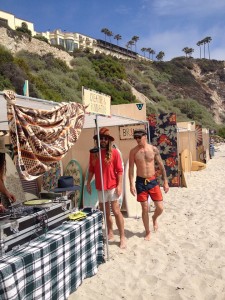 The set up was adequate and modest, with tents for the competitors, announcers, and judges off to one side, and a series of tents off to the other. There was the sick cache of original 60's and 70's Single and Twin fin boards for the competitors to draw from, like Gemini and Hobie from the 60s; McCoy and Bahne Fish from the 70s; and Midget Smith and T&C from the 80s. There was a Creators + Innovators tent, where people could demo boards from local shapers like Danny Hess, Haydenshapes, Donald Brink, and Jeff McCallum. Then there was the tent for Grain Surfboards, where you could create your own custom handplane right there on the beach, and Reverberation Radio occupied another tent. I sat down, finally getting some sun on my pale ass body, and watched the remaining heats of the day, revolving locals and pros, including Noa Deane, Brendon Gibbens, Derrick Disney, Nate Yeomans, Colin Moran and even Cosmic's founder Eric Diamond.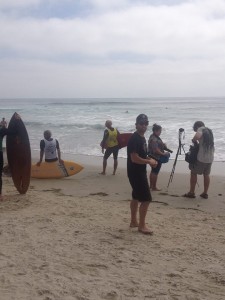 From my Insta feed, I knew L.A. Canvas was lurking around, though I didn't encounter any of their agents. I did spot a guy, around 50, who I thought was Laird Hamilton, and then I thought he was Mark Occhilupo ("Occy! You won the O.P. Pro twice!"), and then I thought he was William Zabka from The Karate Kid, and then I thought it was probably nobody in particular, and just your typical Dana Point DILF lapping up some tasty waves.
Dusk came too soon, and the surfing was done. Over the P.A. everybody was encouraged (while the parking lot was a total mess) to move up to the grass for the free live show, featuring Lolipop Records coevals Tropical Popsicle and Froth. The park became flooded with lawn chairs and blankets, and the local teens grew in numbers, leather jackets and hoodies were donned and they snuck hits of ganja as the air grew cooler. The natural amphitheater of the park centered down around the stage, with endless ocean and sky out beyond it.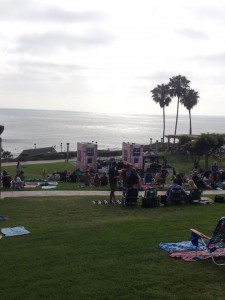 The founder Eric D. (for Diamond) got up and gave some moving words about his enthusiasm for the direction of Cosmic: "[The Cosmic Creek] is less of a surf contest and more of a history lesson of our local surfing history and foundational roots, with boards and stories that were rarely heard outside our inner circle. This contest allows kids to ride classic, rare, vintage surfboards that are older than them. The event gathers the tribes young and old to swap ideas about eclectic surf craft. No other surfing event globally does what we do."
Tropical Popsicle took the stage first, and Froth followed, serenading us with fuzzy shoegaze psych surf pop as the sun set. The tunes were catchy, mellow, and warm with femme boy vocals, and a swaying static stage presence—nothing gnarly by any means (not with neighbors who live on cliffs like these). Froth's drummer was a favorite for me. Tons of toddlers starting dancing in the pit, and it was as adorable as it sounds. The whole scene definitely evoked the optimist in me, who I'm glad is still alive and kicking. For as awful as the world can be, it's good to be reminded of the paradise in your own backyard.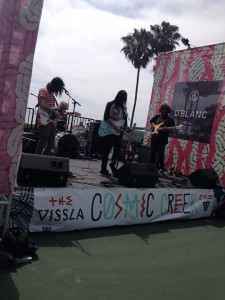 Seeing Lolipop's Tropical Popsicle and Froth were actually part of the reason I wanted to go. The recent O.C. music scene has attained its own gravity, pulling hipsters, groms, and old fogies alike to venues like the Observatory in the middle of industrial nowherevilles. If associated with the surf scene, this new energy could really, for good or ill, push surf garage rock back into a mainstream limelight. I'm a total barney, but I've also always loved the sport of surfing. It was as integral to my growing up and skating around town and taping music off the radio. A year ago you couldn't have convinced me to drive down and spend a day in Dana Point. Now it's where I intend to go every year for Cosmic Creek.
By Brent Smith