Wesley Eisold of Cold Cave Interview: Love & Pain One & the Same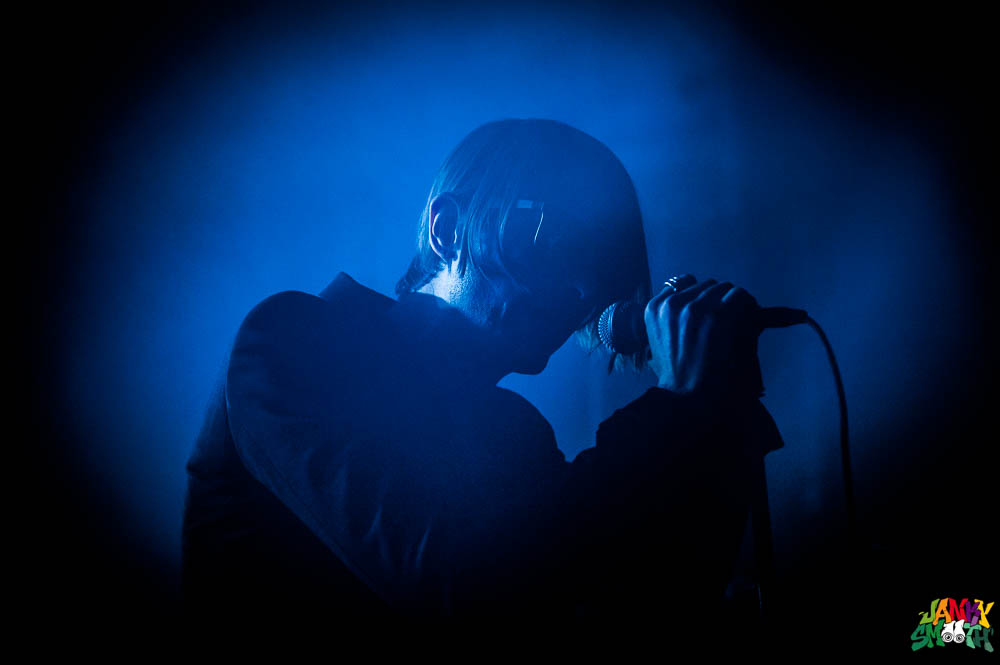 Wesley Eisold of Cold Cave and American Nightmare has proven to be a significant artist in my life as someone I'm inspired by and whose music finds its way into real moments of my life. With his focus on the gothic dance music he makes as Cold Cave, he's playing two sold out shows at Hollywood Forever for Valentine's Day and his birthday the following night then embarking on a tour with Adult. and Sextile ending with their Los Angeles date at the Theatre at the Ace Hotel. There was so much I wanted to ask Wesley because he represents two genres of music and thus two states of mind to make art from. Of all the interviews I've done, Wesley's experience as a writer and avid reader made his answers precise, articulate, powerful, and deep.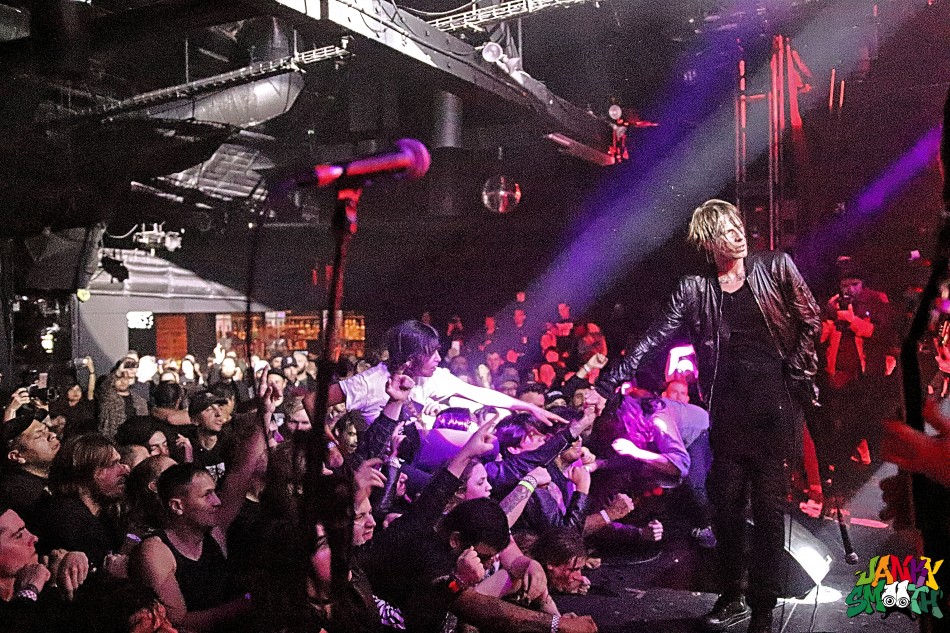 RS: Your two upcoming sold out Los Angeles shows fall on Valentine's Day then your birthday. What's it been like having to celebrate those holidays consecutively?
WE: Not to sound overdramatic but I always had a negative connotation with Valentine's Day. I was expecting to experience this high in life and never felt that way about Valentine's or holidays in general. My birthday was like a worse version of the night before I always thought. I'm not a holiday person or a birthday person, so I like to make plans to stay busy on those days. So, it's nice to be in a band that people will come see so I can curate my own holidays. I thought maybe celebrating my 40th birthday in a graveyard would be a good move this year. It perfectly coincided thematically with playing Love Comes Close and Death Comes Close B-sides to bring it full circle with the themes of love and death. Love being Valentines day and death being another year gone.
RS: Is there any specific significance to the shows being at Hollywood forever?
WE: It's a beautiful place and I've always wanted to play there. We live really close to there and this seemed like the right opportunity. It was more of the thematic aspects I feel really attracted us.
RS: You just played Ceremony's Home Sick festival in Petaluma. How was that festival experience?Ceremony's development has been similar to your's going from hardcore to post punk. Briefly go into your thoughts of that band's music.
Ceremony were one of the few bands I still paid attention to once I stopped touring in my previous hardcore bands. I always thought they were a little special because they had their own energy and vision and did what they wanted to do which is always attractive to me. We've been asked to play with them a few times over the years and it finally worked out. I didn't remember but I actually played the Phoenix theater in Petaluma in 2000 or 20001 with American Nightmare. Right when I walked in, I remembered the show exactly, it may have been the first time ever American Nightmare played the West Coast. It was cool to be back there almost 20 years later.
RS: Dais records bands were prevalent on the Home Sick lineup and now you're taking Adult. on tour with you. Describe your developing closeness with that record label.
I have a long relationship with Gibby Miller who co-owns Dais. We were close friends in Boston in the late 90's-early 2000's. I loved his band Trouble and that band broke up right around the time American Nightmare started. After, he started a band called Panic with a bunch of people who were in American Nightmare. We go way back to then. It was a strange time in hardcore where for the first time it was becoming okay to celebrate different genres. It wasn't that you only had to listen hardcore and go to hardcore shows. Gibby ran a great DJ night that I have vivid and blurry memories of and early Adult. singles were part of the soundtrack of those nights for us. When I started Cold Cave, Gibby was the first person I played the first song I made to, called "The Trees Grew Emotions and Died". At that time, they only released one or two records, this one Genesis P-Orridge record and maybe a Cult of Youth record. I was living in Philly at the time and he was in California and we chatted on the computer all day, everyday and I sent it to him saying "Check this out, I made this last night" and he was like "Are you kidding me? This is you? This is insane, can I put this out?" and I told him to go for it. It sorta just streamlined from there. I hadn't planned to start a new band, I was just happy to be doing music by myself. They were definitely a big part of launching Cold Cave so it's really cool to see it come full circle years later with Dais releasing Adult. records and Cold Cave still involved with Dais and now we're touring together. Adult. was really cool at the time because they were definitely electronic but they had this punk energy that made them an entry band for people to get into various sub-genres of electronic music. Definitely a gateway band for me.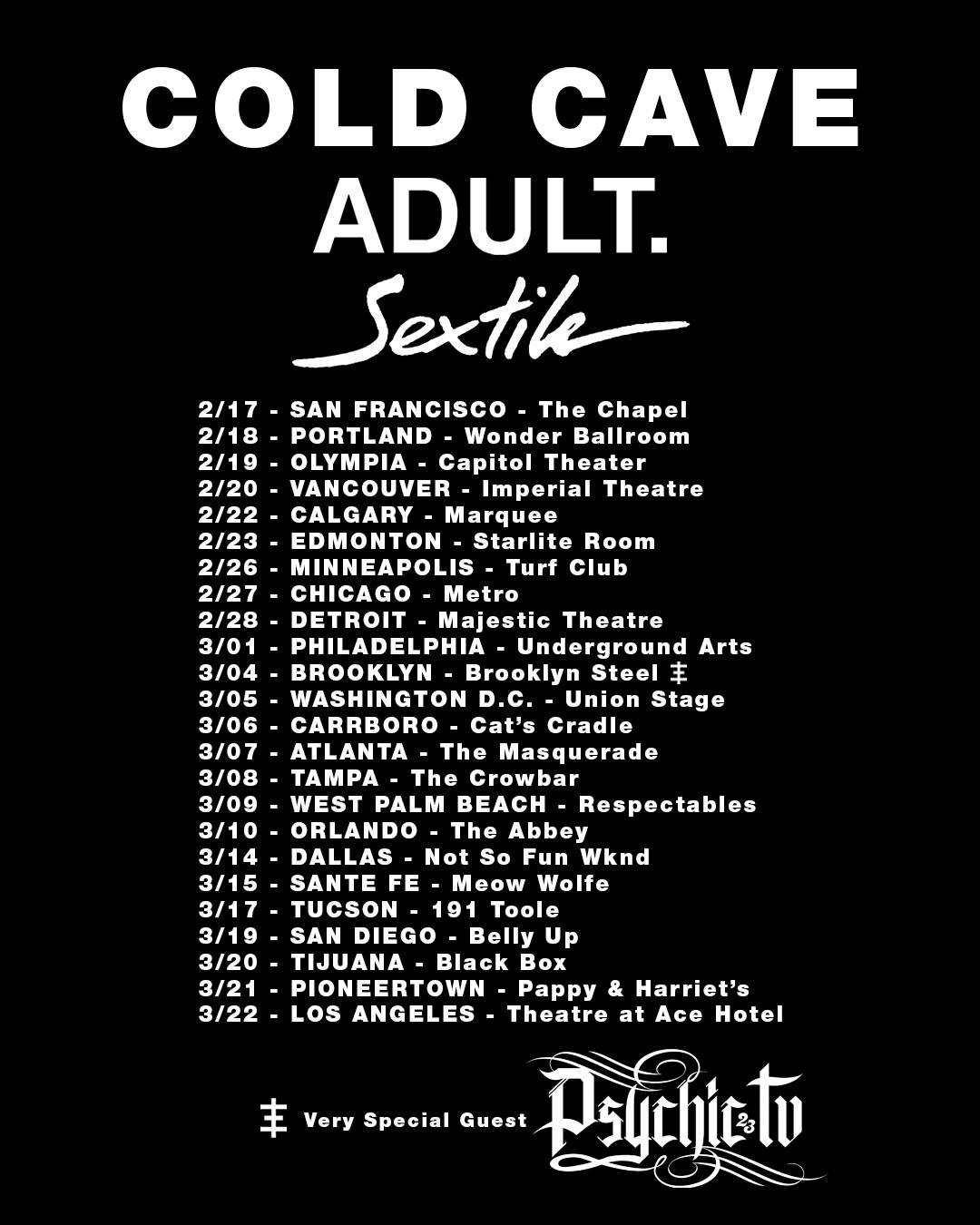 RS: Which is better for exorcising demons? American Nightmare or Cold Cave? Describe the differences in performing in the two.
WE: They serve similar purposes. I feel like both are very much me. I never feel like I have to step into character for American Nightmare. That sort of violence and anger is more 20-21 year old me than 40 year old me but I still have that person inside. It's not like method acting or having to go through the motions. Cold Cave is my priority even though American Nightmare is a huge part of my life then and now. As far as exorcising demons, in the past 5-10 years, American Nightmare has taken a more communal aspect to me. Likeminded people felt relieved to hear what I was talking about in the lyrics and it became an exorcism for them in a way that had a kinetic energy Cold Cave doesn't really want. When I'm playing American Nightmare songs, I don't feel that my current state has to be the state I was in when I wrote those songs. It's serving a greater purpose, being cathartic or exorcising for someone else. The first time around it was really me trying to stay alive. I didn't know what else to do. I felt like I was going to burst. So, I did a band and other people connected with it. Cold Cave is more methodical. I'm not sure what else I could be doing than making music like this and approaching it the way we do, which is not calculated per-say but very thought out and slow. We want to make sure everything goes exactly how we want them to. I feel really fortunate to have the freedom of managing our own band and doing everything in house where we don't have to compromise on anything. We don't have to play shows we don't want to play. We don't have to do weird photoshoots we don't want to do. It's a really freeing place to be. American Nightmare by nature is more about the people at this point.
RS: What inspires you more, love or pain?
WE: For the most part, I didn't see much of a separation between the two. I felt pain was a byproduct of feeling unloved. I always felt love was something I was striving for and in need of but was incapable of grasping, so that's why I acted out in music. That's what inspired me. I don't know if you can have one without the other. Pain is an absence of love. To me they go hand in hand. Experiencing pain creates something that aspires to achieving love. That's a great question because that's the timeline of the music I've been a part of. The trajectory of the last 20 years of my life was searching for and finally getting the love I wanted and needed. I was right. I have that love now with my partner and in the music I'm making now. It is everything I wanted and everything I was missing. I don't know if that comes with age or by doing better for yourself but I know I couldn't have any of this without a lifetime of feeling inadequate or being an outsider.
RS: Is Heartworm press up to anything cool?
WE: I always have these book projects that take a long time. I'm still working on this project with Genesis P-Orridge that seems close to done. There's new Cold Cave material in the works, which would be the next few releases for Heartworm and it's kinda this labor of love where I don't have to run it like a traditional record label or publishing company. I just sort of fly by night over long term projects. Whenever stuff happens it happens, I don't have to meet anyone's deadlines. Anything that seems closely related to what I'm doing or has my utmost respect or love, I'm happy to be a part of it or release it.
RS: What authors pair best with Cold Cave? What authors pair best with American Nightmare?
WE: When I started Cold Cave, it was heavily referential and influenced by Jean Genet and still is in a way. American Nightmare felt like post-middle school and high school Catcher in the Rye, so it was sort of existential Salinger influenced. I guess you could say American Nightmare was more Bukowski and Salinger. Whereas with Cold Cave, a lot of what I was reading was Dennis Cooper, Peter Sotos, Louis-Ferdinand Céline, Baudelaire, and a lot of plays.
RS: What's been your favorite band that's opened for you this past year?
WE: We keep touring with bands we like a lot so it's hard to pick one but the band that meant the most to me that opened for us was Gerten. I released a cassette of theirs on Heartworm. They're from Russia, they got to play with us in Moscow and St. Petersburg. Due to a venue change and logistical bullshit, they were told they weren't allowed to play our St. Petersburg show anymore because they didn't have the money to take the train or get a hotel. We were hanging out with them and talking about how frustrating it was to be such great musicians and fans of music but without a future for them in Russia if they sang in English which is the music they're influenced by and could reach more people with. Instead, they have to sing in Russian and have a smaller career in Russia which isn't what they wanted. It's so sad how you can be a victim of being born in the wrong place. Eventually, we asked them to come with us to Saint Petersburg and we bought their train tickets and their hotel room and their gratitude for that, how excited they were, and how well they played gave us this feeling where we were honored to have them with us. I'm sure they would say the opposite but that was probably my favorite opening band experience of the last year.