German Love Machines: Rammstein at LA Memorial Coliseum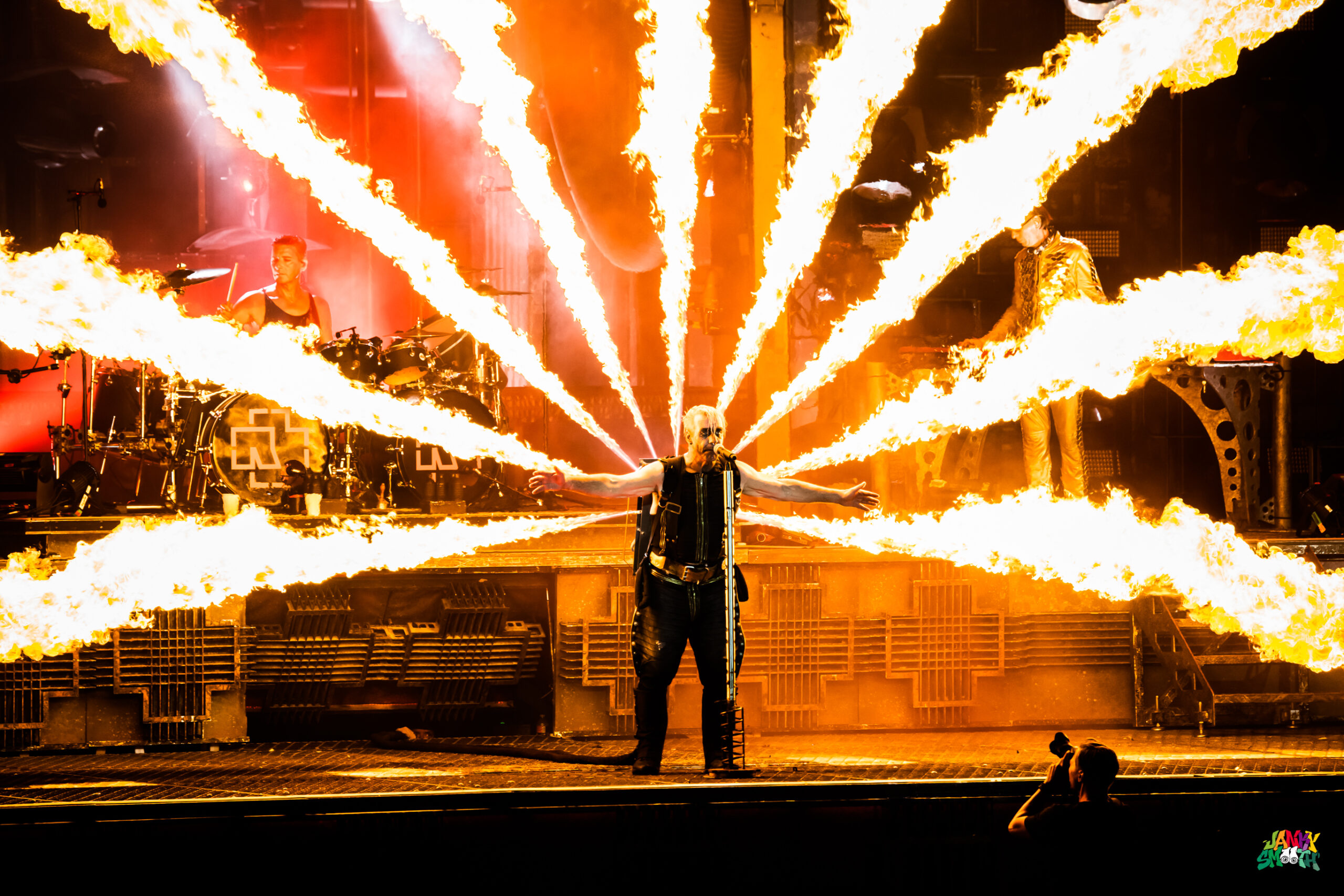 Rammstein in-concert more closely resembles Mad Max's Thunderome or Rollerball than your typical rock and roll show. The atmosphere is reminiscent of the best kind of 80's dystopian cinema, life or death battles that pits man against machine as fire and music blast a rabid crowd salivating for more rock, sex, and violence. It gives new meaning to the words "Arena Rock". Just like this author, Rammstein prefers a maximalist approach to performing. In fact, I struggle to think of any greater spectacle in all of music. No other marquee act, be they rock or rap, has the production value of Rammstein. These days the kings of rock and roll are the likes of Metallica, Tool, My Chemical Romance, Nine Inch Nails, and Iron Maiden, and still, none of them compare to a Rammstein show. Iron Maiden comes close, but when you behold Rammstein's stage, you feel like you've entered an actual urban hellscape from the year 3000 as you stand before this industrial structure that houses the band for the next two hours. You wonder as you stand in awe of the A and B stage, how large is the crew that built this and how long did it take to build. The band sees no need to suspend your disbelief when they can quite literally take you to another world inside an arena. And this other world is one where your rock and roll attitude can get you far and where sex is never shunned because we've all spent our money and made the long drive desirous of one thing: Hot German Love.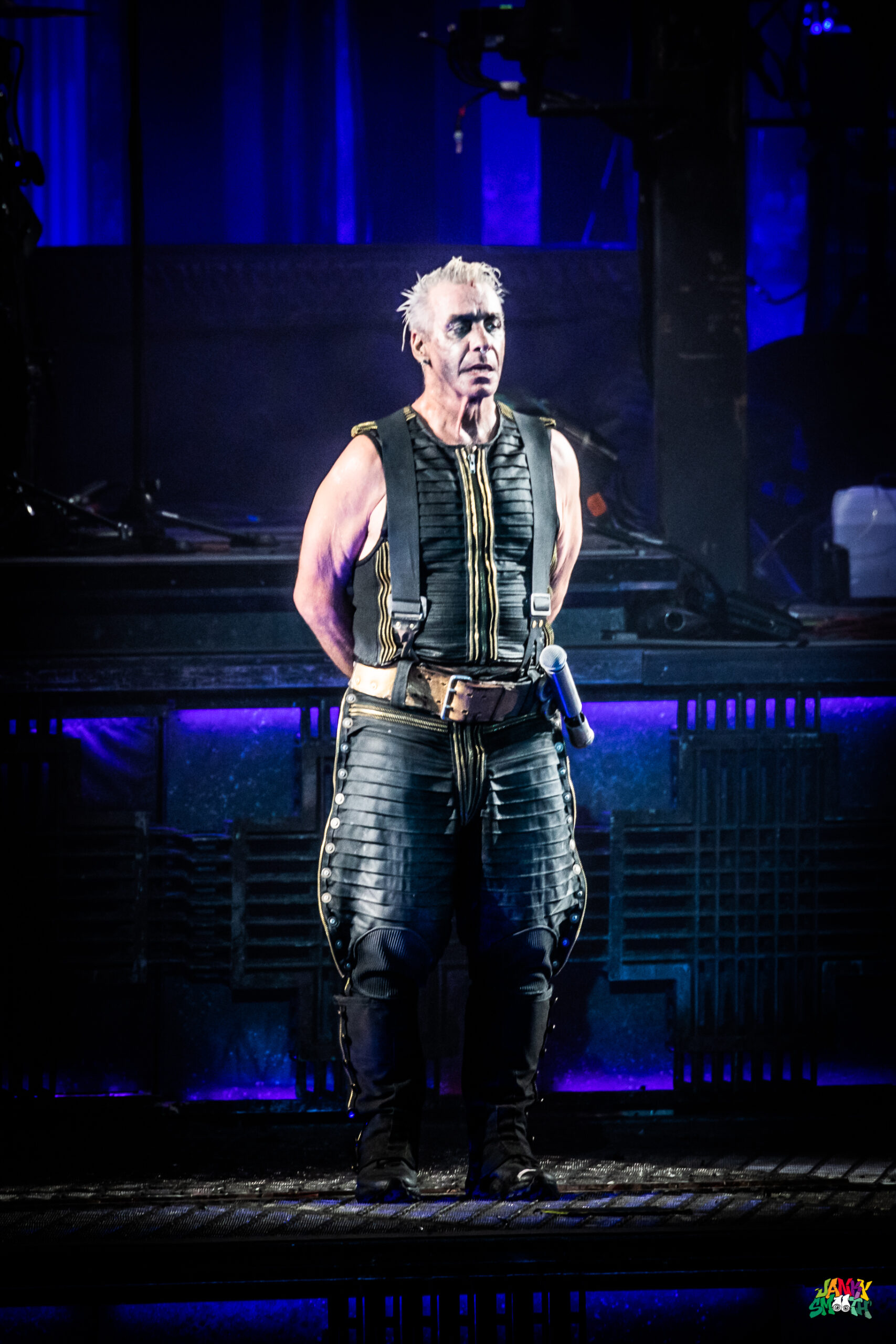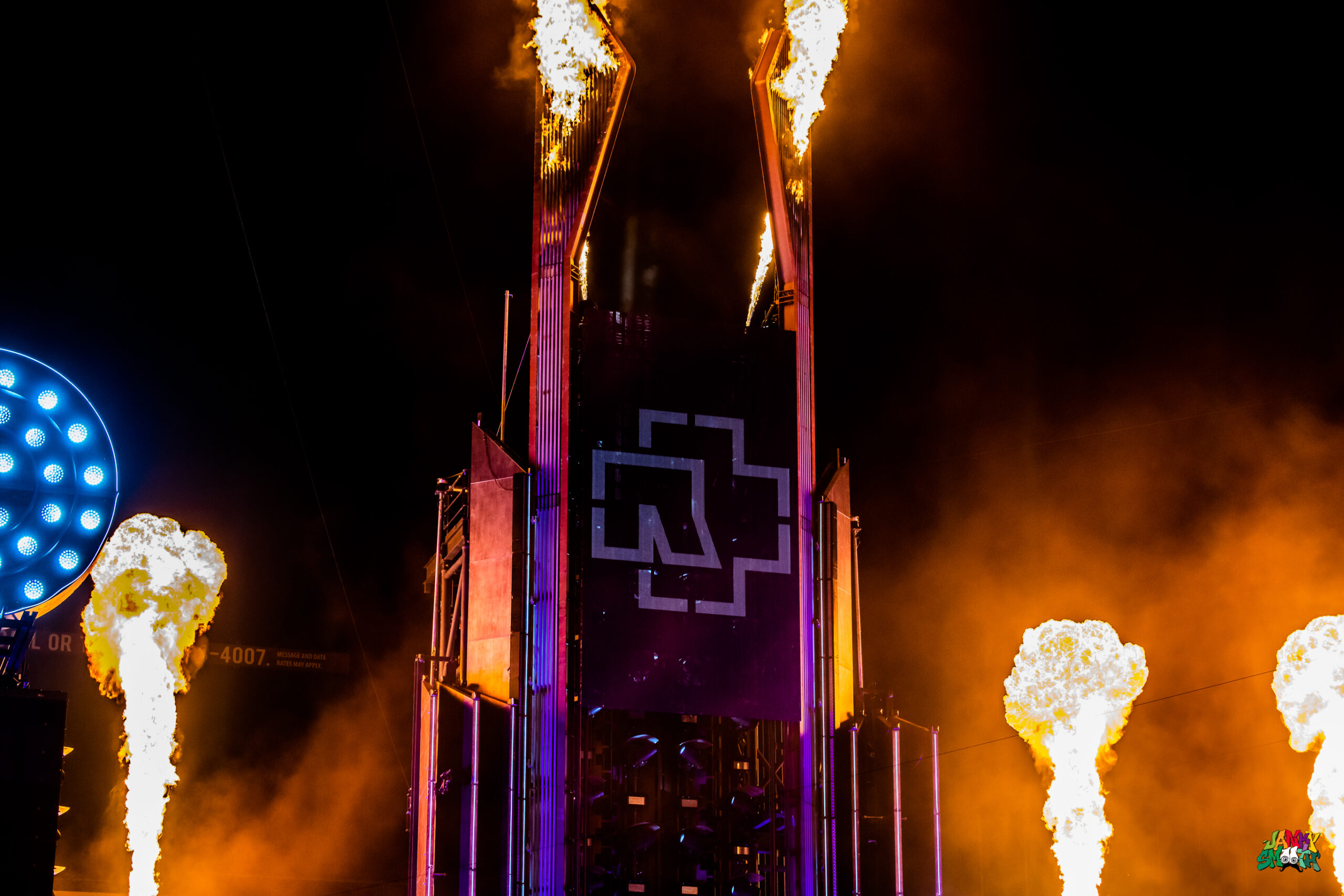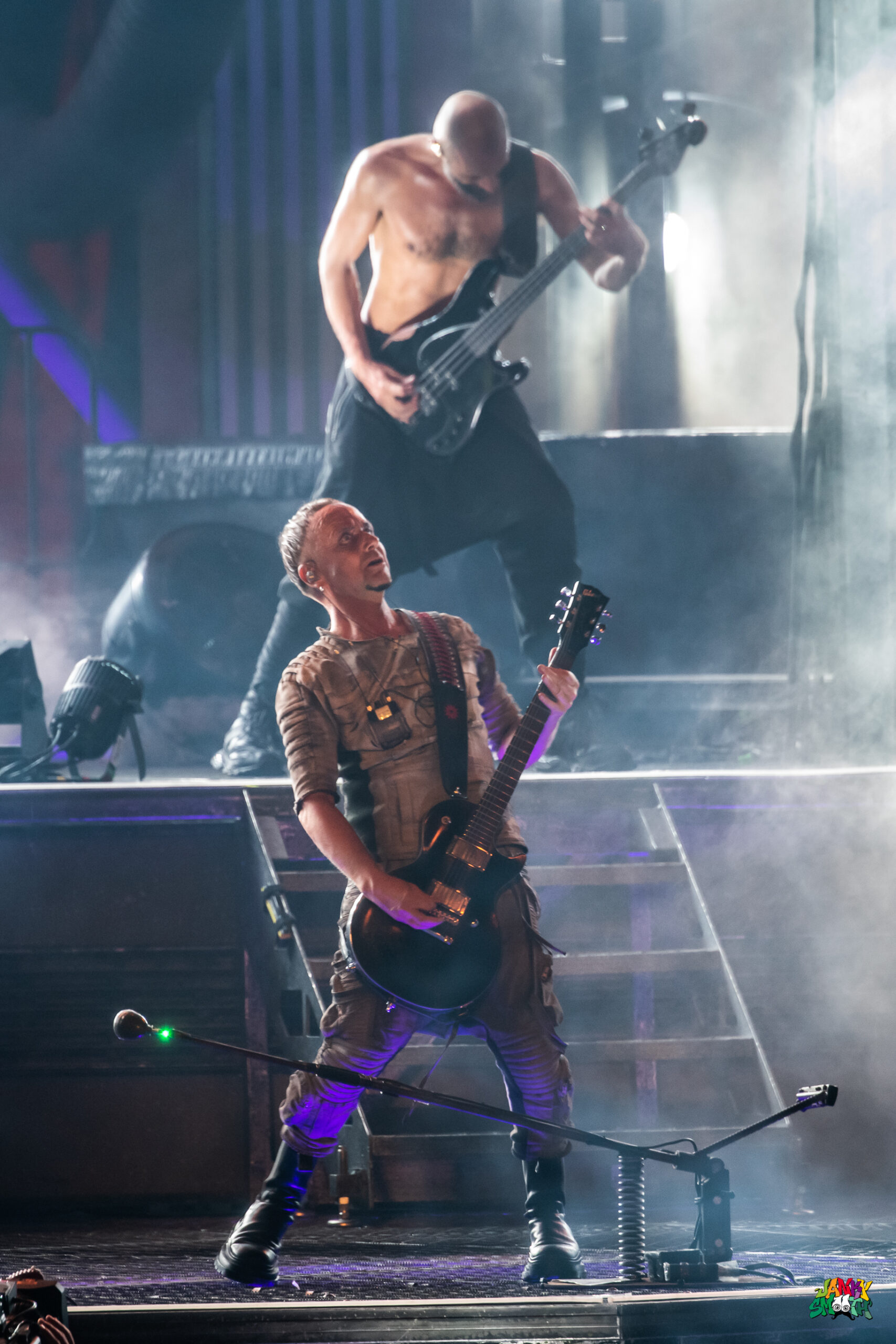 I wasn't sure what to expect from a Rammstein show. I wondered what sort of fans would come out, what the music's live character was, and how the band acted in a performance setting. The fans were a very specific type of metalhead, the kind that would wear a kilt out. What they lack in fucks to give they make up for in intellect. There isn't much bro energy in the room, at least there wasn't in LA. Musically, the sound was pristine and perfect, often the distortion would provide a warm and constant vibration over the loud speakers to keep everyone's mojo at peak performance. That said, you watch and sing along in German-sounding gibberish to Rammstein more than you dance or mosh to them. Not sure if that's a good thing or a bad thing, but you have a wonderful time participating.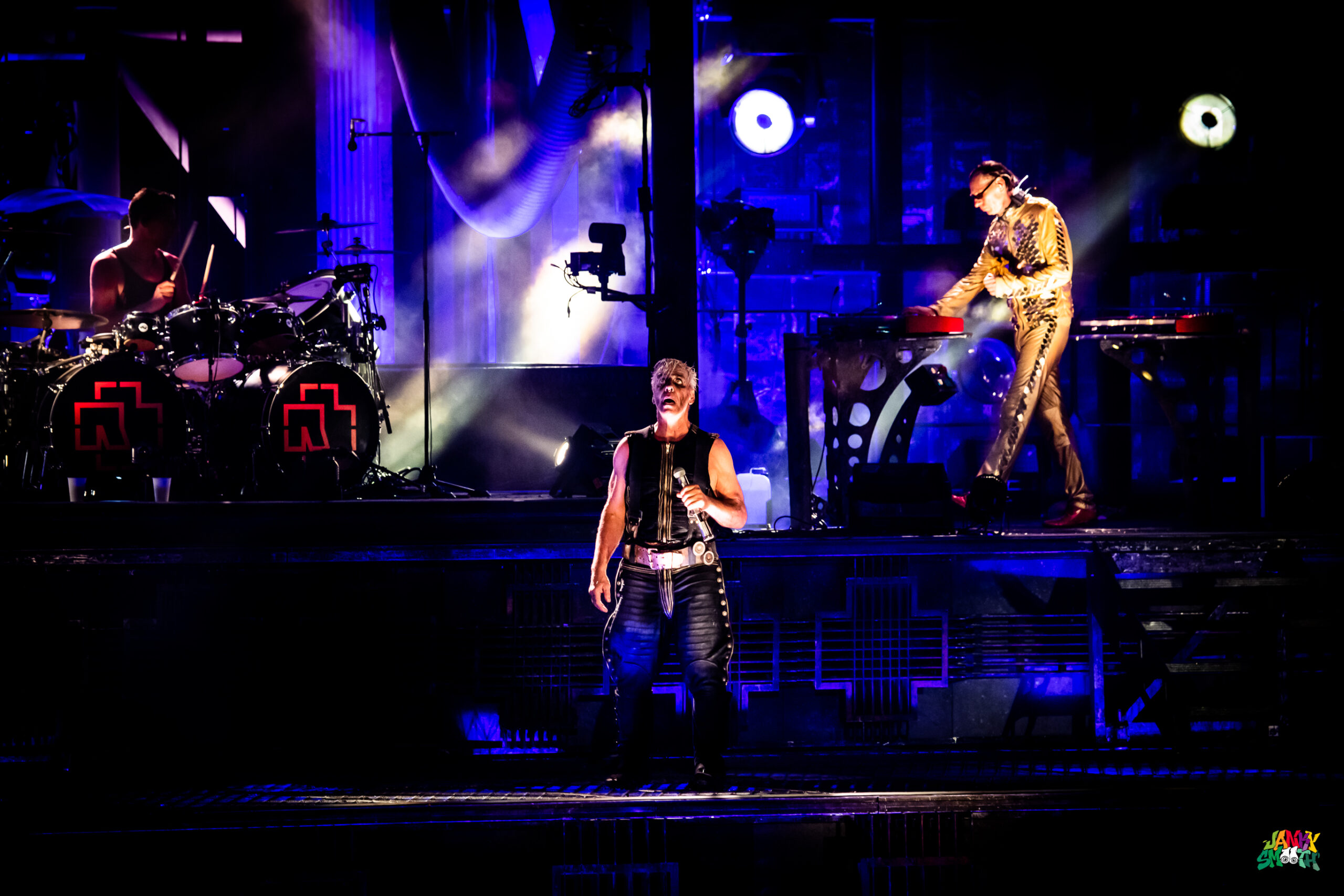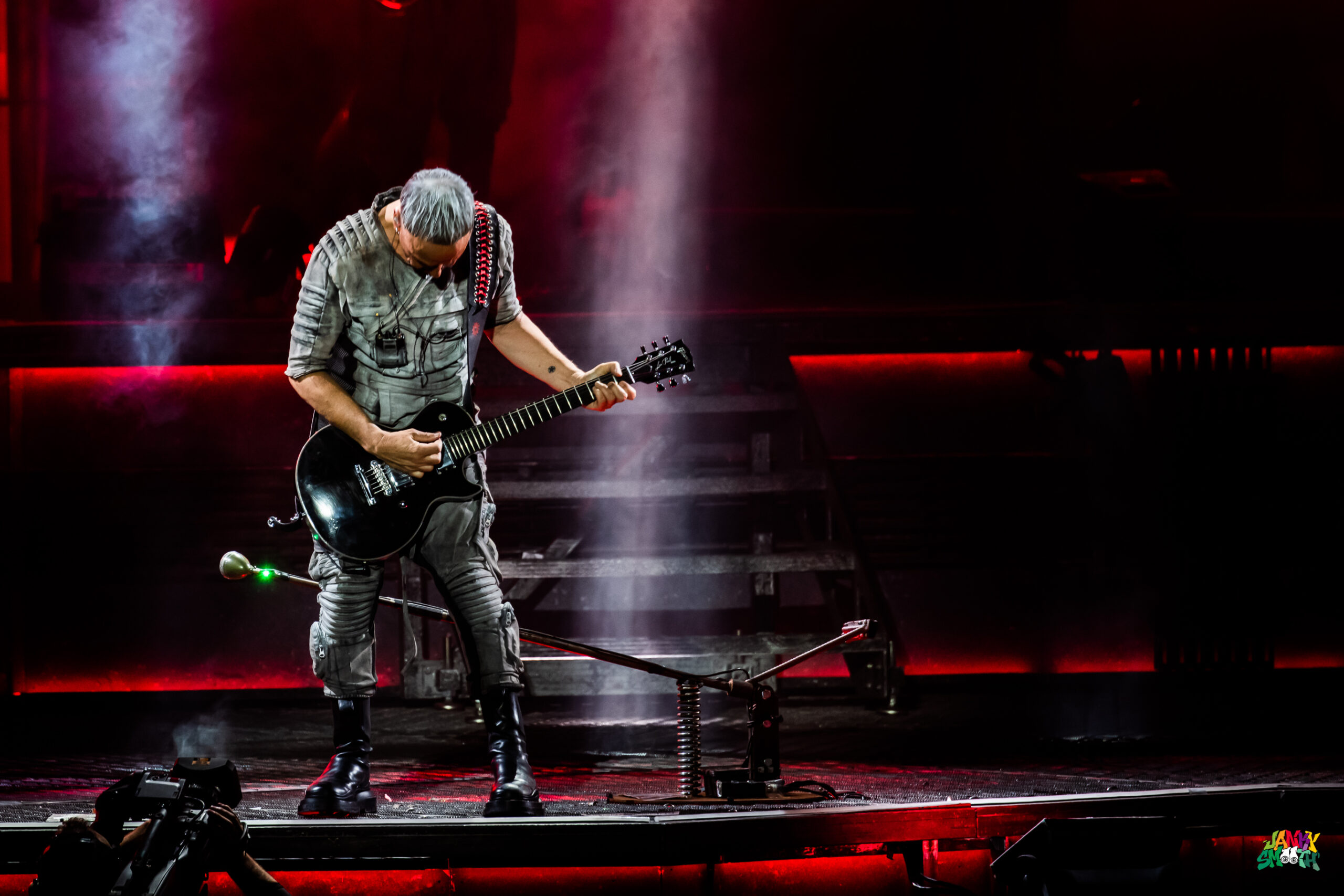 Onstage, perhaps the coolest element of a Rammstein show is the sort of character each player inhabits while onstage. They each carry a specific physical style about them, one guitarist violently stooges around while the keyboardist plays while walking on a treadmill. The genius charisma of Till Lindemann is in a class all his own, infusing the bleak darkness of German cinema with the baroque drama of Bertolt Brecht, the slapstick of Buster Keaton, the android likeness of Kraftwerk and finally the subtle yet vulgar humor that is original to Rammstein. Till can be goofy one moment then hardcore and insane the next. It's like he's a damaged wind-up doll that survived the end of the world by crawling up from the bottom of a burning trash-heap ten miles deep. You watch him jeer and crank his body parts in small, detailed movements that even people in the very back of the stadium can see and feel. These small movements and expressions take a very long time to master but its in these details that Till built a larger than life stage persona. All this derangement in body movement you also hear in his voice, whether singing with gravel or drama, it's a voice that can only come from someone with a story to tell, someone that's seen hell and come to warn you all.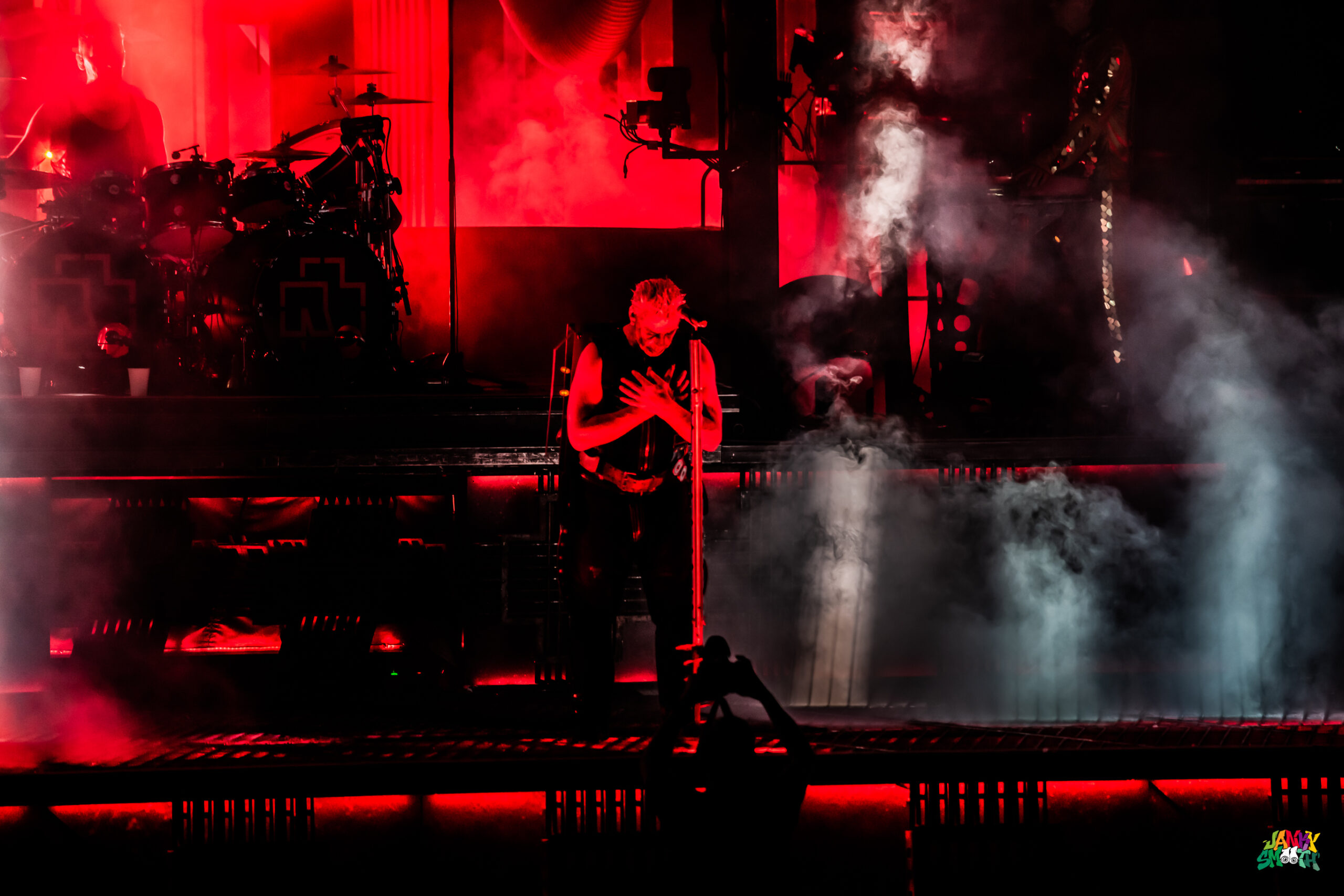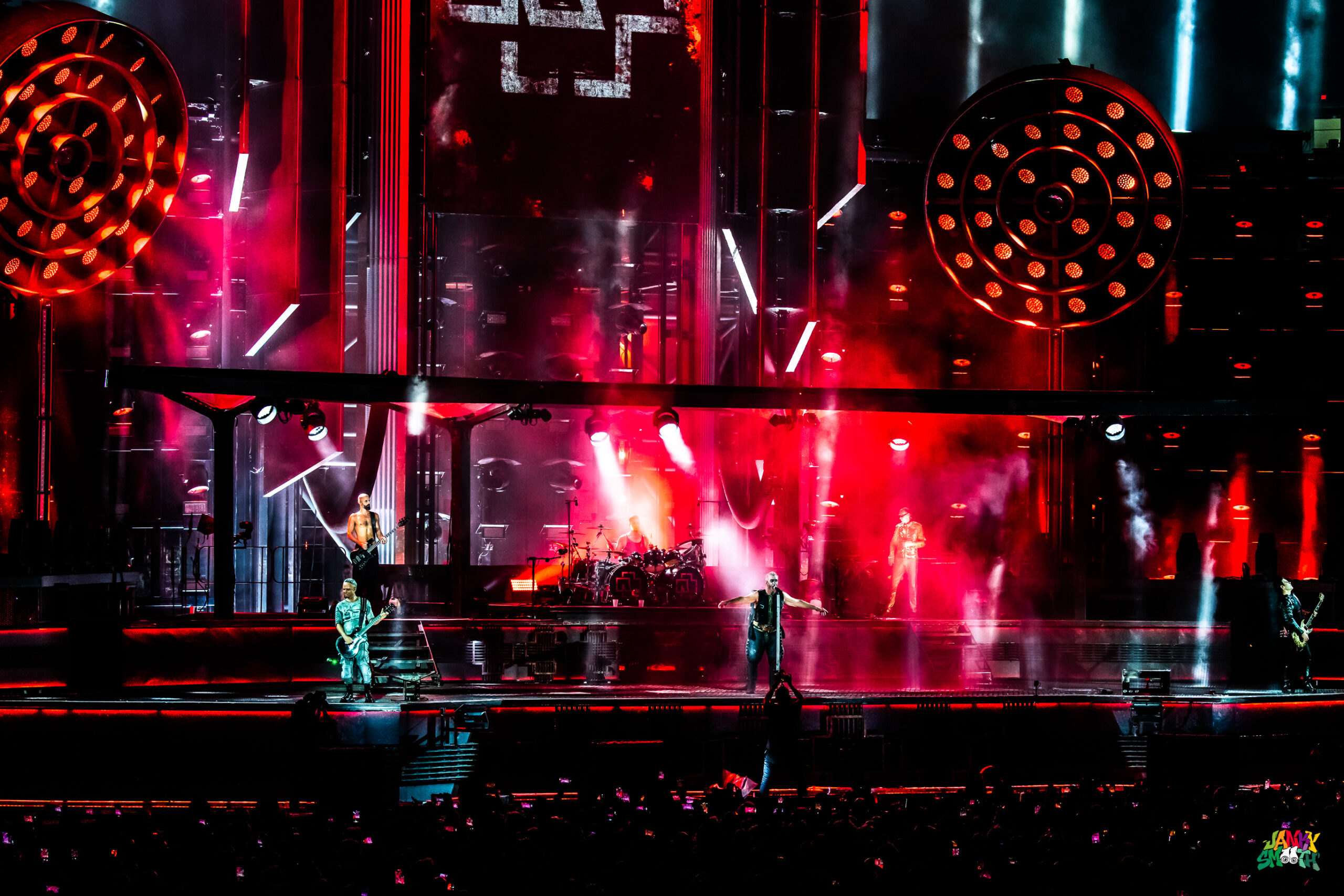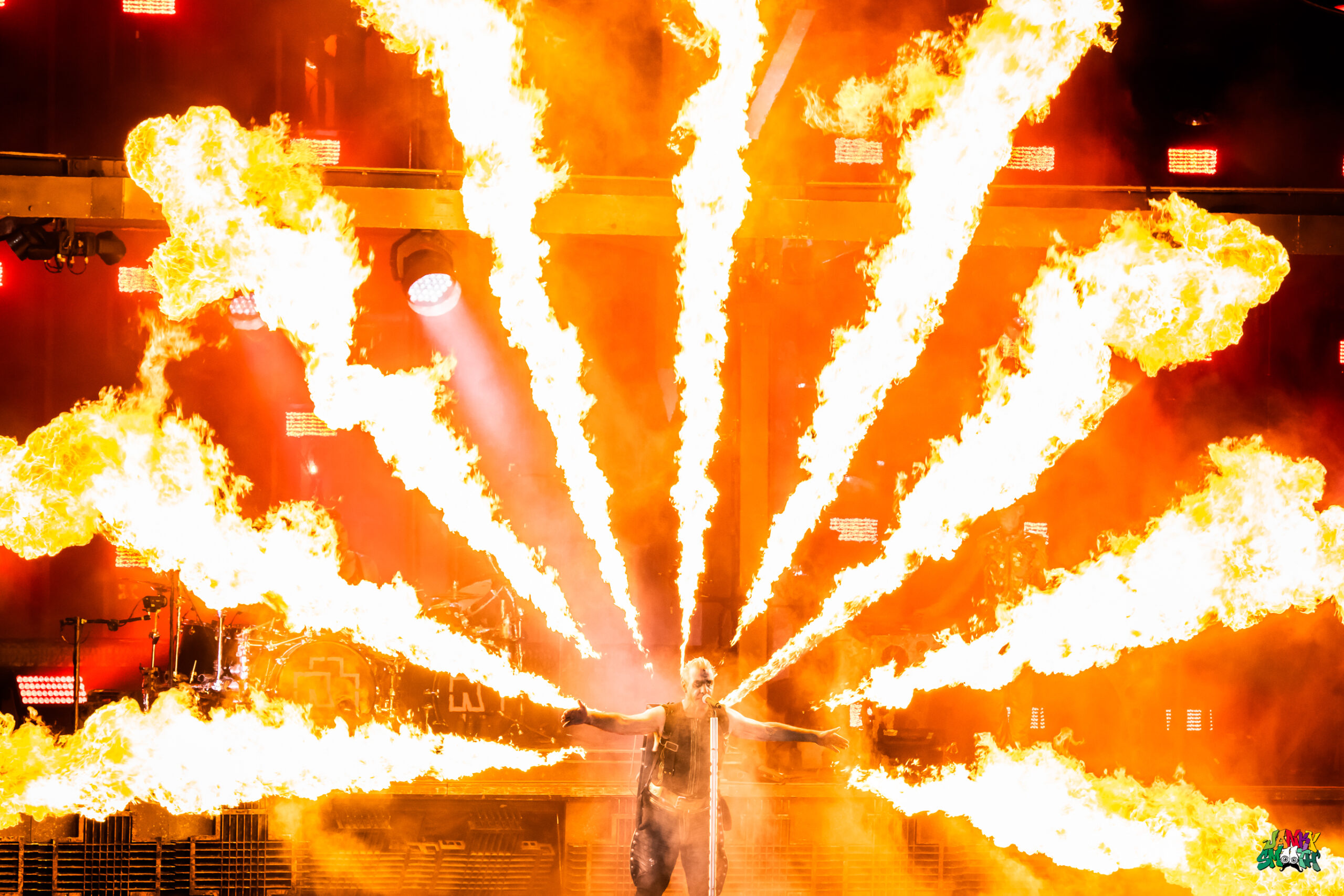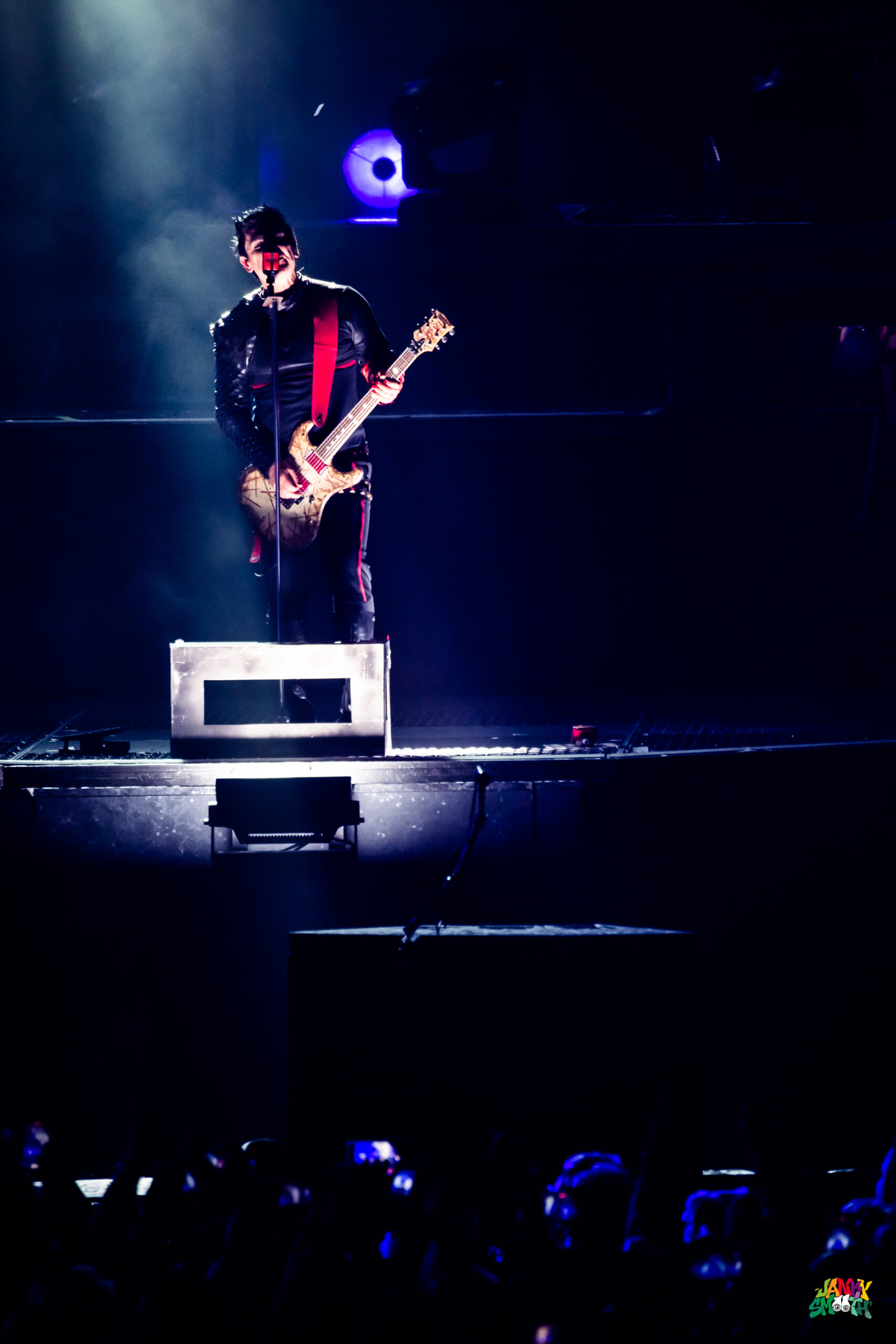 I was curious as to what songs the band would choose to perform on this rare West Coast appearance. There were certain songs LA wouldn't let them getaway with not playing, perhaps we'd hold the Coliseum under siege if the band refused to perform "Du Hast". There were some surprises, plenty of classics, some performed in new ways, and then, as should be expected, some songs I wished I could've heard but wasn't blessed with, specifically "Reise, Reise" or "Amerika". The band came out the gate burning, with "Armee der Tristen", "Zick Zack", "Links 2-3-4", "Sehnsucht", "Zeig dich". Rammstein's latest album, 2022's Zeit would play a prominent role in the night's set. Many fans of other bands may jeer at hearing the new stuff but in the case of Rammstein, they didn't let modern idiocracy let their music assimilate into the faceless sea of content. No, new Rammstein songs slay and feel just as powerful as old. The same goes for songs off their 2019 self-titled album.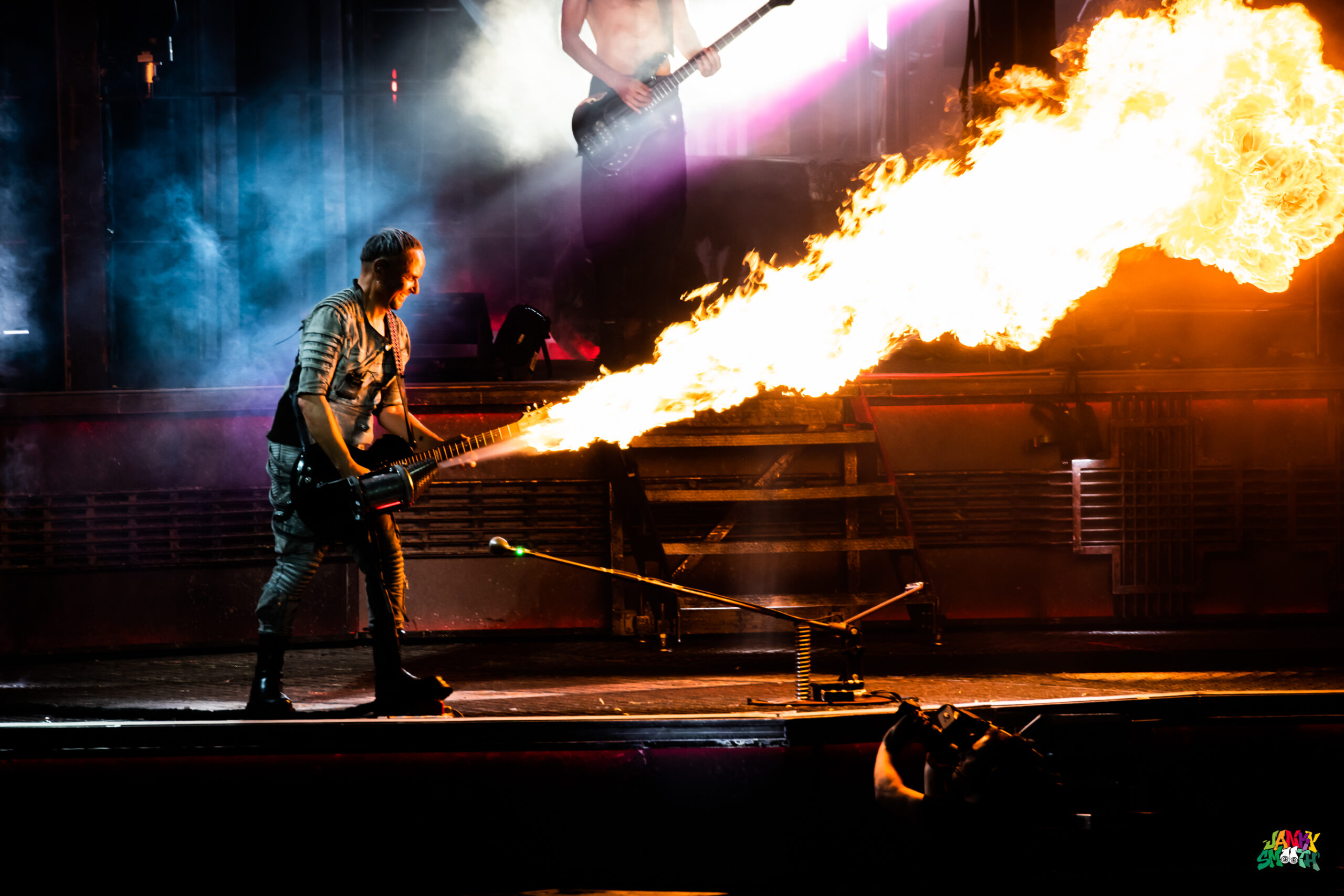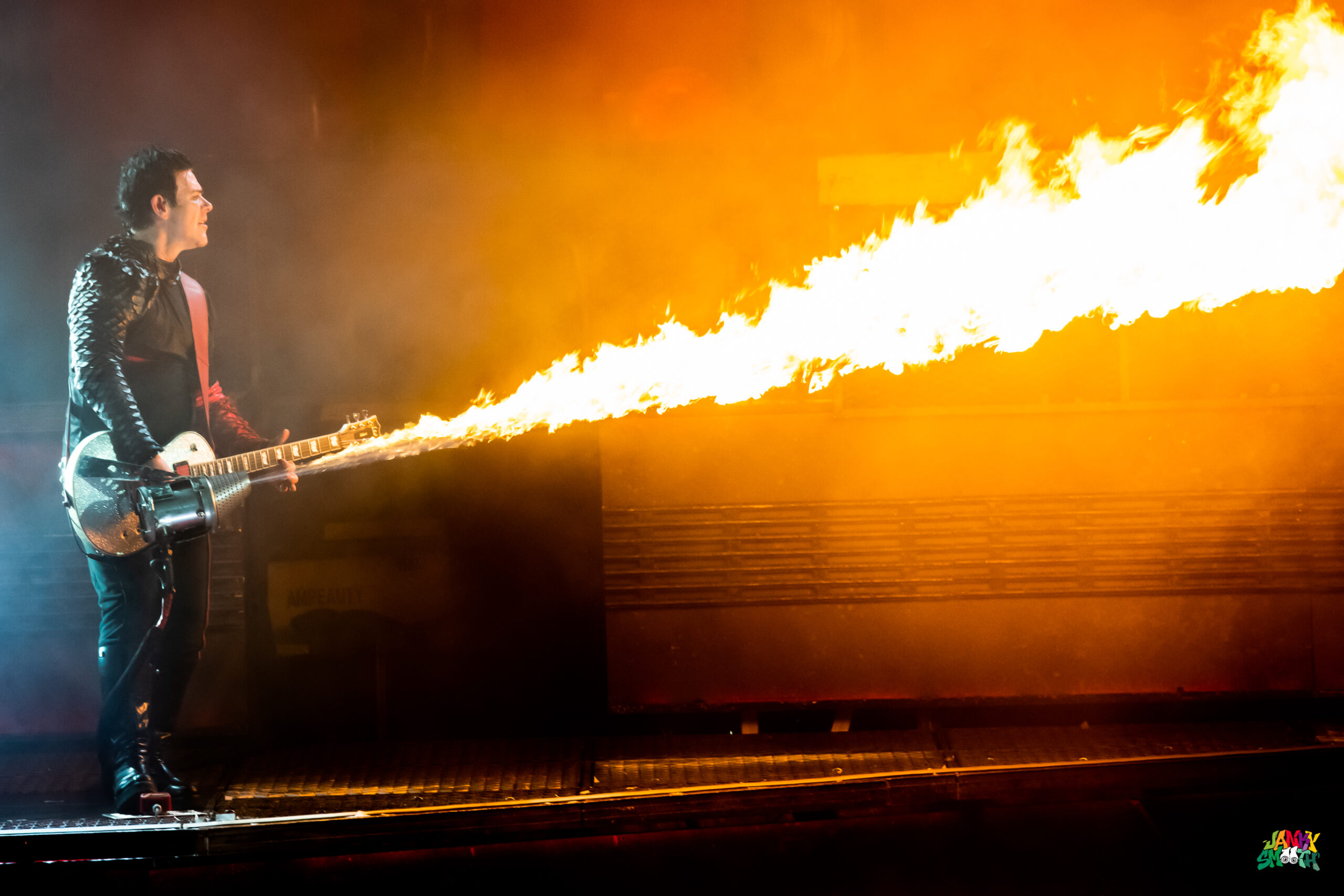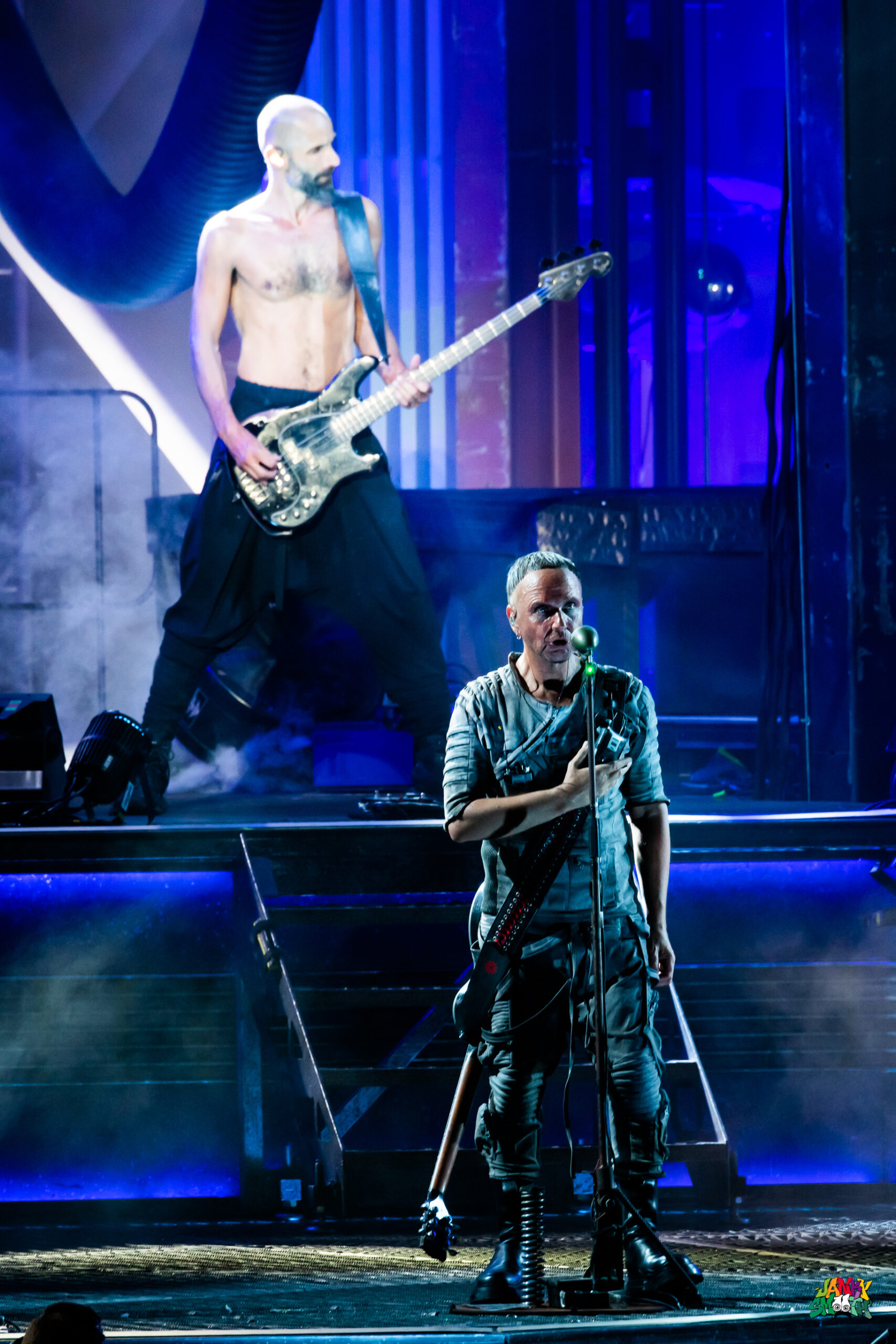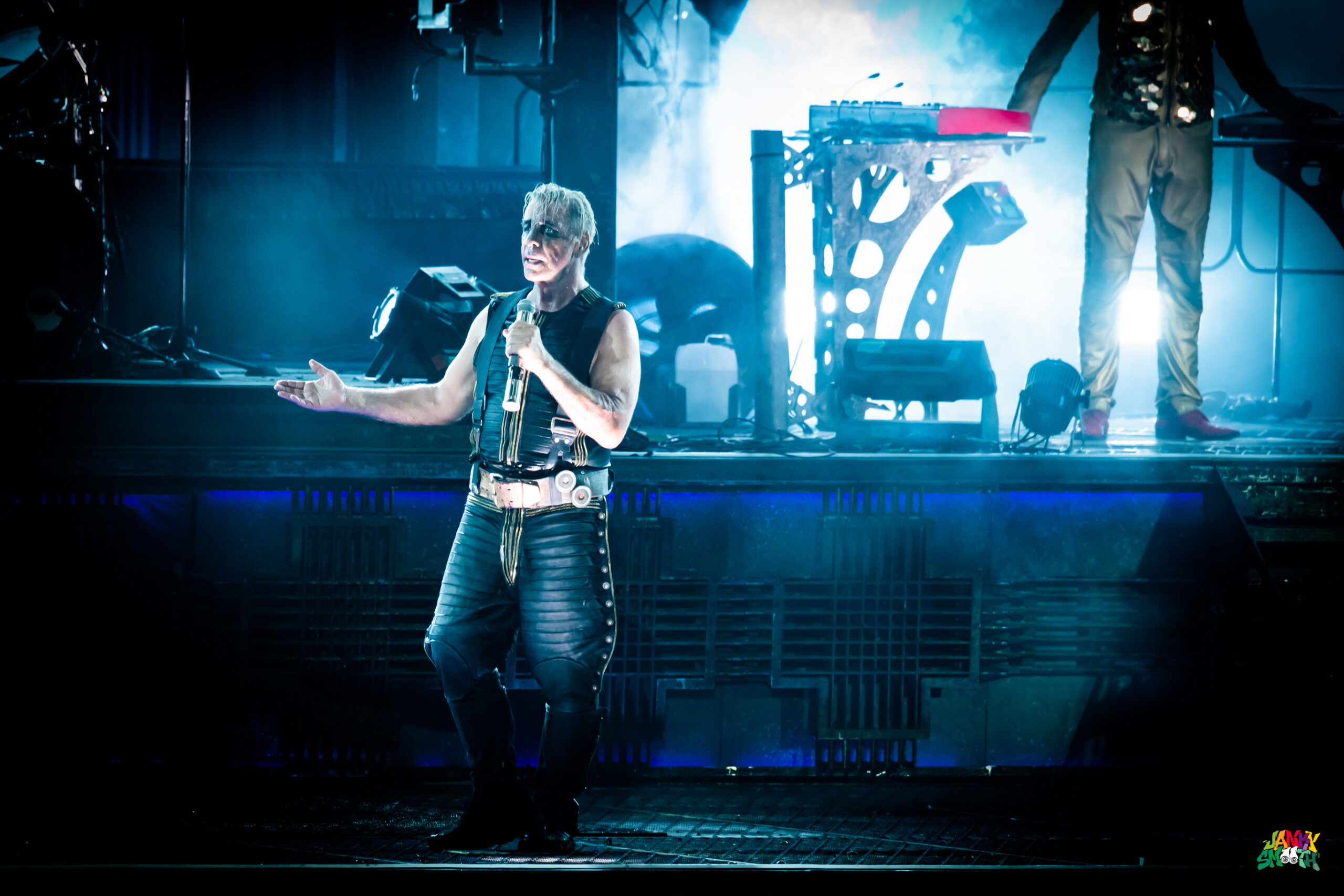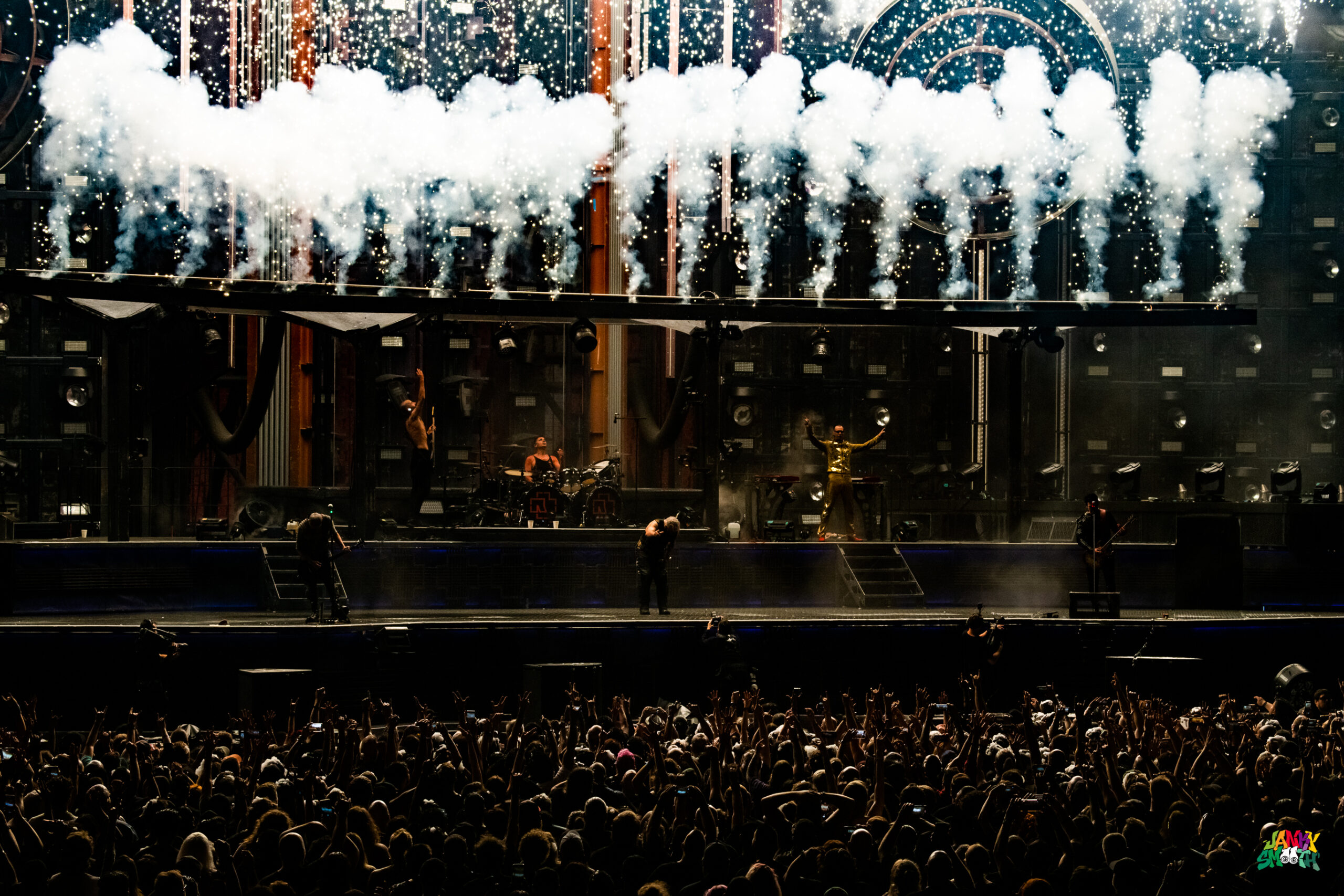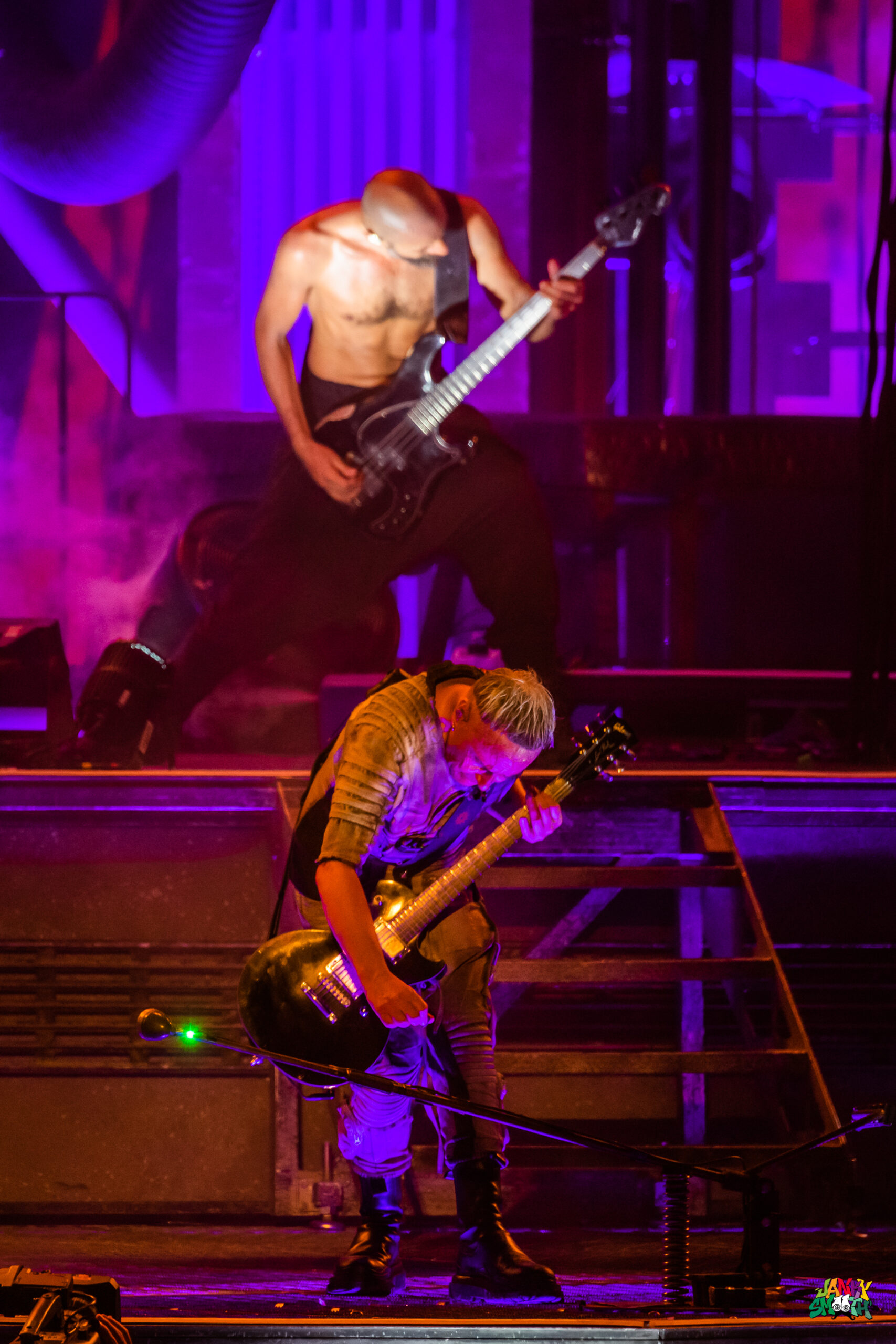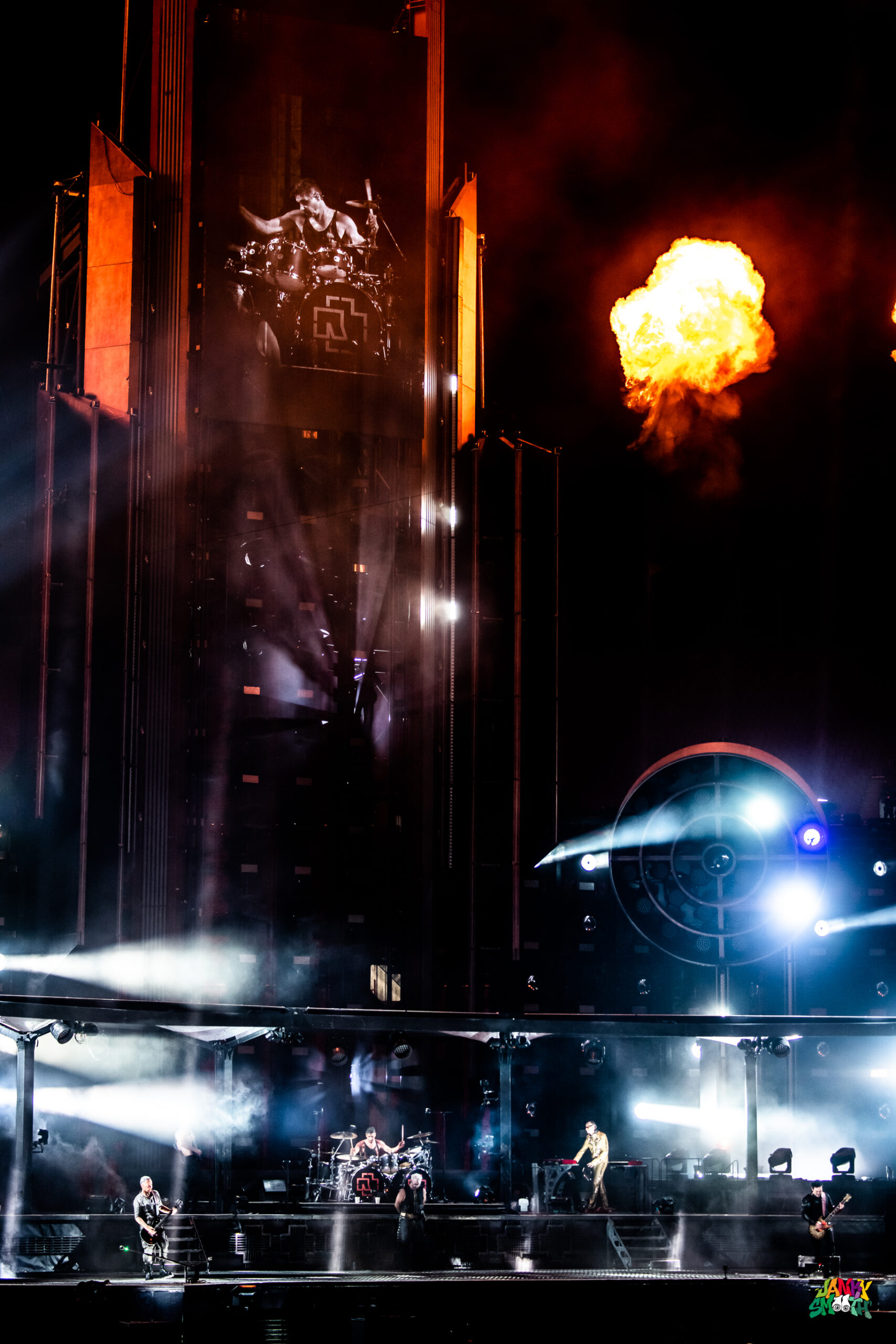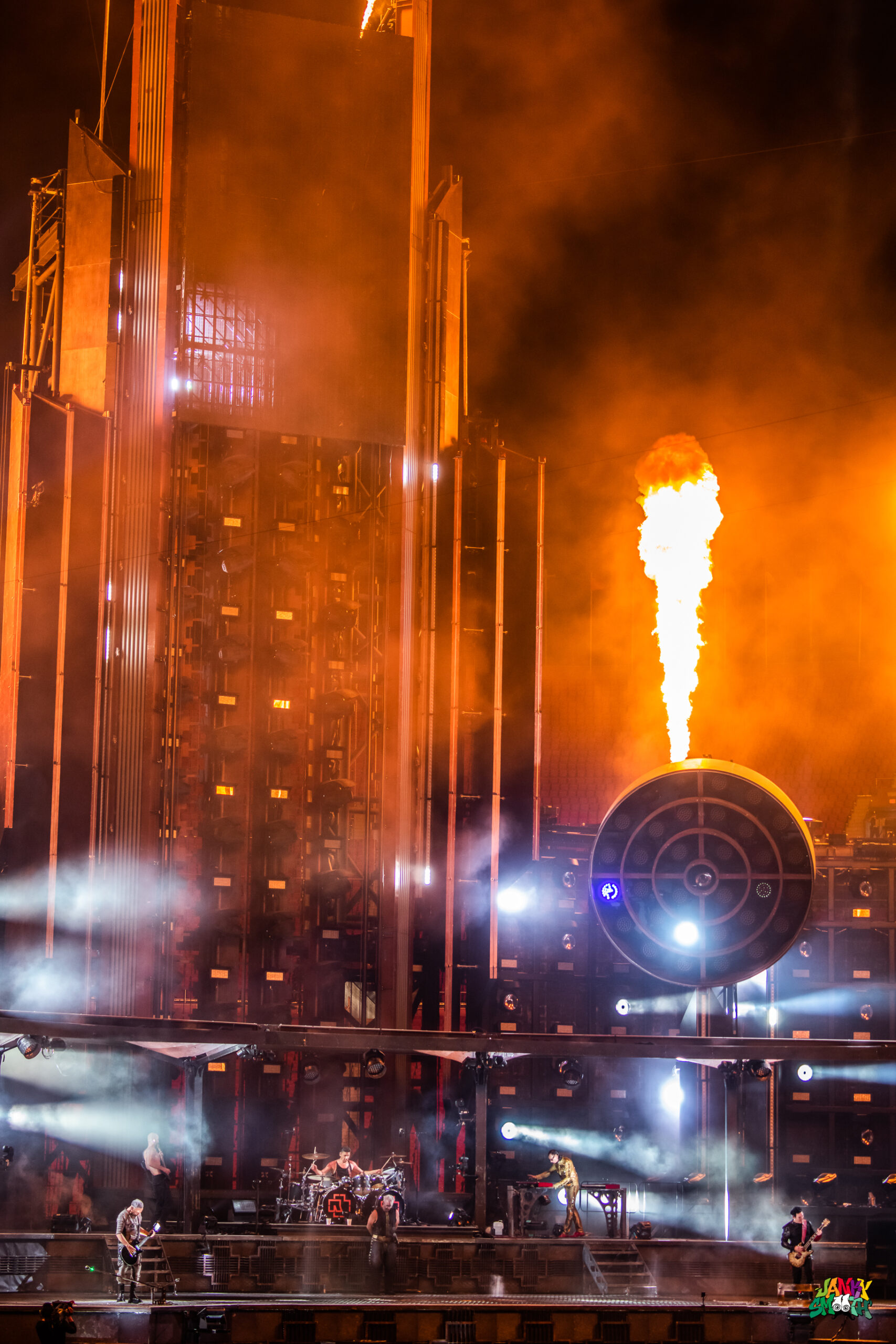 When the band roared into their anthemic, chest-beating mission statement, "Mein Herz Brennt" which translates to "My Heart Burns", and the pyro blazed through the coliseum, all of Los Angeles felt an inferno in their chest as it became undeniable that Rammstein's passion and power could neither be denied nor challenged. Soon after, "Heirate Mich" saw the band playing with the tropes of a huge rock show in ways that made them the loveable megastars they are. They stood right up over the blasts of fog that shot up out the floor and let it hit them in the crotch. Whereas any other band might think such antics would diminish their image, Rammstein doesn't give a fuck. Another noteworthy moment was their performance of "Deutschland", their most streamed song on Spotify, which saw the moving uniformly like a gang of androids that harkened back to the imagery and sounds you would see and hear at a Kraftwerk show. Rammstein paying homage to Kraftwerk, the legendary art collective that inspired all electronic and German music from then on, was one of the most epic moments of the show. Having to be in the know is one of the best parts of being a Rammstein fan, because when you see them perform "Mein Teil" and Till comes out dressed as a chef trying to burn his band member in a giant pot, you know that it's all a reference to Armin Meiwes, the infamous German computer technician that ate a voluntary victim after a date. The macabre sense of humor exhibited in the songwriting and performance of "Mein Teil" and "Heirate Mich" are part of what makes Rammstein's art so nuanced. Next, the band blasted through "Du Hast" in one of the most pummeling, head banging moments of the show.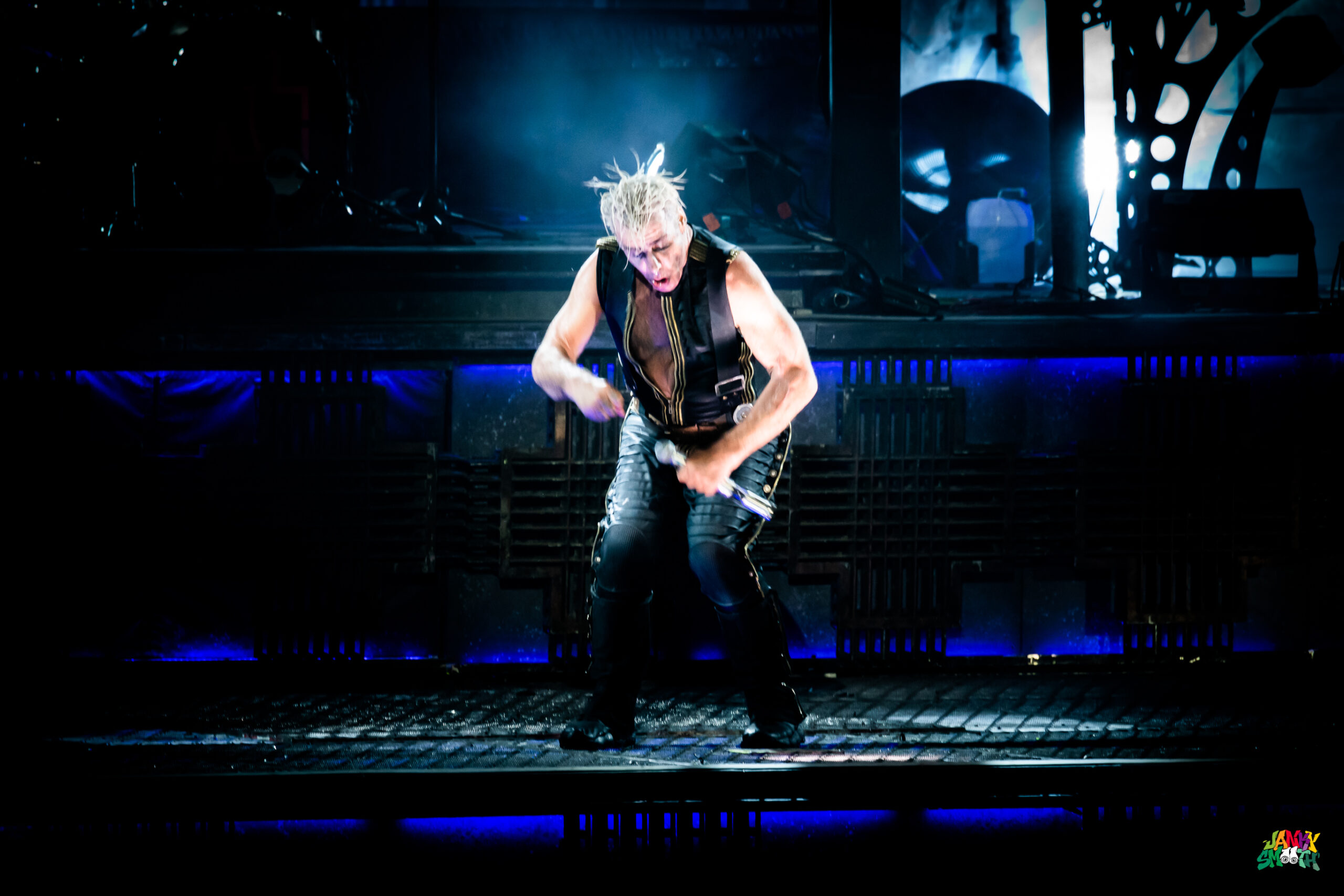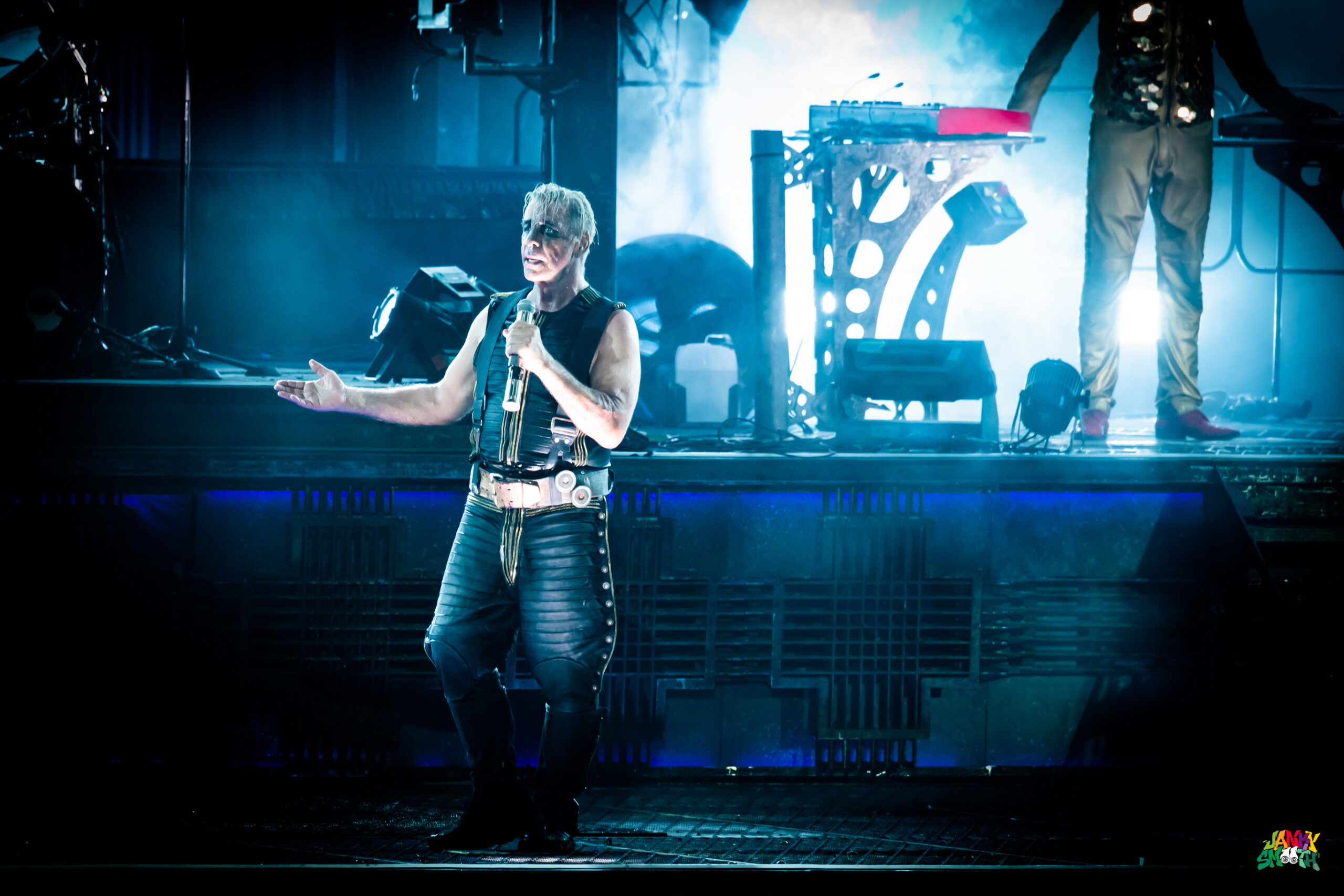 After closing the set with "Sonne", the band took a break that saw their cameramen find members of the audience to feature on the big screens. It was only a matter of time then that after the camera fell on a few women, one would flash the audience until eventually, every woman featured was compelled to show their breasts to everyone. Rammstein created an atmosphere that made everyone feel carefree, like there were no consequences for bad behavior and nothing to ever be ashamed of. Soon, men that the camera fell on were showing their nipples too, each to a huge roar of cheer from the audience. When the band finally returned, they were ushered in by epic piano upon the B-stage, a large cubic building sticking out the audience, whereupon they performed a fresh take on their song "Engel". Once finished, they returned to the main stage in the most original way I had ever seen at a concert. Two lifeboats were inflated and floated over for the band to board, two mates at a time. The audience then carried the lifeboats from the B-stage to the A. Rammstein knows how to reap the most magic out of a moment and it doesn't always require spending exorbitant amounts of money on the flashiest production.
After a few more songs and another break, they returned for a 2nd encore that began with the track "Rammstein" where Till donned a backpack that shot fire like the flames were the feathers of a peacock. Then going into "Ich Will", the band finished things off with a bang that let everyone purge any remaining aggression. Finally, they bid farewell to the Coliseum by performing "Adieu" before boarding an elevator built into their stage that saw them head up into the structure until a mass of fireworks blew the moment they reached the top. This moment meant to me that this band were machines, brought to life to perform for us all. When their job is done, they are put back in their drawer and shut down until the next show. The beautiful thing about these machines, is that by losing their humanity, not only are they more fearless to do something extreme onstage but when that machine is specialized in a certain task, human output simply can't compare. In the case of Rammstein, these machines were built to make an audience rock harder than they could've ever imagined at the biggest show on Earth.
Words by: Rob Shepyer
Photos by: Jessica Moncrief