Day For Night Fest: Futurists Of Audio & Visual Converge In Houston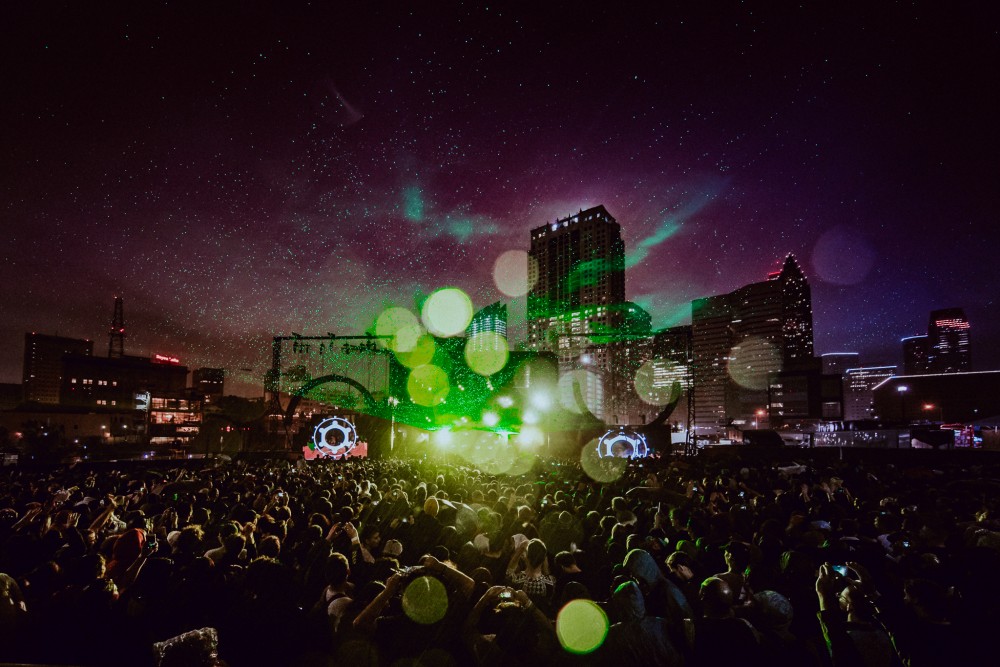 Shadowy figures traverse dimly lit concrete walkways, gliding past "High Voltage" warning signs that adorn massive steel boxes hanging from the ceiling. A chain link-fence houses what appears to be some sort of parasitic mass of hair, the fibers hovering above curious crowds of observers like a space creature. A neo-futuristic looking couple decked out in silver metallic platforms, all black skintight clothing and bondage style leather harnesses hold hands as they navigate the industrial landscape and make their way toward the Blue stage. Had I taken the red pill and woken up in the goth haunt Club Hel from the film The Matrix? It certainly felt that way, but I was in fact partying inside Houston's premier winter music and arts festival, Day for Night.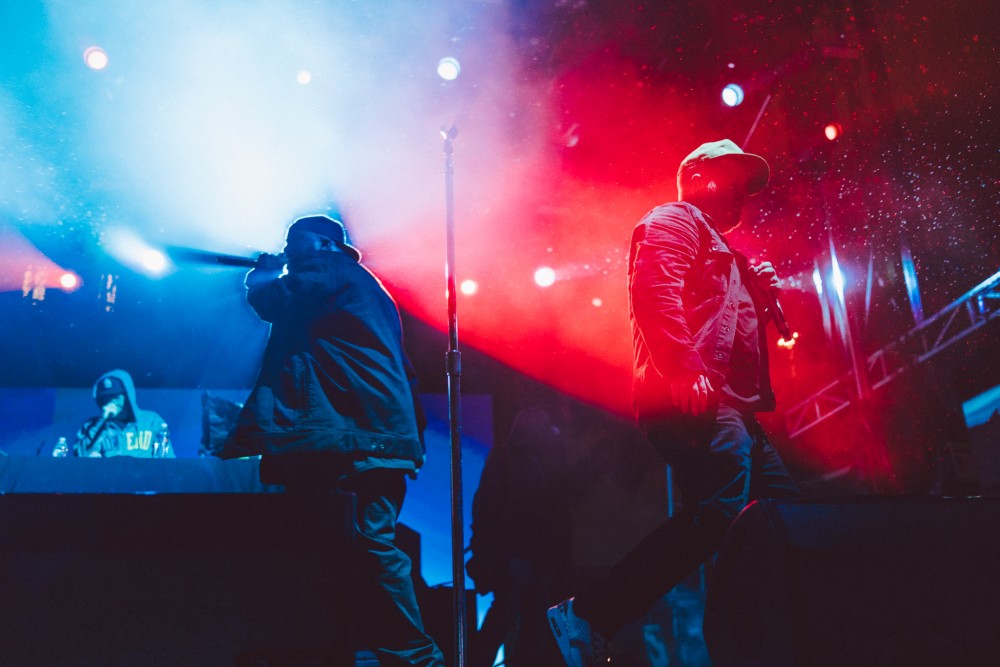 Taking residence in a vacant post office building in the heart of downtown the second edition of the gathering boasted an exclusive Bjork digital exhibit, a highly-anticipated headlining appearance from Aphex Twin (his first set in the U.S. since Coachella 2008), 3 outdoor stages and a multitude of thought provoking light installations. The event is the product of the minds that organize Houston's Free Press Summer Fest, yet Day for Night offers an experience that is more subversive, nearly devoid of annoying product placement (save for few Heineken booths), and akin to the golden era raves held in abandoned warehouses worldwide. The colder months offer few options for music fans to commune and get their festival freak on, so I was happy to oblige my cravings and take the nearly three-hour trip from Austin to Houston to get my fix.
The weather forecast for the opening day on Saturday Dec. 17th predicted a dose of sticky Texas humidity, making the temperature controlled interior of the post office even more appealing. My journey would start there.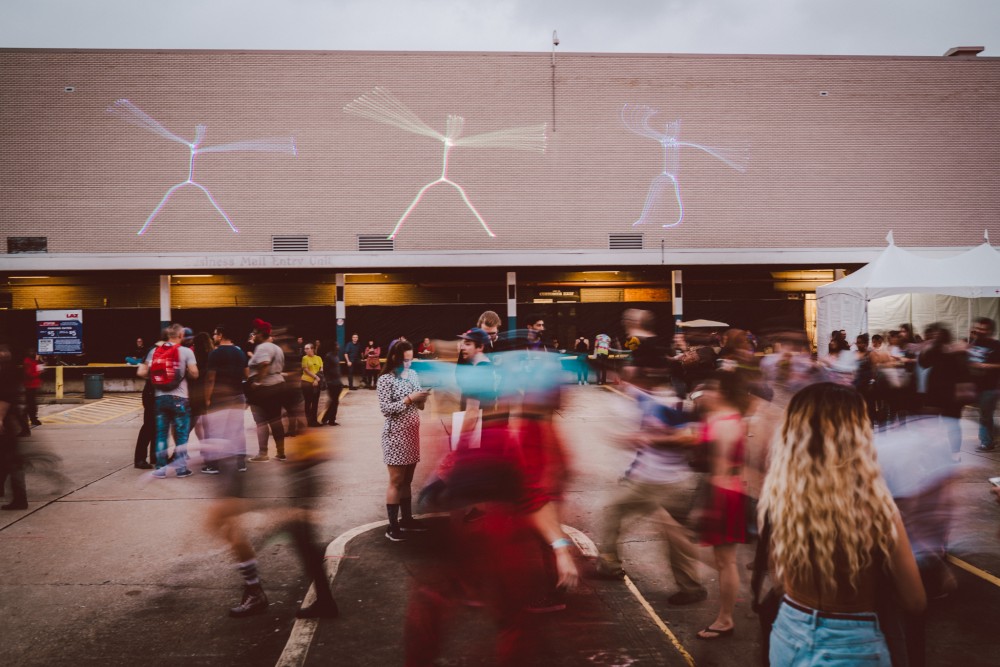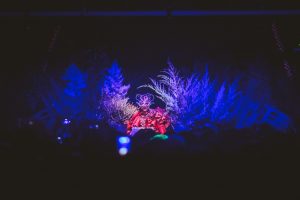 Upon entering the festival grounds, I was greeted by Golan Levin's Ghost Pole Propagator, a massive installation that transformed fest-goers into dancing petroglyphic stick-figures projected onto the building's exterior. It was clear that human interaction with technology driven environments would become a repeating theme. After entering the lobby of the Barbara Jordan Post Office, the daylight quickly faded and one became submerged into a murky basement-like sci-fi underworld. Tumbleweeds of synthetic hair from the previously mentioned installation, Ghost Beast by Icelandic artist and Bjork collaborator Shoplifter, floated aimlessly along the concrete. There was scant overhead lighting, only glints of color seen radiating from bar areas and installations.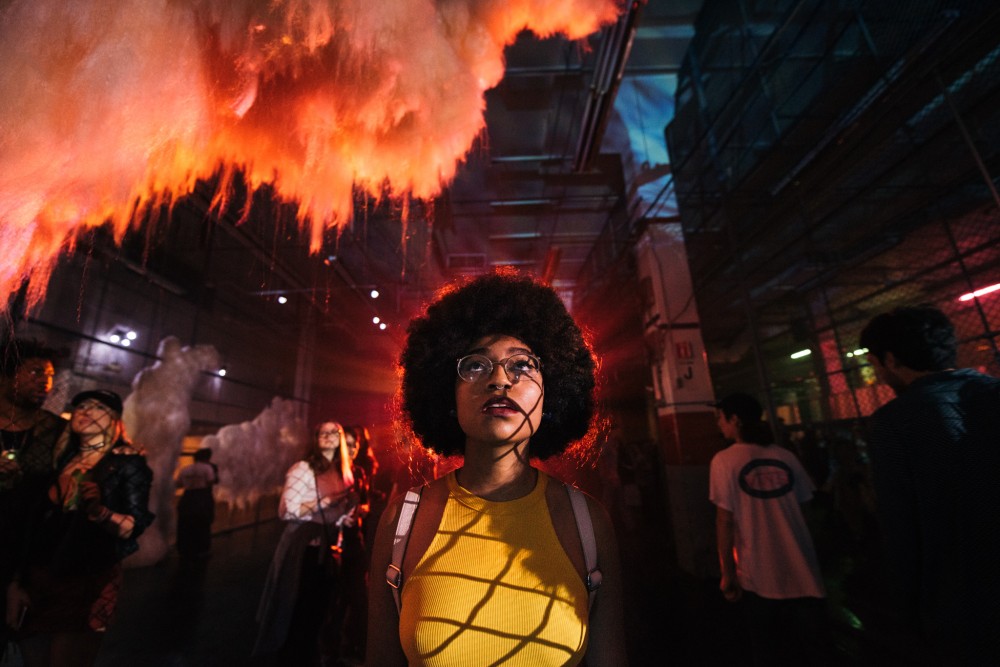 Heading toward the Blue stage (the only indoor performance area occupying the venue) quite early to catch analog synth master Tobacco, I was blown away by the remaining 15 minutes of visual artist Herman Kolgen's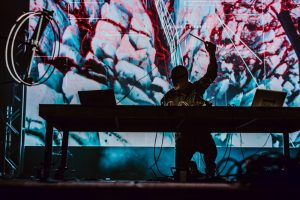 performance. Described as "a multisensory leap into the unknown, where sedimentary friction, magnetic waves, rumbling matter, abstractions and motifs clash and collide against a backdrop of visual and sonic dislocations", flashes of barren landscapes ranging from frigid tundra to sandstone layered monoliths flashed across the screen. The images became distorted by some sort of magnetic pulse, perhaps referring to the title of the work, "SEISMIK". One viewer directly behind me raved, "Mixed with the really heavy frequencies vibrating the audience, it gives you an impression of standing on this constantly shifting shattering rock…..what is essentially what the earth is in a way. Whether we like it or not, the earth is more fluid than people realize".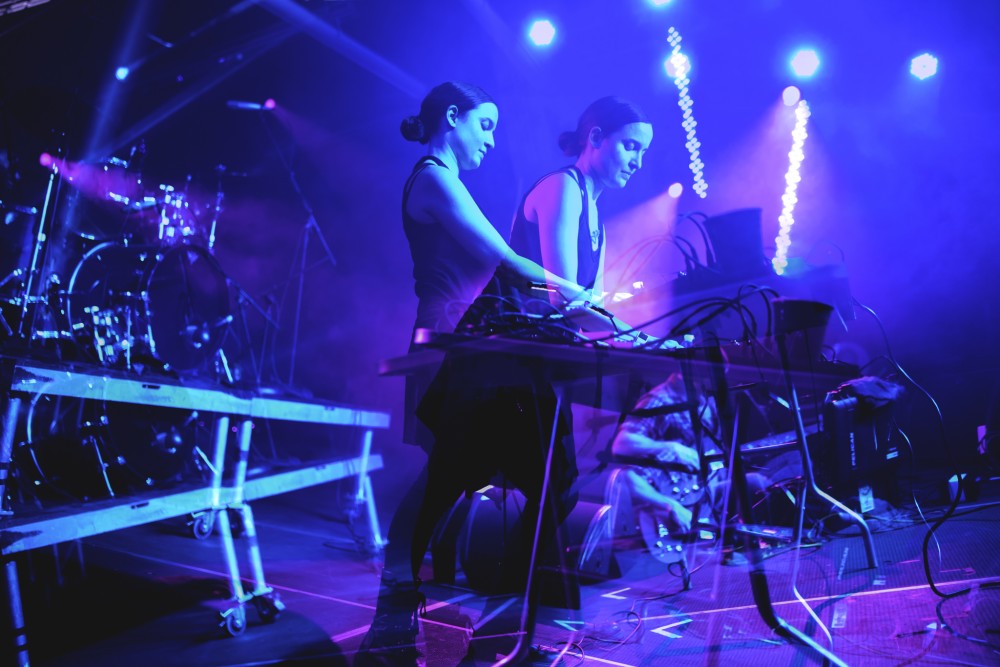 Next, the always experimental and lo-fi electronic sounds of Tobacco filled the space. The Black Moth Super Rainbow member delivered solo material like "Warlock Mary" and "God's in Heat" from his latest release Sweatbox Dynasty, accompanied by bandmate The Seven Fields of Aphelion. Tobacco sat cross-legged on the floor, performing behind a portable suitcase modular synth, his distorted vocals stirring the crowd into what seemed sure to be a boogie filled evening.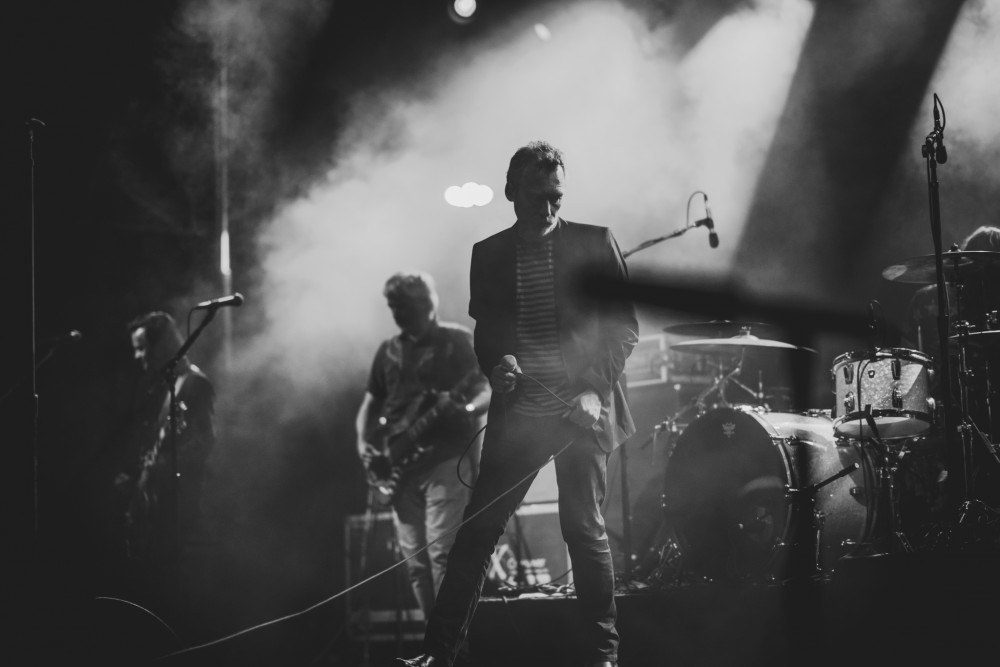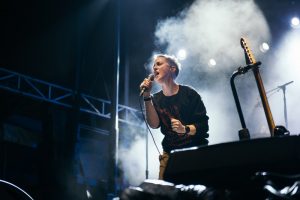 Making my way outside to the Green stage for The Jesus and Mary Chain, I was able to catch the last 2 songs of Baltimore based 4 piece Lower Dens. During their last song, the indie dream-pop track "To Die in L.A.", singer Jana Hunter delivered a passionate howl, belting "time will turn the tiiiiiide" as the sun set in the distance.
A sizeable crowd gathered for Scottish alt-legends The Jesus and Mary Chain, one of the only rock and roll powerhouses included on the heady electro festival lineup. Following last year's Live at the Barrowlands, the iconic group has returned to release their first studio album in 18 years, Damage and Joy, set to be released March 25. The Jesus and Mary Chain tackled a career spanning set, with the riff from 1989's "Head On" sounding as gritty, looming and dangerous as ever. Lead singer Jim Reid joked about the inadequacy of his mic stand, lurking in the shadows while nailing classics such as "Just Like Honey" and "Blues from a Gun". Closing in a blaze of glory with lead single "Amputation" from their forthcoming album, The Jesus and Mary Chain cemented their reputation as a must-see act for fuzz-guitar devotees, with Reid reminding listeners "I'm a rock and roll amputation".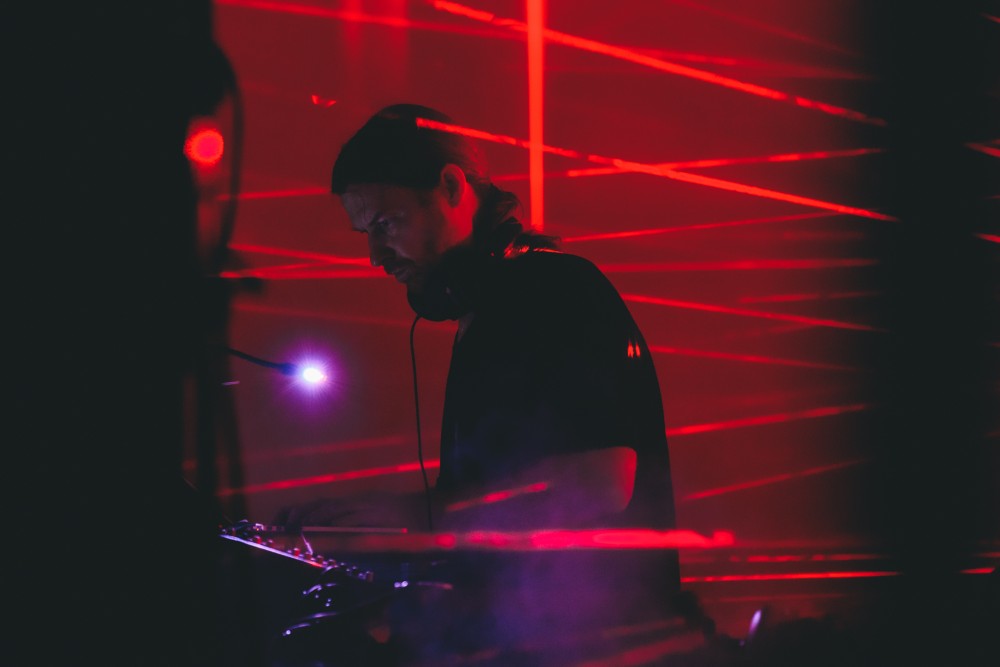 Perhaps the most talked about set of Day for Night was the long overdue return of Bristol IDM kingpin Richard James aka Aphex Twin. The appearance roused a charge of excitement among the thousands who gathered before the main stage awaiting his cerebral assault. A high turnout was expected based on the droves of Aphex tees and signature menacing masks a la "Windowlicker" that crossed my vision that day. Assisted by a dose of quality mind-altering substances, my body buzzed and I prepared to sail away in the sea of ambient glitch-iness to come. A mysterious :42 second video clip was released pre-election from the often mischievous performer, morphing then nominees Clinton and Trump into weasel voiced cartoons, and hinting at the politically ambiguous graphics to come. A sound that initially appeared to be maniacal laughter echoed across the legions of wired fans. Later, I would discover that the intro was in fact tortured sobbing sampled from Belgian composer Baudouin Oosterlynck's "Refuge". A thunderous bassline trembled as the heart-wrenching cries stopped, kicking off what would be a potent visual and sonic overload for many. A world map pulsed on the gigantic stage screens, detonating several smiley-faced bombs on various locations in the U.S. James' face flashed ominously on the screen, and the producer appeared stoic and focused as variations of Metatron's cube warped and whirled with the music. Later I would discover that a limited edition white vinyl made exclusively for Day For Night was being sold for 30 bucks a pop at the Aphex Twin merch station. The release, which quickly sold out, is currently being hawked on Discogs for over $500.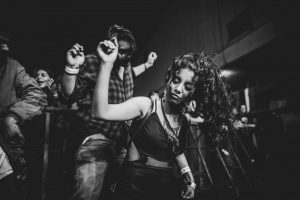 About a half hour into the 2-hour set, a frigid gust of wind swept through the crowd, met with whoops of approval from sweat drenched dancers and onlookers. Shortly after, juicy drops of rain cascaded from the sky, and the temperature dropped significantly. As much as I desperately wanted to stay for another half-hour, I was wearing a mini-skirt and vastly unprepared for such a dramatic shift in climate. Making my way toward the main building, diagonal green LED lights showering the crowd began to take on a new form. The first thing that crossed my mind was, again, straight out of The Matrix. Through the lens of precipitation, the lights morphed into what looked like binary code, the classic "digital rain" visuals from the 1999 movie. Emerald gems like sea glass suspended and flickering in the sky. Aphex Twin was tempting an army of potential Neo's, like Morpheus, with a choice: stay, absorb my audio transmissions, let it's alien frequency infect you. Or go.
The second day of Day for Night saw a few bumps in the road along with the sharp temperature decrease, going from the humid high 70's to dry and stinging 40's. My day was scheduled to be mostly outdoors. Patrons were spotted bundled in their thickest down coats and scarves. It's a scene rare for Southern Texas. Adding to the sense of oddity, Houston's auto-tune hip-hop sensation Travis Scott held a headlining slot on the Green Stage, preceded by native Texan freak punks Butthole Surfers and the funky guitar grooves of Unknown Mortal Orchestra. This led the young herd of loyal Travis Scott fans waiting near the stage to be exposed to sounds I imagine they had never encountered before, which was kind of a genius move on Day for Night's part.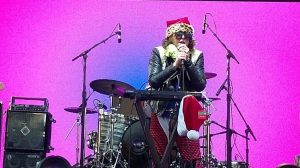 One such example is the young couple who had acquired front-row status early in the day, prior to Ariel Pink's 4 p.m. set. L.A.'s very own DIY demigod presented what was allegedly a set of entirely new songs, including a track recorded for a fashion collaboration between former porn star Sasha Grey and Skim Milk. Oddly enough, the song could easily fit on the soundtrack for Paul Thomas Anderson's retro sex industry disco drama Boogie Nights, right between Eric Burdon and War's "Spill the Wine" and Marvin Gaye's "Got to Give It Up". The holiday spirit moved Ariel, along with the rest of the band, to not only spoil the audience with new tunes, but to also sport matching Santa hats. After the set, I approached the couple holding down their throne at the rail, confirming my previous suspicions. "What did you think?" I asked. The young man in the colorblock Tommy Hilfiger parka replied, "They remind me of That 70's Show, that's what I liked about it. The music is really trippy, I like it though." One new convert.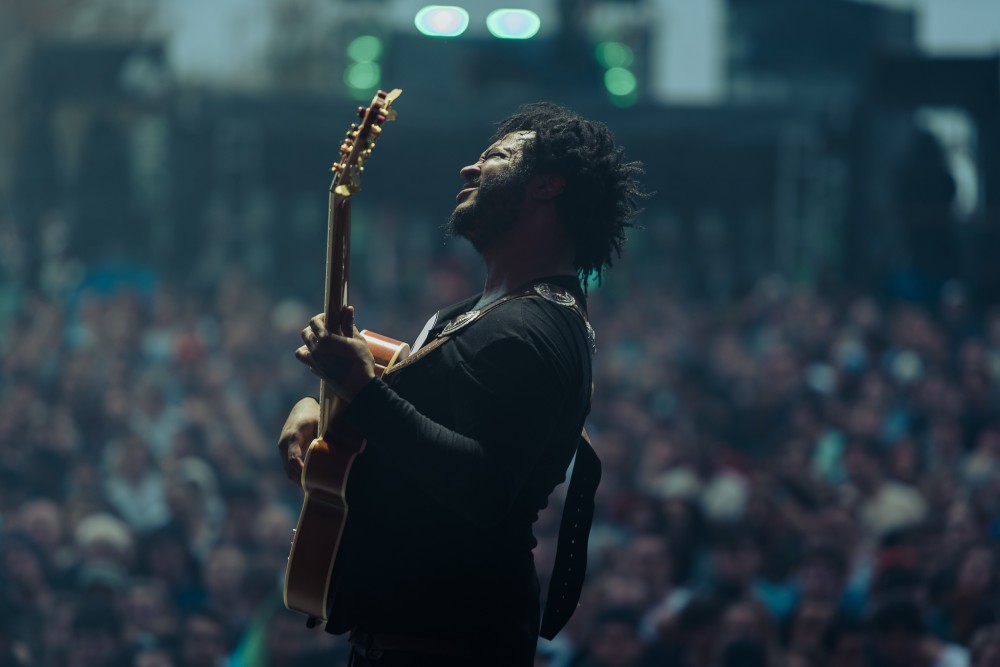 Following Ariel Pink, eccentric noise rock duo Lightning Bolt whipped the growing crowd into a frenzy. A humble but ever ferocious pit emerged, and a handful of the only brave crowdsurfers I witnessed at the entire fest took flight. I imagined that drummer Brian Chippendale's mask (which vaguely reminded me of Leatherface) was keeping him warm in the harsh conditions. It seemed a proper time to enter the cyberpunk paradise of the old post office and explore the second story light installations.
The second floor had more open space than the first, and held 6 works of art. The largest, Outlines by St. Petersburg based collective TUNDRA, consisted of a colossal and hypnotizing red laser labyrinth which flashed in various patterns that seemed to immerse the observer into the grid. For a moment, I considered getting in line downstairs to experience all the glory I imagined to be hiding behind the walls of Bjork Digital. The festival set up a reservation system online a few days prior to ensure that each ticket holder would be able to visit the exhibit. Unfortunately, I had decided not to do so, as the only available slots conflicted with other artists I wanted to see performing. There were rumors that waiting without a reservation could take several hours. I chalked it up as a loss, these things happen, though I imagine some hardcore Bjork enthusiasts must have been a little disappointed. On the bright side, both VR videos are available online, so I convinced myself that I'd better move on to the next act. However, I did hear something about a playful and suggestive cosmic joystick in one of the rooms…….
Blonde Redhead were set to perform next on the Green stage, but unfortunately, due to weather conditions, the trio had their flight cancelled two days in a row. More weather-related difficulties were experienced, when space-jazz prophet Kamasi Washington started his set nearly 20 minutes late. Despite the shortened stage time, the L.A. sax virtuoso managed to warm the audience with his immaculate precision and endurance. As a friend remarked, "Playing a brass instrument in nearly freezing temperatures doesn't sound like much fun."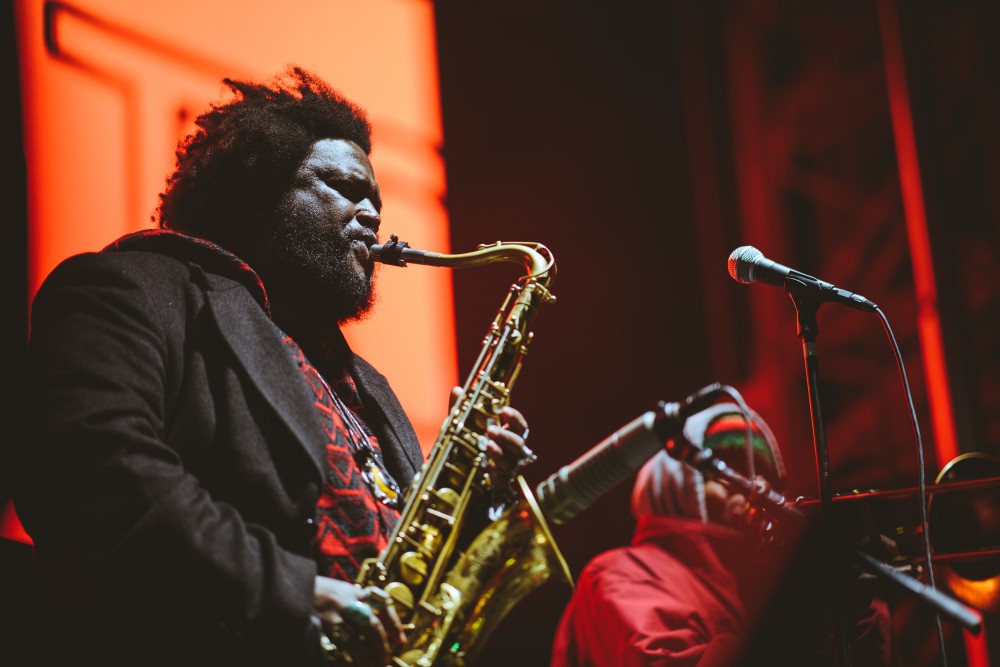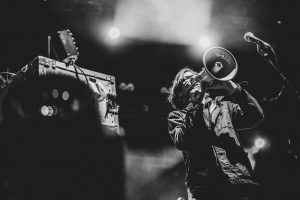 The final moment of anticipation had arrived. San Antonio's Butthole Surfers have a reputation that truly precedes them. As a group who in their heyday were known to "sprinkle LSD on their cornflakes" and perpetually ignite themselves on fire, many were curious to see how weird the action would get on the Green Stage that night. In my pre-teen years, I had stolen a copy of Electriclarryland from my stepdad, and I considered it an honor and privilege to finally be seeing the fellow hellions who had such an impact on my insubordinate youth. Butthole Surfers have always delivered a sermon of utter non-compliance; this message would hopefully translate to the abundance of teens in Thrasher hoodies lurking around the stage. The four opened with "100 Million People Dead" followed by "Hey" from of their 1983 self-titled debut. Reels of vintage loops showed images of watchful eyes and a domino effect of rising spectators in a crowd. In true rebel fashion, the band slashed through a micro version of their most well-known single, 1996's "Pepper", quickening the pace and distorting the familiar riffs. At one point, Gibby even brought his young son out to bang on the drums. I was overjoyed to see how a song like "The Shah Sleeps in Lee Harvey's Grave" could still garner such a polarizing reaction from the crowd, with the lyrics "There's a time to live and a time to die, I smoke Elvis Presley's toenails when I wanna get high!" stimulating a mixture of awe and confusion. Perhaps the most telling moment of the set was when, after a moment of silence, Gibby Haynes exuberantly screamed "MICRODOSE!" into the mic, proving that you can take the cornflakes out of the LSD, but you can't take the LSD from the man.
Opting to forgo headliners Travis Scott and Kascade, Butthole Surfers concluded my Day for Night experience. For a festival in its second year, the function is expected to serve as the upcoming anti-hero of festival culture: it's off-season, off-kilter, and makes a serious commitment to serving fringe electronic culture. Day for Night is the Promethean underdog rising from the crust of an illegal basement laboratory, illuminating abandoned and forgotten spaces and transforming what was once a very predictable festival formula. Despite the minor bumps in the road, I plan to return to Day for Night next year for an aptly reloaded version.
Words: Lindsay Krause