Chameleons Vox At The Echoplex: Sorrow Never Sounded So Sweet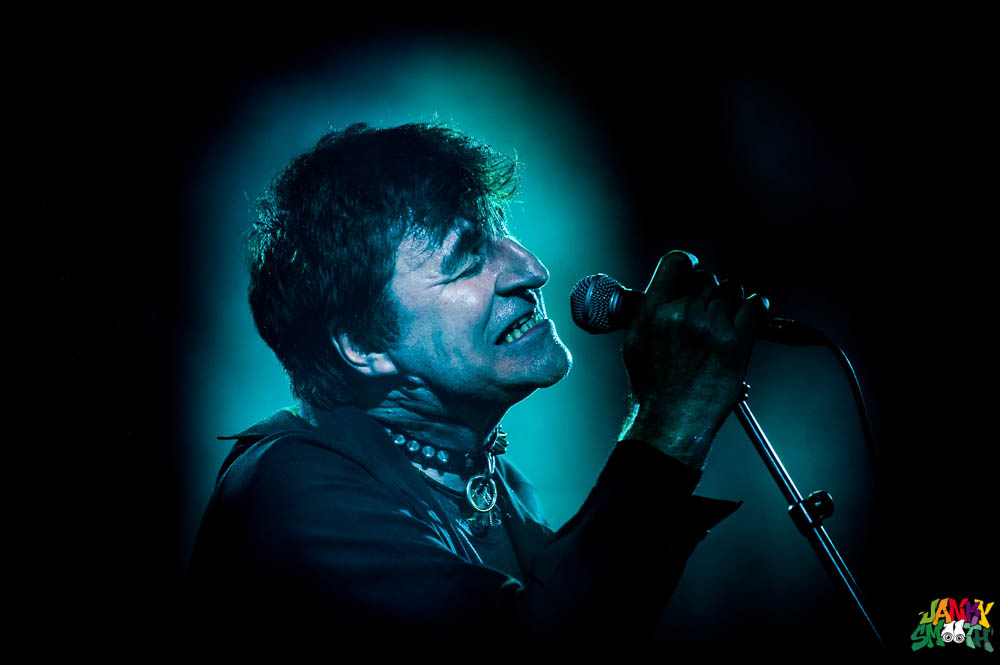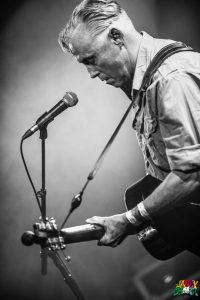 I've been fiending HARD for death rock ever since I read this bandcamp article exposing me to the bigger bands in the small dark punk revival scene. One of those bands I discovered was The Wraith and they were playing in support of Theatre of Hate at Part Time Punks. It was one of those rare occasions where I was just as stoked for the opening band as the headliner. Fast forward to a few weeks later, and Theatre of Hate gets stricken with visa issues, stranding the band in Europe so Chameleons Vox gets added to the bill after their show the night before sells out. Now with two British goth bands from the 80's playing, this booking became an accidental powerhouse bill. Part Time Punks did it yet again, Michael Stock might just be the best promoter in this town for this whole, "rare vinyl come to life" thing Part Time Punks has going on.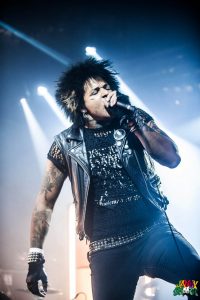 I waited for The Wraith as the fog machine's outpour of haze consumed me and the stage. The Wraith is led by East Los Punk turned death rocker Davey Bales, who started the set by polishing off a plastic bottle of TAAKA vodka, nasty shit sure to put hair on your corpse. The band's live show is described as a goth rock blitzkrieg, fusing that signature death rock guitar that was so well executed by Kaz Alvis, with punk rock raw power. Davey truly didn't give a fuck, his version of goth is more dangerous and violent rather than it is beautiful or melancholy.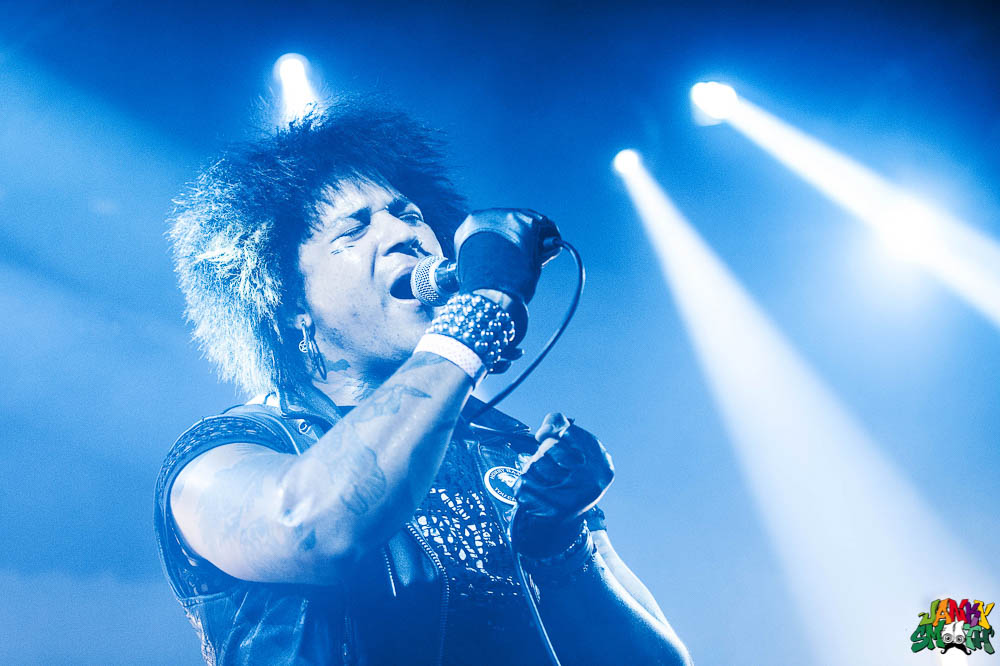 At one point, Davey seemed winded and lied down on the dirty, sticky, shit-on stage to eulogize the set. That gives you the idea of the grit and give-no-fucks-attitude we're dealing with here. The band performed two covers, closing with the Dead Boys' "I Want You To Know What Love Is" but also playing Samhain's "Black Dream" before. Boy, oh boy was I a happy camper getting to hear Samhain songs live. And they absolutely killed it. Here's a video of that intensity as seen in the first song of their set "Dolor".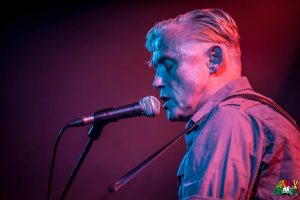 Like I said before, Theatre of Hate had visa issues that prevented the majority of the band from playing but instead of canceling the gig entirely, Kirk Brandon enlisted a cello player and picked up an acoustic guitar to go unplugged. Theatre of Hate were a band in Britain's first wave of goth/post punk that originated in 1980. I could've chosen to cover the sold out Chameleons Vox concert from the night before with The Soft Kill opening but given the choice between them and Theatre of Hate, I'll always pick the veteran. Hell, Theatre of Hate were introduced by John Peel on Top of the Pops and their first album was produced by Mick Jones of The Clash.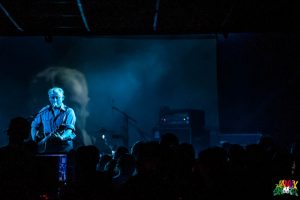 Kirk Brandon played a slew of classics under harsh blue lighting. The somber and sobering twang of his guitar made us all feel a part of something special. I stood under the air conditioning unit letting the wind blow my hair into all sorts of goth rock styles and felt the songs hit me with a more epic sweep than otherwise.
At one point, Kirk reminisced on his youth, when he was slimmer and stronger and all he thought about was dying by nuclear detonation. He then went on to say, sarcastically, that we're all safe now with Donald but still had one question for Mr. Trump: "Do You Believe In The West World?" That being the title of Theatre of Hate's biggest song, which he went on to play.
Another powerful moment of the set came with a song he had just written after the Manchester bombing earlier in the year. The song was aptly titled "Medievalists" and to hear an artist profess anti-extremism felt rather refreshing, seeing as that's a controversial opinion in Los Angeles. The set was a beautiful departure from what I'm accustomed to seeing live at Part Time Punks or anywhere, for that matter and cemented Theatre of Hate as a band any goth or punk should know.
I can't say enough about how amazing the Chameleons Vox were live. It was a beautiful set on so many levels. It was riveting, fast tempo goth rock. Goth you could head bang to. The drums and guitars were plentiful with moments of enrapturing ecstasy and escape. Like Theatre of Hate, The Chameleons were a British post punk band from the eighties that disbanded in 2003.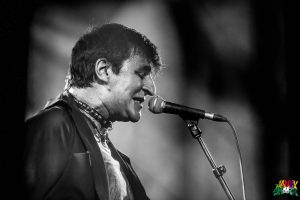 After breaking up, Mark Burgess, the band's singer and bassist, chose to carry on as The Chameleons Vox and thank God he did so I could have the opportunity to hear those songs. Burgess graced the stage wearing a pair of black leather stompers and a chain and lock around his neck… we got a street goth on our hands, pint of dark beer in one hand, black rose in the other. His stage banter and presence gave me the feeling that he might be a hard ass but the best kind, a delightful one.
Song after song, the band floored me with beautiful music. Flowers blooming out the speakers. The timing, the tone of every instrument, Burgess' still intact singing voice, all came together in perfect union to make sonic sex with my ears. They began their set with "Looking Inwardly" which I captured on video:
Mark Burgess apparently asked his girlfriend to marry him at the show the night before and the night after she accepted, Mark was filled with plenty of joy, showing us a commemorative tattoo he got earlier in the day. He even performed a new song by the Chameleons Vox all about how she makes him feel. The night's set was filled with rarities and new songs to contrast night 1's set but apparently neither night featured the band's biggest hit: "Swamp Thing".
Perhaps the most stunning song of the night was "Soul In Isolation" which began with tranquil melancholy then climbed its way into an epic goth jam session featuring musical references to Buffalo Springfield's "For What It's Worth", The Beatles' "Eleanor Rigby" and The Doors' "The End" where Burgess replaced the original lyrics with "Lost in a Facebook wilderness of pain and all our leaders are insane!" Only veterans of rock can have the wits to pull off concert moments like these.
This was one of those shows where I walked in fond of the headliner but left wanting to be a super fan. The Chameleons' first album Script of the Bridge has been on repeat ever since. Check out the setlist of the show below:
Words by: Rob Shepyer