James Chance and the Contortions Play First Show in L.A. Since 1984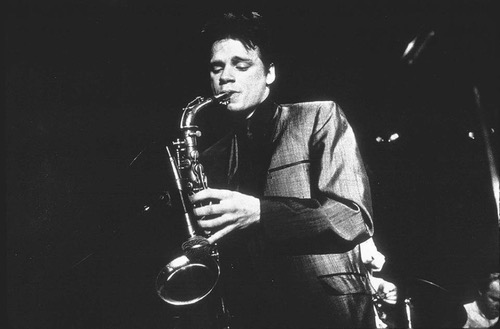 James Chance and the Contortions Zig and Zag, Jig and Jump at The Echoplex This Past Sunday for Part Time Punks Gig
Sometimes punks become so punk that you can't even call them punks anymore. Sometimes punks become so punk that they turn punk into jazz. But before they dive head-first into crate-digging for Japanese pressings of Thelonious Monk records, they discover the bridge between the two genres: No Wave.
Punk rock saxophone has always held a special place in my heart. Whether it be Steve Mackay playing on my favorite album, The Stooges' Funhouse, or it be Derf Scratch pouting out "New York's Alright if You Like Saxophones", or if it be X-Ray Spex ripping through "Oh Bondage, Up Yours!" The Saxophone always seemed to me to be a superior phallus to the guitar that can make any punk sound peak into pure Dionysic release. Never has there been a better practitioner of punk rock saxophone than the man, Part Time Punks just wrangled to play The Echoplex.
It only took 33 years but on Sunday March 19th, James Chance and the Contortions finally made it back to Los Angeles. I had been waiting and hoping for years that this would happen. Last year's album Melt Yourself Down was on my top 10 and led me to troll the James Chance Facebook page with comments urging him to come back to Los Angeles. Before the show was announced I had premonitions he would tour the West Coast, things like hearing Contort Yourself at douchy bars. Then the announcement dropped and 2017 proved to be the year of elusive acts plays Los Angeles.
Ray Bans, a Black Tie, a Saxophone and a Trumpet Walk into a Punk Bar…
I discovered James Chance through research of the New York No Wave movement which I discovered through the films of Jim Jarmusch, specifically Permanent Vacation which introduced me to John Lurie. No Wave wasn't just a movement, or a style of fashion, or genre of music or cinema. It's like obscenity. It's like the sacred and you know it when you see it.
It's Ray Bans and Black Tie. It's Saxophone and trumpet over punk guitar licks. It's cigarettes and tap dancing on a piece of cardboard. It's a specific kind of coolness that I wanted to imitate the moment I discovered it, more specifically, it was James Chance who I wanted to imitate.
Ironically enough, I had come to the show straight from a wedding barely making it in time for James' intro, but I was wearing a full black suit with black tie and gray shirt. I left a dear friend's wedding a bit too early and probably ruffled some feathers for doing so, but for this show, it was worth it. Looking and feeling the part after taking advantage of the wedding's open bar I took my place near the front of the crowd. There were old punks and new punks and Karen Centerfold, just hangin' out with a tambourine.
Why Do You Love Me?
His band went right into the jams with ripping saxophone, dirty synth organ sounds that he wasn't afraid to mash and mesh into noise, and minimalist beatnik lyrics that conjure up New York nights on the town. After the first song he was regaled with shouts of "We Love You James Chance!" to which he responded to with "May I ask why?"
He played a few songs off his latest album, like the title track "Melt Yourself Down" and "I (Who Have Nothing)", classics like "The Splurge", covers such as Gil Scott Heron's "Home is Where the Hatred Is" and "The Girl from Ipanema." He also played "Jaded" by Teenage Jesus and the Jerks, his old band with Lydia Lunch, who's poetry I once saw at BigFoot Lodge and hated. James may have been kicked out of Teenage Jesus, but he's had the last laugh.

PUNKAJAZZAFUNKYNOVAWAVE
It became clear that James Chance's music isn't just punk or no wave or jazz or bossanova or funk or lounge music… one can only synthesize it as positively chance. As the set drew to its end, the songs and audience became wilder. I saw young punks pogo with such authentic vigor that I was sure punk shows in the 70's had to look like this did. A proper pogo pit is more violent and volatile than any mosh pit or circle pit or whatever the fuck label you prefer.
At 64, James Chance's voice is still commanding and soulful. His dance moves may not have the sheen and polish they once did, now they kinda seem like an erratic jig but rest assured, the veteran sax-man hasn't lost an ounce of swagger.
After a short break, James came back on stage to close with an encore of the classic we all hoped for: "Contort Yourself". It was the stuff dreams were made of. From the moment I passed out until I woke up the next morning, No Wave brain-waves crashed against the naked beaches of my meaningless existence. It was a cold set.
Words: Rob Shepyer