2nd Annual John Waters Easter at Madonna Inn: Pink Flamingos and Filthy Bunnies: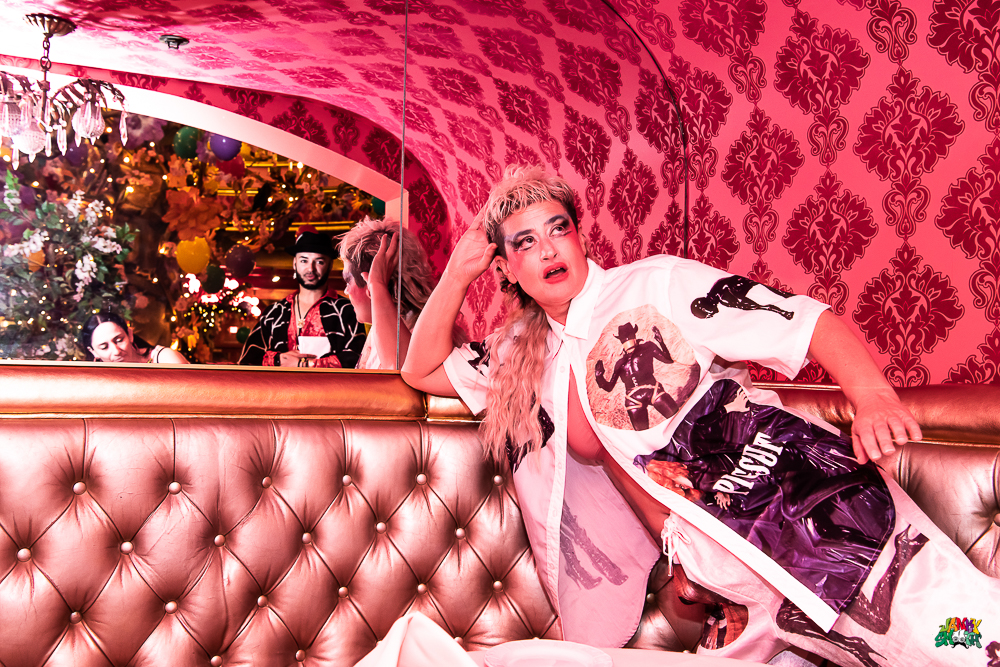 It was a sea of queers and bunny ears at California's campiest hotel, the Madonna Inn, for opening night of the 2nd Annual John Waters Easter Weekend hosted by Lethal Amounts. The event featured electropunk musician/performance artist, Peaches, as well as a screening of Pink Flamingos with live commentary from Mink Stole and John Waters himself, replete with Easter and Tom of Finland photobooths and of course an Edith Massey look-a-like contest.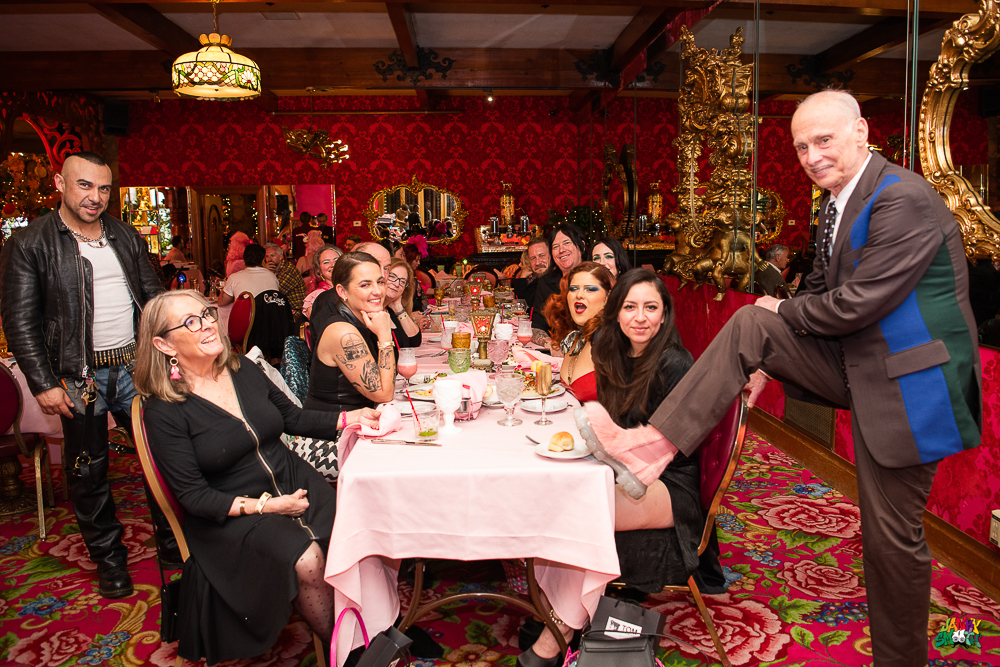 related: Satanic Manic- Lethal Amounts Honors Anton LaVey on Halloween
It was a slow race to the Inn as Peaches was set to take the stage at 7:30pm and with most attendees coming from Los Angeles or San Francisco, Friday traffic was a bear in either direction. We made it just in time for a quick a dip in the pool before the show and a seemingly innocent, lone, swimmer asked the occasion for our visit. His bewildered response to our answer was "Jowwhn Waterrs…izze a COUNtry singer or somethin'?" in an unplaceable drawl. He was there for a wedding and it was then that we knew: the other hotel inhabitants had no idea they were about to be bombarded by the filthiest people alive.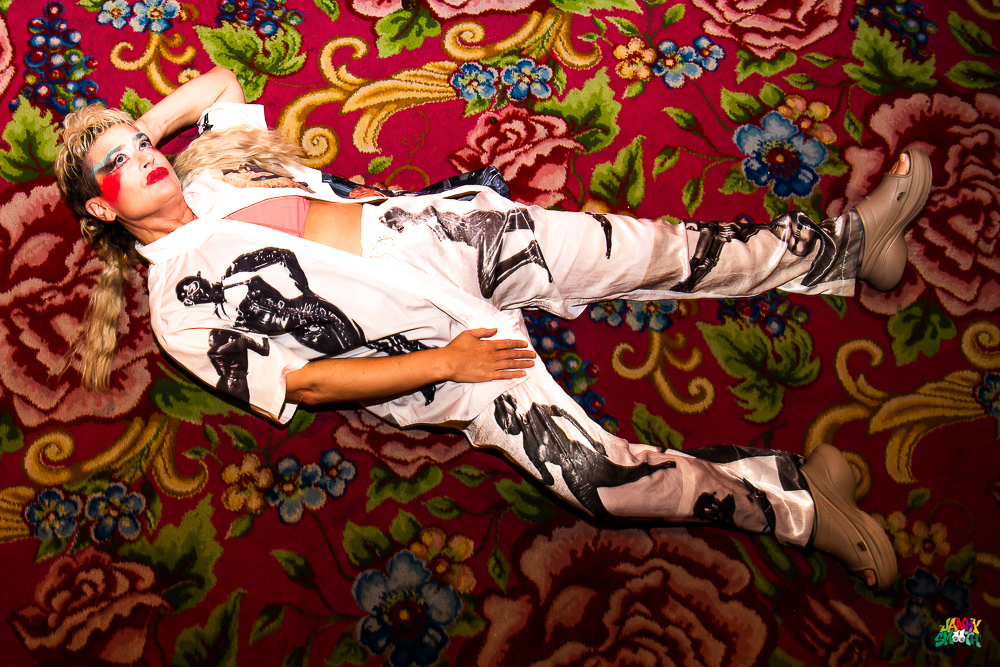 related: The Teaches of Peaches at The Observatory North Park
We suited up, hair high to the heavens, and headed down the hot-pink, floral staircase, through a rock tunnel, and into the underground Venetian Room. It felt a little European to see Peaches in such a small, odd, venue with it's low ceiling and neon lights strobing. Dare we say it would have almost been a bit David Lynch but the brightly colored crowd, platform shoes, and 360 degrees of kitsch, definitely screamed John Waters. If there were any debate, Peaches settled it when she broke into her 2015 masterpiece "Vaginoplasty" with the crowd singing along: "Pussy's big and I'm proud of it. You can dig dig dig in and out of it. Make a crowd of it, bow down to it. Won't be long till you drown in it." Yes, the perfect anthem to kick off John Waters Weekend. We even saw the old, white, security guard crack a smile.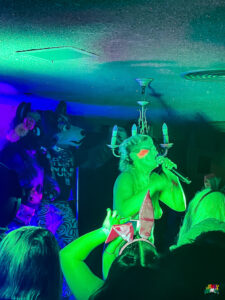 Peaches delivered a sordidly pleasurable performance with multiple, onstage, outfit changes (assisted by the beautiful Rita D'Albert) and antics with her luxuriously tawdry dancers then ended the nite by inviting everyone onstage for "Fuck the Pain Away". We had finally shaken off the long drive and the tone was set for a raucous afterparty but the room filtered out and we mingled amongst the confused families in the bar and restaurant before ultimately crashing dinner with Peaches, John Waters and a small slew of magical friends. Probably for the better, we still had another evening of festivities.
Saturday was gorgeous and since there were no events scheduled til later that evening, we took it upon ourselves to do a lavishly, risqué, JW-inspired photoshoot with our favorite staff photographer J. Moncrief (you'll have to find those photos on your own). Before we knew it, it was almost time for the VIP meet and greet and we made our way to the Gold Rush bar for an ice-cold martini. There was a bit of confusion as we learned the screening was to take place a 15-20 minute uphill walk from the restaurant (unless we wanted to drive and pay). Panic set in as we looked at our fishnets and slutty heels. Our vintage men's robes stood no chance against the breeze that had settled after the sun set.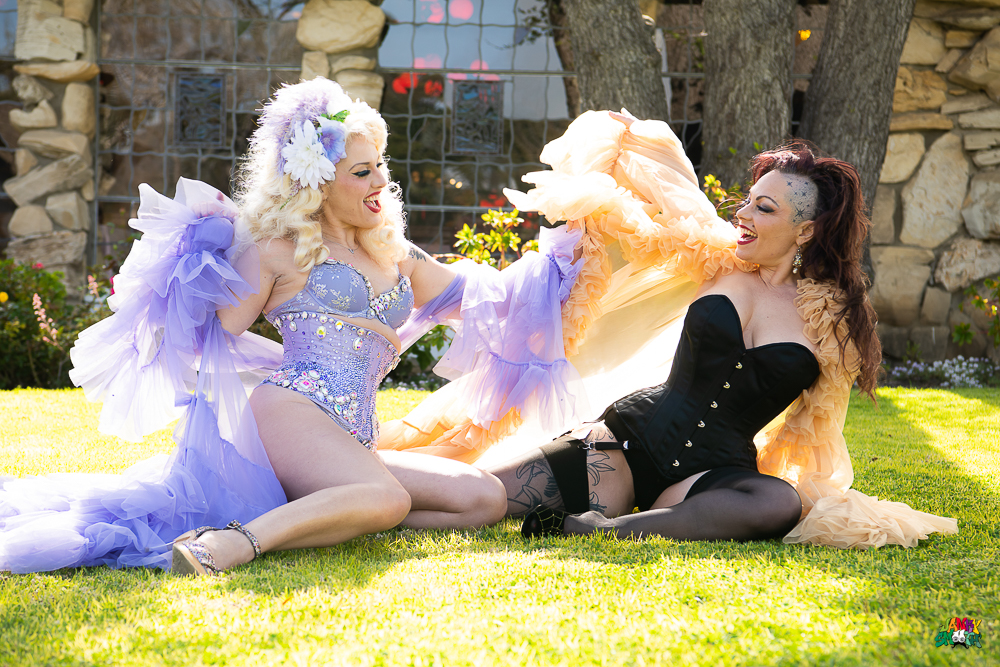 Luckily, our friend and event organizer, Danny from Lethal Amounts, let us hop in the staff van and away we went. Once at the top, we walked into a brightly lit expo hall (maybe we do a prom next year?), and beelined it over to the Tom of Finland photobooth with a classic ToF backdrop and real-life, airbrushed models in all their black and white, leather-daddy glory.
There were JW/Pink Flamingo inspired cocktails, a JW Easter/bunny photo op, music by DJ Rose Knows, and Easter eggs full of plastic cockroaches and cheap chocolate.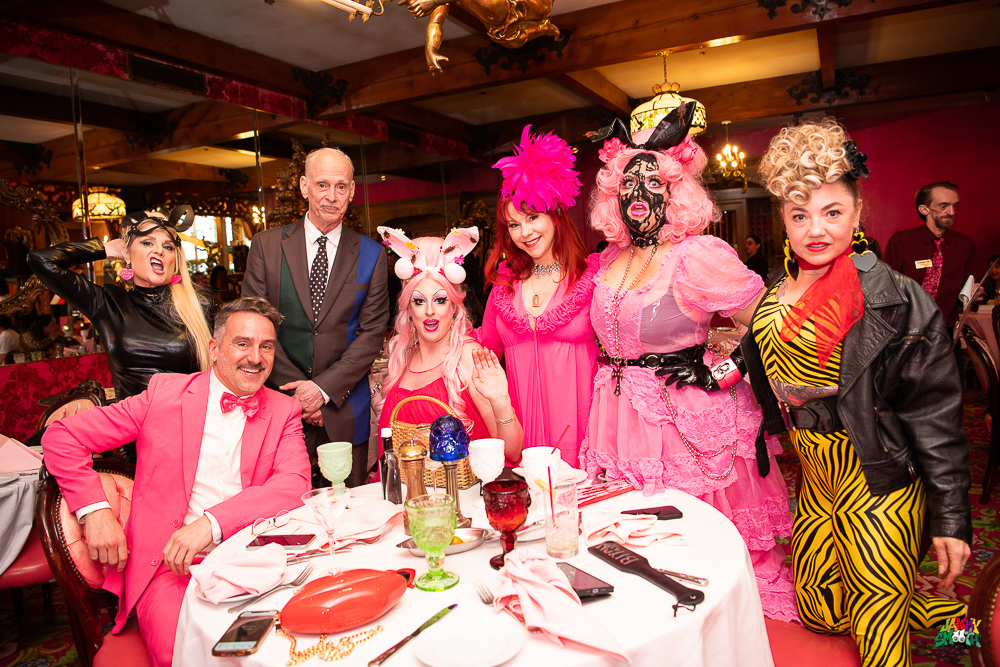 The Edith Massey look-a-like contest was delightfully a bust, as John Waters deadpanned, "none of you look anything remotely like her". It was followed by an impromptu, egg-eating contest where contestants ate hard-boiled eggs like they were bobbing for apples. The entire hall echoed with collective cries of nauseated disgust. It left us equally pleased at the repulsiveness yet also worried we may actually be sick. Luckily it was over quickly and the stage was cleared for John and Mink Stole to take their seats for the live commentary. The closed captions were not linked up properly with the sound but the dialogue between John and Mink made up for it. If you haven't watched Pink Flamingos in awhile, it's time.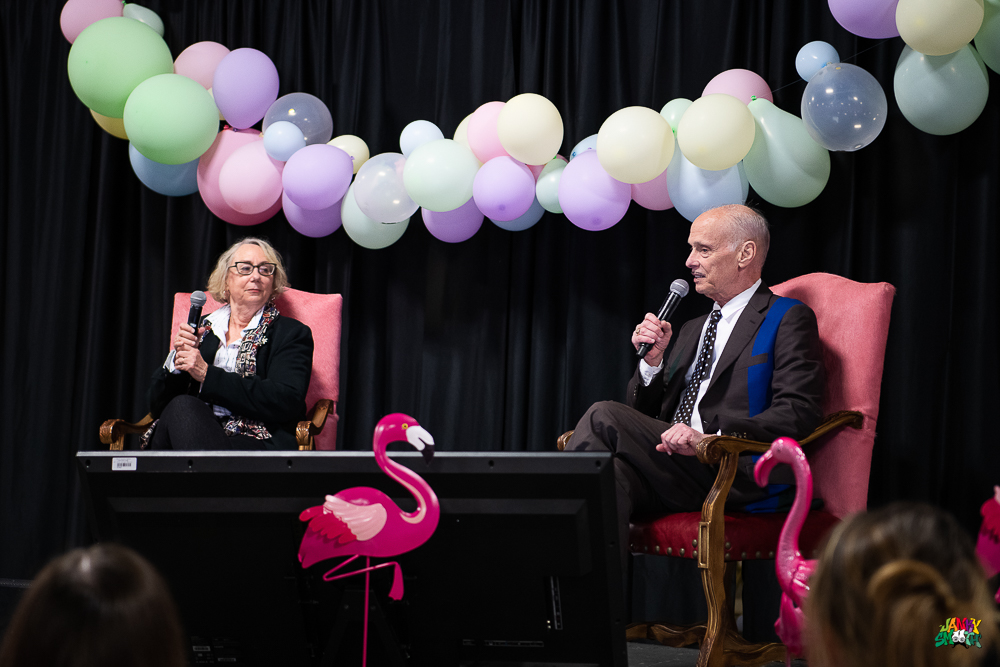 After the movie, we made our way backstage for our own personal meet and greet (where we got note that John definitely wants to do it again next year) before catching a ride back down the hill. Once inside our rock room with stained-glass, windows of a blonde, 50s bombshell, we were left wondering how any of it was real. Did we just watch Pink Flamingos, narrated by John Waters, while sitting next to Peaches adorned in a giant vulva headpiece…in a fairytale hotel? Yes, yes we did. Follow @lethalamounts and hopefully, next year, you can too.
words: Vanessa Burgundy
photos: Jessica Moncrief