A Vinyl Junky's Dream Come True at the Wax Museum in Hollywood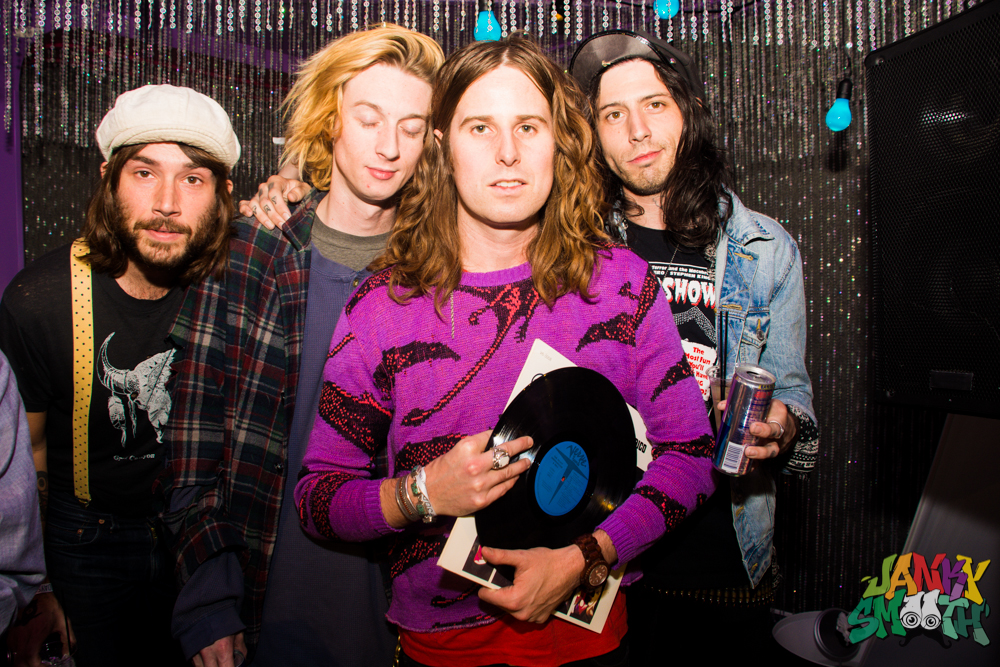 Aside from straightforward concerts, Red Bull Sound Select is throwing themed parties along their 30 day trek trough L.A. Last night was their Wax On Wax event at Madame Tussauds world famous wax museum. The evening was vinyl themed and featured some local talent to curate DJ sets.  Dan Wilcox (KCRW), Dirty Dave, Mayer Hawthorne and the boys from Beach Party all dug through their crates to bring enlightened sets to the night. The night had no cover, just the requirement of RSVP, so it was a packed house in the middle of Hollywood Blvd.
Origami Vinyl, Amoeba Records and The Record Parlour – all local record shops – graced the museum rooftop with pop-up shops for the crowd to root around in channel their inner DJ. The Janky Smooth team all walked away with selections and we didn't spend more than $10 all together!
The highlight of the evening, aside from the DJ's, was most definitely the after hours access into the wax museum. Red Bull also hired on celebrity impersonators to mingle with everyone, which really pulled the night together.  Mick Jagger, Dustin Hoffman, Elton John and many of their famous friends were all out and about for the party.
There were two DJ areas, one on the open rooftop of the museum (Dan Wilcox, Mayer Hawthorne) and one right inside the museum (Dirty Dave, Beach Party) so it was never cramped at any point. Dan Wilcox got the night off to a shaky start and unintentionally showed everyone that he is first and foremost a radio DJ – not a vinyl DJ. Several records skipped and the DJ was distracted on his cell phone before noticing, more than once. The members of Beach Party warmed things up inside with selections ranging from psych to tropical melodies to good old rock n' roll. Dirty Dave brought his well groomed signature disco set to keep everyone moving throughout the museum. Mayer Hawthrone closed the night out with a full on dance party, singing along to some of his own singles and playing timeless disco staples.
I had a chance to ask each DJ what their 'record of the night' would have to be and here are their responses!:
Nico of Beach Party: Kid Creole and The Coconut – I'm Corrupt
Dan Wilcox (KCRW): Sylvester – Over And Over
Dirty Dave: "I actually have no idea"
And Mayer Hawthorne was truly too busy dancing and pleasing the crowd to talk for a second. I'd have to say his entire set took the gold for the night, though.
Red Bull Sound Select is doing so much right with these 30 days. The party was refreshing and truly entertaining – whoever is planning these one off type nights deserves a pat on the back. Really looking forward to the next alternative event!
Words: Justin Cornwall
Photos: Taylor Wong