Ty Segall Redefines Himself Again With The Muggers at Teragram Ballroom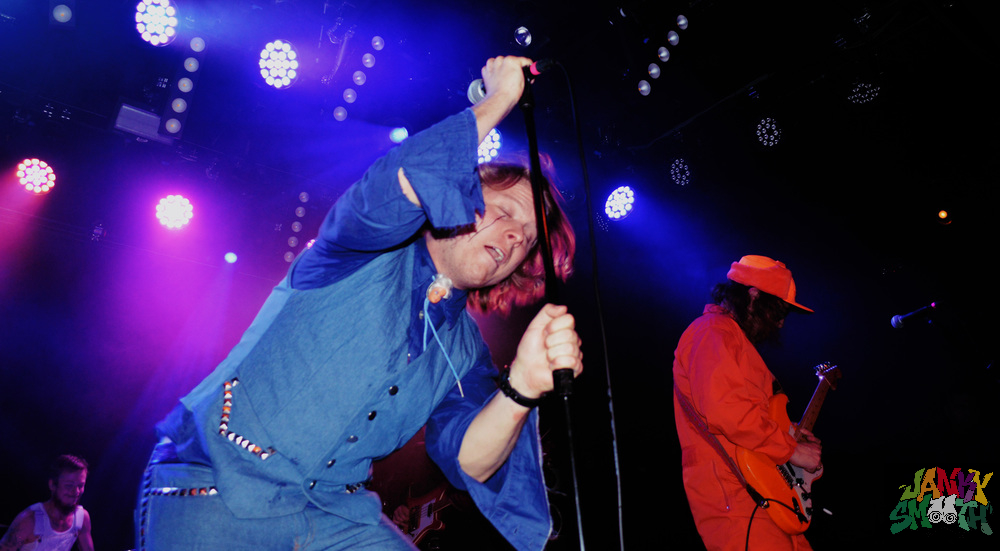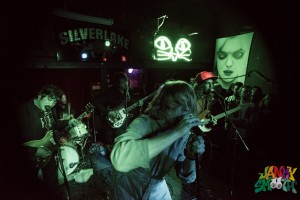 Ty "Baby Face" Segall & The Muggers Get Emotional at the Teragram Ballroom
Before entering the Teragram Ballroom ("No Ins and Outs!") I dragged my boots along 7th street past the Mexican skater boys popping ollies and into Monty Bar for a cheap drink.
Janky tensions were high as we were scrambling for a last minute photographer and I buried myself along the crowded bar of black leather and wild makeup. Behind me on the wall, a mounted deer head was engulfed in a stark spotlight, and for a minute I was in The Roadhouse from Twin Peaks, waiting for Julee Cruise to appear onstage and serenade me straight into the Red Room; which all seemed appropriate considering there was a David Bowie/Lemmy tribute show slated for the night. I could feel the static in the air on my tongue.
I got the photog confirmation, downed my Old Fashioned and bounced.
In the Teragram, chattering skulls flooded the two parallel bars in the foyer—the early effects of a sold out show. Blue, silver, and black guitar picks embedded in the walls made up a Mediterranean mosaic of sacred geometric patterns as Charles Moothart took a seat next to me at the bar.
Not because we're chummy or anything, it was the only one available. I eventually introduced myself to his handlebar mustache and immediately recognized him as one of the kindest strangers I'd ever met. We briefly talked about his recent move back to SoCal for the first time since his Bay Area odyssey (alongside chum Mikal Cronin & others) called to him from his hometown of Orange County. I kept it short and sweet, acting like nothing more than a fan geek garagehead because I know the last thing I would want an hour before my set is to non-fortuitously sit next to some music writer who's on assignment. We clinked PBR cans and I dropped back into obscurity and the rabble of scheming teens jonesing for booze.
Ty Segall was at the merch booth helping out a young lady who was new at hawking vinyl and tapes. Shaggy long blonde hair in a leather jacket holding a cerveza, he looked like any other kid in the room. Only he's not like any other kid in the room. He's a bona fide troubadour, a free-wheelin' electric clown with many masks. His idleness on social media alone speaks volumes. Something rare in the age of insta-stars.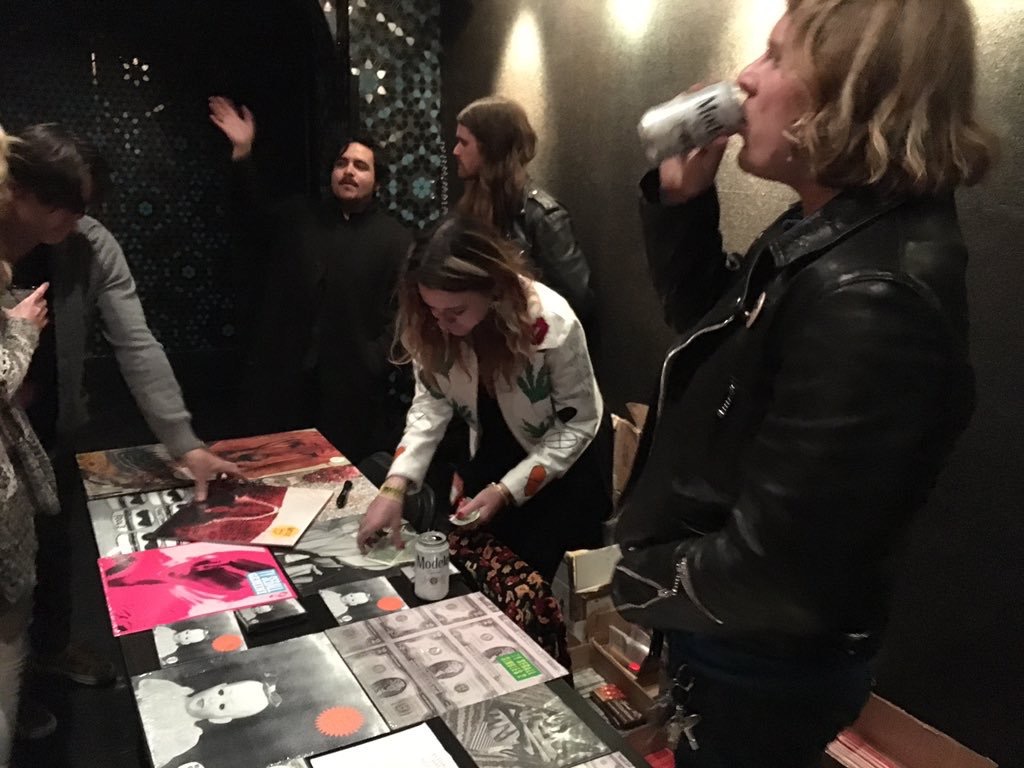 Emotional Mugger is the umpteenth addition to Segall's baffling discography. The count on his website has reached twenty-eight, including EPs—twenty fucking eight. Segall's been a part of so many collaborations so similar and so different from each other all at the same time, I've stopped trying to keep up or catalog. I've stopped trying to make sense of it all, or to understand any of it. There's nothing to get, duders, just let go with the flow down that stream of fuzzy peach sounds and all that weird jazz. Even if that stream includes Segall screaming at you about having babies while wearing a rubber baby mask—but we'll get to that.
I walked into the theater space and ordered another beer at the venue's third bar, opposite the stage. Vial had just come, driving true punk riffs. Not riot grrrl shit. Real punk shit. Quick songs like 90-second sprints. Three dames splashed in red matching outfits blared, backed by a wholesome-looking dude in a gingham shirt on drums. The lead singer owned the stage, like Grace Slick down n dirty. The crowd began filling in and bodies started moving.
The place was a pressure cooker by the time Charles Moothart and the newly-assembled CFM took the stage. Moothart may be a gentle soul but he's a fucking wailer. One of the best guitarists you're going to hear live right now. You can feel the essence of Fuzz in songs like "Lunar Heroine". He manages a careful balance between polish and chaos. Keep an ear out for the debut LP entitled Still Life of Citrus and Slime is due out April 8th via In the Red.
The moshing started later in the set. Wild, mostly young souls scared to death of what the world thinks of them—lots of eyes met mine and then darted away—ready and willing to let it all go and give in to dance (which is really body code for reckless abandon).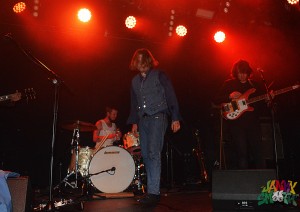 The Muggers came out amongst roars and clouds of cannabis vapor. Slicing amp boss and his mates. Segall was hands-free at the mic, in aforementioned baby mask, flanked on both sides by his super group comprised of Wand singer Cory Hanson (Keyboard), Evan Burrows of Wand (Drums), Emmet Kelly of The Cairo Gang (lead guitar), and Kyle Thomas of King Tuff (rhythm). They were a well-oiled machine set on a collision course.
In the ensuing hour and a half set, there was some wicked Freudian undertones going on, in addition to choice new music of course. In between songs he'd mutter fragments like "I love you, from Daddy" and "there's a problem in my brain…" and how he was "giving birth to a child." Free-faith stage divers gave middle fingers while tossed in the surf.
"California Hills" is a cryptic, ominous song devoid of chorus about our sunny place of origin. The only semblance of any refrain is a sped-up, discordant, instrumental spasm that interrupts the rhythm and ends it in a crescendo.
[I met the candy queens
I met the court, they're so mean
Sound the Dionysus bell
Send them all back to Hell
American nightmare, guilty generation
Fingers on the post of their parents' alienation
From the history-histories of western civilization…]
Some older gems popped up like "Thank God For Sinners" and we definitely heard from Manipulator. There was moment Segall got into it and proclaimed there wasn't enough children walking around. "Populate! Procreate! Fulfill your destiny!" he told us. With the mic, he walked along the first row and asked people how many kids they were having. "Three!" one yelled. "Three!" he would echo. "One!" another yelled. "Okay, one still counts!" he responded. Then some dude said something about refusing to have kids, to which Segall shot back, "Fuck you!" He went to the next person. "Seven!" This time he lost his shit, "Seven kids! Seven fucking kids everyone!!" I'm cynical as fuck and I thought it was hilarious. He wished for us all to go home and procreate with someone special before signing off with a highly demanded encore.
[The gift of affluent life
Was wasted on the fickle wife
Who slept in California hills
And gave herself sleeping pills
And wait for the dollar bills
The papers say we're going to Hell…]
My first introduction to Ty Segall was via The Traditional Fools circa 2008, and after barely getting my head around both Fuzz albums nearly a decade later, Segall's journey has been equivalent to the Beatles going from "I Wanna Hold Your Hand" to "Helter Skelter". He has seemingly conjoined the proto-/post- worlds of the previous millennium into one big 21st Century NOW singularity. Frequency determined by twisted knobs. In his songs lie the infinite. No beginning, no end. Just the manifestation, experience, phenomena. Like a good magick trick it comes and goes, does its dance, and vanishes as quickly as it arrived—leaving you to wonder how the devil it was all done. And like a good magician, Segall covets his secrets, encoded in his endless stream of distorted tracks. As a raving madman once said: Buy the Ticket, Take the Ride.
Words: Brent Smith
Featured Photo: Kayla Clancy