Summertime In The LBC: Love Letter To A City That Doesn't Always Love Back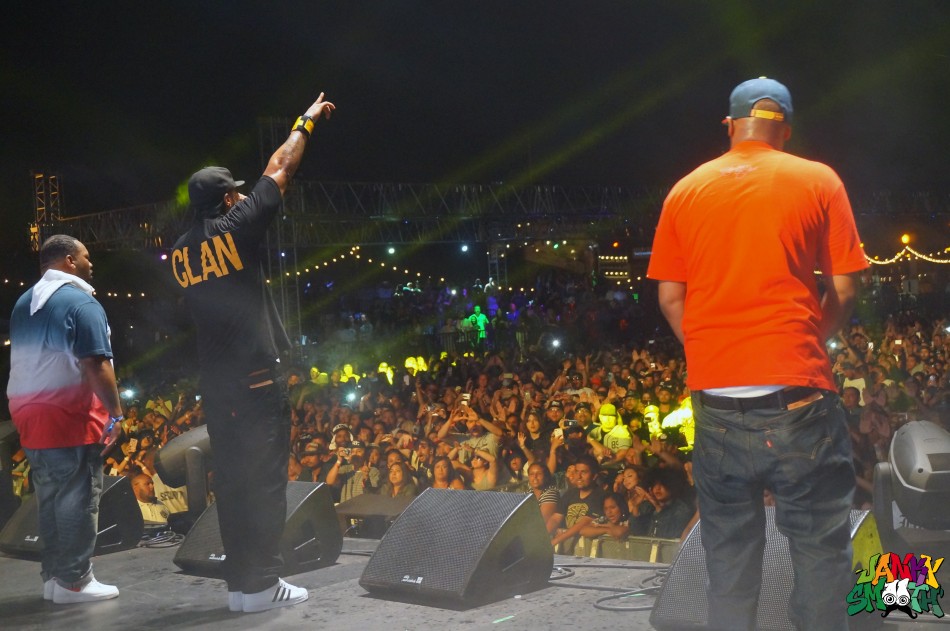 Finding out the Summertime in the LBC festival was not actually in the Queen Mary had me feeling like they literally missed the boat on this one. Why couldn't they figure out a way to have it on the actual boat? That's only the tip of the iceberg that almost sank this festival. Almost. But instead, the performances were worthy of the type that were on the deck of the Titanic, just before it went down.
This review is gonna be all ocean references… I'm naugty by nature.
Festivals are tricky. There's got to be dumb shit to preoccupy your time with in between sets. Like a tooth jewelry vender or the Swisher Sweet booth meant to let you know how deeply this fest embraced the Long Beach vibe, or over priced food and drinks. Summertime In The LBC had all this but lacked a couple of things that could've made the festival smoother and whole- a consistent DJ between artist's sets, for one thing.
But in a way, it honored the spirit of our city, because the cleaner and more gentrified they make Long Beach, it's still the place where I once saw a man get out of his car, walk over to the car in front of him and slap the driver for not making a left turn when he should have and then walk back to his car and close his door gently- Long Beach isn't nice to you even if you love it. I know people who've had their homes broken into by their neighbors and not once has anyone called the cops when they've seen me climb in thru my window because I lost my keys again.
As completely fucking strange as it was, the only real thing that mattered, the music, was great.
Coming hard right out of the gate, Oakland's Hieroglyphics and Souls Of Mischief shared the stage in sort of a hip hop super-group way. There's always these groups that get the due they deserve but it still seems like people don't quite get it. Pharcyde, De La Soul and Hiero Collective as a whole. Hiero/SOM know they haven't lost a beat and showed up to let everyone know. I could have watched them all day, pretending I'd gone back to 93′ till infinity….
Meanwhile, at the "old head" stage….
Could there have been a more fly guy attending this fest than Slick Rick, The Ruler? Doubtful. He also didn't have much competition with all the Hundreds and Supreme goofballs walking around. He hit the stage dripping in diamonds and gold, ready to knock em' out and when his set was over- he just smoothly sat by the side of the stage with his matching mustard yellow eyepatch, watching WuTang.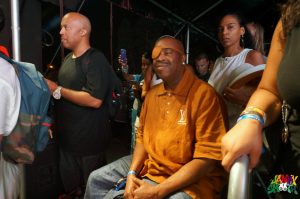 Slick Rick, like his contemporaries, KRS-ONE and Zapp, all came out really strong but fizzled out during the end of their sets. As if midnight was nigh and the glass hi-top was about to turn back into a pumpkin. I don't want to say I was dissatisfied with them but more disappointed that I couldn't have seen them in their prime. It doesn't take away from anything they've done in their careers, there's just nothing you can do to withstand the blows of time. Unless of course, you respond to the name Parliament Funkadelic.
P-Funk were given two hours to do their thing. Think about that. That's the same amount of time you could see four separate acts at a festival. It was as if they were challenged to see if they still had it or if they would just go through the motions.

Parliament showed up big time in the 562!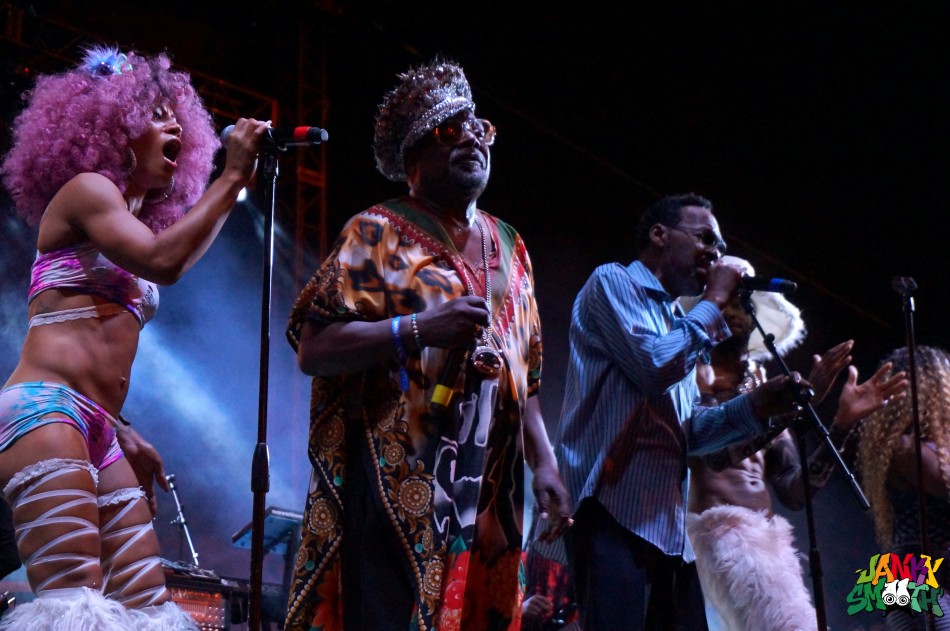 The only motions Parliament goes through are when they're twerking on girls, bent over, air fucking them while George Clinton is belting out "Atomic Dog". I won't even try to guess who else is in the band right now because there are so many members, it's like The Grateful Dead. Which honestly would be a pretty sick show. Parliament Funkadelic with Dead & Company, they could play two twelve hour sets a night, just trip the fuck out on acid and watch George do "Casey Jones".
Do you know how confident P-Funk is? They took a time slot against The Wu Tang Clan and 50 Cent and G-Unit without even blinking. They couldn't care less where the clan was, in the front, on the side, wherever.
Parliament is a great band that was given a long enough set to jam and create a real musical experience. Point to Summer in the LBC. With that much time to work with, things could get stale but when they randomly start playing "Get Low" and hardcore style riffs, you understand why no one is, was, or will ever be on their level.
On the ocean side, things were a little different. It was little bad and very boujee. We were hiding in the shade where YG's mother was in the VIP area hustling BBQ and Mac and cheese. I was (very) explicitly told not to move so they could fill my order, but then the patron saint of sad boys got on stage, I had to go because it was Brenton Wood.
San Pedro original, Brenton Wood was a big reason for me coming. I've loved his music ever since I was old enough to be heartbroken. Seeing him smile when he sings does something for your heart. Lyrically, I've always felt like 60's R&B and Soul was the most bleak popular music has ever been. Songs like "Gimmie Little Sign" is so pure in its message of just wanting to know that there's something there for me. I looked around and saw that I was not the only one living every lyric.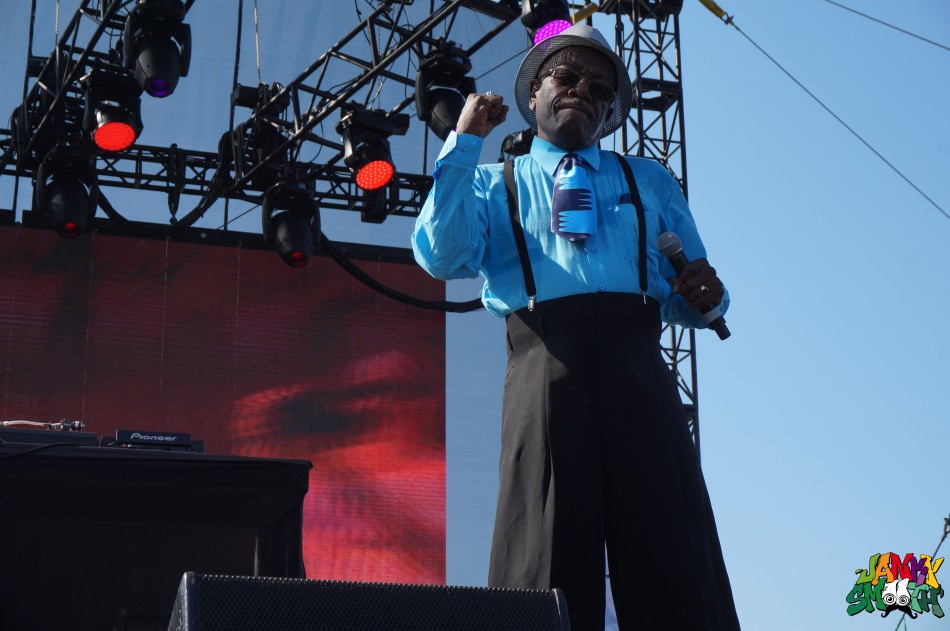 Throw your X up for fallen thugs and hustlers. Bone Thugs-N-Harmony feel like those reformed thugs turned preachers. They're full of pained remorse and constantly pay their respects to their fallen homies. The first time I saw them, I felt like their tribute was kind of an easy way to get the crowd hot and eat up time. I think now it's how they bring them back to life for a few minutes. It's never more real than when you hear "bone bone bone bone bone" It makes me think of a different time when I didn't know if coming back home was possible.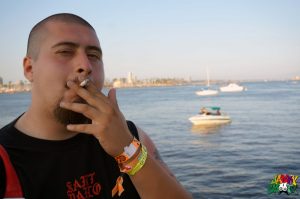 By this time, I was sun burned. I looked like a fat cherry. I walked back to the media tent and found the ladies selling ribs and asked if I could still get my Mac and cheese. Of course, I could for the price of getting my ass handed to me by YG's mom's friend asking me "why the fuck did you leave Jon??? I told your ass not to mother fucking move!" But it was worth being chewed out because that mac and cheese was fucking bomb and so was Brenton Wood. Win/Win. Full of Cheese and pasta, it was time to watch a hometown legend.
Mr Warren G. I may be a little biased when it comes to Warren G but at this point of the night, everyone was from Long Beach. Warren is a god damn legend with that smooth ass voice on top of that g-funk. For a kid from LBC, listening to "Regulate" all you can do is get down.
My only (other) gripe was how in the fuck did Snoop not show up??? All day it seemed like they were teasing him and every time Warren brought someone out to guest they kept on not being Snoop. Even Nate Dogg's son, Nate Hale Jr, came out!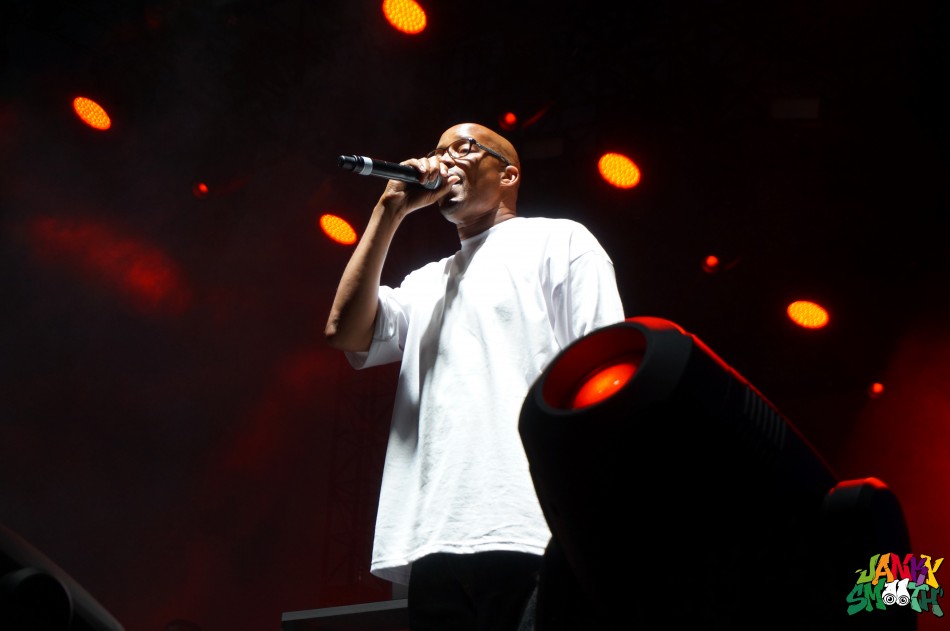 "The energy you give us, is the energy we are going to give you"
Is there a better way to let a crowd know to step up?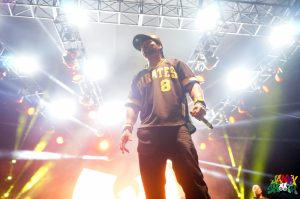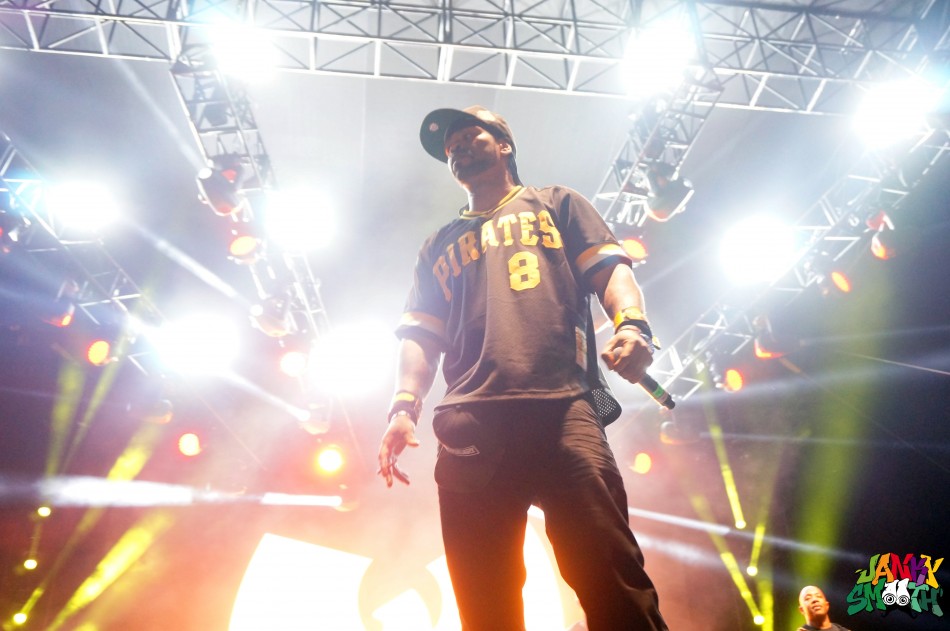 I'm always a little raw boned when a crowd doesn't let themselves enjoy the show. Because when the entire living Wu Tang Clan goes on stage, you move your ass because it's a big deal. That's not to say they didn't pick it up but they required Method Man to set them straight. He fuckin' tied the crowd to a bedpost with their ass cheeks spread and stuck a red-hot metal hanger up our ass. One by one, member after member of Wu Tang came out and with each one you feel more assured you're about to get fucked up. Nothing compared to them that night. They only got more intense, the deeper it went.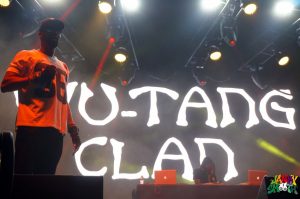 By the time Wu Tang paid tribute to ODB with a rendition of "Shimmy Shimmy Ya" the crowd had their phones out lighting the night up. I was so hyped, someone tried asking me for my credentials and I just screamed "WU TANG!" in his face and he backed away. Method Man is the muscle of the group. His entrance was ethereal, the way the music stops and he walks up to the crowd to turn them on. Seeing Ghostface Killah and Method Man go side to side was like watching two master samurai test their strength in a duel. I think that's what's always made Wu Tang so good, they push each other to be better, steel sharpening steel.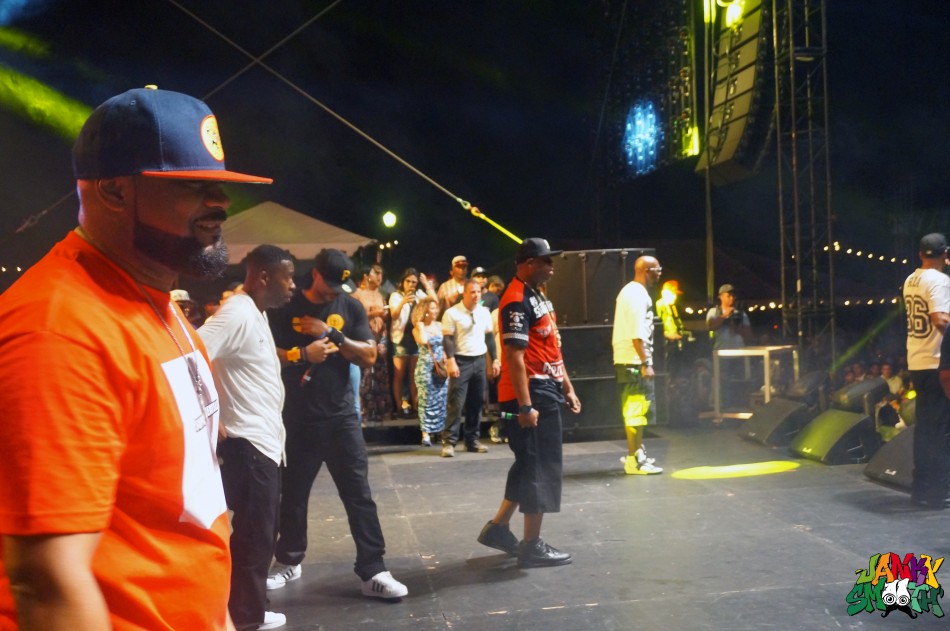 Then there's 50 Cent and G-Unit. One hundred percent minus 50 Cent equals the effort he put into the performance. Yes, those are "shots fired" but it's not something he isn't used to. They looked the part. Sometimes Gangster Rap doesn't age well… but the hits, like "Candy Shop" and "P.I.M.P.", were still fun.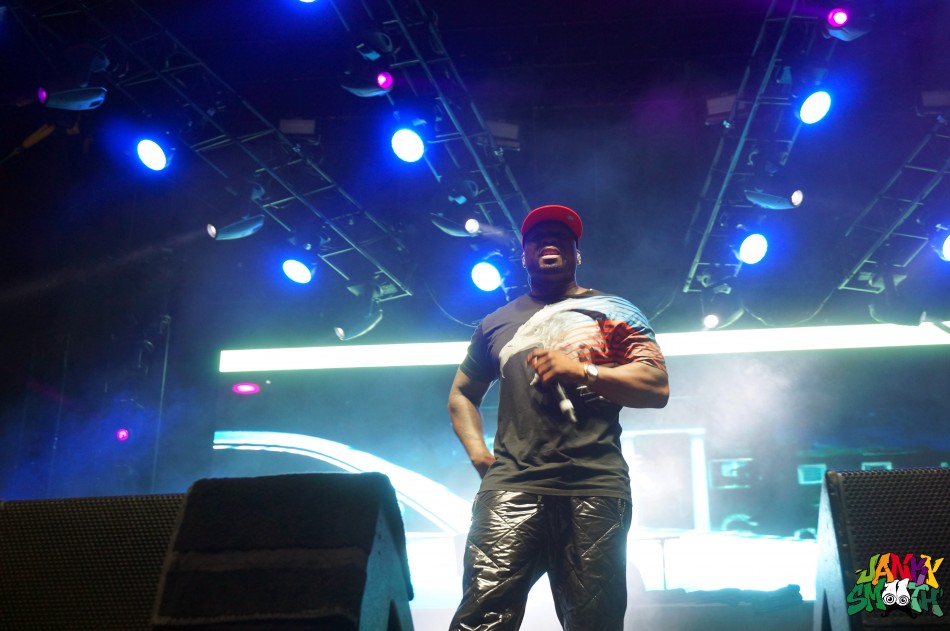 Minus a few bumps and bruises, Summertime In The LBC embraced its location and managed to put on a great show.
NOTE: SOME OTHER NOTABLE PERFORMANCES FROM SUMMERTIME IN THE LBC INCLUDED Schoolboy Q, ZAPP, DJ QUIK AND SUGA FREE, AND YG.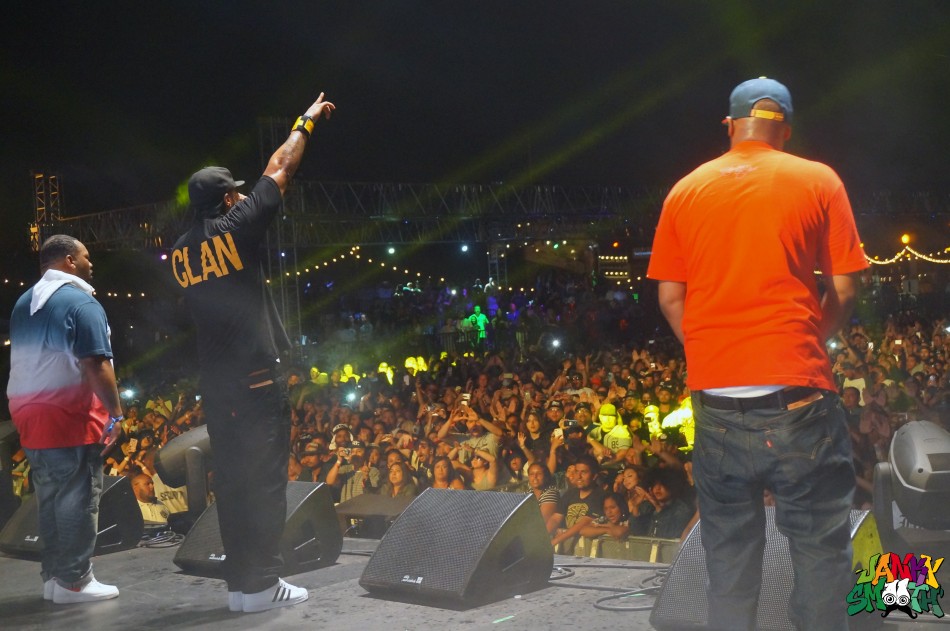 Words: Jonathan Reyes
Photos: Chuck Cuevas