A Psych & Synth History w/ Silver Apples For The New Acid Test in SF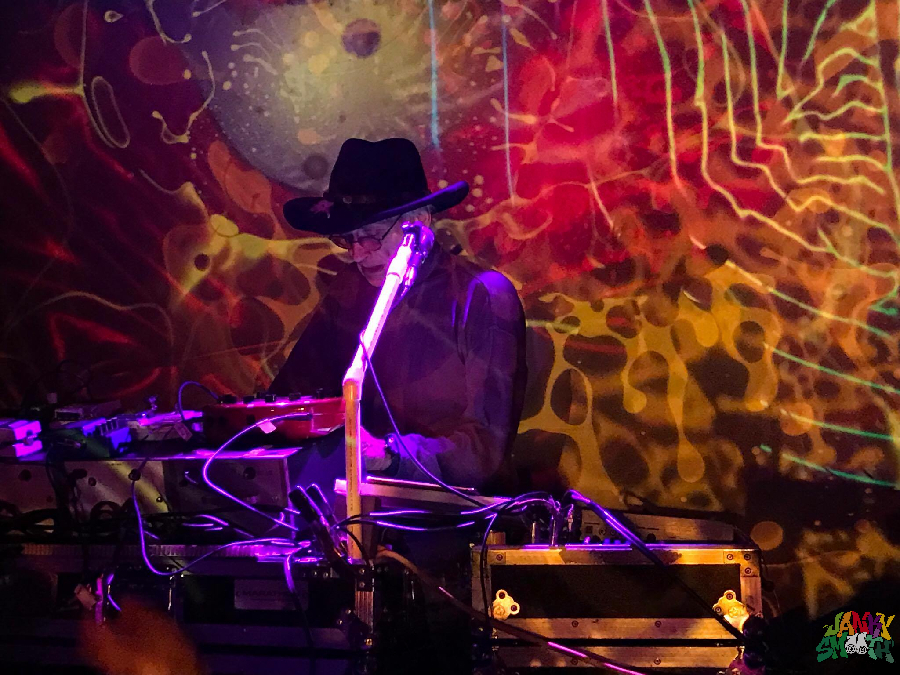 For all the hate and bad press that San Francisco gets about the infiltration of tech-bro-douchebags ruining its wacky culture and alternative nightlife, its still the only city in the world that can throw a "psychedelic freak-out party" as authentic and trippy as The Acid Test SF's most recent party featuring the experimental electronic pioneer Simeon Coxe of Silver Apples at The Rickshaw Stop.
The Acid Test SF has been organizing these crazy, consciousness-expanding parties around the city since 2015. Of course, its namesake is inspired by Ken Kesey and the Merry Prankser's famous Acid Test parties in Haight-Ashbury during the summer of love era. The organizers book 1960s, LSD-inspired artists such as San Jose's garage rock outfit Chocolate Watchband and the LA-born acid rock band Strawberry Alarm Clock.
This particular event was at Rickshaw Stop, a quirky venue in the lower Haight with a cozy atmosphere marked by huge red velvet curtains and vintage rickshaws. As soon as I entered the venue, I felt like I'd time-travelled back to a time when the city was still overwhelmed by long-haired hippies with flowers in their hair. The groovy looking crowd had dressed the part so well that I couldn't tell if they were wearing costumes or if this was their everyday attire genuinely — tie-dye headbands, bell-bottoms, fringe vests, and dashiki shirts. It was refreshing to find a so many young people rather than the anticipated bunch of washed up hippies trying to relive to their glory years.
"Dude, these events are like psychedelic history lessons," a 19 year-old tripster explained to me before swallowing another LSD laced gummy and ranting against American societal obsession with money over happiness.
Credit goes to Griselda Calderon Lopez and The Mad Alchemy Liquid Lightshow for creating a visually mesmerizing experience consistent with the tradition of the Bay's original acid-test ballrooms. Essentially, they mixed liquid colors on glass plates, stacked and spun over 6 overhead projectors strategically placed around the venue, creating a kaleidoscopic montage of shifting, blending, swirling and dissipating colors.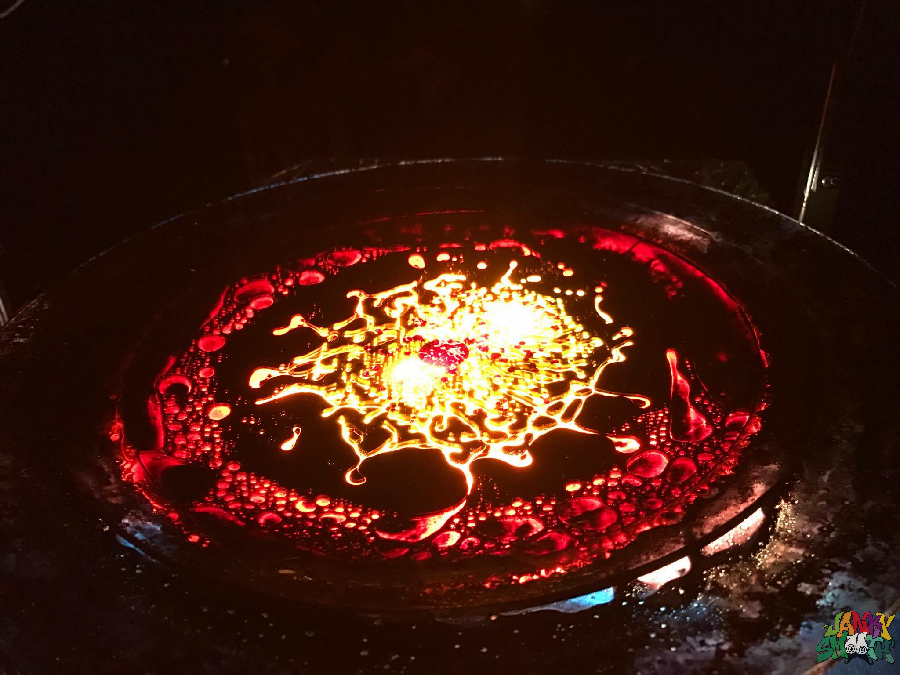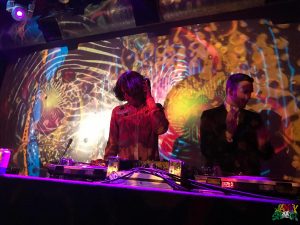 The Acid Test DJ-regulars Steve and Noemi were joined by Jackie Hoodoo of Black Eyed Soul Club (LA) and Maicol (Tuzz records) who warmed up the crowd by spinning some obscure 1960s psychedelic rock on vinyl that I'm ashamed to admit, immediately reminded my millennial ears of Tame Impala. In actuality, they were playing tracks from a wide selection of oft-forgotten or overlooked artists such as Margo Guryan, Rob De Nijs, The Flies, Papy, Chorus Reverendus, Bill Wendy and The Boss Tweeds, and Hermanos Calatrava.
Finally, the legend himself, Simeon Coxe of Silver Apples, a music group that has been described as "The Velvet Underground fronted by Nikola Tesla," took to the stage. For the unenlightened, this dude is responsible for some groundbreaking innovations in electronic music that anticipated everything from 1970s German experimental genre Krautrock to contemporary indie-electronic acts such as Portishead (whose song "We Carry On" pays homage to Silver Apples). These trailblazers of mind-bending vibrations were exploring, "intersteller drones and hums, pulsing rhythms, and electronic generated melodies" in NYC's East Village at a time when the electric guitar was barely breaking into the mainstream.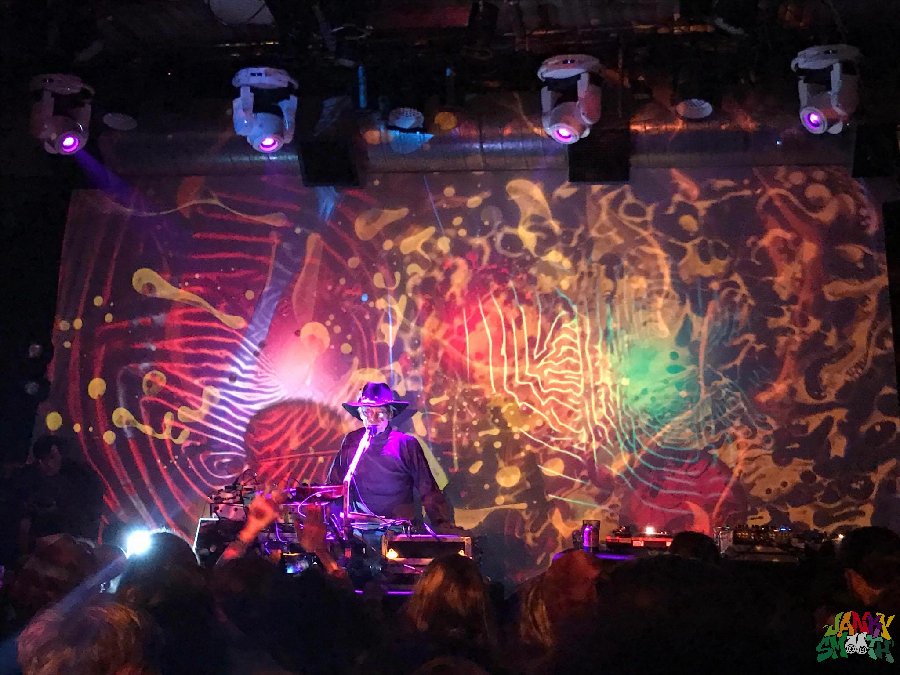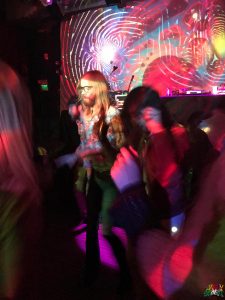 Coxe, the 78-year badass, has still got it. Starting at 11 pm, he performed on his retro-futuristic homemade synthesizer which now bears his name; consisting of 12 oscillators and an assortment of electrical parts. To my mind, it looked like something out of a 1980s science fiction film, which all in all, it took about an hour to pack up. He sung chant-like melodies into an audio oscillator as he conducted his mishmash of controllers, wires, and bass pulses with his hands, feet, and elbows to produce an eclectic array of bleeps, bloops, buzzes, sweeps, distortions, and repetitious basslines. LSD-infused energy permeated the dance floor as people twisted, whirled, and spun freely and gleefully.
Listening to the ahead-of-its-time snippets of techno, trance, hip-hop and experimental psychedelia in his music, most of which was produced in the 1960s, it was obvious as to why he's been described as an "inventor of electronic music". Seeing a man as old as my Grandfather perform such trippy music, alone, made the experience more than worth it.
In a time where bass music, techno, and house seem to be ever-expanding and evolving, I felt very fortunate to see some of electronic music's earliest pioneers performing live and equally appreciative of the better-late-than-never exposure to the plethora of psychedelic pop, rock, soul, and R&B from all around the world that gets hardly any love today.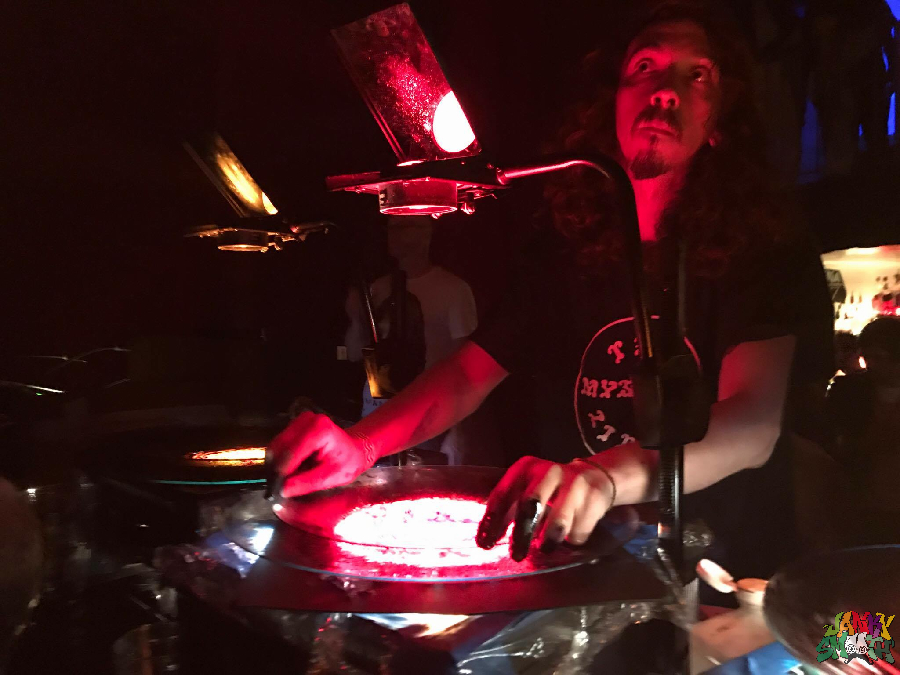 Seeing so many young people coming out to pay their respect to the avant-garde musicians that laid the groundwork for the contemporary music we love and appreciate today suggests, to me, that San Francisco, at least, has still got it.
As desperately as I want to avoid this cliche question, it must be asked: Can YOU pass the Acid Test?
Words and Photos: Pierce Smith