Two Nights of Death From Above 1979 and MSTRKRFT in L.A. and The O.C.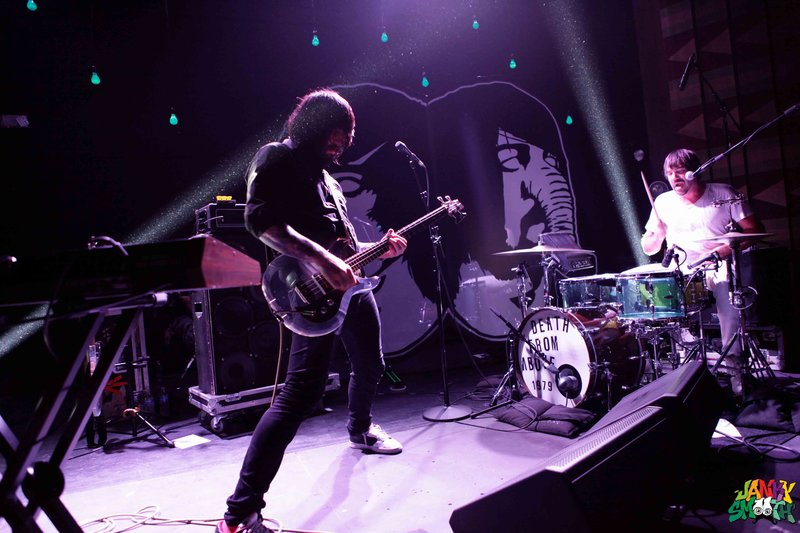 Death from Above 1979/MSTRKRFT: Night 2 in LA.
Within the 20 minutes between opener, Hustle & Drone leaving the stage and Death From Above 1979 taking it, the house went from sparse to capacity. The night was filled with false fire alarms and a few sound issues of the newly opened and opulent Regent Theater in Downtown Los Angeles- A gorgeous venue that is still working out the kinks. The P.A. was filled with the sounds of Johnny Cash, Hank Williams and other old country classics as a surprisingly eclectic and beautiful crowd filed in to witness a show by the experimental thrashers from Toronto.
I myself discovered DFA in 2008- a good 2 years after they had already broken up. O.G. DFA fans love to separate their fan base into a B.C and A.D. category- a snobbishness I have been guilty of myself on many occasions. Now it appears there is a third category of fans that have discovered the band after their more, commercially friendly, reunion release of The Physical World in September of this year. This was my first time seeing DFA live after devouring the catalog for the past 6 years with no satisfaction or release of a live performance. I was almost nervous because nothing is more disheartening than a shitty live show by a band you love. Plus, I gave up all access tickets to see Slayer, Suicidal Tendencies and Exodus at the Forum for this- bands I have seen 1,000 times before but that I know deliver a knockout punch live. I wasn't too concerned. I had heard the stories of riots and uncontrollable crowds at some of their reunion shows since 2012 so I felt VERY comfortable that I had made the right choice on this evening of Night 14 of Red Bull's 30 Days in LA on November 14th 2014.
Death From Above 1979 finally took the stage at around Midnight- a full 40 minutes after their scheduled set time. They opened with the first track off of their first full length release. Turn It Out off of the iconic, You're a Woman, I'm a Machine was the one song I told myself I needed to hear for me to consider this show a success and the motherfuckers played it first.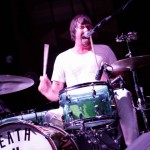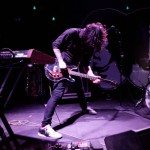 Jesse Keeler got into a wide stance, bass in hand, head thrashing on a swivel and didn't stop until the song was over. Sebastien Grainger's head stayed steady as he sung into the mic at the same time as his body pounded the drums like they owed him money. The crowd, who was more than unkind to the opening bands, was now in full swing. The middle of the dance floor wasn't swirling but it was animated. I looked up to the balcony and it was thick with bodies hovering over the rail to watch masters at work.
Death From Above tore through their set with precision and aggression. Their music is an experiment of art in the keys of anger, lust and love. It's a romantic form of thrash metal, written as post hardcore love letters-without being cheesy. Keeler rotates between his set up of stomp boxes on bass to a very punk rock form of synth keyboards without missing a beat. Grainger is a melodic metronome and my night was nowhere near over as MSTRKRFT was playing the after party at Exchange L.A., immediately after the show.
What an amazing show to see at my first time at The Regent Theater. The space was probably filled with piss and squatters only 15 years ago and is now a part of the amazing network of venues, owned and operated by Mitchell Frank who started his journey in 1995 by opening the venue Spaceland, now the Satellite. Music in Los Angeles has moved East since the gentrification of Hollywood and Frank is largely responsible for the musical renaissance in L.A. The Regent does need some sonic help because it is tough to have good sound in a concrete cave- no matter how amazing the aesthetic. I fully expect the venue to make the proper adjustments to insure that the bouncing sound is somehow absorbed so that this becomes one of the premier rock venues in Los Angeles.
Opening Red Bull Sound Select bands, White Mystery and Hustle and Drone handled the apathetic opening crowd in very different ways. White Mystery, one of my favorite Red Bull bands so far, tore through their set of straight up rock and roll with hardly a pause. The ginger warrior, brother/sister duo of Miss Alex White on guitar and lead vocals and Francis Scott Key White skillfully and aggressively pounding the drums, wisely didn't wait for approval from a low energy crowd. Alex contorted her body between lyrics and Francis hit his drums hard in barrage of arms and hair. This band from Chicago are an awesome duo of hard edged stoner rock.
Hustle and Drone were less successful in navigating this audience but more successful in showing me how fat the sub bass speakers are in this venue. Hustle and Drone are an amazing, dark wave band with an awesome live show but an aesthetic that misses the mark. Looking more like Vampire Weekend than Depeche Mode, they would be more believable with some dark eyeliner and black nail polish than the preppy boy look they portray on stage.
I walked over to Exchange L.A. to check out Keeler's other project, MSTRKRFT. Along with producer and collaborator Al-P, MSTRKRFT are innovators of EDM and Keeler shows everyone how to crossover without fucking up the art that made you famous in the first place. The shadowy figures stood in front of Exchange's ridiculously epic wall of LCD graphics. They twisted their knobs in a complex series of filters and envelopes to a crowd of rolling eyeballs and short dresses. They are far from push play DJ's and rarely have any sort of spot lights focused on them. The way it should be at a dance party.
Words: Danny Baraz
Photos: D'andre Ford
Death from Above 1979/MSTRKRFT: Night 1 Thursday Night at The Observatory in Santa Ana
Yesterday I traveled out to my least favorite county, The OC, to shoot the Death From Above 1979 show. The show was held at The Observatory, a venue I had never been to before. After sitting in the worst traffic ever I finally arrived and was super stoked to find out the venue has free parking. Already the night was off to a good start. I get out to see a very small line, like 30 people long. I mean I know the show was still selling tickets last time I checked, but it was fucking Death From Above! I later was relieved to see a packed Observatory for Death From Above's set. Other than some confusion at the box office it was a pretty smooth entry.

I get inside the Observatory and immediately find the one bar selling Grand Marnier and grab a shot and a Budweiser. I had previously been told the lighting sucks at the Observatory and I would have trouble shooting with out a flash, false! The first thing i noticed after getting my drink on, was the lighting on the stage. Definitely one of my favorite venues so far, not to mention they also had a photo pit. Ok, enough of the photo nerding out, you came here to hear about the show.

So the first band went by the name of Biblical and let's just say they definitely weren't christian rock. This band was actually really good, just not my cup of tea. They reminded me of a 90's grunge band kinda along the lines of Sebadoh's opening performance for Thurston Moore at the echoplex last month. I stuck around to watch the first few songs of their performance and get some amazing photos of them, but i wanted to save my ear pleasuring for DFA 1979. I made my way out to the smoking patio at this point for some more tasty beverages.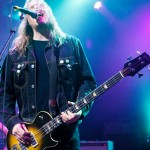 The transition between Biblical and Death From Above 1979 was unusually long. Luckily during this time i ran into some awesome friends from the band DIVOLA. I started to hear Jesse F. Keelers, (JFK) bass from the smoking patio so i ran to the photo pit where I was greatly disappointed to see they were still sound checking. There was this cute asian girl chilling next to me in the photo pit so i guess it wasn't too boring. Finally DFA emerged and started shredding right away. The main thing I noticed at this show was how great the sound was at The Observatory. I remember seeing DFA 1979 at FYF a few years back and the sound was just horrendous and even Sebastien Grainger commented on the terrible job the sound crew was doing. I remember him saying "how fucking hard is it to do sound on just drums and bass? it's two fucking instruments!"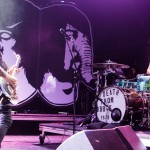 Another thing I loved about this set was the fact that they mostly played their old stuff with a couple new songs peppered in. Don't get me wrong I like the new album and all, but to me the new album is their version of selling out. I mean David Sardy produced the album, who has also produced such artists as Bush, LCD Soundsystem, and Oasis. For selling out, DFA did do it right. The album is great, but I came to the show to hear Sexy Results and Romantic Rights, not some Von Bondies "C'mon C'mon" rip off. If you don't know what i'm talking about fast forward to 2:32 of Cheap Talk by Death From Above 1979. As much as I just ripped the new album apart, their set last night blew my fucking mind and I loved every second of it. At one point Sebastien was playing a drum set covered in water and it was going every where!

After they herded us out of the Observatory, which was the equivalent of herding cats, they let the MSTRKRFT ticket holders in. I went for shits and giggles because i had seen them back when i was 19 at The Roxy and they sucked hard. Yeah, there was no change MSTRKRFT fucking sucked. All it is, is Jessie F. Keeler of DFA 1979 and Al-P smoking cigarettes and drinking beers like badasses behind a mac book. To be fair I was fairly intoxicated at this point and i was standing on top of the photo pit barrier yelling at JFK trying to get his attention to let me on stage… Like I said intoxicated. I also just really dislike the EDM scene and every thing it stands for and the people in it. So to be honest this review is completely bias and I'm sure if you're into that kind of music they did a decent job.
Words and Photo by: Taylor Wong