Black Baptism: Prayers at the Fonda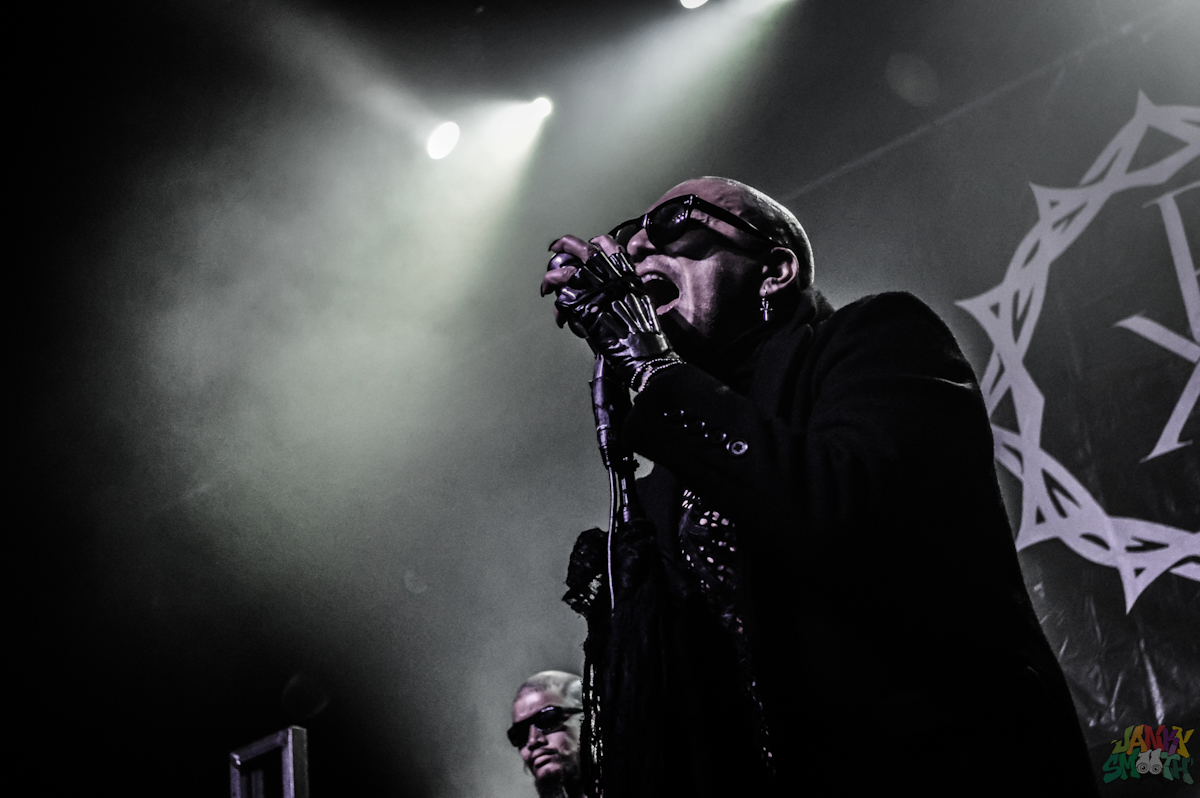 When I think deeply about the music and impact of Cholo goth duo Prayers, I come up with great memories of enjoying their music and many questions regarding the band's place in music. 2018 seemed to be a pause in the band's momentum, a break after 2017's Baptism of Thieves. With Rafael Reyes getting married to Kat Von D and becoming a father for the second time, an outsider would think the band was stepping back from the spotlight to pursue their lives. This would be an error though, Prayers has multiple albums just waiting to be released but still, lets take this introspective moment in the Prayers' career at face-value.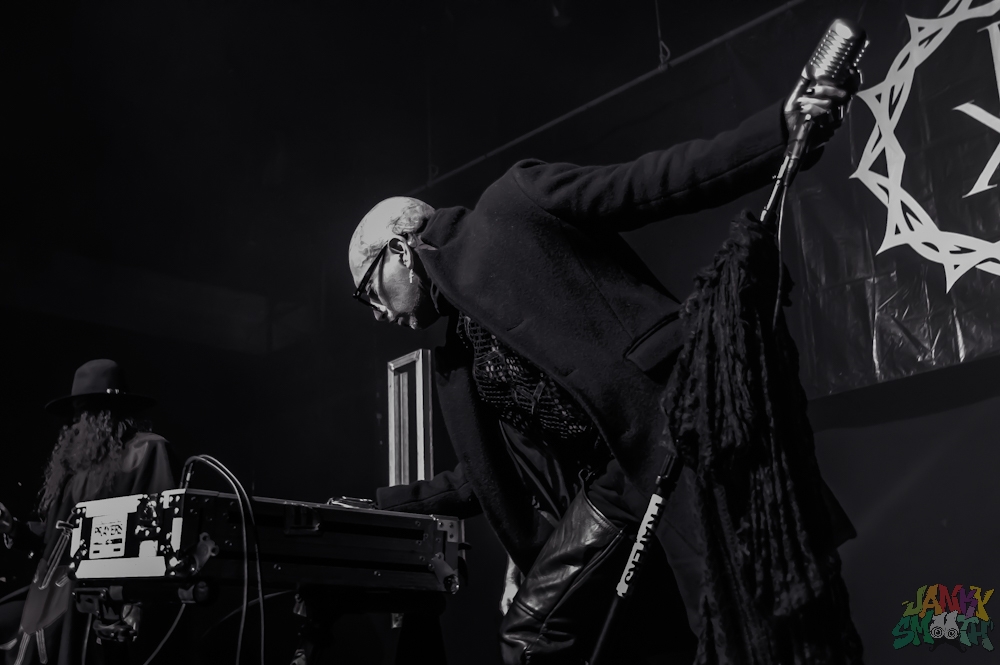 When the duo first released SD Killwave in 2013 and then their LP Gothic Summer in 2014, they burst onto the scene with such a powerful splash that not only did their sound take-off but they created a new genre of two seemingly clashing aesthetics, Cholo and Goth. These two records were filled with bangers and genuine underground hits. They captured the punks, the goths, and even the hip hop heads. Enter Travis Barker, who produced their next full length, Young Gods, which featured various cameos and the band's niche in pop culture was cemented. These two Mexican men would forever be remembered as a living Yin-Yang marriage between the streets and the spirit world that was only possible in Southern California. No matter where their careers go, what they had done in such a short amount of time could not be taken away from them.
Since then, if I have to honestly critique the band's music, I'm not sure they ever hit the heights of those first three releases and so, I worry that the band was only a sound of the moment. Something that lasted a solid two years then steadily flatlined. I had seen Prayers three times before this Fonda show and I attended to see if the music still felt fresh in the air.
The show was opened by Mr. Kitty, another electronic duo that combines synth pop, darkwave, and this new crossbreeding of emo and trap. They have incredible energy and charisma and their beats certainly carry enough kinetic energy and punch to be considered bangers. If I had one critique, it's that if you're older and not hip to emo, you might cringe at moments the band intends to be climactic, for instance their cover of "Smells Like Teen Spirit", which I just couldn't get behind.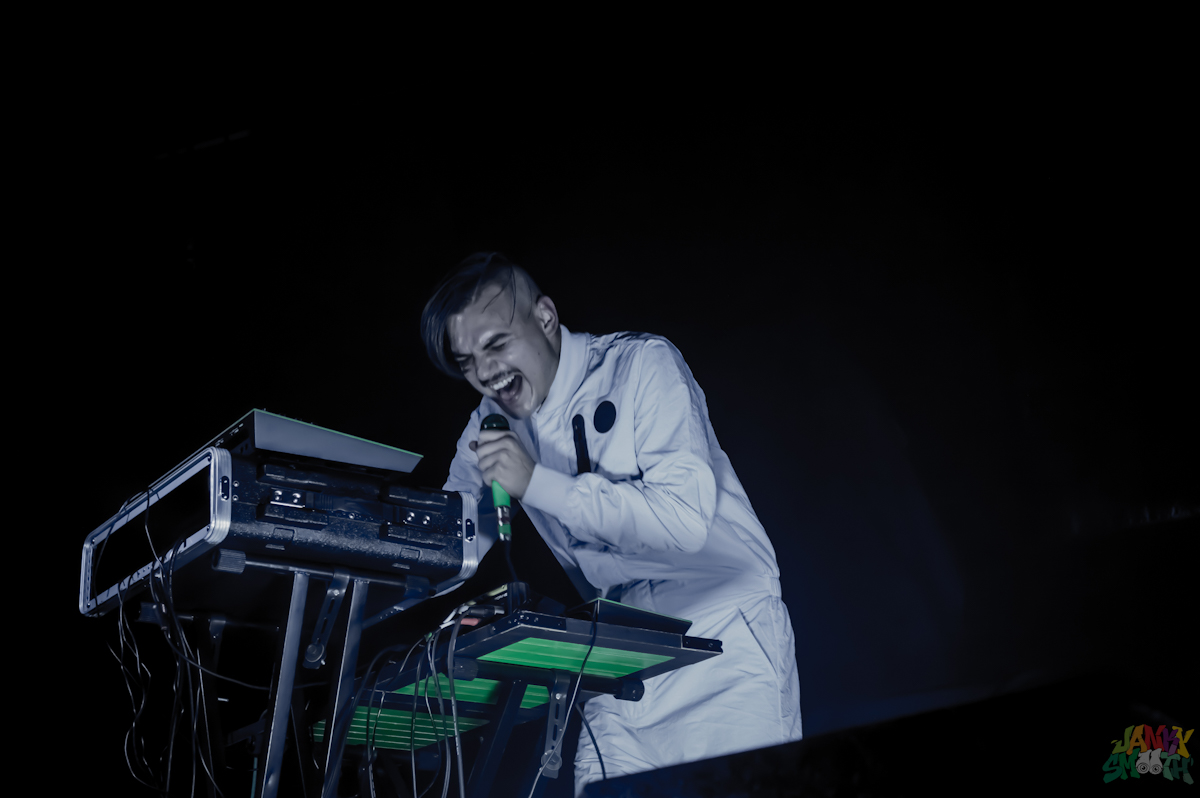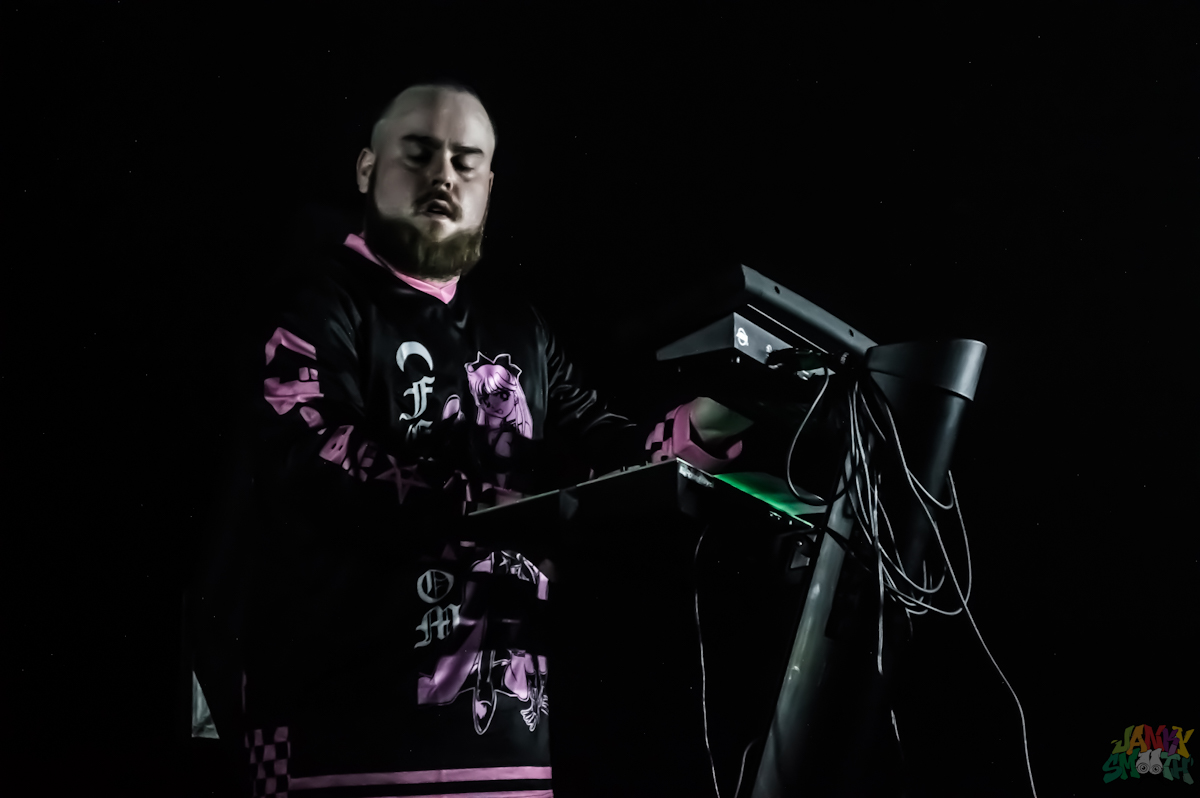 With their banner streaming down on the wall behind them, two upside-down crosses holding down the vibe on either side, and a still-standing cholo representation of cold, mysterious stoicism standing between them, Prayers took the stage and hit the ground running, playing banger after banger. Signature tunes like "Power Trip", "Blood on the Blade", "Gothic Summer", "From Dog to God", "Ready to Bleed", "Friends Are Poison", and "Young Gods" filled the night with genuine chaos, dance, fun, lust, sweat, and a lawless feeling in the air. There were legit die-hards in the Fonda that will fuck with Prayers forever and not give a damn about any point of dissent I could ever make. That said, songs recorded after 2015 hit me with a softer punch and I wasn't sure if this was because I was less into the band when these songs were released, whether their cultural moment had passed after 2015 and the window was closed, or if the songs just simply weren't as good. I have to give it up for "Black Leather" though, a song off their most recent album featuring Kat Von D. That song dispelled these detractions and Kat delivered the song with haunting vocals.
I am not slamming the band, I am simply trying to understand this moment in the musical landscape in context to them. Perhaps things aren't as lively because they hit so hard so early, making more great songs off two albums than most bands have their whole career. Or maybe it's because they're still more or less the same Prayers and need to evolve more drastically to survive. And now that I think about it, the band delved into the same bag of tricks to entertain at this show as the times I've seen them years ago. Still-standing cholo, similar tag-lines like "I don't worship Satan. Satan worships me", and Leafar switching up his vocal cadence to enhance certain words in his stage banter. They have to do something totally new next.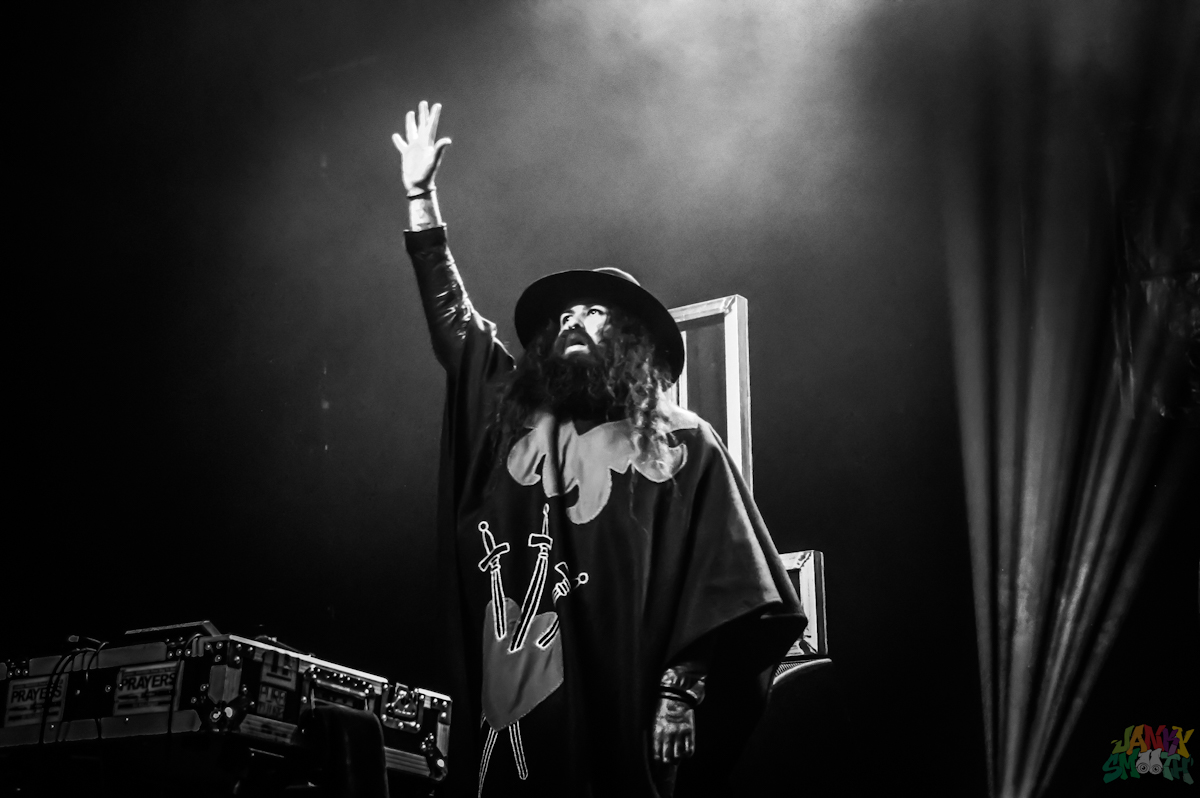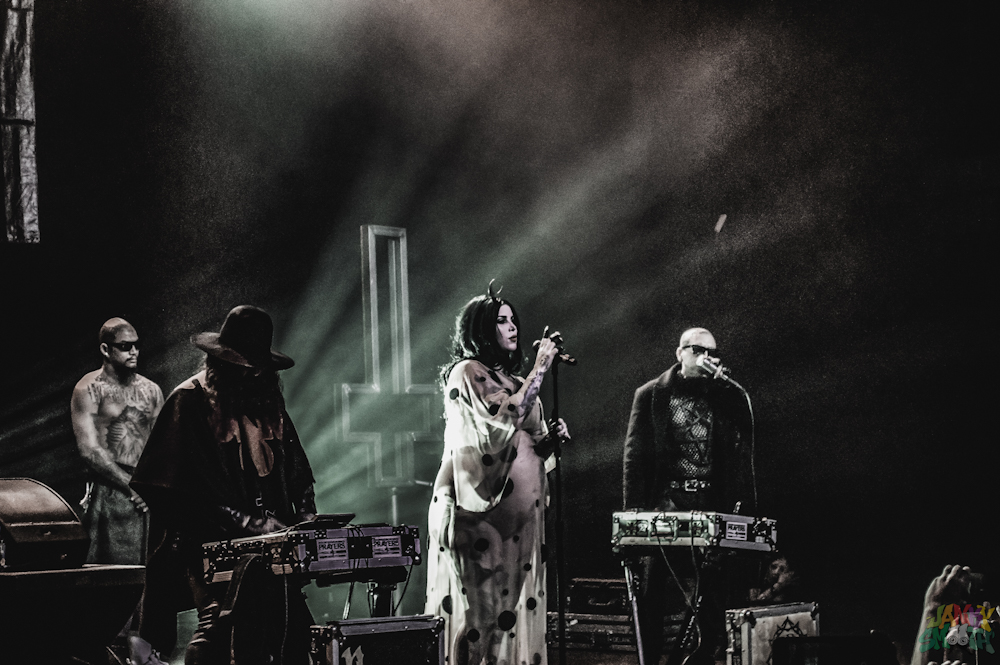 This was sort of a homecoming of sorts for Prayers, so they went all out, playing an extended set that kept going just as you thought it would end. Overall, I thought the performance was great for the first hour considering how many drop-dead amazing hits the band has then slowly lost steam by the end. I'm incredibly interested to see where Prayers takes their music and with a few albums locked in chamber, ready to fire, we shall see what they have in store for us. I have a feeling they will please but in order to do so, they will have to change.
Words by: Rob Shepyer
Photos by: Abraham Preciado