No Barrier Between Thee Oh Sees and Audience at Human Resources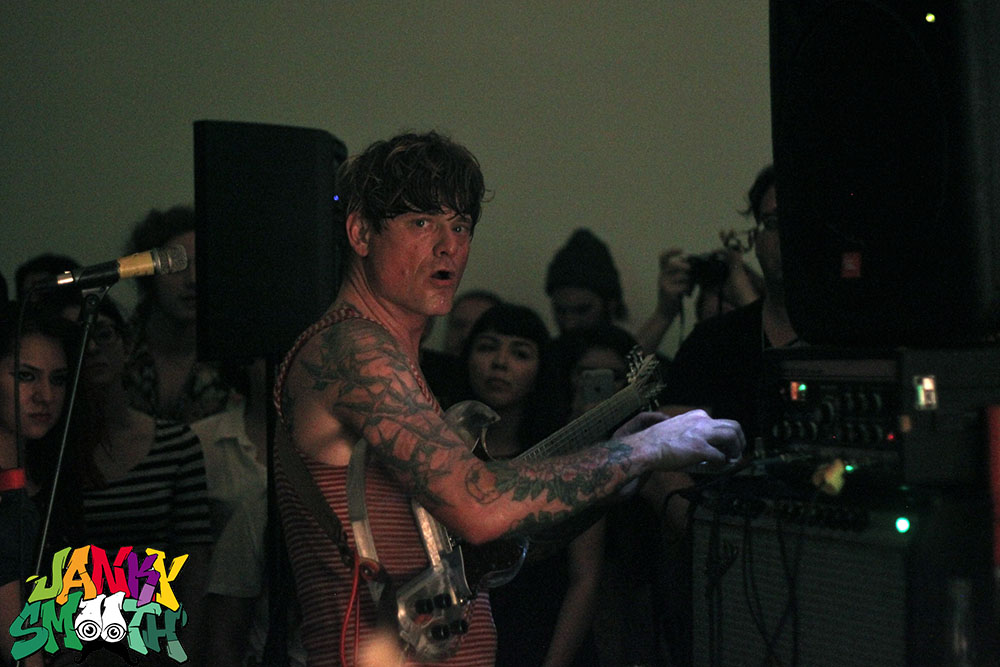 Last night I found myself on a mission on the streets of Chinatown, iPhone GPS in hand, searching for Human Resources. I love Chinatown, it's an eccentric place to wander around and explore. Last night however, was not one of those nights. I was on a mission to find Human Resources because it was there that Thee Oh Sees were billed to melt faces.
Tucked away on a little side street, I saw a bunch of grimy kids smoking cigarettes, huddling around 32 racks of beer on the street; I had found the spot. Human Resources is a DIY-style venue, with bare white walls, lofty vaulted ceilings, and no stage. Looking around, I couldn't help but notice that everybody was getting fucked up drinking beers and smoking weed. With a five-dollar cover, no security in sight, and a room full of rowdy kids, the evening was sure to be mayhem.
Taking the stage around 9 PM was the Los Angeles duo, Caldwell/Tester. To put it bluntly, Caldwell/Tester made a shit-load of noise. With their ominous, and sometimes even celestial, beaming sounds, the duo played what I thought was a total of two songs over the course of their 45-minute set. Their menacing sound was reminiscent of a less sonic, psychedelic-come-down version of Fuck Buttons. To accompany their apocalyptic reverberate were equally trippy visuals projected on the 30 ft. wall behind them.
Finally around 10 PM, Thee Oh Sees took the stage. To give you some perspective, think of the best house show you've ever been to – the shit that unfolded during the ear-busting hour Thee Oh Sees played was far superior to your favorite house show. Unless, maybe, Thee Oh Sees played that house show or you hate house shows.
Thee Oh Sees are set to embark on an extensive and presumably really sweaty SXSW run. Last night served as their last LA show for a while, and perhaps a test run for their new lineup, which consists of two drummers ala The Melvins.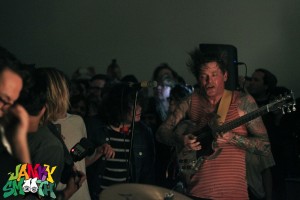 As soon as they cut into their opening track, "The Dream", the divide between the band and the audience instantly vanished. We all became one sweaty, smelly, grimy, unit entrenched in the chaotic surf psych sounds of John Dwyer and Thee Oh Sees.  Dwyer, clad in tank top and cut off jean shorts and accompanied by his atomic stage presence, appeared as an indie God. The all-age, predominantly baby-faced crowd worshiped him accordingly.
When Thee Oh Sees broke into "Toe Cutter" the crowd became hysterical. Dwyer jumped and hammered his guitar whilst pure anarchy ensued amongst the crowd. Drum sets were getting knocked over, chicks were losing their shirts crowd surfing, and the most devoted Dwyer apostles screamed into the mic in unison with him. When Dywer lead into "Dead Energy" their set reached a pandemoniac climax, as the crowd swallowed the bassist and persisted to knock more shit over. It was a beautifully chaotic mess and I saw it unfold before my eyes.
As I left venue and disappeared into the MSG-scented Chinatown streets, with my ears ringing, and my shirt drenched in sweat, I couldn't help but feel a sense of stoke. Thee Oh Sees are a staple of my generation and to experience them in complete chaos is the only way I want experience them.
Words and Photos: Justin Thomas