The Spits at Union: Trash and Glamour United in Los Angeles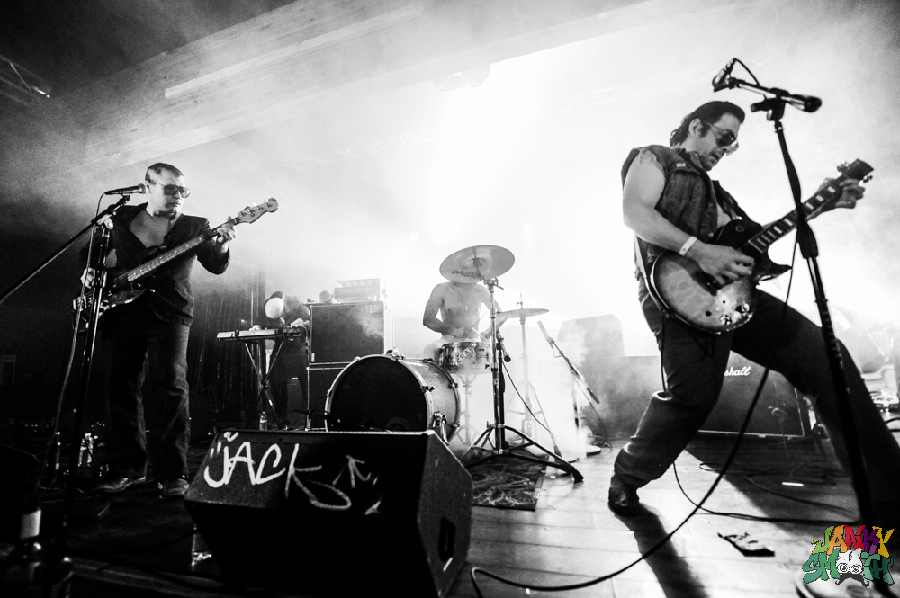 Cha Cha chicks and Footsies freaks, Full Time Punx and Part Time Punx, vinyl archeologists, wax wizards- Blundertown has sounded the clarion call and presented to you, on stages made of broken glass and cigarette butts, The Spits at Union Nightclub.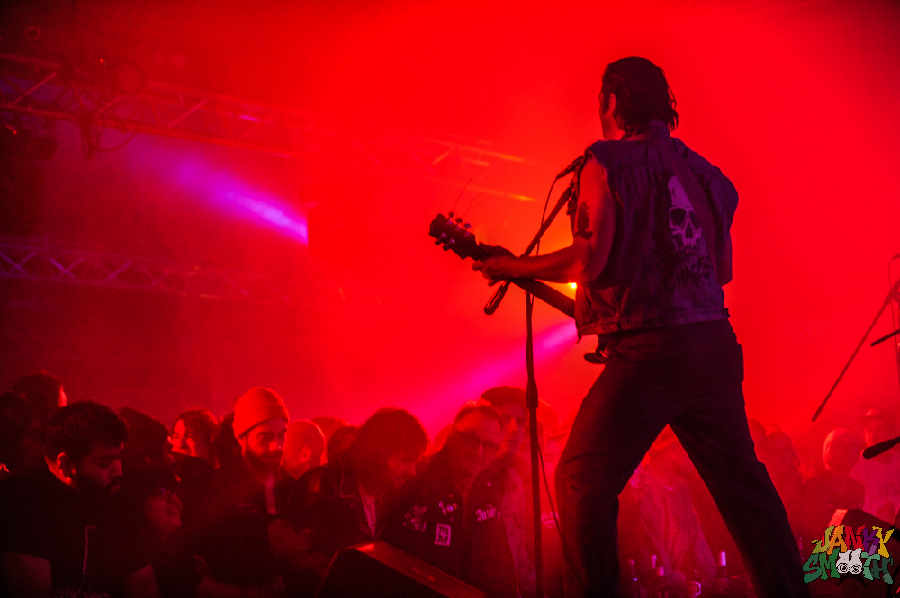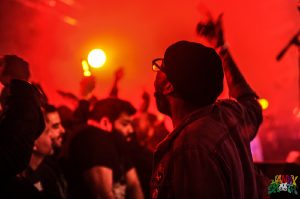 This is the first show at Union I'm reviewing, so I'm going to take the opportunity to bathe you in my admiration for that special place. Is it in Crenshaw? Is it in K-town? Do you know it as Union or do you know it as Jewel's? Do you party on the top, the bottom, or on the smoker's patio? At any given show, all these places are poppin' off- lit af. The top floor which hosted our event on this chilly Thursday night is huge, has two bars, plenty of space to chill, flirt, fuck, or just head bang and slam dance your punk puke out of your eyes. It can host a huge "credible" band but opts out of that for the real shit to service the cool kid contingent- and there's plenty of places to sit… what a fucking concept!
The first band to appease the gathering hordes was Dirty and His Fists with a dress code of NASA on every member of the five piece band. They married explosive punk with spacey synths and covered "New Rose" to get the kids gravitating to the stage.
After much drink and the arrival of Danny B and Jessica, we cruised down to the patio to smoke and security forced me to hide in the bottom venue where I saw a fledging rap duo lyrically duke it out to an audience much bigger and more passionate than you'd expect. That's the kind of shit that would only happen at Union.
Danny mentioned he's been on a thrash kick, obsessing on Megadeth's, Rust in Peace (pre Countdown to Extinction and pre Metallica's, Black Album), easily their best album, so thrash was both the focus of the night's music musing and mental masturbations. In the world of thrash there is one elusive, perfect sound that I'm struggling to describe in words but Zig Zags, the second band of the night kinda captured it in spirit, if not completely in sound. Just like punk, it is also characterized by a fast tempo and is still TOO punk for the metal side of the spectrum with no solos. But definitely a bit heavier and more technical than punk. It's a sound where every other beat bears its fangs.
This was the third time I saw Zig Zags this year and they killed it, as usual. They make "metal" that makes you uninhibited enough to hurt yourself early in a show like this one. It would be a bit of a stretch to label Zig Zags as pure thrash, though. They are much more than a thrash band because they bring healthy doses of garage haze to the sound. Bombastic and filled with energy, I dared compare them to a young Metallica in a previous article, but one that won't ever transgress into soft cock hard rock or go too deep into guitar hero land. If time somehow repeated and played parallel to our present, we could look out our driver's side window and see the 80's zooming with us at the same speed. We can JUST get a glimpse "No Life Till Leather" era Metallica creating thrash in our rear view mirror with Zig Zags recreating and recharging thrash directly to our left.
The venue was packed tight with punks of the genuine variety and through a cloud of smoke, a band that can never be flipped past in a crate of vinyl appeared on stage. A band that flies the flag of real punk rock real high, real loud and real proud- a band who's music smells of piss but sounds like the greatest, filthiest sex.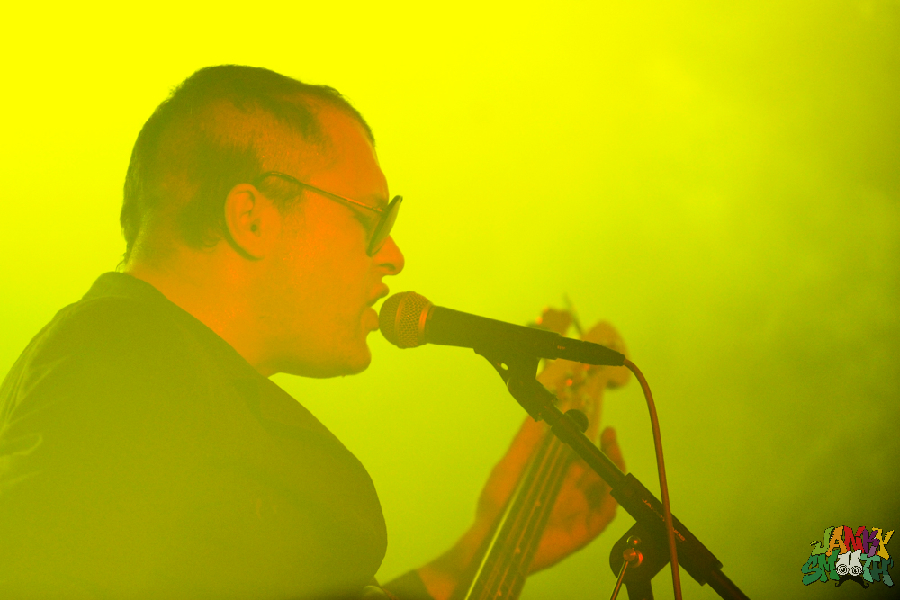 The Spits are a Michigan garage punk band with that distinct Detroit sound, you know… metal sheering metal (manufacturing not music), pressing and flattening you and all within a modest budget- no need to outsource to China. Sean and Erin Wood play six string and vocals chords to make up the balls and Wayne Draves drum kicks the dick in you. The Spits do it raw.
Tonight she sleeps with you
And tonight she's gonna be with you
And tonight she's gonna sleep with you
I know things will be better, as soon as I can forget her
But tonight, she sleeps with you
Yeah tonight, she's gonna be with you
Yeah tonight, she's gonna sleep with you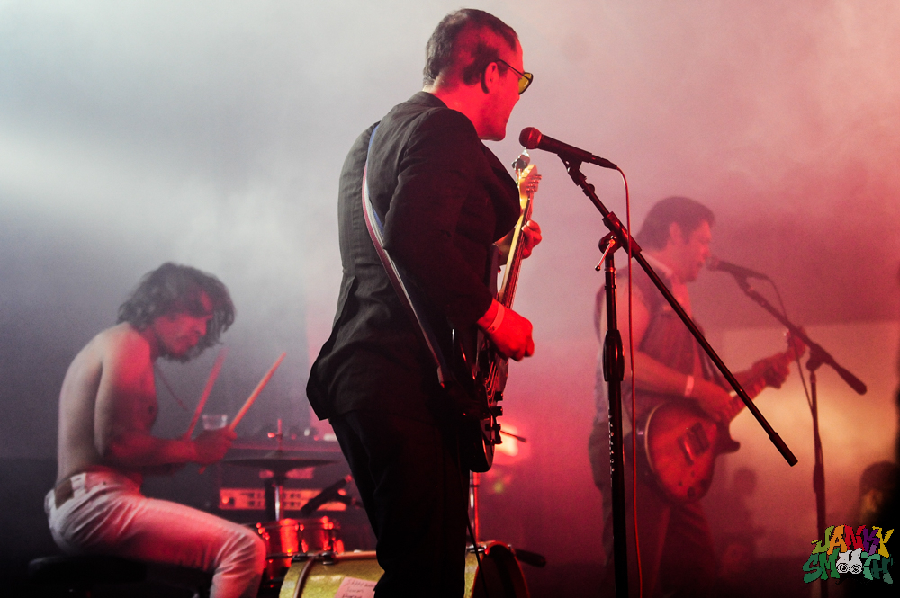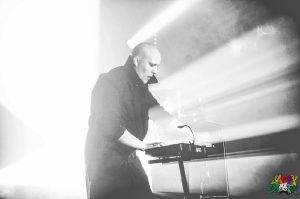 The Spits- a band that just gets right to the point. I want a band that assures me that I'm getting laid that night. That's why we were all there and what we all wanted and The Spits have always been wise enough to just give it to us raw dog.
Rather than appearing in costumes like they often do sometimes, whether it be as nuns, Texas oil tycoons, or druids; on this night they dressed as themselves and it was as if they could've been members of the audience… except for the keyboard player, Broose Young who I'm pretty sure didn't have a single hair anywhere on his whole body or face.
They played their fast and catchy tunes from obscurities to classics like "I H8 Pussies", "Tonight" and "Bring". In terms of presentation, the band made frivolousness cooler than ever by letting their shoulders down and taking requests and playing maybe four songs they said would be the last.
By the end of the show, the stage was completely covered in beer bottles and the people were spiritually knee deep in the combined filth we all perspired. In that moment, it might've been the perfect night, with the perfect bands at the perfect club. Holler at Blundertown and The Spits and let them know you appreciate the consistent poke in the eye and the endless flow of cheap beer so that Blaque Chris doesn't call you out for being a poser in public.
Words: Rob Shepyer
Photos: Jessica Moncrief