Django Django Fit Their Big Sound Into The Constellation Room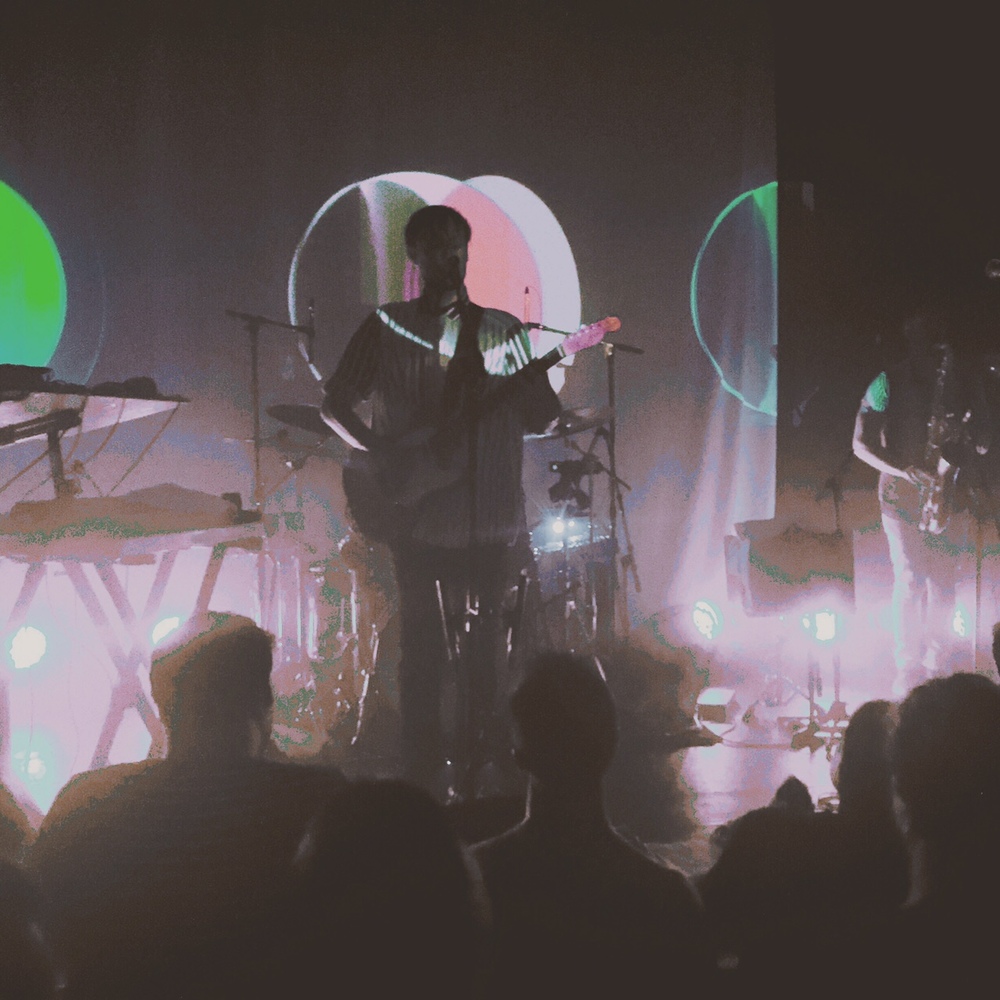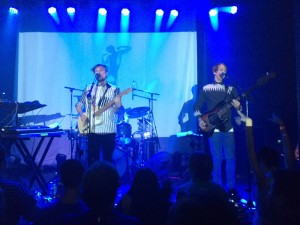 To state that the self titled, debut album by Django Django was a success would be an understatement. It was one of my favorites of 2012. I saw them live for the first time at a sold out show at The Fonda Theatre in Hollywood in 2013. It was their first show in Los Angeles and the venue was bursting with a capacity crowd. Flash forward to 2015 and a valiant effort at a follow up called, Born Under Saturn. Nowhere near as powerful as their first release but still, some great tracks on the new album. With a previous engagement the night of their Thursday night show at the El Rey in Los Angeles, I decided Django Django were worth the drive down to Orange County to check them out at The Observatory. The night was full of surprises.
Surprise 1: Django Django were playing in the smaller, low capacity room inside the Observatory called the Constellation Room. How is it possible that a band with one of the best albums of just a few years ago is not playing the biggest stage at The Observatory? I was happy for myself and the other patrons that we would be able to see such an amazing band in such a small venue but a bit sad for Django Django that their crowds seem to be getting smaller.
Surprise 2: By the time opener Beat Connection cleared the stage, The Constellation Room was no where near it's capacity. Is it just Orange County that has an under appreciation for Django Django? I was shocked.
None of this seemed to bother lead singer, Vincent Neff. Not one bit. Neff and the rest of the band came out with the greatest, most upbeat energy and very quickly proceeded to create a wave of good will in the room as they opened with the song, "Hail Bop".
Rarely will you hear a live band as good as Django Django. Their electro, surf, glitch sound is both unique and familiar but it is totally foreign that a band with so much reliance on sound modules and sequences sounds so seamless live. The harmony's between Neff and bassist, Jimmy Dixon are pitch perfect and hypnotic. It seems like the band has found perfection in every tone. Guitar, bass, drums and synth all have sound that is so perfectly crafted that it sounds even better than it does on record, with enough variation and improvisation to not be suspect that we were really listening to backing tracks.
The band blazed through a set list that was heavy with songs off the first album, breaking into a consecutive, 3 song block of Shake and Tremble, First Light and Reflections from Born Under Saturn but they seemed much more passionate about the older songs. The band also played an instrumental they wrote for former Beta Band member and brother of Django Django drummer David, John Maclean and his directorial debut for his movie, Slow West.
By the back end of the set, Django Django were in top form. They stripped down, gave synthist, Tommy Grace a break, re-positioned David Maclean on a homemade drum kit and played and harmonized their way through Loves Dart as a traditional, three piece rock band. The tail end section of Waveforms featured a remarkable, two minute jam and went straight into Default to end the set.
Neff kept asking "How we doing Santa Ana?" pronounced "Santana". The smile never left his face and by the end of their set, the room was at a fever pitch. Django Django, no matter how small the crowd, completely owned The Constellation Room and it's patrons and was well worth my time and mileage.
Words: Danny Baraz