Fierce Fiesta: Scum's 2 Year Anniversary W/ Limp Wrist At The Echoplex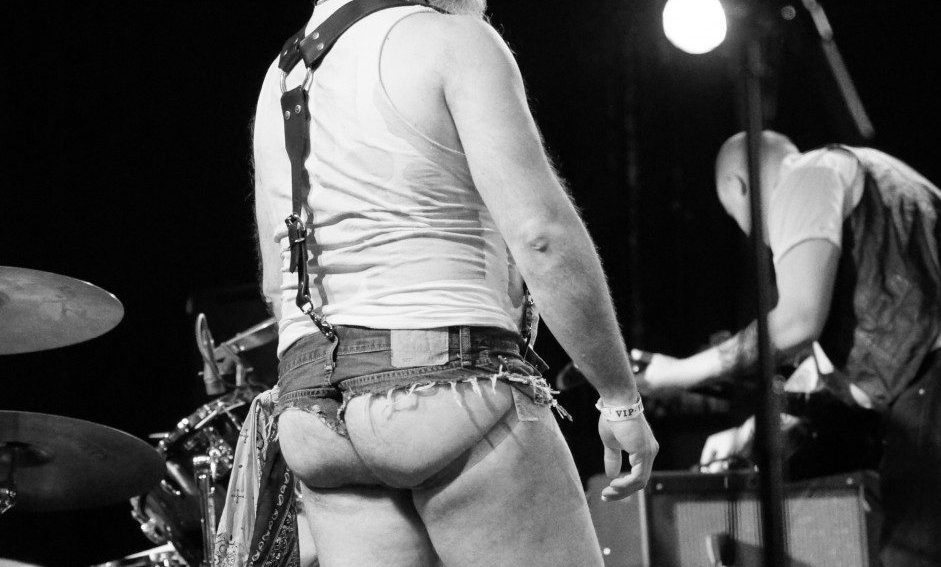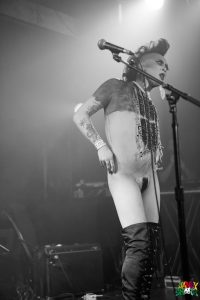 There was something queer about March. Even the month's name conjures up the image of boys with chiseled jaws in uniforms and leather boots. Or maybe it was the number 3 that was symbolic; of a third chromosome? A third gender? Or a third nipple or partner? Whatever it was, this merry month's man-on-man madness began with me seeing Fischerspooner at the Fonda, where myself as a straight, life-long fan of queer cinema and music, got to see a myriad of males half naked on stage, sweaty and throbbing. Then after attending sCUM's 2 year anniversary show at the Echoplex with Limp Wrist headlining, I got the sense that East Los could be the new Weho and that LGBTQ punks have ideas to express, verbal and non-verbal, that straight punks can neither access nor fathom. With Lethal Amount's Sex Cells Divine Ball approaching on the 31st, who knows, I might start behaving in ways I never thought possible in February. I don't think I'll be going cruising but hell, I might try to suck my own.
sCUM is a party for queerdos of color at Club Chico created by Rudy Garcia and Ray Sanchez. This was their 2 year anniversary weekend and was filled with celebrations all over Los Angeles, culminating on this night at the Echoplex. Ray's band, Causa, was the first to play at 7:00pm, kicking out some of the most raw and rigid hardcore punk I had heard in awhile. Ray began the set by dedicating the performance to Ms. Martin who had recently passed away. Known for her outrageous makeup and personality, Ray painted his face just as strikingly as Ms. Martin would. I was absolutely floored with the duel vocals and anarcho based sound of Causa's assault, featuring women and queer members, this group ripped far harder than most bands I see. This observation would become a theme of the night because it's not like gay bands like Causa, Limp Wrist, or Fischerspooner have something to prove because they're gay and thus bring out a harder performance. No, it's because being gay, or growing up gay, or having a gay soul, really, gives you access to a part of your brain and the aether of ideas that straight people don't get to touch. Casey Spooner and Martin Crudo can grab you with their art like no one else can the same way Oscar Wilde's or Bret Easton Ellis' wit can provoke you like no one else's can.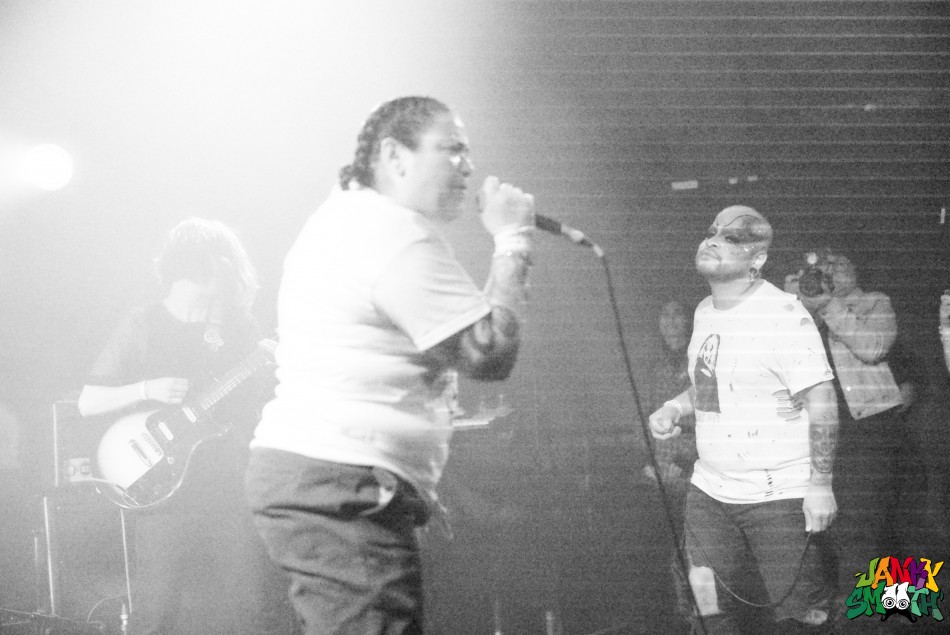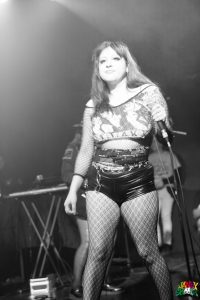 Next was the first drag performance of the night with Voodoo Nightshade doing a chilling rendition of songs from Disney's Pocahontas while wearing black leather with plenty of fringe. Her striptease took us on a spirit quest that left nothing on her but a pair of boots and the small strip of black tape that gave her that clean-shaven mangina.
Next was an all-girl East Los attack in the form of Destruye y Huye, a total fan favorite among this crowd. The audience went hard and so did the band, every song that was about oppression, injustice, and police brutality was met with moshing, singing, and cheering as if this audience was actually in a fight. It was inspiring. The music was filled with riffs and rhythm that had swagger and deadly coil.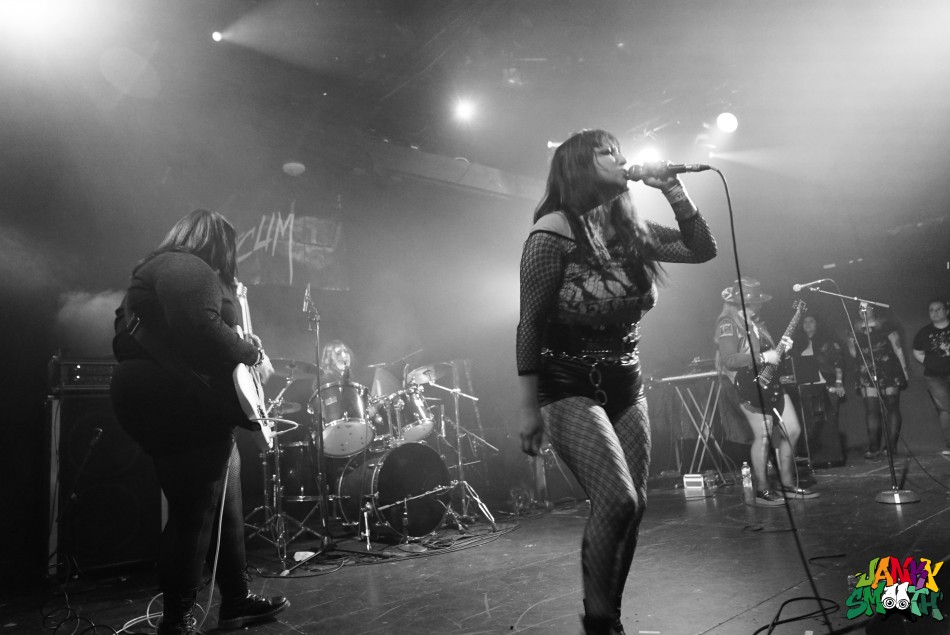 What was so beautiful about this event was the variety of people and styles it brought together. There were punks, latinos, and queers, and within those three groups there are so many different forms of art that billing a Mexican folk band like La Victoria to open for Limp Wrist totally made sense. This trio of genius women played originals, old folk standards, and Selena covers, serenading us to tears of both sorrow and joy. Then after half their set was finished, a special guest joined them onstage and that was none other than, Spanish siren, San Cha. Her crooning, emotional vocals made for visceral and explosive moments that absolutely rip your heart out of your chest for her to gently kiss and wipe her tears with. The perfect artist to join the mix on this bill, "Sancha" in Spanish means "Mistress" but using San before a name, is the proper way of referring to a male saint. Her name's a clever take on gender bending. La Victoria has a residency at Las Perlas every Wednesday, do yourself a favor and see them live. Bring a date.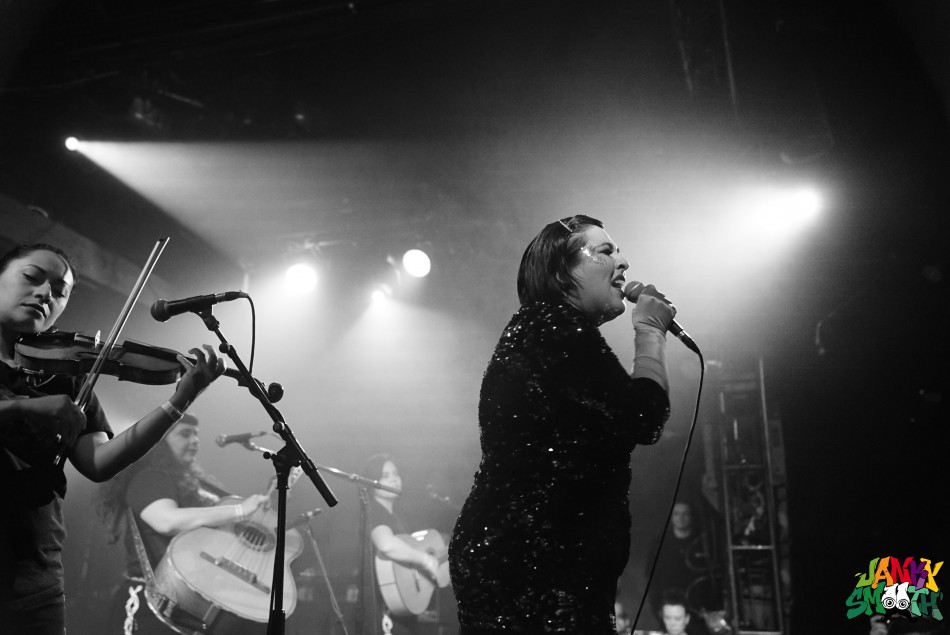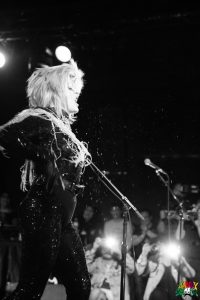 The last drag performer of the night was Biqtch Puddin' ,who frequents Club Chico with her show and dressed in all black, she was cartwheeling and flipping and dancing and doing the splits that made her such a demanded and jaw-dropping artist.
At last, it was the time we had been rumbling for, Martin Crudo's Limp Wrist was about to take the stage only to demolish it. Martin Crudo, hailing from Chicago and famous for his Spanish hardcore punk band, Los Crudos, is one of the most bestial, feral, hardcore singers I've ever seen. Pretty much anytime there's a show with his involvement in Los Angeles, you can bet your ass it's going to be insane. And just like the last time Los Crudos came to the Echoplex, the people were spilling onto the stage and diving in plethoras of waves, churning the pit into a sea of violence from which there was no hope or escape till Limp Wrist released us from their handjob.
I prefer listening to Limp Wrist over Los Crudos, just because the songs and vocals are a pinch cleaner. Martin Crudo came on stage with his ass out but propped up with a strap right below the cheeks. Also wearing a thong and torn jean shorts turned skirt, his bottoms were the perfect compliment to his tops, a shirt covered in cocks of various sizes and "veinyness", a leather harness (of course), and the cherry on the top of the sundae: A leather biker hat because that night we were all cruisin' for a bruisin'.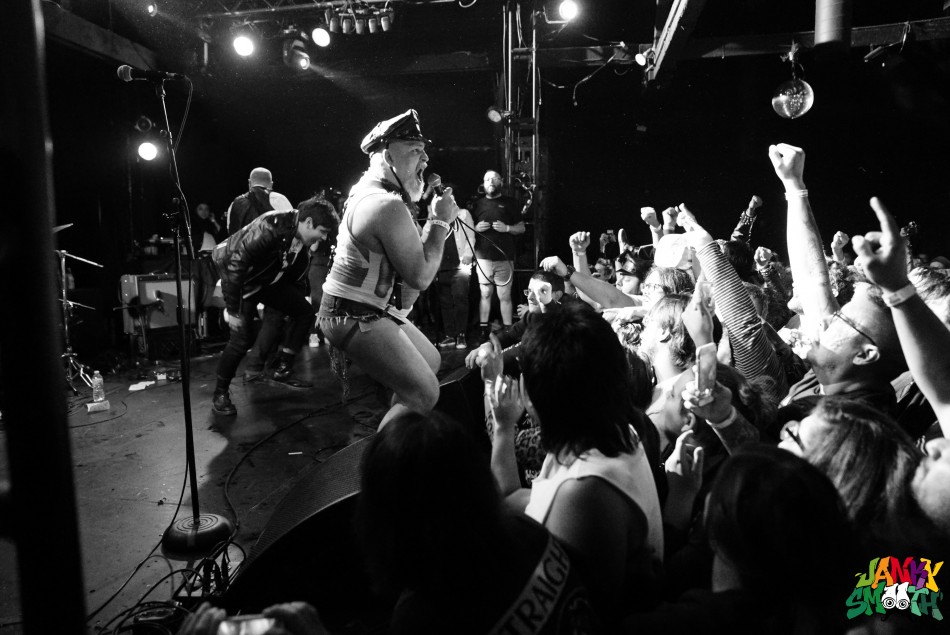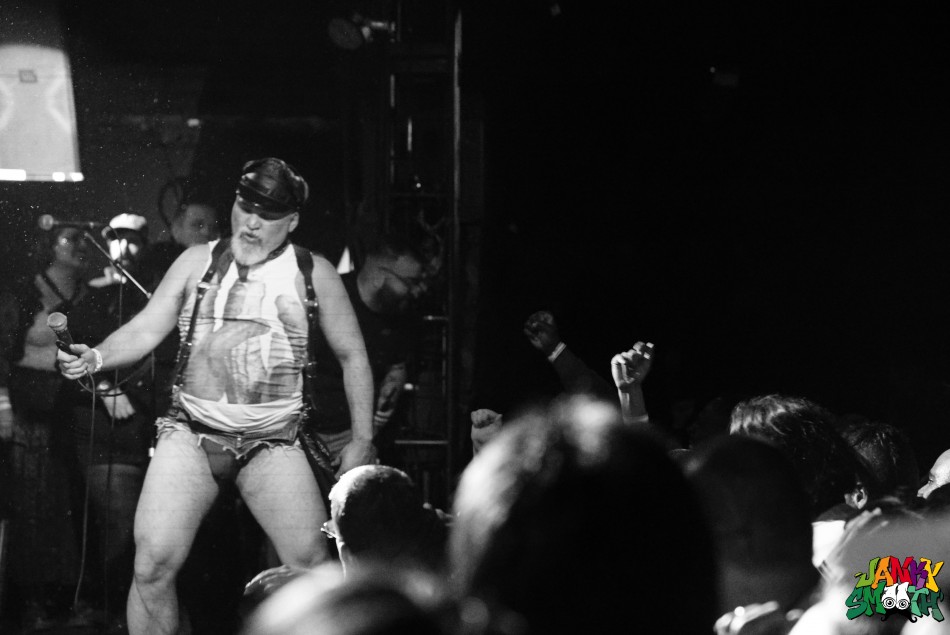 They played bangers like "They Tell Me", "Thick Skin", "What's Up With The Kids", and "The Ode" and Martin did what he's fucking famous for, which is deliver some of the most inspiring stage banter you'll ever hear. He talked about how proud he was of the scene, of Queer and Transgender kids in the scene, of straight kids that came out to support the show, and he even talked about how old queers get shit from young ones, but the old ones know how to stand up for themselves in ways the young can learn from. In the end we all became students of Martin Crudo.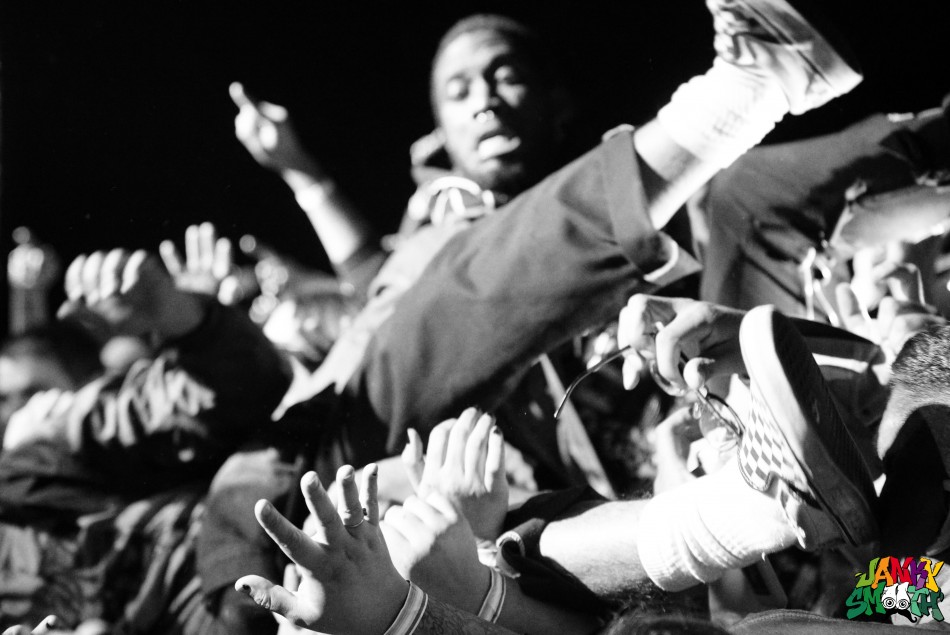 Later in the set, the band played "I Love Hardcore Boys" and finally closed with "Fake Fags", ending a concert that so far in my 2018, is the best yet. It may only be March but with the heart and diversity I saw at this show, I can guarantee it will stick in the top 5 till 2019.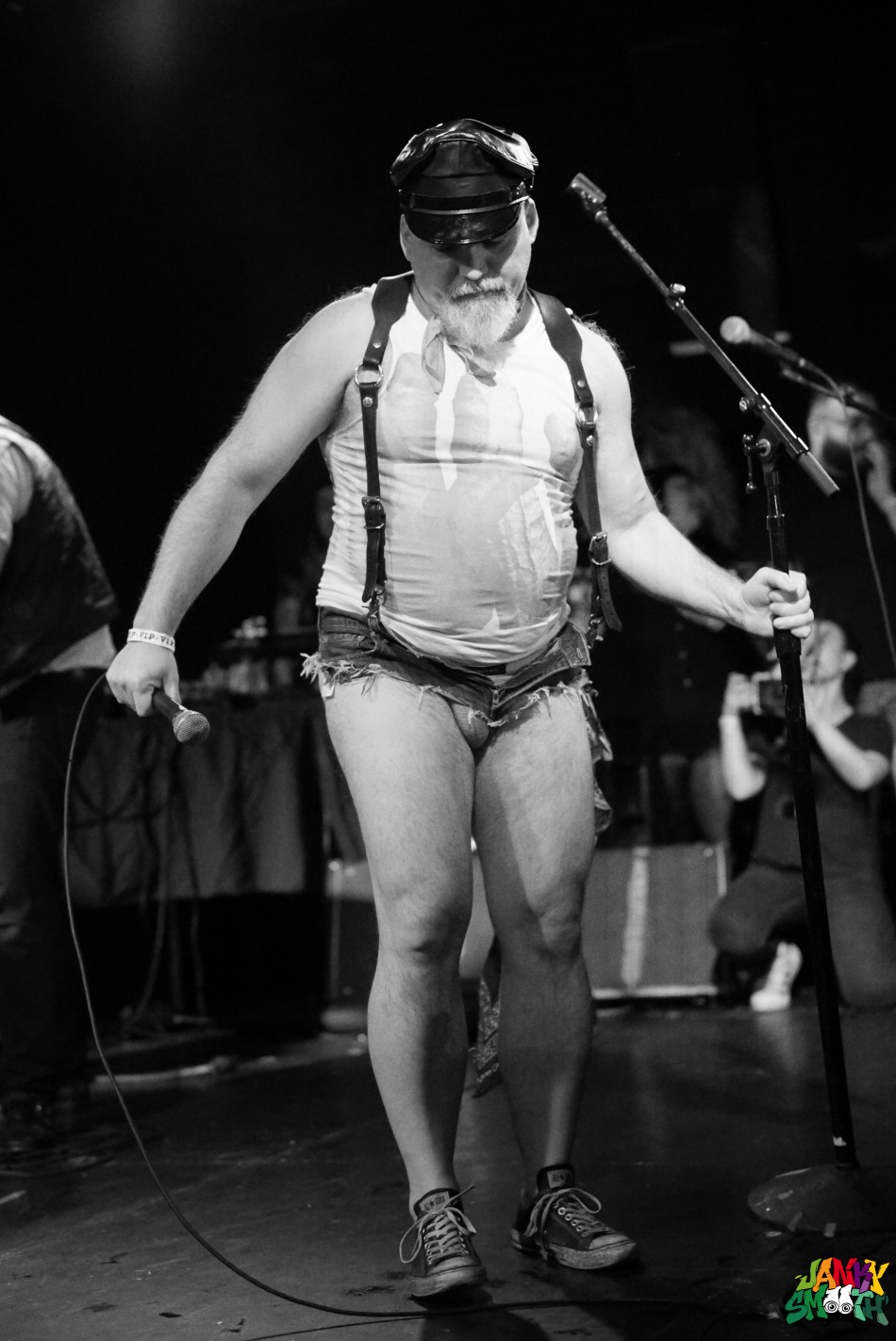 Words by: Rob Shepyer
Photos by: Todd Anderson